When Brittany Baker, founder of FURRever Home Rescue in Carver, Massachusetts, was asked to help a tiny black and white kitten with Manx syndrome, she eagerly agreed. The kitten's foster mom, Evelyn, was doing everything she could for the little kitten, but she didn't have any experience caring for a cat with special needs. "She did everything possible," says Brittany. "She even convinced the shelter to give [the kitten] the surgery that she needed by raising the money to pay the shelter back."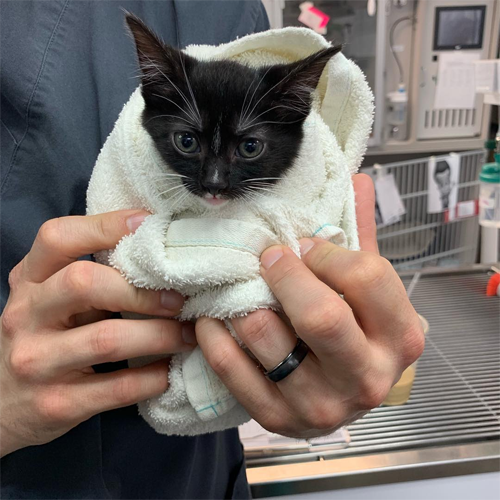 The kitten, who was born in the middle of February 2019, had a prolapsed rectum due to Manx syndrome, a congenital condition that causes some tailless cats to have a host of health issues. "It can seriously damage the spinal cord and the nerves," explains Brittan, "causing a form of spina bifida, as well as problems with the bowels, bladder, and digestion."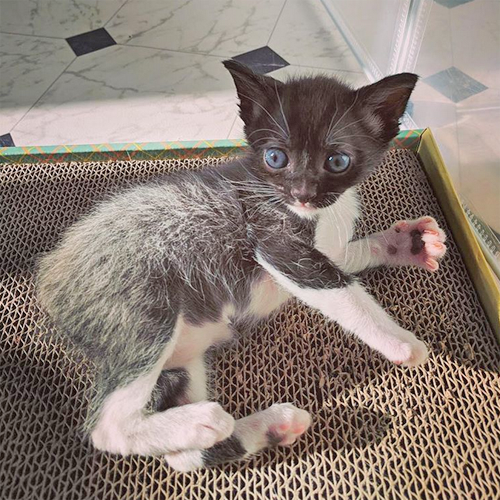 While Brittany had never cared for a cat with Manx syndrome before, she did have experience with special needs kitties, including Glory, who was born with cerebellar hypoplasia (CH), a non-progressive neurological condition that affects balance and coordination, as well as a number of other health challenges.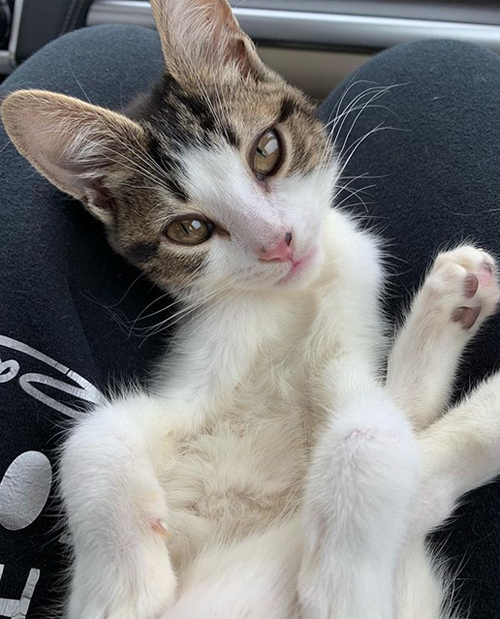 Sadly, Glory passed away suddenly when he was just a few months old, but this remarkable boy inspired Brittany to focus her efforts on helping special needs cats. "I wanted to do this in Glory's memory," says Brittany. "I really love being able to give a chance to a kitty that normally wouldn't get one. Every animal deserves a chance at life and if I can give that to them then that's what I am going to do."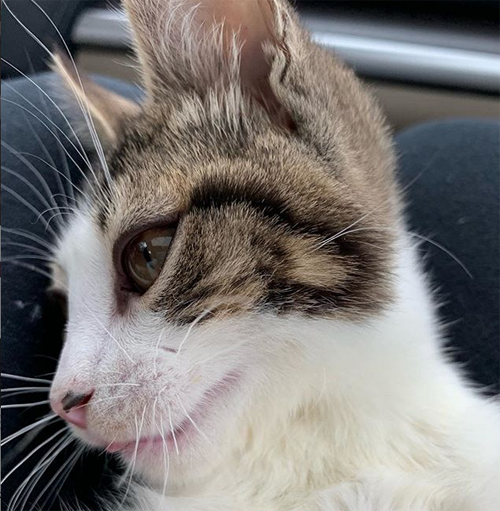 In addition to the experience she gained while caring for Glory, Brittany knew she would be able to rely on her friend Dawn, mom to Rocky, to teach her how to express the special kitten's bladder and bowels. While FURREver Home Rescue is dedicated to helping cats with special needs, when Brittany learned the little Manx kitty had a sister who didn't have any health issues, she refused to separate the siblings. "The next day she was on a plane to Boston with her sister Pip in tow," remembers Brittany.
View this post on Instagram
On April 16, 2019, the adorable pair traveled from Chattanooga, Tennessee, to their new home in Massachusetts, and Brittany decided to give the diminutive Manx kitten a new name to commemorate her new beginning. "I lost my baby boy Glory," explains Brittany. "He was so special to me and was my baby! When a mother loses a baby, they say that the baby born after that loss is their rainbow baby." As a result, Brittany changed the tuxedo kitten's name from Melba to Rainbow, or Rain for short.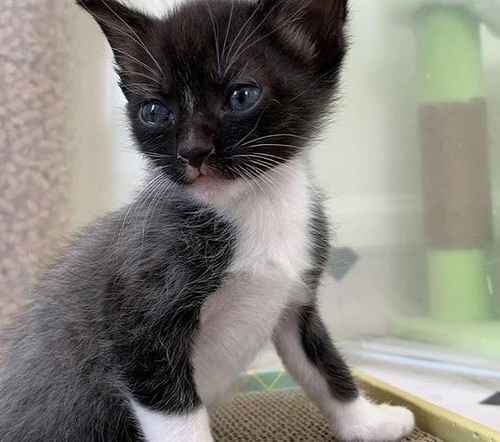 Right before flying to Massachusetts, Rain had a purse string surgery to correct her prolapsed, paid for using funds raised by her amazing foster mom, Evelyn. "After her being here for a few days, the sutures were removed and shortly after her rectum came back out," says Brittany.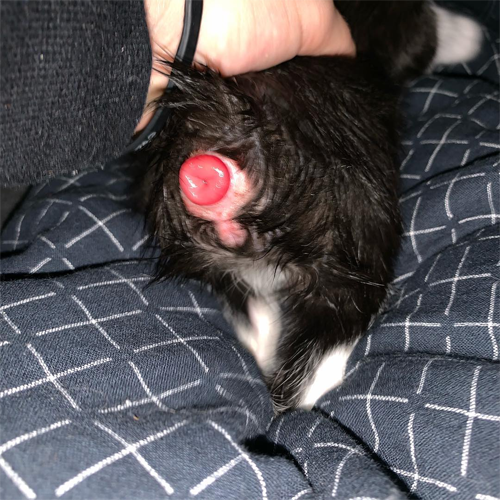 Right away, Brittany took the little kitten to Cape Code Veterinary Specialists to see if there was a more permanent surgical option, but because Rain was still growing quite rapidly, the surgeon determined the surgery would have to wait until she was six months old.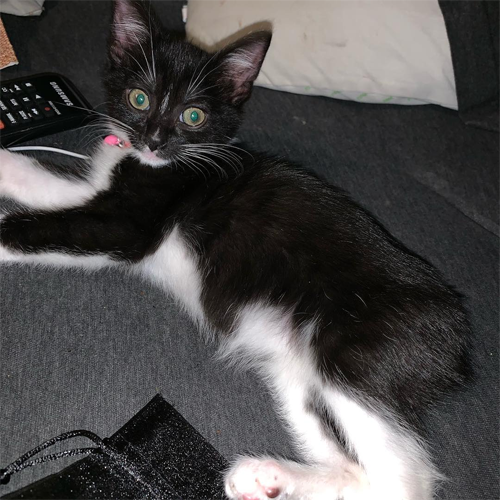 Thankfully, Brittany was given some tips on how to care for Rain's prolapsed rectum, and over time, it started to go back in on its own. "We recently went in for a recheck and the doctor was blown away by how well she was doing," says Brittany. "The doctor then informed me that Rain may not need surgery if she continues to do well." Rain is scheduled to see the surgeon again in August 2019, and if she doesn't need to have surgery, then she and her sister will be ready to find their forever home!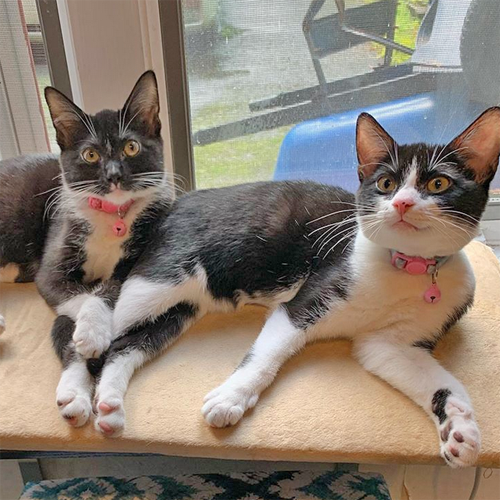 Due to her special needs, Rain and her sister will have to find a family who is willing to give her the extra care she requires, including adding laxatives to her food to keep her stool soft and expressing her bladder and bowels. "Expressing her is fairly easy and takes maybe five minutes three times a day," explains Brittany. "Rain now wears diapers to keep clean and protect her rectum and she is thriving. I am so proud of how well she is doing."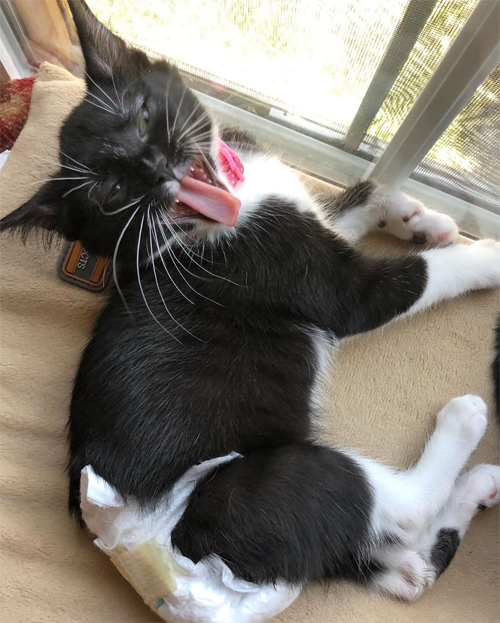 After all, while she may be a bit different from the typical cat — particularly because Manx syndrome causes her to hop like a bunny instead of walk — Rain is an incredibly sweet and affectionate girl who loves to play, watch birds from the window, and eat, just like the average kitten.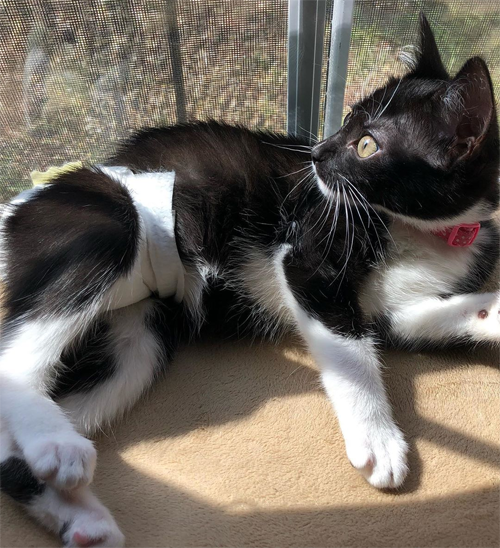 "Rain loves to play with her sister Pip and she loves to snuggle," says Brittany. "When she sleeps, she always has to have some part of her body touching you. She wants to be with you all the time." While some people believe cats with Manx syndrome are incapable of having happy and health lives, Rain is proving them wrong. However, these special needs kitties are still often at risk of being put to sleep, but Brittany hopes to change this by raising awareness about Manx syndrome.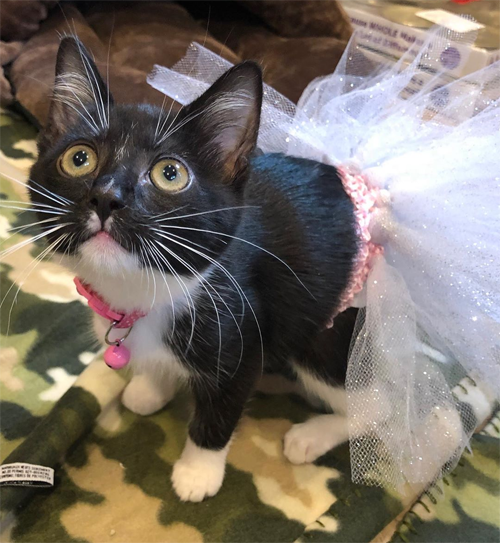 "I have seen multiple kittens that have been placed on the euthanasia list due to having Manx syndrome and this is absolutely wrong," says Brittany. "I can't even imagine that Rain would have been euthanized if her foster mom didn't find a rescue to take her. It makes me so sad."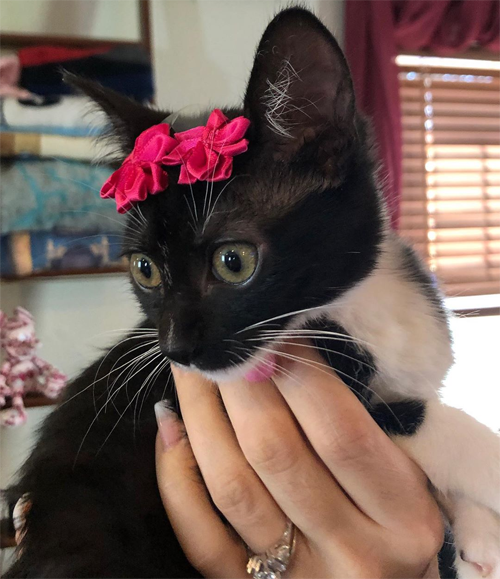 Fortunately, not only is Rain safe, she's getting the care she deserves and enjoying her new life at FURRever Home Rescue with her sister. However, when this adorable pair finally gets adopted, there's no doubt Brittany will miss these sweet and playful girls, having developed a particularly strong bond with Rain.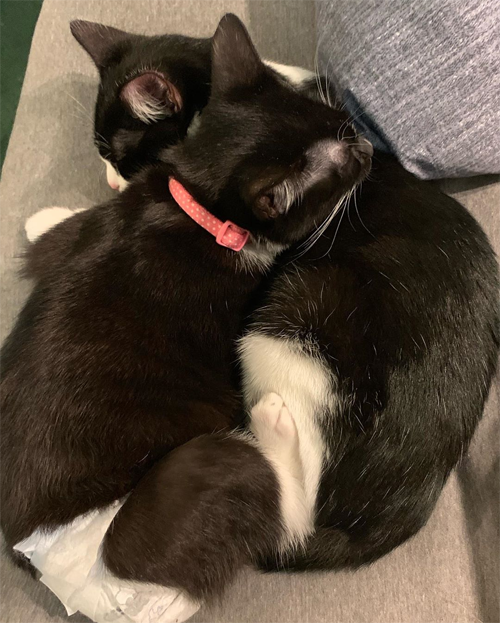 "Special needs kitties give you this special feeling and make you feel so loved," explains Brittany. "They give an unconditional love that is so powerful. They need to you to survive, so the bond between you and the kitty is so much stronger." Consequently, Brittany is going to make sure the family who adopts these sisters is able to give them the life they deserve, allowing FURRever Home Rescue to help even more special needs cats like Rain and Glory.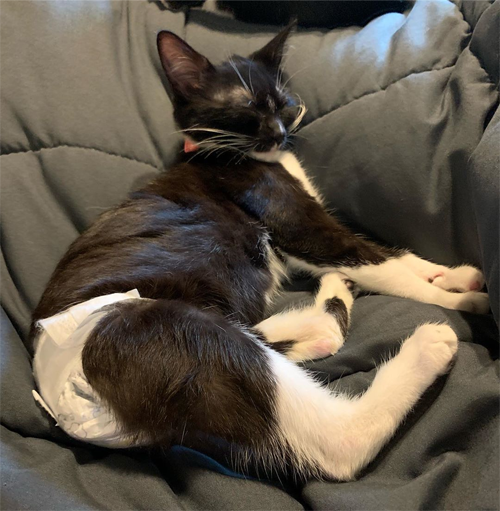 "Whoever ends up adopting her will have to be the absolute perfect person in order for me to be able to let her go," says Brittany. "I feel like Glory brought her into my life for a reason. I almost see a little bit of Glory in Rain. Glory is Rain's angel and mine."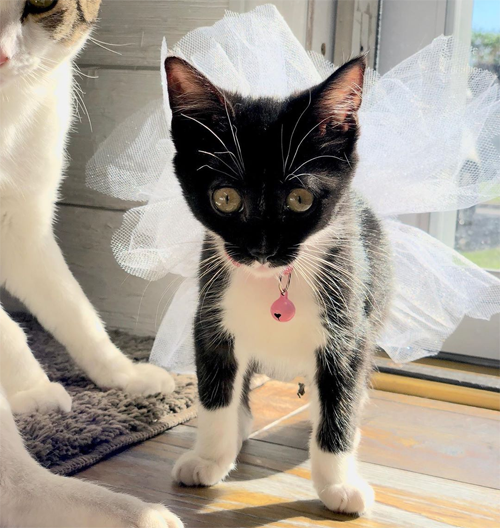 If you're interested in adopting Rain and Pip, or you want to learn more about them, please check out FURRever Home Rescue on Instagram.