Ralph Tran was in the process of moving from New York to California when he got a call from an animal rescue on July 14, 2019, about a tiny newborn kitten in Colorado who was desperately in need of help. "They were asked to contact me as I am a veterinarian who for many years specialized in the care of neonatal kittens," explains Ralph.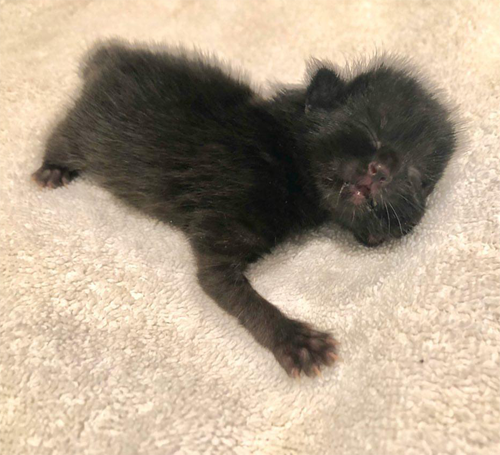 Ralph learned the kitten was a just a few hours old, and she had been surrendered to the rescue after she was rejected by her biological mother. He also discovered the little kitten was born with diprosopus, an extremely rare congenital condition caused by an overabundance of sonic hedgehog protein. "This protein is responsible for facial development in the womb," explains Ralph. "Diprosopus is a condition in which the body and limbs are normal but facial features are duplicated."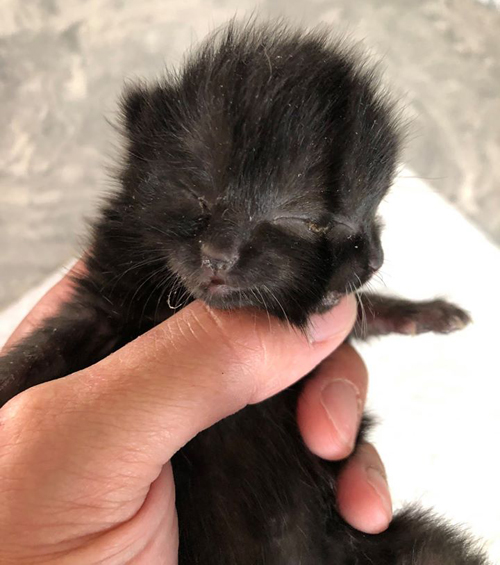 In addition to his experience caring for neonatal kittens, Ralph — who has three blind cats — had a lot of experience looking after special needs cats, so he jumped at the opportunity to help the little feline. "There was no doubt in my mind that I would do all I could to help her survive," says Ralph, and so he picked the little black kitten up from the rescue when she was just three hours old. "I named her Duo because of her two faces."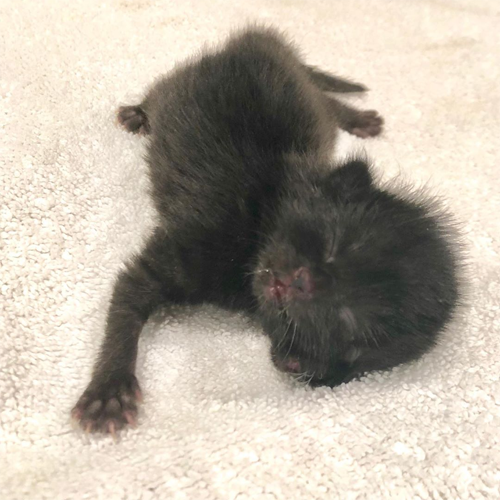 Due to Duo's young age, she had to eat every two to three hours, but Ralph quickly discovered the tiny special needs kitten was unable to latch on to a bottle. However, he remained determined to give Duo the best care possible, so he began feeding her via a tube inserted into her esophagus.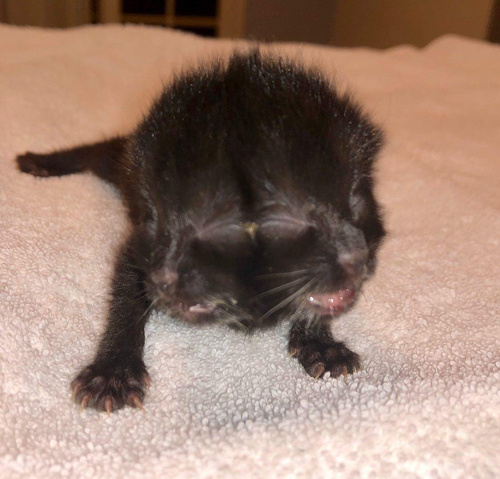 "I really didn't think she would survive past a few hours," says Ralph, but tube feeding proved to be a success, allowing Duo to grow and gain weight. "She was tube fed around the clock every two to three hours for the first three months."
View this post on Instagram

Despite working full-time as a veterinarian, Ralph kept up this rigorous schedule until Duo was finally able to eat on her own, demonstrating just how committed he was to helping this special cat thrive. However, when Duo started eating on her own, she routinely got food in her middle eyes, causing her to develop chronic infections.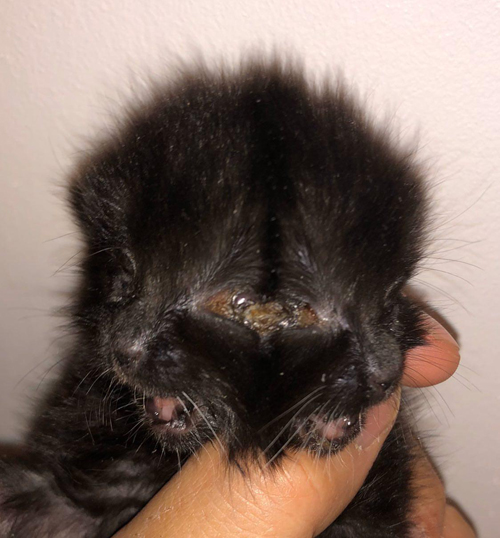 As a result, on March 11, 2020, Duo underwent surgery to permanently treat this persistent problem. "These two eyes were removed because they were non-functional and had been a source of recurrent discomfort and infection," explains Ralph.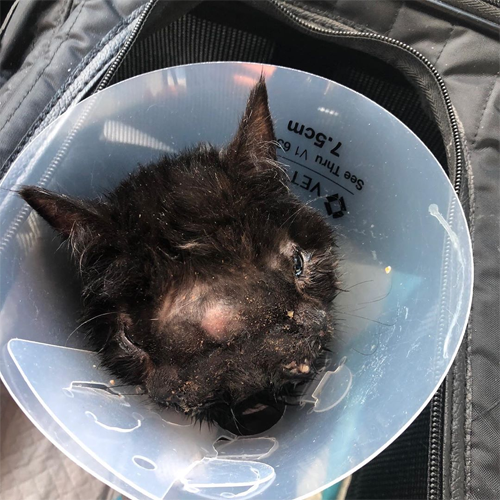 While she was under anesthesia, Duo was spayed, and she also had surgery to treat entropion, a congenital condition that affected her outer, functioning eyes. Entropion causes the eyelids to roll inwards, allowing the eyelashes to rub against the surface of the eye. "This was a source of discomfort as the hairs of the eyelids were constantly scratching at the eyeball," says Ralph.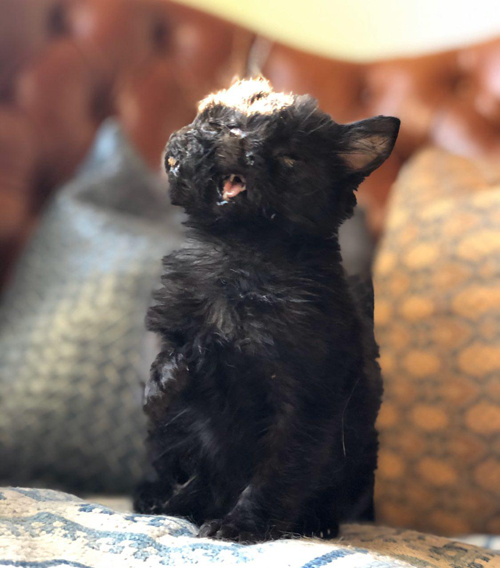 With Ralph's help, Duo recovered from these operations, and today she is pain-free and happier than ever! "Since surgery, Duo has been doing fantastic," says Ralph. "Her two outer eyes are able to fully open and she has become much more coordinated."
View this post on Instagram
However, while Duo is doing great, diprosopus is an extremely rare condition, so it is often misunderstood. In fact, Ralph has found many people associate Duo with conjoined twins, identical twins who are joined in utero. "Conjoined twins can be fused in a number of ways resulting in a myriad of presentations," explains Ralph. "Diprosopus on the other hand is the result of an excess of a protein during embryonic development that leads to duplication of certain facial features."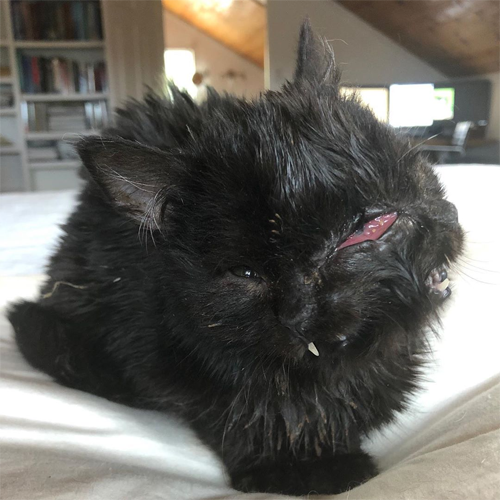 Consequently, Duo was born with an extra nose, mouth, and eyes, but she does not have two brains, a question Ralph commonly gets from people who are unfamiliar with diprosopus. Despite her unique appearance, Duo is a happy and active girl, and Ralph believes she and other special needs cats are capable of having healthy and fulfilling lives. "Special needs animals don't know they're special needs," says Ralph.  "Animals don't dwell on the negatives — or think about them. They adjust to their situation and make the best of it."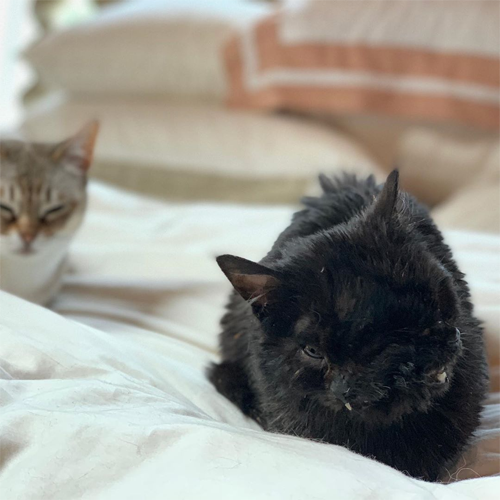 It's obvious Duo has no idea she's different, and thanks to the incredible care and attention she has received since the day she was born, this remarkable cat lives a very normal life. "Duo plays with my other cats, she purrs, grooms herself, and sometimes gets annoyed and hisses, especially when I cut her nails," says Ralph, proving that while she might look a bit different from the average feline, Duo is still a pretty typical cat.
View this post on Instagram
In addition to playing, Duo — who once struggled to eat — absolutely adores food, and Ralph believes there's nothing this gorgeous girl loves more than meal times. "She knows the sound of the can opening," says Ralph, "and as soon as she hears it she runs to her food bowl and runs in circles waiting for me to put the bowl down."
View this post on Instagram
When Ralph met Duo in July 2019, she was just a few hours old and he wasn't sure if she would make it through the night. However, he was determined to do his best to save her life, and nearly nine months later, Duo is thriving. If Ralph hadn't come to Duo's rescue, she probably wouldn't be alive today, but he refuses to take all the credit for her survival. "She's had to overcome some hurdles but it hasn't stopped her," says Ralph. "She's definitely shown me that she's a fighter. She's taught me that every animal deserves a chance."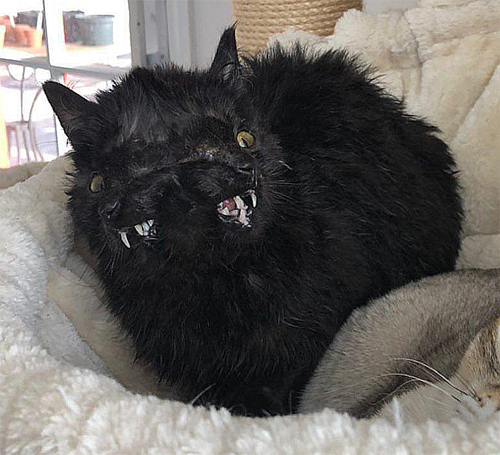 To learn more about this beautiful cat, you can follow Duo on Instagram.