When Jenn and her husband Sean heard that Happy Homes Animal Rescue, the New Jersey organization that had rescued their cat Lana, was working to bring a fluffy white Persian kitten with cerebellar hypoplasia (CH) to the United States from Egypt, they were eager to follow the adventures of the little special needs cat.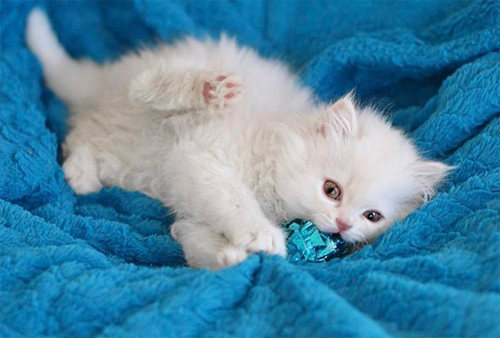 "Cerebellar hypoplasia is a non-progressive neurological condition that affects fine motor skills and coordination due to the underdevelopment of the cerebellum," explains Jenn. "This can happen for a number of reasons, such as the mother having an infection or virus or being malnourished while the kitten is in the womb." While cats with CH can have happy and healthy lives, the condition is still poorly understood throughout much of the world, and the little kitten,Toby (formerly Q-Tippy), was unable to find a home in Egypt.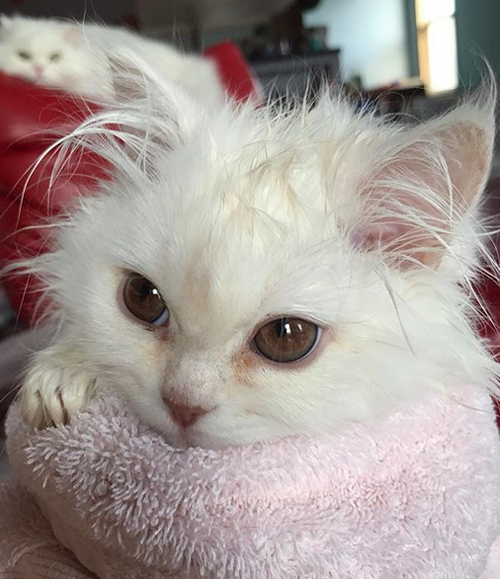 Thankfully, Happy Homes Animal Rescue successfully transported Toby — who was born on January 20, 2017 — to the United States in April 2017, and this little special needs kitten went to live with Athina and Mark, a New Jersey couple who fosters international rescue cats until they're able to find permanent homes.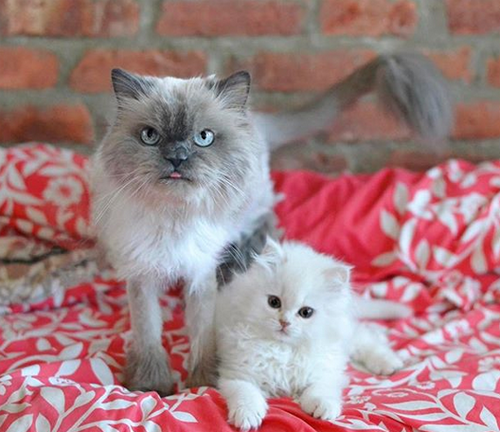 Jenn and Sean, who have multiple Persian rescue cats, continued following Toby via Athina and Mark's Instagram account, and over time, they developed an affection for the fluffy — and wobbly — little kitten. "For close to two months, we would see photos and videos of him and fall more and more in love each time," remembers Jenn.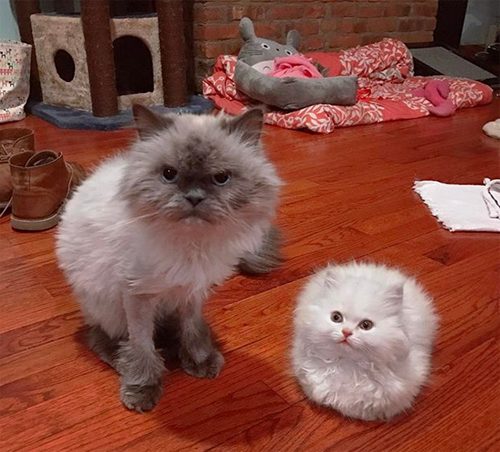 Jenn, whose parents rescued a three-legged cat from euthanasia when she was a child, had an affinity for special needs animals, and she and her husband had agreed that they would one day open their home to a less adoptable pet like Toby. While they had adopted plenty of rescue Persians, Jenn and Sean didn't have any firsthand experience with cerebellar hypoplasia, so they did a lot of research on the condition before they seriously considered adopting Toby. "Even though there is no cure for CH, it also doesn't get worse," says Jenn. "A cat's condition will stay the same throughout his or her life."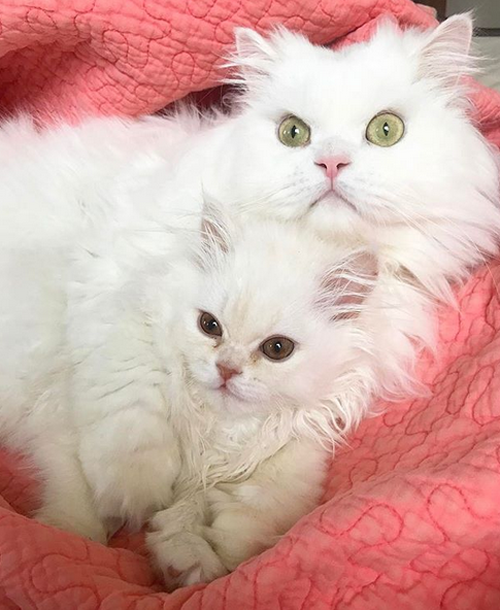 Cerebellar hypoplasia ranges from mild to severe, and because it impacts the area of the brain responsible for balance and coordination, cats with the neurological condition are often unsteady on their feet and frequently have head tremors, especially when they're excited. "Toby is considered mild to moderate," explains Jenn. "He wobbles when he walks, loses his balance from time to time, and slightly bobs his head when eating and drinking."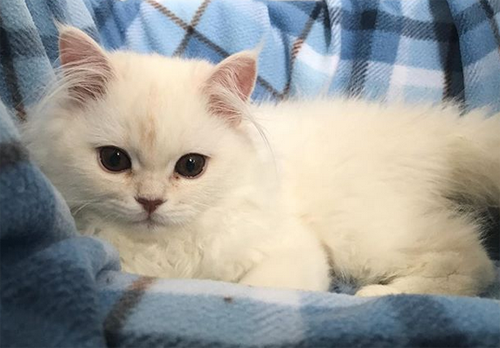 Unable to admire Toby from afar any longer, the New Jersey couple arranged to meet the CH cat in his foster home. "We just had that feeling in our hearts that he should be a part of our family," says Jenn, and they decided that if the little special needs kitten required more care and assistance than a typical cat, they were up for the challenge. Jenn and Sean discovered that Toby was even more lovable in person, and two days after meeting him for the first time, the couple officially adopted the five-month-old kitten who had traveled around the world to find his forever family.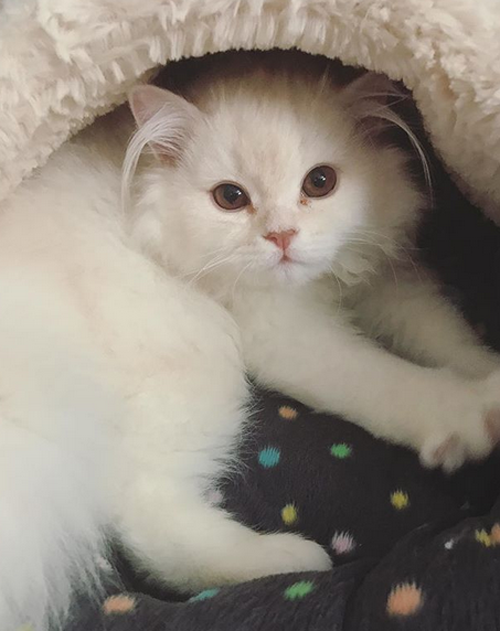 Shortly Toby arrived at his new home, this adorable Persian cat quickly proved to his parents — who were willing to do pretty much anything to accommodate him — that he really didn't need anymore help than the average kitten. Jenn and Sean moved Toby's litter box to a place where he would be able to access it in a hurry, and they also decided to put a gate in front of their stairs for his safety. "He can't climb or jump," says Jenn, "so we were worried that if he tried to use them, he would end up falling and getting hurt."
Other than these minor adjustments, Jenn and Sean have had to do very little to accommodate Toby, and they believe he's really not that different from his siblings who don't have CH. "He loves chasing after the balls in a toy track, trying to capture the little red dot, and playing in tunnels," says Jenn.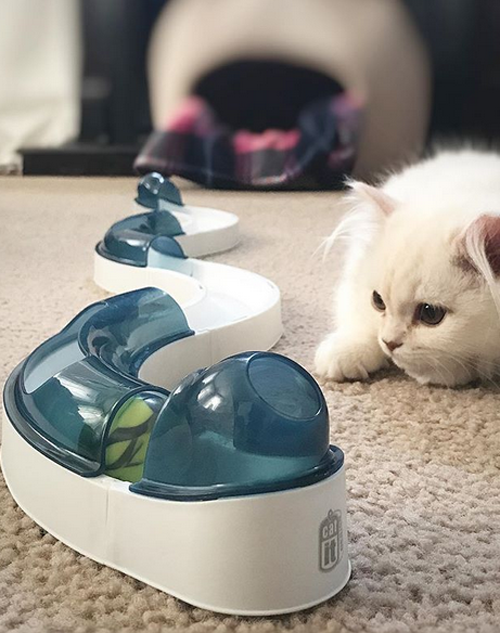 Toby also enjoys playing with his sister Lana, the beautiful Persian cat the couple adopted from Happy Homes Animal Rescue. "She is so good with him and never runs too fast or too far so that he can keep up," says Jenn. "Many times they can be found playing in boxes and laundry baskets."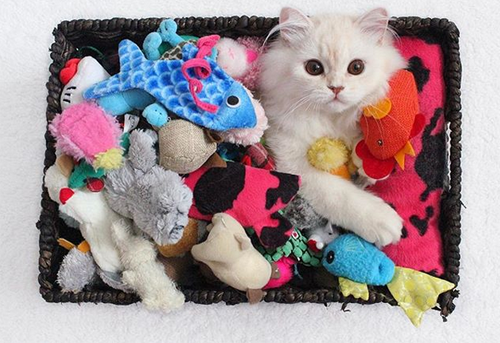 When Toby's not chasing after his sister or playing with a crinkly toy, this adorable cat enjoys snuggling with his parents, the people he had to travel thousands of miles to meet. "We put him in our arms," says Jenn, "and within seconds he is relaxed and starting to fall asleep."
Toby — who recently celebrated his first birthday — has been with his mom and dad for approximately seven months, and during this time, he has taught his parents so much about cerebellar hypoplasia. "I think the biggest misconception about cats with CH is that they are in pain and don't have a good quality of life," says Jenn, "which is the furthest from the truth."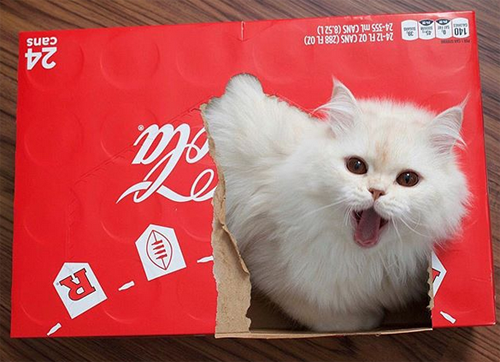 Undoubtedly, Toby is incredibly content and he is thriving in his new home with his parents and four siblings, all thanks to the second chance this remarkable boy was given when he was rescued and transported to the United States. While this adorable special needs cat had to journey halfway around the world and wait several months in order to meet Jenn and Sean, the challenges Toby faced early on in his young life now serve as inspiration to his mom and dad. "He is a constant reminder that through strength and determination, you can overcome all obstacles," says Jenn. "We are so incredibly thankful and lucky to be his forever family."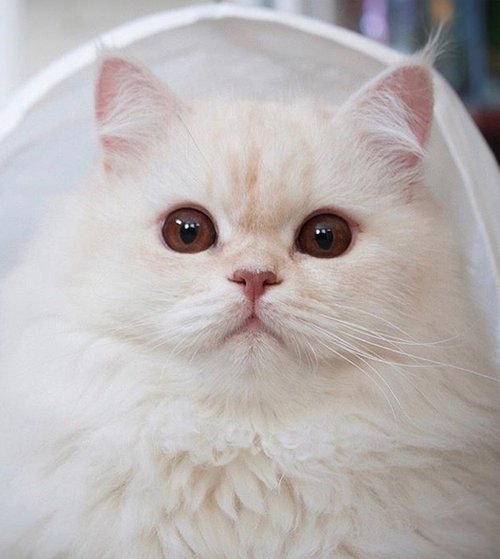 To learn more about this adorable cat, you can follow Toby on Instagram.