Sensitive Content
This post includes photos some people may find upsetting.
When Ana De Luccia's friend, a volunteer at Orange County Animal Care (OCAC), shared a video on social media about a calico cat who had ended up at the California shelter after sustaining severe head trauma, she knew she had to try to help the injured feline. "She was horribly mangled, but still prancing around and rubbing against the shelter staff," remembers Ana. "She just wanted to be loved!"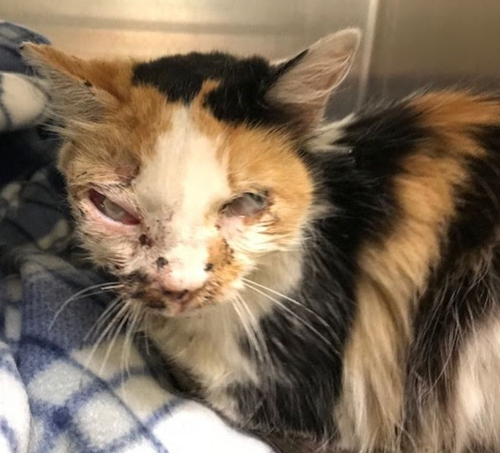 However, due to the severity of her injuries, the calico cat was at risk of being euthanized by the end of the day if no one came to her rescue, so Ana immediately sent the video to another friend, Angie Rubin of Buckingham Cats, a nonprofit organization in Los Angeles. "I shared the video with her, and made the offer to foster if she could offer rescue backing," explains Ana.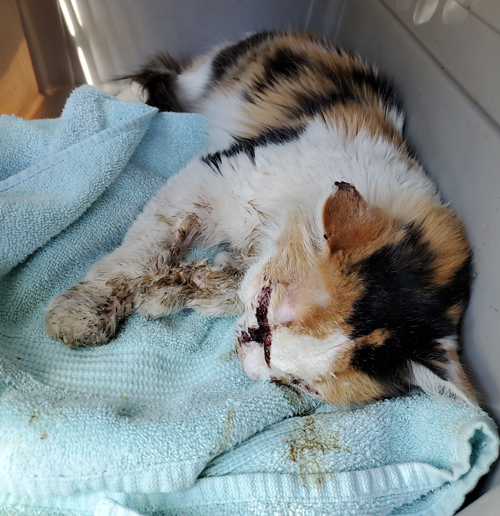 Even though Angie knew the injured feline would need a lot of expensive medical care, she didn't hesitate to provide Buckingham Cats' help and support, and on July 29, 2020, Ana collected the three-year-old cat from the shelter just minutes before it closed. "When I saw her in person for the first time, all I could do was cry," says Ana. "She was struck very hard with something, to the point that it ruptured her right eye, broke her jaw, and split her hard palate. She also had burns on one of her ears."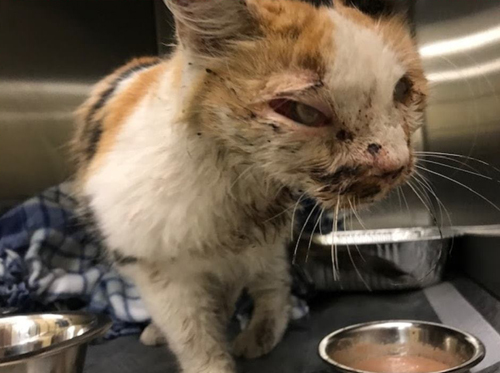 Despite her horrific injuries, the calico cat was undeniably gorgeous, so Ana wanted to choose the perfect name for the stunning young feline. Ultimately, she settled on Fiona, an ode to the animated character who was placed under a curse, causing her to transform from a beautiful princess into an ogre at night. "She's named after Princess Fiona from Shrek, because that first night she looked a bit like an ogre, but she was still beautiful," explains Ana.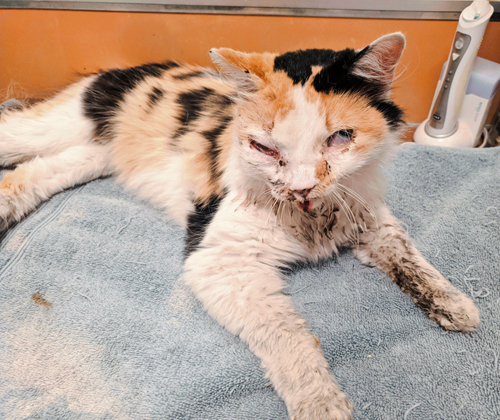 Thanks to eight years of experience in animal rescue, Ana helped Fiona make it through the night, and the following morning she took her straight to a veterinarian for a thorough examination. "The vet who saw her the morning after we got her home told us she was beyond their facility's ability to fix, and that it would be best just to euthanize her," remembers Ana, but she and Angie from Buckingham Cats refused to give up on Fiona, and after 12 hours of driving all around Southern California, she found a surgeon who was willing to treat the three-year-old feline.
In early August 2020 Fiona underwent surgery to repair her hard palate, and while the surgeon had hoped to remove her ruptured eye at the same time, they had to cut the procedure short because her blood pressure started to drop.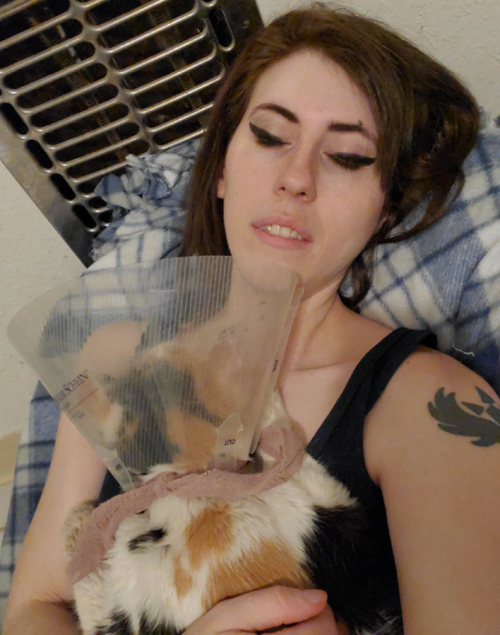 Thankfully, Fiona recovered from the operation, but due to an ongoing infection in her nasal cavity, she hasn't been healthy enough to go under anesthesia for a second time to remove her eye. "Because she's so congested, she won't eat on her own and has to be syringe fed multiple times a day," explains Ana.
View this post on Instagram
While it's impossible to know the exact cause of the trauma Fiona endured, she was most likely the victim of animal abuse and cruelty. For Ana, who was diagnosed with post-traumatic stress disorder (PTSD) after suffering trauma of her own, caring for this incredibly resilient cat has given her a new purpose in life. "She is so patient with me while I administer her medications, fluids, and syringe food into her mouth," says Ana. "We have a good cuddle session afterward to make up for it."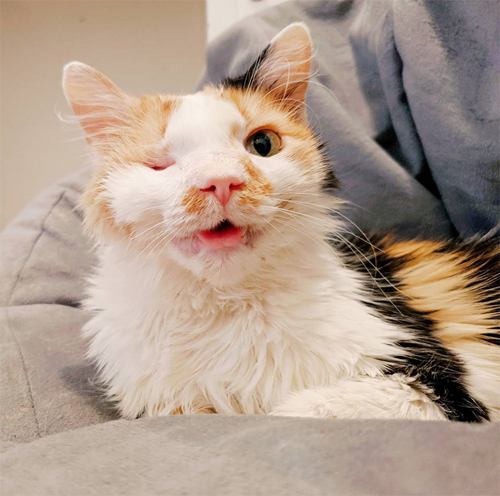 In addition to cuddling with Ana, Fiona adores making biscuits, and she loves grooming and snuggling with Cheddar, a ginger kitten who had broken ribs when he was rescued.
View this post on Instagram
"She has decided he is her baby," explains Ana, demonstrating just how incredibly resilient and affectionate Fiona and other suspected survivors of animal cruelty and abuse can be. "They can make incredible recoveries — both physically and emotionally — if you give them the patience, love, and care they need. Building that trust and forging that kind of bond is like nothing else you'll ever experience."
View this post on Instagram
While Fiona still has a ways to go in her physical recovery, thanks to Ana and Angie at Buckingham Cats, she is alive, stable, and surrounded by people who only wish to help — not hurt — her.
View this post on Instagram
Even though it's impossible to say exactly what the future holds for Fiona, it's almost certainly brighter than it has ever been, especially because Ana and her husband have decided to adopt this very special girl. "She has kind of become my whole world," says Ana. "She always looks like she's smiling, and she drools a lot. It always makes me laugh when she gives me a big slobbery kiss on my cheek."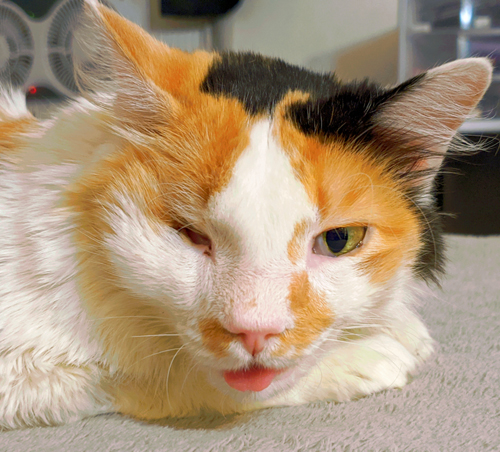 To learn more about this gorgeous girl, you can follow Fiona on Instagram.
You can also donate towards Fiona's future medical care, which will include the removal of her eye and additional dental work, and you can cast your vote to make Fiona "America's Favorite Pet," giving this special girl a chance to win a $5,000 cash prize!