When Kylee Cameron learned about a sickly tabby kitten who needed a foster home, she and her husband Donny were eager to help the four-week-old feline. "I saw a [Facebook] post about a very small kitten that a woman had been bottle feeding and caring for for a few days," remembers Kylee, "but she was about to leave town for an extended out-of-the-country trip and needed someone more experienced to take over."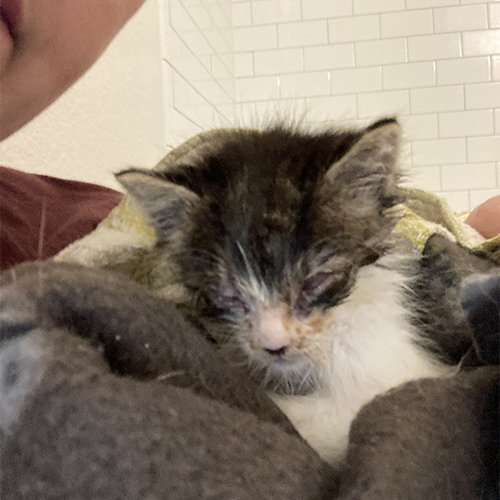 Kylee and Donny had been fostering cats for over a year, and the couple felt they would be able to give the tiny tabby the special attention he needed. When the kitten — whom the couple named Sylvester after the tuxedo cat in Looney Tunes and Merrie Melodies series of cartoons — arrived at their home in Denton, Texas, in April 2022, he weighed just eight ounces and had severe developmental delays. "He did not walk well," explains Kylee. "His back legs were very hunched — he did more of a bunny hop."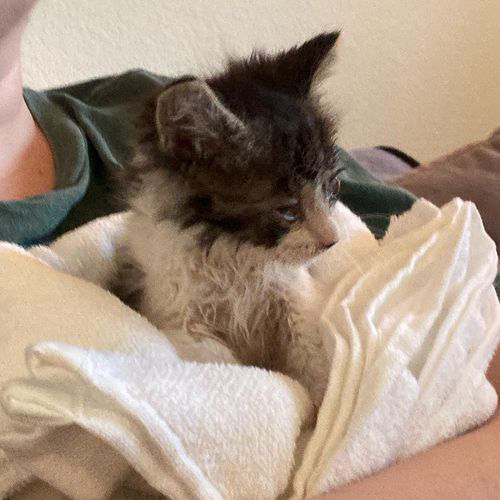 Also, while the Facebook post had mentioned he hadn't opened his eyes yet, something most kittens do when they are approximately eight to 12 days old, Kylee and Donny quickly realized Sylvester's eyes were actually sealed shut due to an infection.
View this post on Instagram
The couple immediately began cleaning the little cat's eyes with a warm, wet rag, and they also started him on oral antibiotics and prescription eye drops. "Things began clearing up," remembers Kylee. "His eyes opened and started to be less swollen, and he started getting playful."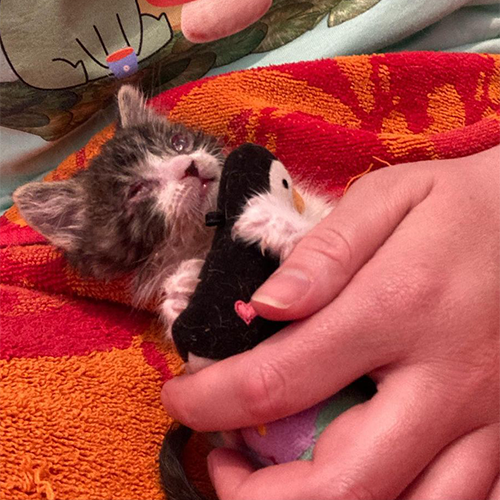 Just as Sylvester seemed to be turning a corner, he developed a severe case of diarrhea three weeks after arriving at Kylee and Donny's home. Sylvester's health deteriorated so quickly that he nearly died, but with the help of subcutaneous fluids and a course of new antibiotics, the tiny kitten made a miraculous recovery. "He survived," says Kylee, "but we really thought he was going to be our first loss as fosters."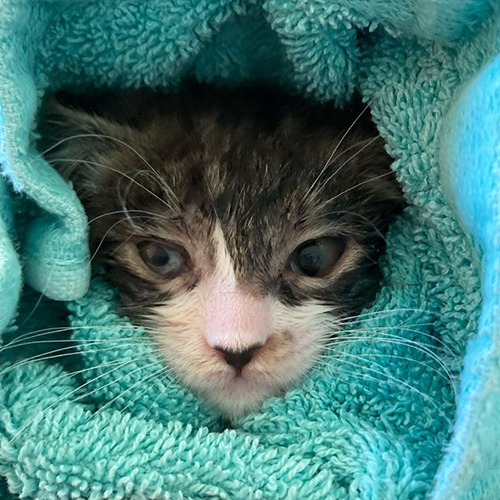 When he was no longer infectious, Kylee and her husband introduced Sylvester to a litter of kittens who were approximately one month younger than him. "He really blossomed with his social skills and picked up on the litter box and eating on his own," says Kylee. Today, Sylvester is a happy and healthy young cat, although his eyes water a bit more than a typical cat, so his foster parents wipe them with a damp cloth once a day.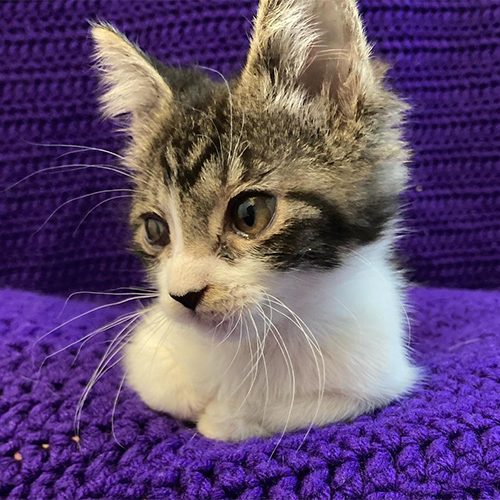 Also, Sylvester continues to have a bit of a wobbly gait, which maybe be due to developmental delays or mild cerebellar hypoplasia, a non-progressive neurological condition that affects balance and coordination. "We haven't had an official diagnosis," explains Kylee, "but he has some common, mild symptoms."
View this post on Instagram
While he might move differently from a typical kitten, Sylvester is an extremely happy and active cat who loves racing around his foster home. He also enjoys eating, stealing toys from the other animals who share his home, and hanging out with Kylee and Donny's cats and dog. "Everyone he meets is his friend," says Kylee. "He is playful and definitely needs a furry friend in his adoptive home."
View this post on Instagram
Even though Sylvester, who is currently available for adoption through Animal Allies of Texas, has had more than his share of challenges over the course of his short life, Kylee believes there's no reason to assume he will be unhealthy in the future. "I wish people knew that cats that have survived illnesses are just as great and loving as 'normal' cats, often will live fulfilling and long lives, and many go on to not have complicated medical futures," explains Kylee.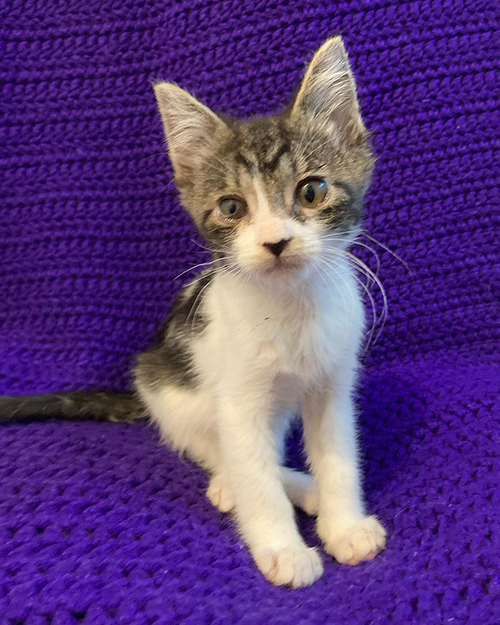 Just three weeks after bringing Sylvester home, Kylee and her husband came extremely close to losing him. At the time, the couple had never lost a foster cat before, but while Sylvester was recovering, a tiny three-day-old kitten passed away while in their care. "That was so hard," remembers Kylee. "Having Sylvester here and knowing he made it helped our sad hearts during that time. It still does."
View this post on Instagram
When Sylvester finds his forever home, Kylee and Donny will miss him dearly, but they will never be able to forget this tenacious tabby who fought so hard to survive. "Sylvester is our special little guy," says Kylee.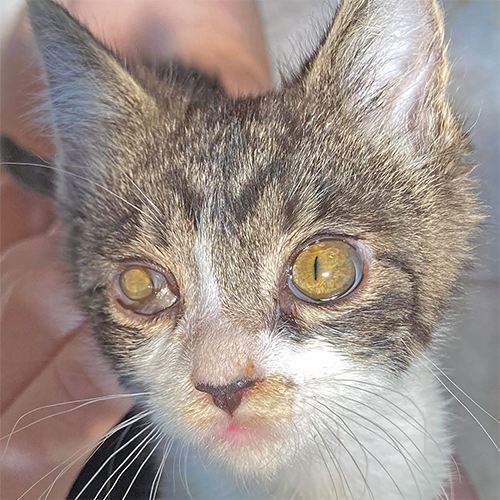 If you want to learn more about this adorable kitten, you can follow Sylvester on Instagram.
If you're interested in adopting Sylvester, you can complete an application.