If your home or garden is filled with non-toxic, feline-friendly plants, then we've found the perfect items for you! These products are perfect for people who love plants nearly as much as they adore cats, including some fun clothing, accessories, home decor, crafts, and gardening supplies!
SUPEYA Cats and Plants T Shirt Women Funny Plant Gift Tee Gardener Shirt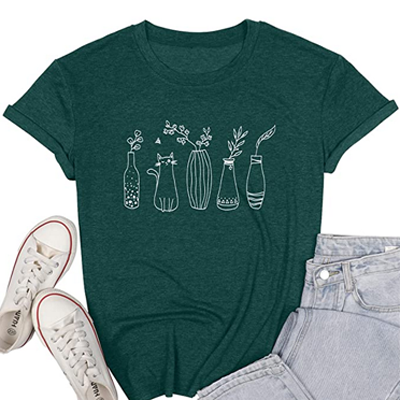 This tshirt is made for women who loves cats and plants, it's available in sizes from Small to XX-Large and it comes in green, blue, pink, purple, and dark grey styles.
Modern Creative Cat Plant Terrarium Metal Stand for Hydroponics Plants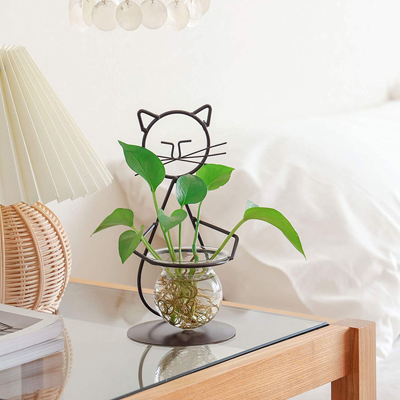 This metal plant stand looks like cat, and it features a glass vase for flowers, cuttings, and plants.
Cat Wall Art Prints by Ink Inc. | Modern Design Cats and Flowers | Minimalist Modern Home Decor | 8×10 Set of 4 Unframed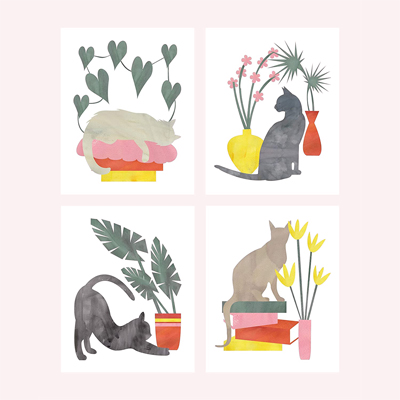 This set comes with four unframed prints, each featuring a different cat surrounded by plants.
Hotsox Cat Cactus Socks 1 Pair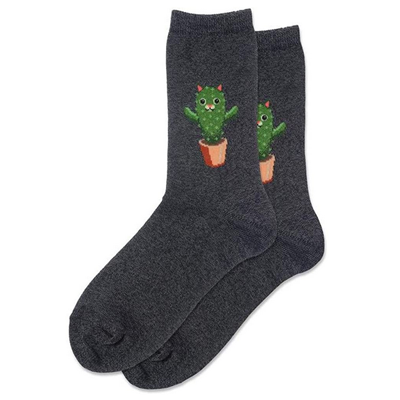 These socks feature a cactus that looks like a cat, they're made for women, and they come in red and charcoal grey styles.
Glassworks Northwest – Cute Cat Plant Stake Orange – Fused Glass Garden Art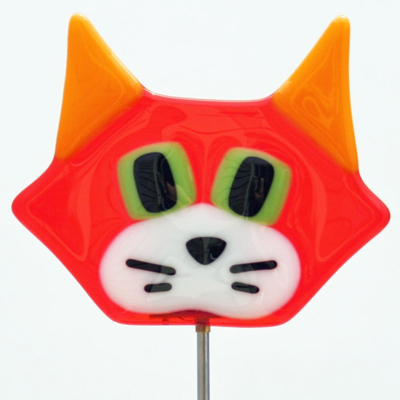 These plant stake features an adorable orange cat, and it's made from fused glass and stainless steel.
Cat Grass Kit (Organic) Complete with Rustic Wood Planter, Seed and Soil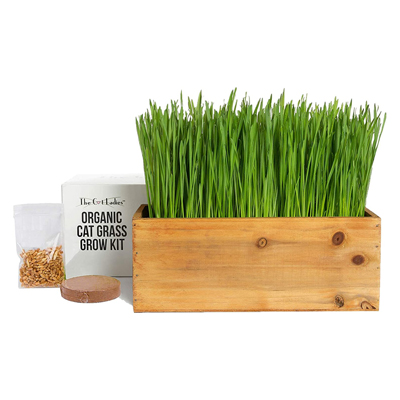 This kit includes everything you need to grow organic cat grass for your kitty, including sees, soil, and a wooden planter.
Miniature Lucky Cat DIY Figurines, Pack of 6 Mini Fairy Garden Hanging Cat Figure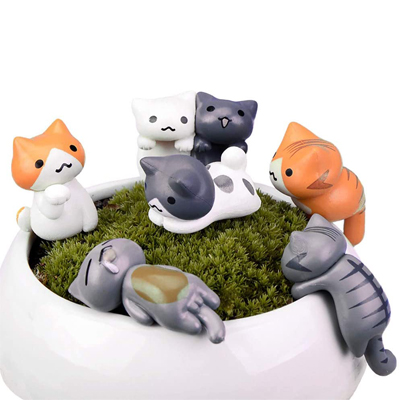 This set comes with six cat figurines you can hanging from planters and plant pots, and they're made from resin.
Cross Stitch Kits for Adults with 4 Embroidery Clothes with Plant Cat Pattern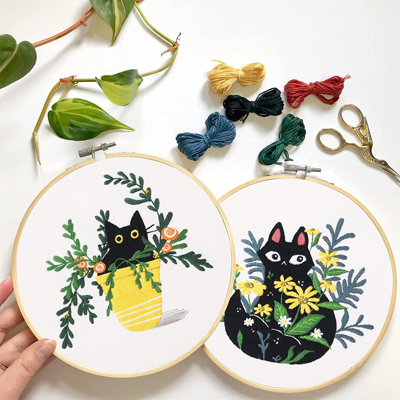 This set includes four kits you can use to embroider images of adorable cats surrounded by plants and flowers.
Cute Plant Mom & Cat Lover Sticker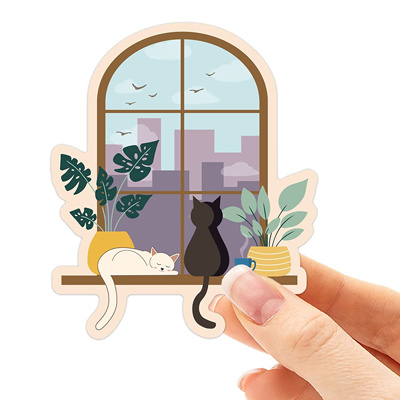 This sticker features two potted plants and a pair of cute cats sitting on a window sill, and it's made for durable vinyl.
3 Pieces Set Cat Shaped Ceramic Succulent Cactus Flower Pots with 3 Tier Bamboo Treetop Stand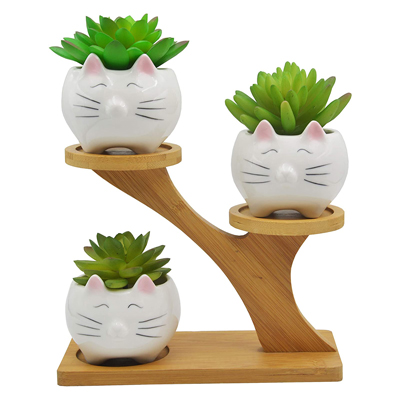 This set comes with a three tier bamboo plant stand and three planters that look like cats, making it great way for you to display your succulents.
Womens Crazy Cat and Plant Lady Cactus Succulents Pet Parent T-Shirt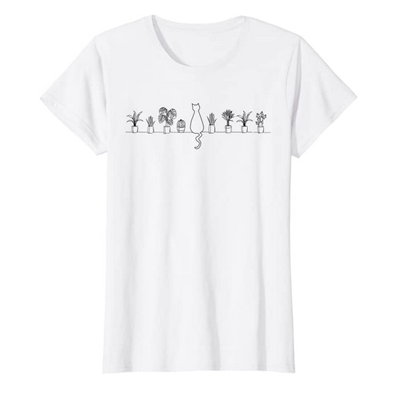 This tshirt features a simple illustration of a cat surrounded by potted plants, and it comes in styles for men and women.
Chic Boho Exotic Cute Kawaii Cat Cactus Hand Towel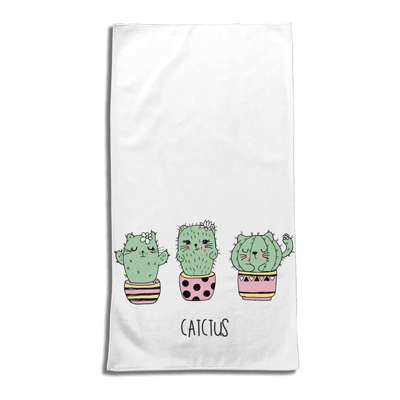 This hand towel features three adorable cats that look like cacti, and it's super soft and absorbent.
Cats and Plants: Coloring Book for Adults and Children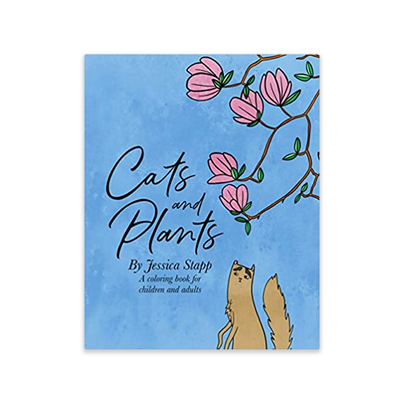 This coloring book is made for both adults and children, and it features 30 hand-drawn coloring pages of cats and plants.
Minimalist Cat Wall Art – 14×11″ UNFRAMED Print – Cat Line Drawing Wall Art With Plants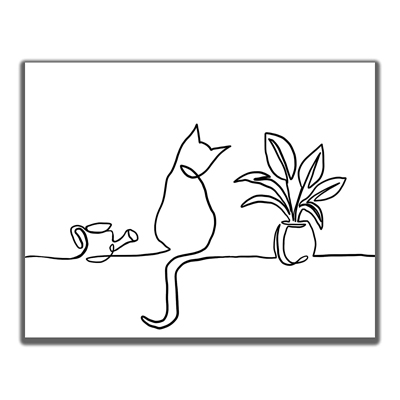 This unframed art print features a line drawing of a cat and a potted plant, making it perfect for people who love cats and plants.
Jitnetiy 3 PCS Hand-Blown Glass Self Watering Globe, Clear Cat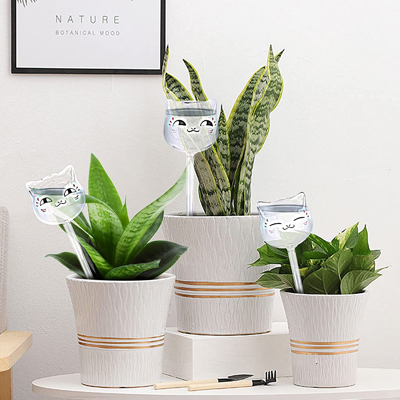 This set includes three self-watering globes that are made from hand-blown and look like cute cats.
Cat Succulent Greeting Cards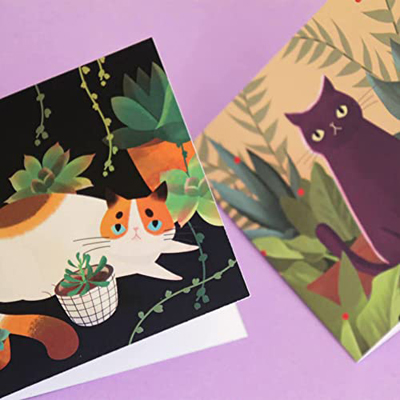 This set includes two greeting cards with illustrations of cute cats surrounded by plants, and they come with envelopes.
Carlton Lane Animal Planter Cat Decor – 7.9 x 8.7 x 5.9 Inches Cat Succulent Planter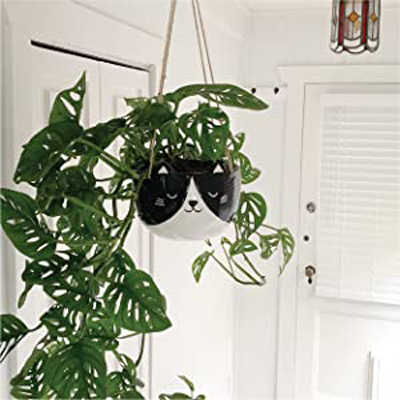 This hanging pot planter looks like an adorable black and white cat, and it's made from ceramic.
Boho Cactus – Premium Quality Cute Indoor Cave Pet Bed with Cushion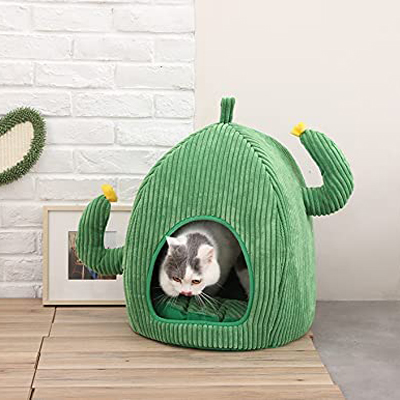 This cat cave bed looks like a green cactus, it's machine washable, and it has a removable cushion.
Pinsanity Cute Cat Cactus Terrarium Enamel Lapel Pin
This enamel pink looks like a terrarium with a cactus that looks like cat, making it a great gift for plant and cat lovers.
Just A Succa For Cats, Plant Lady Mug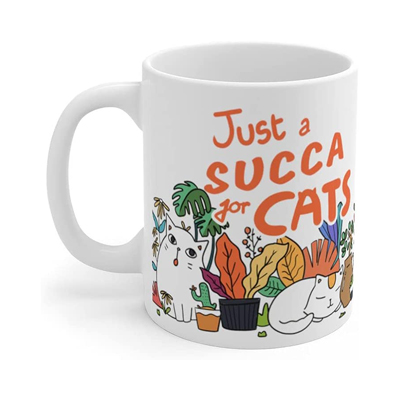 This white ceramic mug features a fun illustration of cats surrounded by colorful plants, and it comes in two sizes for you to choose from.