When Nicole Wulfekuhle and her daughter went to the Tri-County Humane Society in St. Cloud, Minnesota, to visit their two cats, Sunny and Smokey, who were at the shelter recovering from neuter surgery, she had no intention of adopting another pet. However, both Nicole and her daughter couldn't help noticing a three-month-old tabby and white kitten who had been born with malformed eyes. "One [eye] did not develop fully," says Nicole, "and the other only gave her limited vision. They think that she could only see shadows out of the better eye."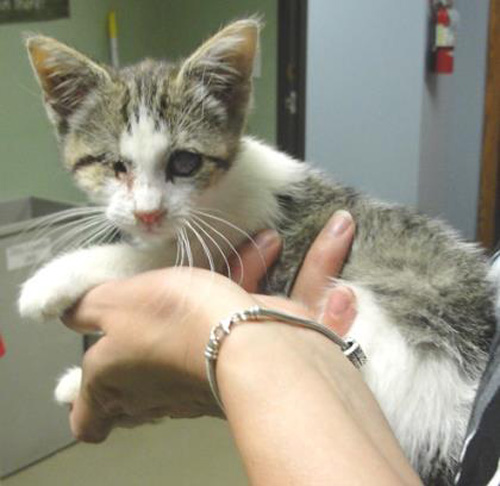 Not only had the adorable cat been born with vision problems, Coraline had infections in both eyes at the time she was rescued. Sadly, the infections were too severe, and eye removal surgery was the only option left for the tabby and white feline. When Nicole and her daughter went back to the shelter a few days later on October 1, 2016, to pick up their cats Sunny and Smokey, they saw the three-month-old kitten once again, this time post-surgery with sutures in both her eyes. "I asked if she would need foster care," Nicole remembers. "She came home with us that day."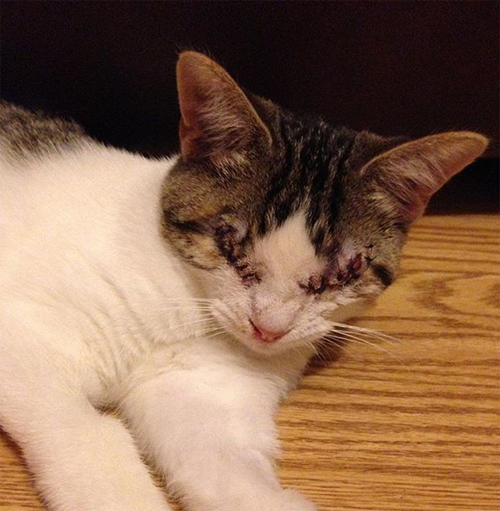 Due to the sutures in her eyes, Nicole's daughters started calling the blind cat Coraline because she resembled the button-eyed characters in the 2009 film. While Nicole had a fair amount of experience with special needs animals, having already adopted Tippers — a black and white cat with mild to moderate cerebellar hypoplasia, a non-progressive neurological condition that impacts balance and coordination — she wasn't sure what sort of challenges to expect with a blind kitty like Coraline.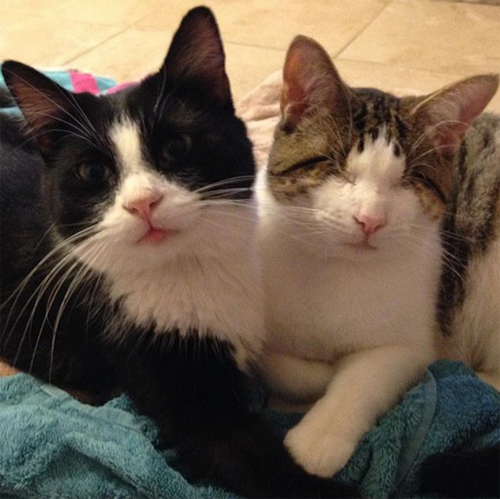 Initially, Nicole and her family took steps to help Coraline familiarize herself with her new environment, often relying on their blind foster kitten's other senses to communicate with her. "In the early days, I would help to guide her with sounds," remembers Nicole, "such as tapping on the floor when she was jumping down so that she could gauge the distance."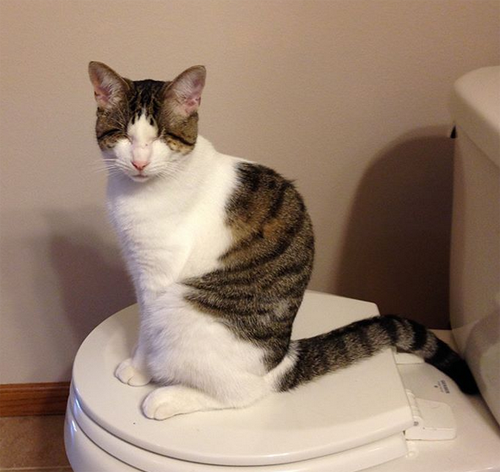 However, Nicole quickly discovered Coraline's blindness wasn't really much of an issue at all, and it didn't take long for her to decide that she wanted the adorable tabby and white cat to be a part of her family forever. "Coraline settled in so well into our home," Nicole recalls, "that it just made sense that she should stay with us." On December 2, 2016, Coraline officially became a part of the Wulfekuhle family, and she has been entertaining them with her antics ever since.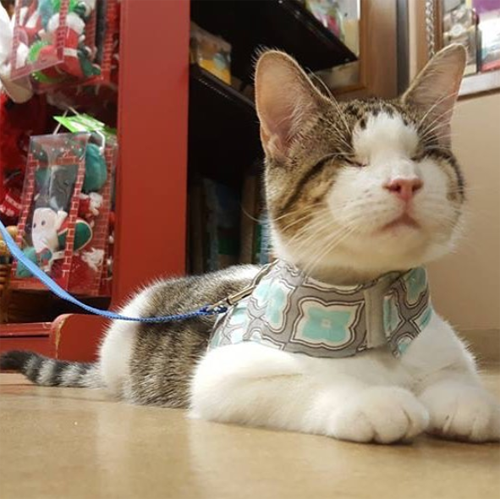 In addition to playing with crinkle toys, cuddling with her new sister, a fluffy ginger kitten named Purdy-Alice, and eating oatmeal with Greek yogurt, this blind cat loves to collect her family's belongings, often depositing them on the stairs for safe keeping. "Coraline is a kleptomaniac!" says Nicole. In addition to stealing crystals, makeup, socks, hats, and seashells, Coraline has an obsession with a particular houseplant. "She has repeatedly dug up a cactus and brought it upstairs," says Nicole, "in the process spreading as much dirt around the bedroom as possible."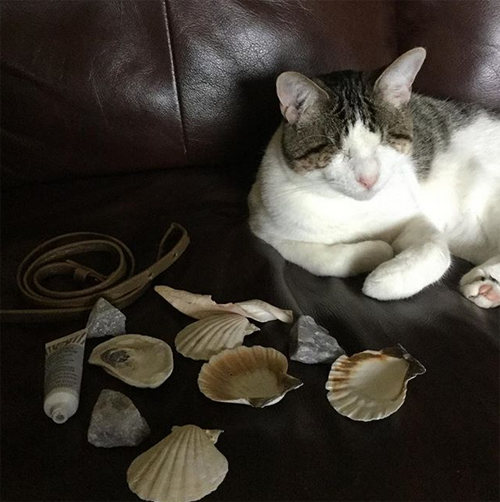 In addition to this amusing habit, Coraline can often be found "looking" out windows, randomly jumping up in the air to try to catch things she senses, and following her family members around the house. "I often forget that Coraline doesn't have sight," says Nicole. "She is no more work than any of my sighted cats."
In fact, one of the only differences between Coraline and Nicole's other kitties is that she's more easily startled by unexpected loud noises. "When she is frightened she loses her bearings and runs into things," Nicole explains. "Thankfully, I am not a fan of noise so we have a fairly peaceful home."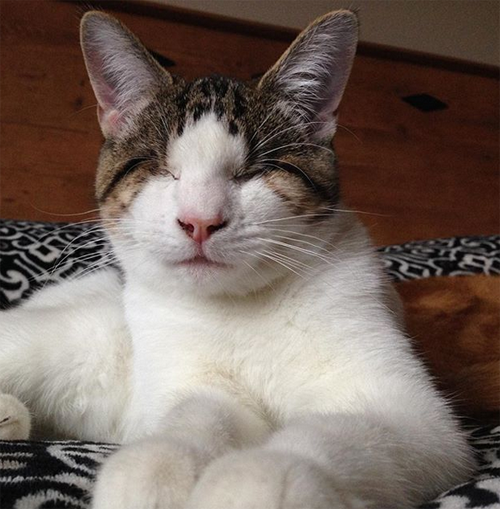 It's been a little over a year since Nicole decided to foster Coraline, and it's one of the best decisions she's ever made. "She is so inspirational," says Nicole. "She teaches me that anything is possible if you believe you can!" In fact, Nicole thinks blind cats like Coraline are ideal for people who want to adopt a relatively low maintenance special needs pet.
"Blind cats are the sweetest cats," Nicole says. While Coraline may have lost both her eyes, Nicole is confident her special needs kitty is a happy and healthy girl who lives a full life filled with fun and love.  When anyone asks if Coraline's lack vision impacts her ability to have a normal life, Nicole says, "I tell people that she sees with her heart."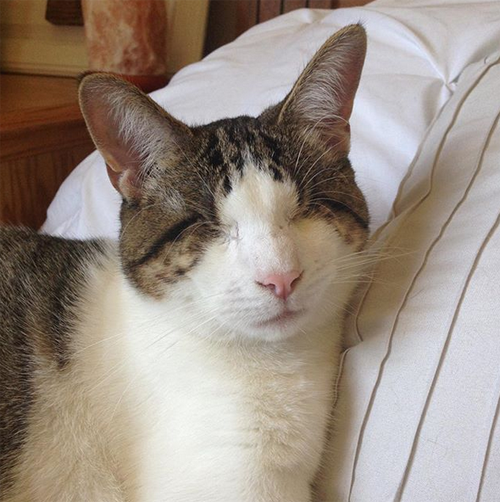 To learn more about this incredible cat, you can follow Coraline on Instagram.