Within a few months of adopting Kenny, Sue Smith and her husband lost their beloved kitten to feline infectious peritonitis (FIP), a deadly virus that is almost always fatal. The Smiths were devastated by Kenny's sudden passing at such a young age, but instead of choosing to never adopt another pet, the heart-breaking experience inspired the Long Island couple to open their home to special cats. "I wanted to do something to honor Kenny who came from deplorable conditions," says Sue, "and start to 'give back' by adopting the less adoptable."
The first special needs cat they adopted was Ray, a stunning black kitty who had been living on the streets for year before an animal rescue came to his aid. While plenty of homeless cats manage to survive for years on the streets, relying on their wits and the kindness of strangers for food and shelter, Ray was exceptional because he was completely blind when he was rescued.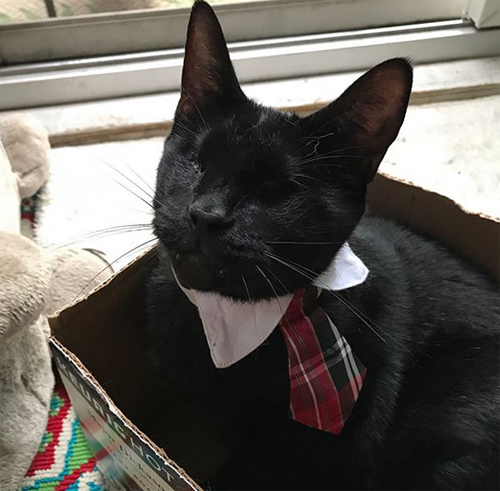 The Smiths traveled two hours to adopt Ray, who was approximately two years, and after bringing this beautiful — but extremely timid — boy home, they watched as he slowly transformed right before their eyes. "It was such a positive experience watching him change from a scared cat under the chair to the ruler of the house," says Sue. Shortly after welcoming Ray into their family, the Smiths adopted yet another blind cat, an adorable tuxedo girl named Cookie. "I couldn't resist that sweet face," Sue explains.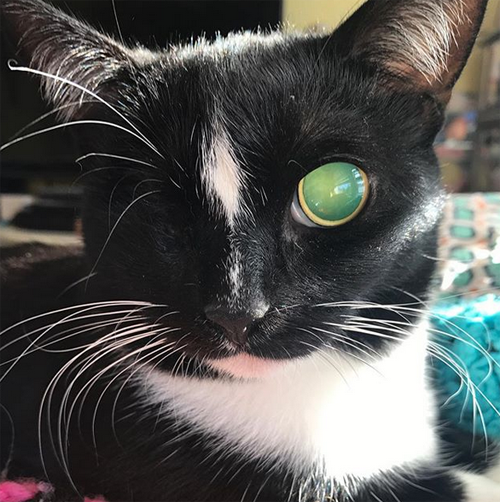 After having so much success adopting their first two special needs cat, Sue began searching for a blind kitten to adopt, at first setting her sights on Buddy, the first blind cat Beth Stern ever fostered for North Shore Animal League. However, Buddy, who had other health issues in addition to blindness, was adopted by his veterinarian, guaranteeing the special needs cat would receive the close medical supervision he needed. Still, Sue was determined to get another special needs cat, and she told Beth she would adopt the next blind kitten she fostered.
On September 8, 2015, Beth and Cindy Szczudlo, the Director of Rescue Services at North Shore Animal League, arrived at the Smiths' home with Blossom, a two-month old black and white kitten who had a severe eye infection when she was rescued as a stray. "Beth and Cindy came to the house with Blossom's favorite toys and food and spent about an hour having a meet and greet," remembers Sue. "It was quite an experience."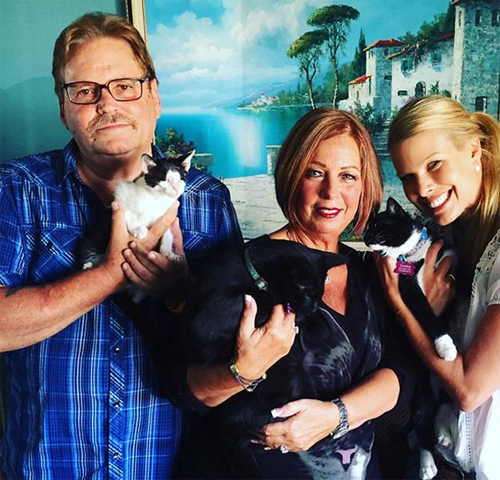 Having never met Blossom before agreeing to adopt her, the Smiths had no idea what to expect from the tiny black and white kitten whose eyes had been surgically removed shortly after she was rescued. However, Blossom wasted no time making herself at home and sharing her unique personality with the Smith family, ultimately showing Sue and her husband that she is capable and curious despite not having eyes. "She climbs everywhere, goes behind everything, and gets into everything," says Sue. "At times I really believe she can see."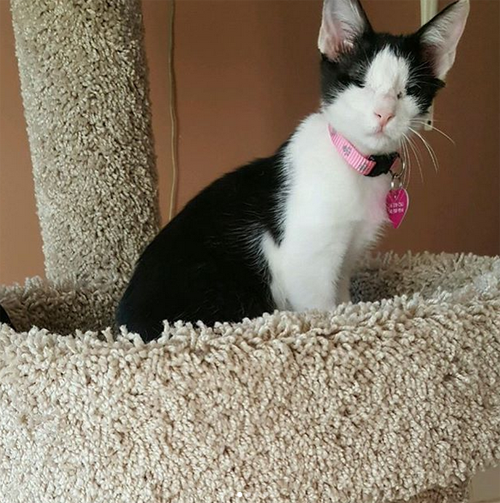 While many people think blind cats might have trouble finding their litter boxes and their food and water bowls, Sue — who went on to adopt another blind cat after Blossom, a silver tabby she named Donovan — says this has never been a problem for her kitties. In fact, even though they can't see, Sue's four blind cats seem to instinctively know which bowl belongs to which cat. "They all eat together at the same time with different food bowls, but they each go to their own bowl," explains Sue. "That kind of makes me scratch my head because I wash them regularly, so how do they know their bowl?"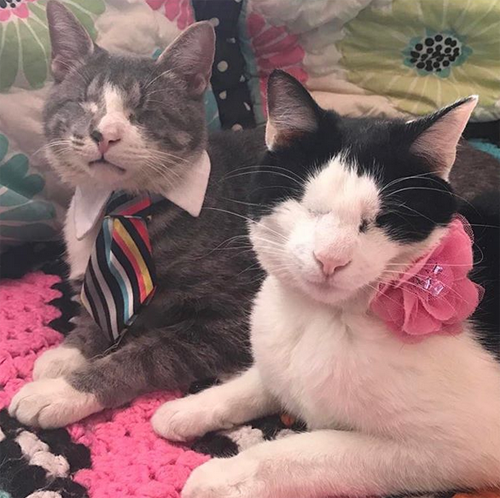 As far as navigating around the Smiths' home, all four cats are able to get around without much difficulty, although Sue is careful not to leave closet doors ajar or rearrange the furniture too often. "They seem to have the house mapped out in their heads," says Sue, "and moving things does confuse them, but they are resilient and learn to compensate quickly." However, Sue is confident Blossom — who loves spending time in the catio catching bugs — has adapted the best to her blindness. "She can jump from thing to thing without ever falling, and she climbs the catio walls like a monkey," says Sue. "I constantly ask myself, 'How does she do it?'"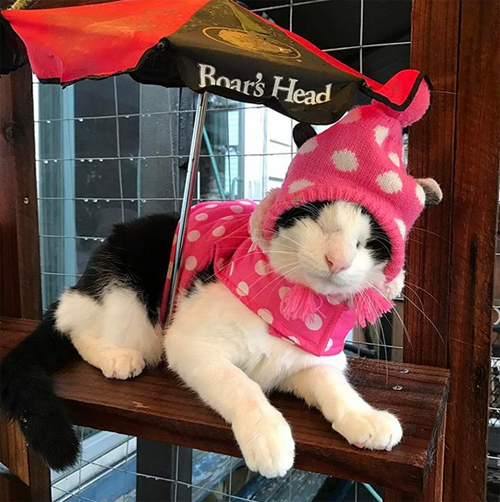 It's been more than two years since Blossom joined the Smith family, and in that time Sue and her husband adopted another blind cat, Donovan, as well as Ozzy, who is sighted but has cerebellar hypoplasia, a non-progressive neurological condition. The Smiths — who were inspired to adopt their first blind cat after the tragic loss of their kitten Kenny to FIP — now have a house full of special animals, but Sue insists they have more in common with a typical cat than most people might think.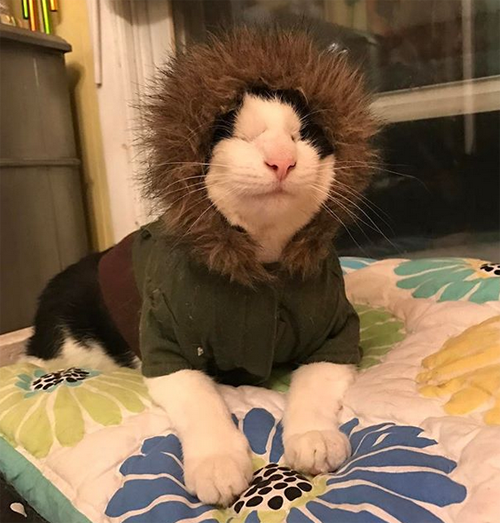 "They really are no different," says Sue, "except I think they give you more love than a non-special needs pet." However, it's hard to deny that Blossom is truly unique, even when she's surrounded by other special needs cats. "If she was a person, she would be an independent strong women with a love for fashion," says Sue. "Blossom is my inspiration."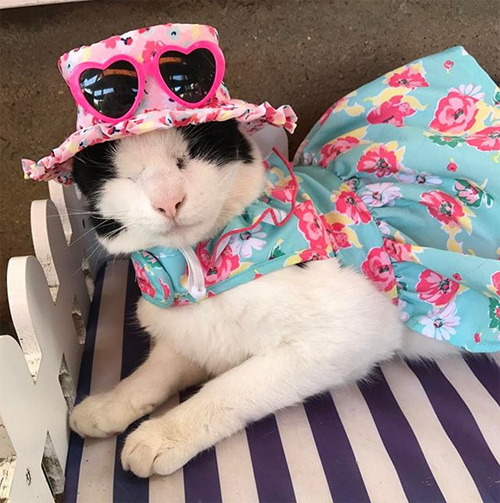 To learn more about this amazing cat, you can follow Blossom and her family on Instagram.