When Meagan Matthews and her husband decided they wanted to find a companion for their senior cat Logan who had recently lost his best friend Niles, the couple knew they wanted to provide a loving home to a kitty other people had passed over. In May 2016, they saw a Facebook post about Hank, a blind and deaf cat who had been rescued from an animal hoarder by the Liberty Humane Society in Jersey City, New Jersey.
While the couple had been looking for a less adoptable pet, such as a senior cat like Logan, they weren't necessarily searching for an animal with special needs. However, after seeing pictures of Hank, a handsome ginger and white polydactyl boy, and reading the story of how he — along with approximately 30 other cats — was rescued from a filthy and unsafe environment, the New Jersey couple was eager to meet him in person. "I just couldn't stop thinking about him," says Meagan, "and then I met him in his foster home and was just blown away."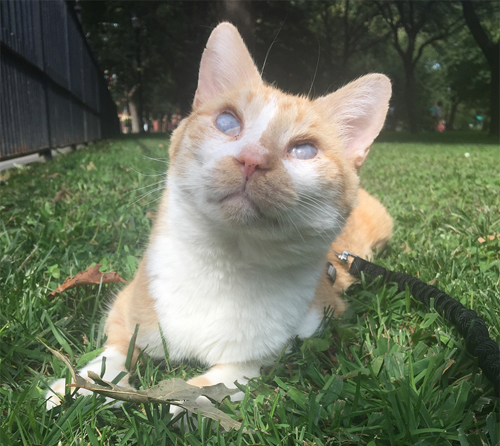 While the details of how Hank lost his hearing and sight are unknown, the rescue determined he probably became deaf and blind as a result of eye and ear infections that went untreated while he was living in squalid conditions in the home of an animal hoarder. Even though Hank was unable to see or hear, he was incredibly confident and fearless, and he impressed the Matthews with his remarkable personality. Meagan remembers it as something akin to love at first sight, recalling, "I knew right away that he was going to be part of our lives."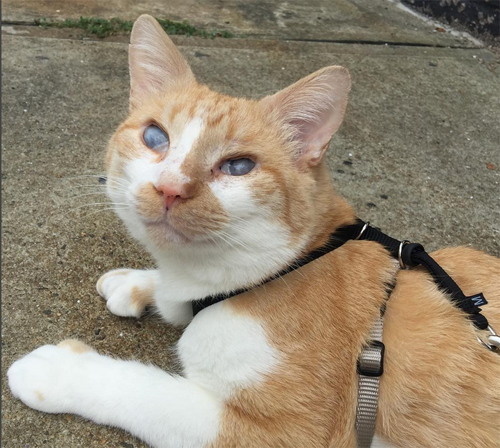 On May 10, 2016, the Matthews adopted their special boy, a day that is particularly significant to the couple because Hank's actual birthday is unknown. The Matthews didn't know quite what to expect when they brought Hank home, but they quickly discovered he was incredibly smart and had an excellent memory. While they had to make a few adjustments to make their home safer for Hank, such as blocking his access to high places and remembering to put the toilet lid down, they found their blind and deaf cat didn't need constant supervision like many people might think.
However, they soon discovered Hank had anxiety, most likely due to the terrible conditions he had been living in before he was rescued, as well as chronic ear infections. Even though he was suffering from emotional and physical pain, Hank was brave enough to trust to his new family. "He never once lashed out in fear or anger or hid from us," recalls Meagan. "It was inspiring to watch him conquer all of these challenges with such energy and purpose."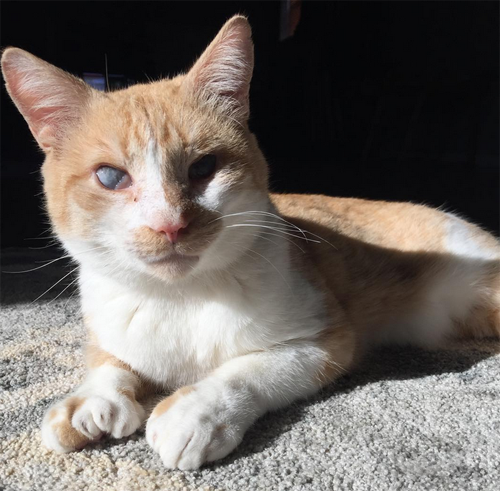 After Hank was successfully treated for ear infections and anxiety, this remarkable cat and his family quickly developed a way to communicate with each other. According to Meagan, "Cats who don't see or hear develop a keen sense of smell and become very sensitive to vibration and air pressure." Consequently, the couple learned to touch Hank, tap on surfaces, and move the air with their hands to communicate with their special needs cats. Hank has no trouble finding his litter box or his food and water bowls, and his family says blind and deaf cats like Hank usually don't have any difficulty getting around. "They will map out their surroundings and can tell what room is where based on the scent or even the texture of a rug leading to a certain room," Megan explains.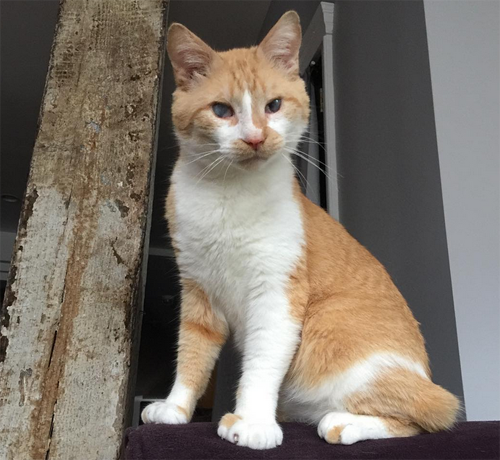 While Hank was settling into his new home with the Matthews, the couple's senior cat Logan passed away in June 2016 after battling severe pancreatitis. Losing Logan was devastating for the couple, but Hank attempted to comfort his new parents, curling up in Meagan's lap for the first time the day after the couple said goodbye to their beloved senior cat. "I really do feel that he could sense my sadness and wanted to comfort me," says Meagan. "He's a sweet guy."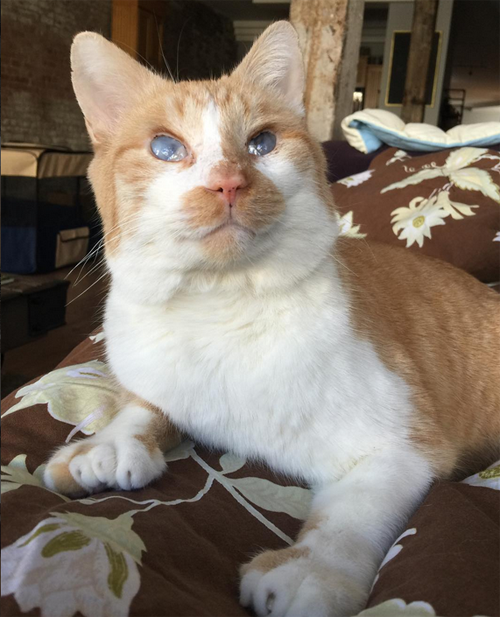 While opening up their home and hearts to a special needs cat like Hank hasn't been without its challenges, it has been more than worth it for the couple. Hank, who is approximately five years old, is a constant source of love, affection, and inspiration for the Matthews, and they are frequently surprised by the creative ways their deaf and blind cat manages to do pretty much everything other kitties are capable of doing.
While Hank may not be able to see or hear, his parents say he purrs, snuggles, and plays just like any other cat, although he's definitely unique in other ways. "Cats with special needs have an immense capacity to give and receive love," explains Meagan. "They deserve to love and be loved as much as any of us do."
To learn more about Hank and his amazing family, you can follow them on Instagram.