When an employee at a shelter near Kelly King's home in Las Vegas asked her if she would be willing to foster a trio of special needs kittens, she knew there was no way she could refuse. "A staff member contacted me and sent me their intake photos and medical notes asking if I would be willing to make room for them because they needed an experienced foster," remembers Kelly. "I took one look at the medical notes and knew we were in for a journey."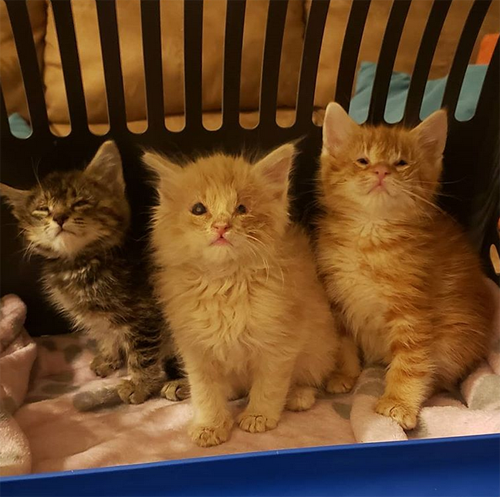 The 3-week-old kittens, who were rescued from a vacant lot, were malnourished and suffering from diarrhea and severe eye infections. Being an experienced foster caregiver, Kelly knew the three young cats were at risk of being euthanized if she and her husband didn't agree to foster them until they found their forever homes. "Kittens with special needs are often placed on the transfer list at our local shelter, which means if they are not requested by a rescue by a specified time, they will be euthanized due to their medical issues," explains Kelly.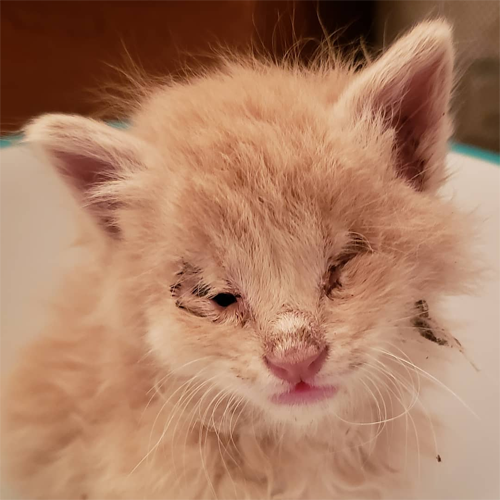 After getting her husband's enthusiastic support, Kelly picked the kittens up from the shelter on October 15, 2019, while she was on her way to deliver another one of her foster cats to their adopter. "While waiting for the adopter in the PetSmart Adoption Center I was able to get a good look at them and immediately burst into tears," says Kelly. "Their eyes were sealed shut with infection and they were skin and bones. They wanted nothing more than to just be held tight and purred while we waited."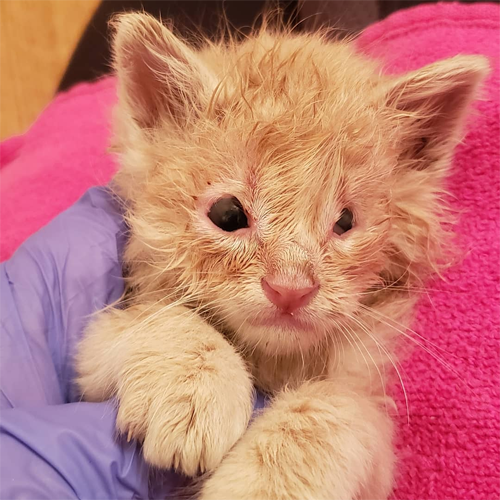 When Kelly finally got the kittens home, she cleaned their eyes, and then she watched the cat siblings while they played with one another. It quickly became apparent Barley, one of the male ginger kittens, was only able to see out of one his eyes, while Bourbon, the female tabby, was completely blind. However, despite being unable to see, Bourbon was happy and active, and she bonded with Kelly the first night in her foster home. "I just vividly remember her crawling up into my lap after cleaning and feeding her and just settling right in," says Kelly.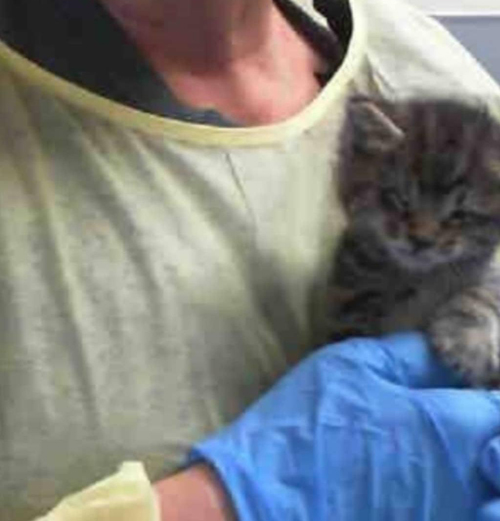 After seeing a specialist, Barley, Bourbon, and their brother Cider were all diagnosed with feline eyelid agenesis, a congenital condition that causes some cats to be born with absent or underdeveloped eyelids.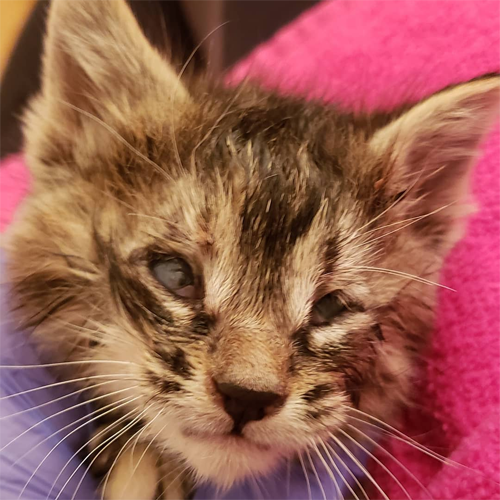 "This malformation results in constant skin and hair contact with the cornea," explains Kelly, and this irritation is almost certainly what caused Bourbon to lose her vision. "Las Vegas is a desert and because she was born outside to a stray she was exposed to all kinds of environmental irritants that caused her to get a severe infection in both her eyes."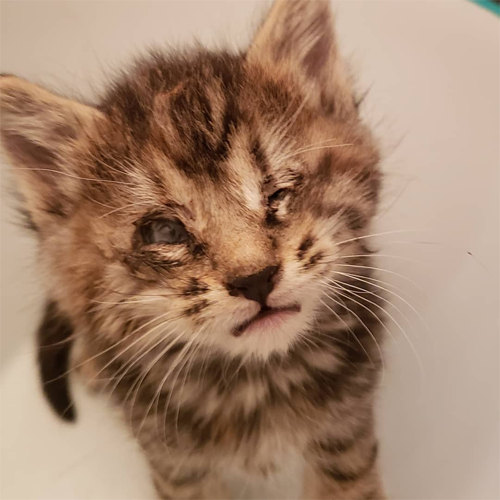 When she was rescued, Bourbon's corneas were already badly injured, but Kelly did everything she could to try to save the young cat's eyes, including administering antibiotic eye drops and artificial tears multiple times a day. However, despite Kelly's best efforts, both of Bourbon's eyes eventually ruptured, and she also suffered an iris prolapse.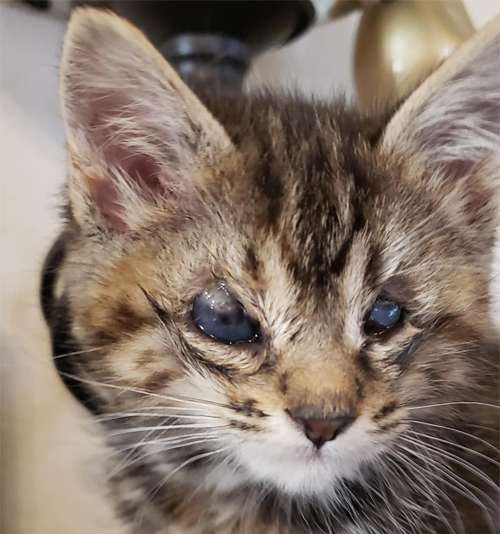 Consequently, Bourbon — who is now about four months old — is scheduled to have both of her eyes surgically removed on February 12, 2020. "She will never have eye pain or discomfort again and will not have to worry about future infection chances or constant eye drops," says Kelly.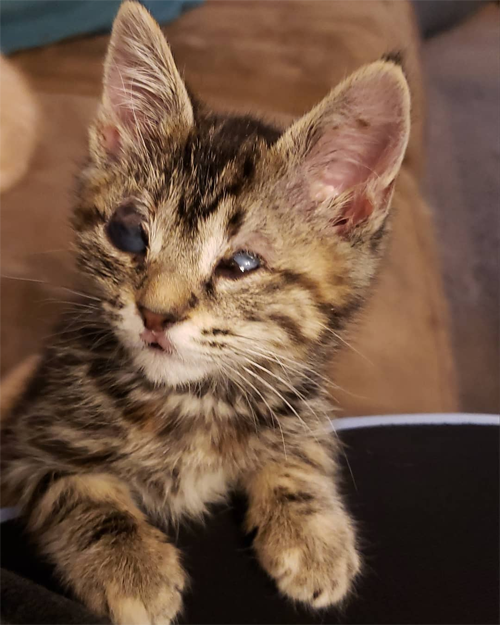 While it might take a little while for Bourbon to recover from the surgery, she's already adjusted to life as a blind cat thanks to her amazing foster parents. "When she was younger, we started her out inside a pet enclosure to help her gain confidence in her space and slowly allowed her supervised time outside the pen," explains Kelly. "We made sure to let her interact with things like a cat tower, other cats, and furniture so she could learn how to navigate."
View this post on Instagram
As a result, this special kitten has a mental map of her foster home, so Bourbon usually has no trouble getting where she wants to go. However, Kelly and her husband make sure not to make too many changes to the layout of their furniture, and every once in a while they have to come to Bourbon's rescue when she runs into an issue. "If she gets confused or stuck or can't find one of us, she gives this adorable little battle yell," says Kelly. "We affectionately call her Bourby and call out to her and she will come running from wherever she is lost."
View this post on Instagram
Thankfully, Bourbon rarely needs her foster parents to help her, proving blind cats are considerably more independent than a lot of people seem to think. "I've actually had people DM me and ask why we don't just euthanize her because she will have such a terrible life being blind," says Kelly. "I use that as an opportunity to teach them that being blind does not affect her quality of life at all. Bourbon does not miss out on any activity that other kittens do."
View this post on Instagram
After all, being blind doesn't prevent Bourbon from having fun, and this energetic girl spends a lot of time playing with her favorite toys, including a spinning butterfly and crinkle toys that make lots of noise. When she's not playing, this sweet and friendly kitten can often be found snuggling with Kelly or supervising her parents from her spot by the dishwasher while they're cooking in the kitchen.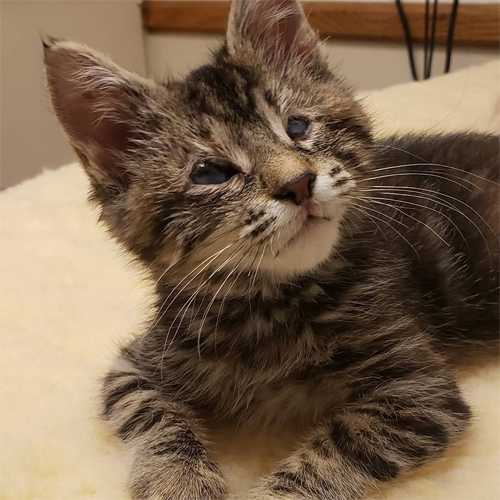 Bourbon also likes hanging out with her brothers and the other cats who share her home. "Recently we took in some bottle kittens and she is always the first big kitten to show up at feeding time," says Kelly. "She listens intently to them meowing and doesn't leave until everyone has settled back in to sleep."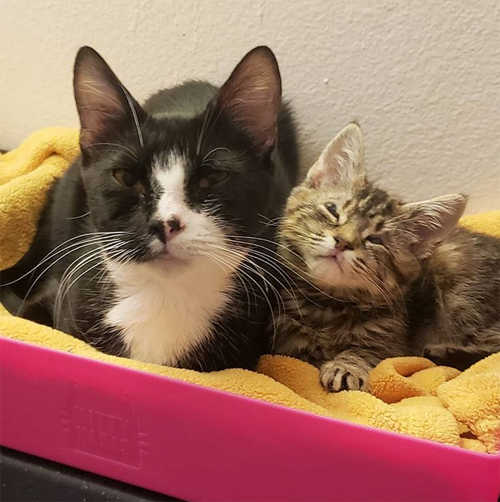 Once Bourbon recovers from the surgery to remove her eyes, this adorable girl will be able to go to her forever home, and Kelly is determined to find her a family who will give her the time and care she needs to adjust to a new environment. Also, because Bourbon is incredibly affectionate, it's important for her to be adopted by someone who will love and nurture her.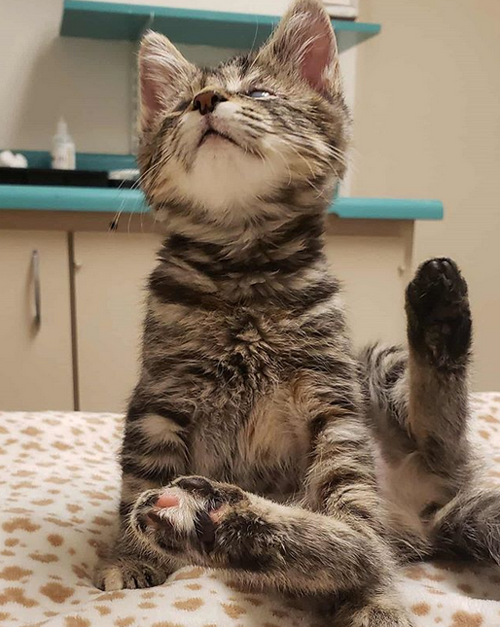 However, Kelly wants to make sure Bourbon's adopter doesn't pity or coddle her, because it's vital this gorgeous tabby is given the independence she needs to explore and thrive. "Bourbon's ideal adopter would be someone who understands she is first and foremost a cat and allows her to simply be a cat that climbs, plays, and snuggles," explains Kelly.
View this post on Instagram
By sharing Bourbon's story, Kelly hopes not only to find her a home, but also to raise awareness about special needs cats and the amazing lives they can have. "Special needs kittens deserve a chance at life and are some of the best cats to adopt!" says Kelly, and she hopes other people will realize cats like Bourbon shouldn't be euthanized simply because they're blind. "She is an inspiration to anyone who is a little different. She doesn't care that she was dealt a tough hand at birth. She gets up every day and cats her little heart out, completely unaware of her differences."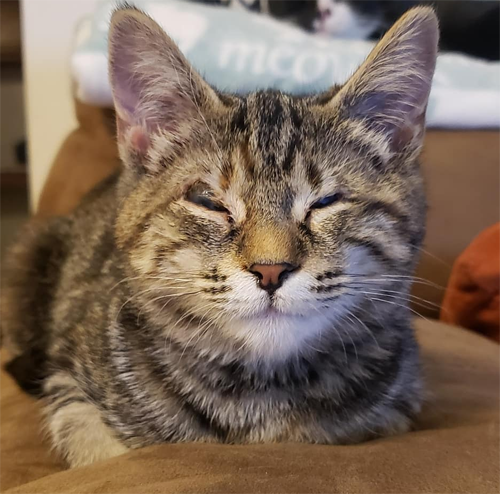 To learn more about this beautiful kitten, you can follow Bourbon on Instagram.