When Karly Saltarski, the co-founder of Salty Animal Rescue in Dundas, Ontario, Canada, was contacted by a member of the public about a four-week-old ginger kitten who was born with hind leg paralysis caused by a congenital spinal malformation, she was eager to help the tiny special needs cat.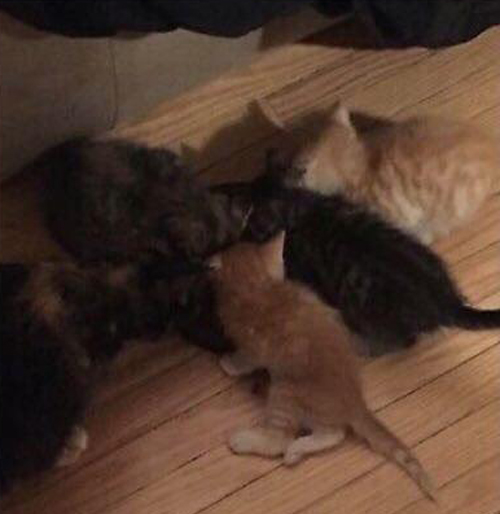 After all, she and her sister Kate Saltarski had started the rescue after Karly's beloved dog Kali passed away following a two-year battle with degenerative myelopathy, a progressive disease of the spinal cord. "She was in a wheelchair for over a year and showed us just how strong and amazing animals with disabilities are," explains Karly.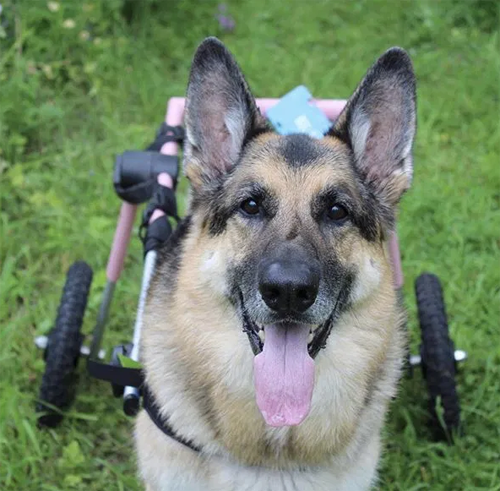 However, Karly knew removing the young feline from his mother would actually put his health and well-being at risk, so she asked his caregiver to contact them again when he had been successfully weaned. "We knew the best thing for him was to be with the mom at that time and honestly we were sad because we didn't think he would make it," remembers Karly.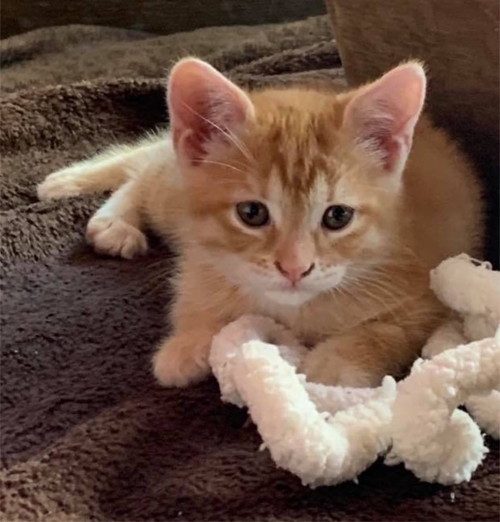 To her surprise and delight, the woman reached out four weeks later to let Karly know the ginger kitten was no longer nursing. In fact, while he was still paralyzed and unable to control his bladder and bowels, the little orange cat wasn't just eating on his own, he was thriving and ready to be adopted!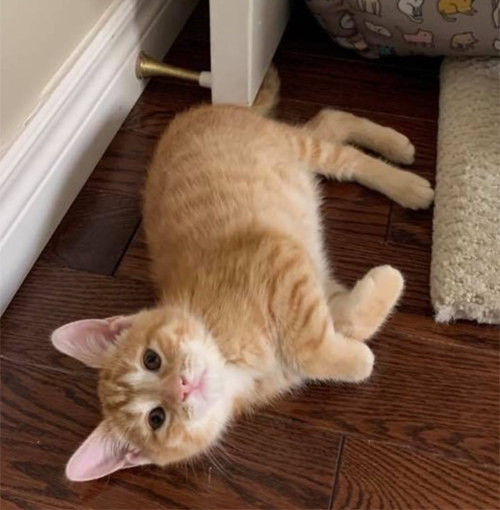 On April 19, 2020, the Saltarski sisters officially rescued the 8-week-old feline, giving him a new name to celebrate the next stage of his life: Chance. "When we got Chance everyone we talked to was certain he would not be with us for more than 4-6 weeks," explains Karly. "We knew how much life and strength he had in him so decided to give him a 'Chance!' "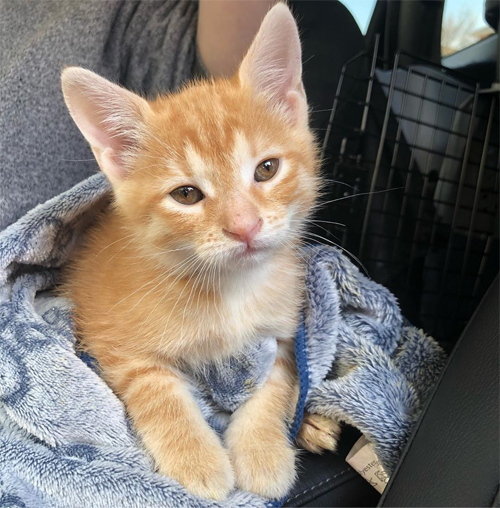 Shortly after he was rescued, Chance underwent a thorough medical examination in order for Karly and Kate to learn more about the cause of his hind leg paralysis. The results surprised not just the women behind the Salty Animal Rescue, but also the veterinarians who examined Chance. "He has a congenital deformity of his spine and it bends at an almost 90 degree angle," says Karly. "Our vets have never seen anything like it."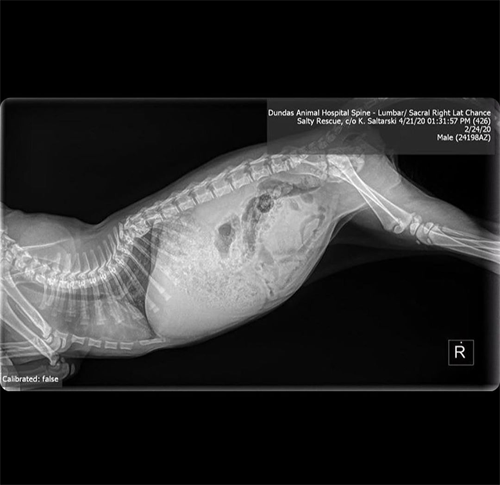 Because Chance needed to have his bladder and bowels expressed three times a day, his first few weeks in his foster home were a bit of a challenge for his foster mom Elaine. Not only was she new to caring for a cat with special needs, Chance's rambunctious personality made it hard for her to express him. "Since he is partially paralyzed, he tries to fight it," explains Karly. "This can also be difficult because he is more prone to UTIs [urinary tract infections] and these UTIs can end up becoming too much stress for his body."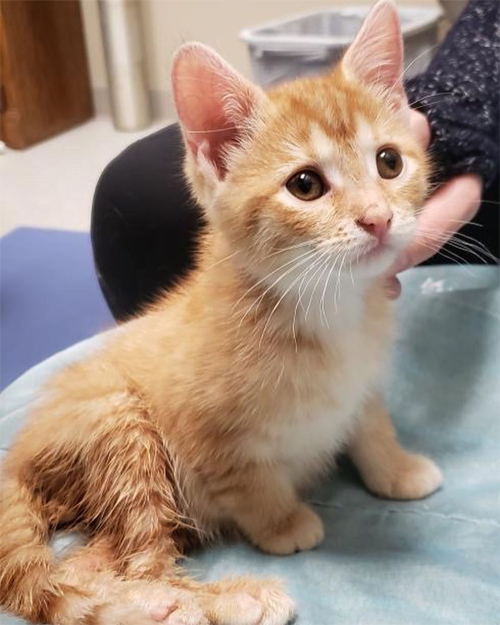 Thankfully, Elaine persevered, and approximately three months later, it is much easier for her to provide Chance with the assistance he needs to live a happy and healthy life. "His foster mom Elaine gives him the best care and she is an absolute angel," says Karly. "We know without her Chance wouldn't be here and we appreciate her working through all the hard times for him!"
View this post on Instagram
While he may not move like a typical kitten, Chance is extremely happy, active, capable, and strong. In addition to playing with toys and snuggling with his favorite blanket, this incredibly cute ginger cat loves wrestling with the other animals who share his foster home, proving special needs felines have a lot more in common with their able-bodied counterparts than people often assume. "These animals fully believe they are no different from others," says Karly. "The amazing thing is the other animals in the home also see them as no different, even if they get around a little differently."
View this post on Instagram
Although Chance is thriving, Karly has found a lot of people still pity him simply because he has paralysis. However, she's confident Chance and other special needs animals are more than capable of having very happy and fulfilling lives. "People don't realize that animals don't think like humans do," explains Karly. "They are much more accepting and Chance sees himself as no different from any other kitty!"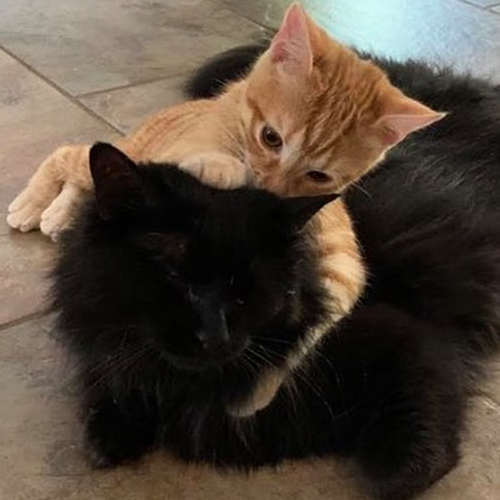 Chance may not know he's different, but he does have some special needs, so it's important for his adopter to have a schedule that allows them to express his bladder and his bowels multiple times a day. While it would be great for him to be adopted by a family who already has experience caring for a cat with paralysis and incontinence, Elaine, Chance's incredible foster mom, has proven it's something a dedicated and compassionate individual can learn.
View this post on Instagram
"The most important thing is that they're willing," says Karly. "Willing to give him all the extra care and love he needs. Willing to make some social and financial sacrifices to put him first. Someone who understands he may be a lot of work and may not be with them forever, but that the time they will have together is so worth it."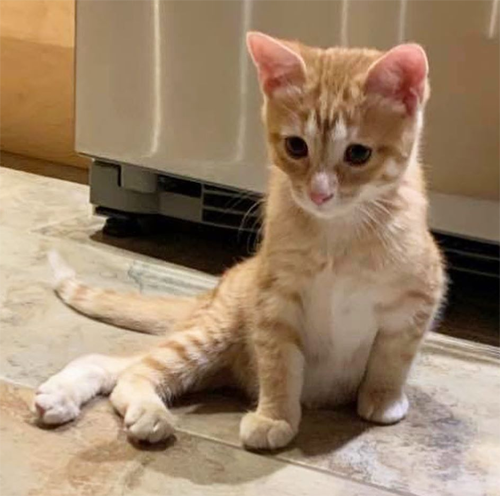 When Chance finds his forever home, there's no doubt he will be missed by his foster mom Elaine, as well as Karly and Kate. Not only has this spunky boy become an unofficial mascot for Salty Animal Rescue, Chance is very special to Karly because she and her sister founded the rescue to honor the memory of her special needs dog Kali. "He's the most determined kitten and there is no stopping him," says Karly. "He motivates people and gives them a reason to smile during these harder times. Everyone loves to see what shenanigans he gets into next."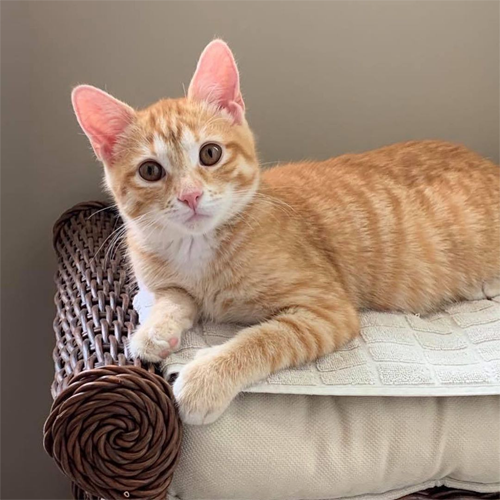 To learn more about adorable kitten, you can follow Chance on Instagram.
If you're interested in adopting Chance, you can submit an adoption application.