When Scott and Sara got a call in September 2013 from their emergency veterinarian about a 4-day-old kitten who had recently lost most of both of his front legs when he was accidentally struck by a weed wacker, the couple from Oklahoma City knew they had to help the tiny cat who weighed just 5 ounces. "At the time, my wife and I volunteered for a few cat rescues," explains Scott. "We had experience taking care of bottle baby kittens and other special needs cats, so it seemed like a natural fit."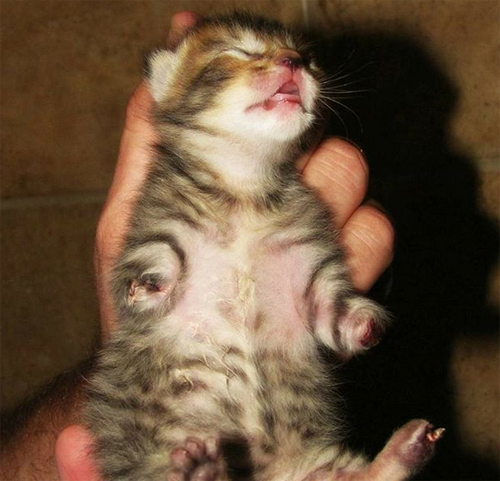 The couple had cared for lots of newborn cats, including kittens who needed to be fed every few hours for the first several weeks of their lives, making Scott and Sara ideal foster parents for the injured feline. The homeless kitten, who had been taken to the vet by someone who discovered him after the accident, didn't have a name, so Scott and Sara started calling him Mercury. "My wife wanted to name him after Freddie Mercury," explains Scott, "and my son wanted to name him after a Roman god, so Mercury seemed a nice compromise."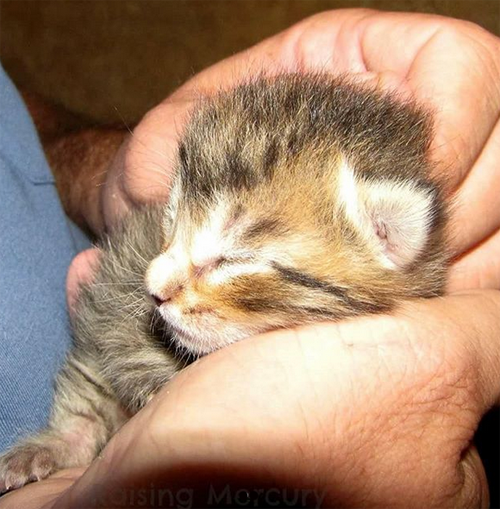 While Scott and Sara had fostered a lot of kittens, they'd never taken care of a two-legged cat before, so they weren't entirely sure what life would be like with Mercury. However, it didn't take long for this little two-legged tabby kitten to show his foster parents he wasn't going to let his lack of limbs slow him down, nor did Mercury waste anytime winning Scott and Sara over. "Even from a very early age, he had quite the personality," remembers Scott, "and we fell in love very quickly."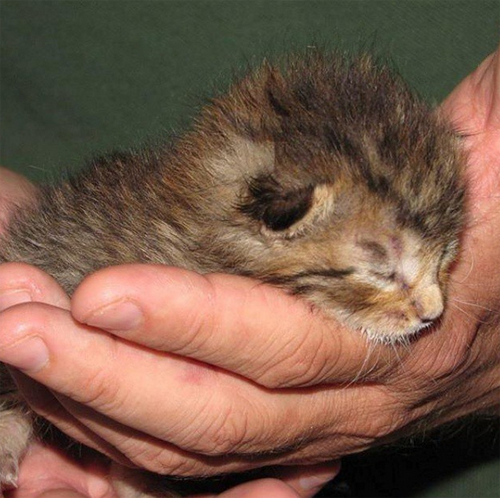 Scott and Sara decided to adopt Mercury, and while the couple wanted to baby him, they decided it was important for them not to coddle the special needs kitten too much. "We realized that he needed to move on his own, in his own way," explains Scott. In order to encourage Mercury to get around without their assistance, the Oklahoma City couple used food and toys to entice the two-legged kitten to take steps on his own, a reward system that helped this special tabby develop both physically and mentally.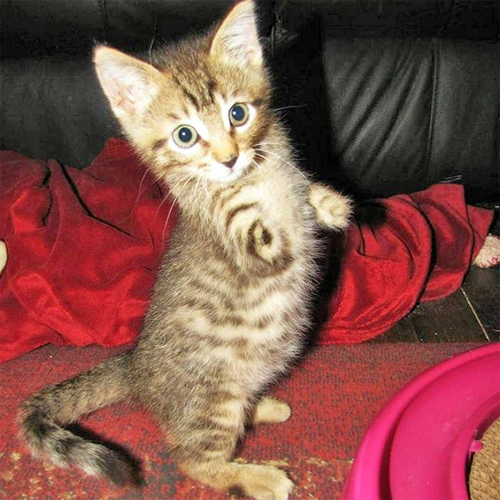 Also, because Scott and Sara had lots of foster kittens when Mercury was a baby, he had ample opportunity to play with felines his own age, which allowed this two-legged tabby to get the socialization he needed to grow into a happy and well-rounded cat.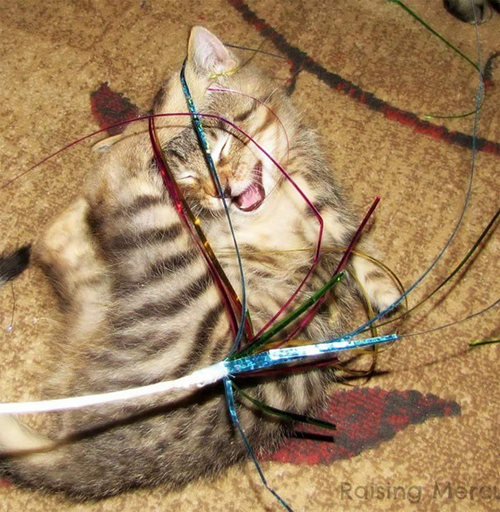 It's been more than four years since Scott and Sara got that fateful call about an injured newborn kitten, and today, Mercury has a fun and active life in his forever home. In fact, this adorable two-legged cat — who loves running through crinkle tunnels, playing with teaser toys, and biting catnip pillows — is incredibly brave and adventurous, which can sometimes frighten his dad. "I've never seen him back down from a challenge," says Scott. "I have found him at the top of a very tall cat tree. I have no idea how he did it, but he did. Definitely scared me, but he was fine."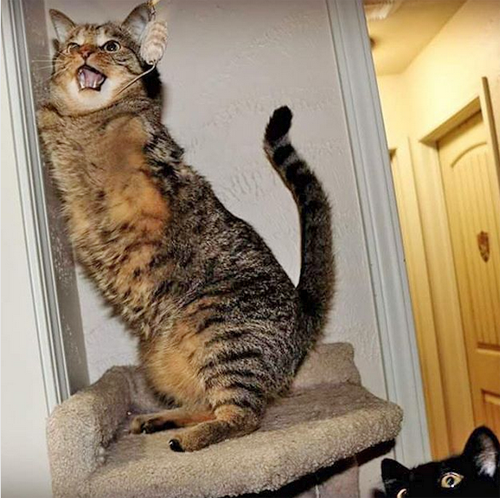 Scott and Sara have learned a lot from Mercury, but one of the most important lessons he's taught his parents is that he's really not all that different from a four-legged cat, and he needs the freedom to explore and the chance to tackle challenges all by himself, just like a typical feline. "Every cat has an individual, unique personality regardless of their needs," says Scott, "most will figure out how to overcome whatever stands in their way."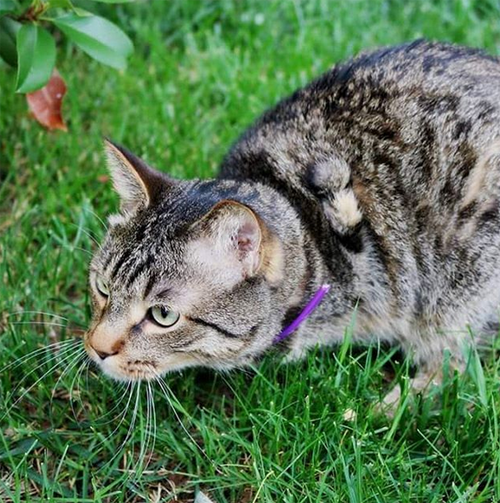 Mercury, who is relatively healthy, has spent a few nights away from home, staying at the vet's office overnight for surgery on the remainder one of his limbs and for treatment for urinary problems, something which is fairly common for male cats. When this handsome tabby — who's missing most of his two front legs — isn't beside his mom and dad, sleeping on his father's chest or snuggled between his parents, Scott admits, "It always seems like something is missing."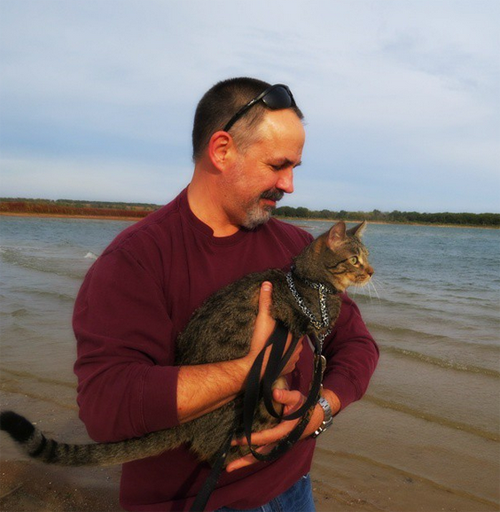 Thankfully, Mercury's nights away from home are few and far between, and this special cat — who was severely injured many years ago while living on the streets — has parents who give him the love and care he needs to thrive. "Mercury means a lot to us," says Scott. "He is very inspiring."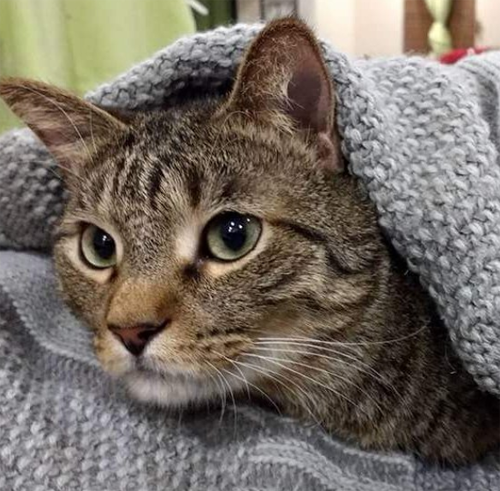 To learn more about this remarkable cat, you can follow Mercury on Instagram.