When Lia and her partner Daniel picked up a feline family to foster for the rescue near their home in New Zealand on February 11, 2020, one of the five kittens instantly made an impression on them. "We picked them up and driving home Hermes screamed the entire way home," remembers Lia.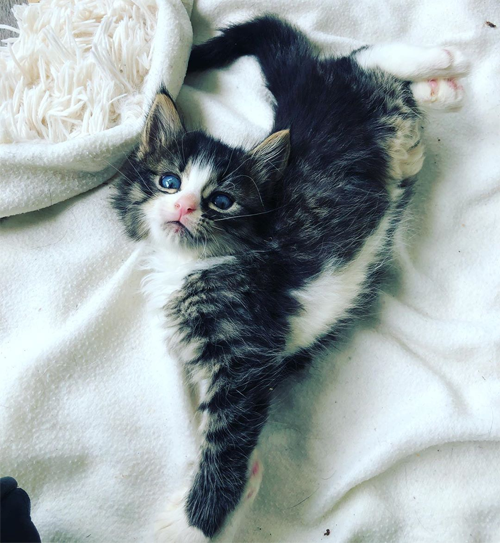 In addition to being very vocal, Hermes stood out from his siblings in another way because he and his brother Loki were born with cerebellar hypoplasia (CH), a non-progressive neurological condition that affects balance and coordination.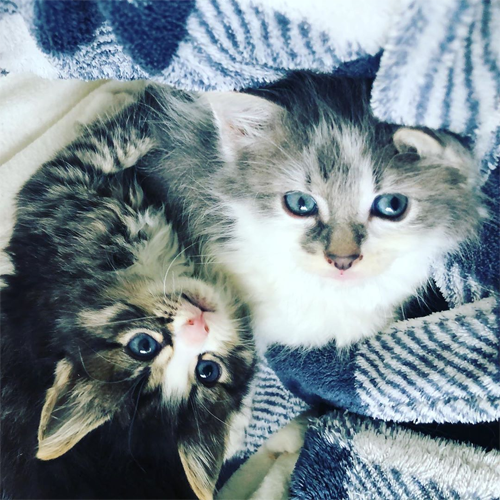 While it's impossible to know exactly why Hermes and Loki were born with CH, the condition occurs in utero, often when a pregnant cat is exposed to a virus like feline panleukopenia. "Their mother was surrendered to the shelter while pregnant," explains Lia, and she was still thin and unhealthy when she and her babies arrived at their foster home.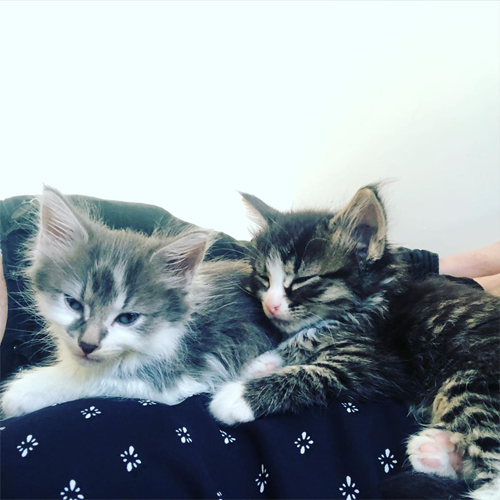 With Lia and Daniel's help, the feline family flourished, including Hermes and Loki. After all, the couple already had experience caring for special needs kitties thanks to their own cats Stanley and Spencer. "No vet was exactly sure what made [Stanley] the way he was but they suspected a neurological issue," says Lia. "After Stanley we adopted Spencer who had mild CH and was also deaf. They both just captured our hearts and I've had a soft spot for the special kitties ever since."

Not surprisingly, it didn't take long for Lia and Daniel to fall in love with Hermes and Loki, and they officially adopted the adorable duo on April 9, 2020. Thankfully, their mother and three sisters all found their forever homes, but sadly, Spencer — Lia and Daniel's first CH cat — passed away two days after they adopted Hermes and Loki.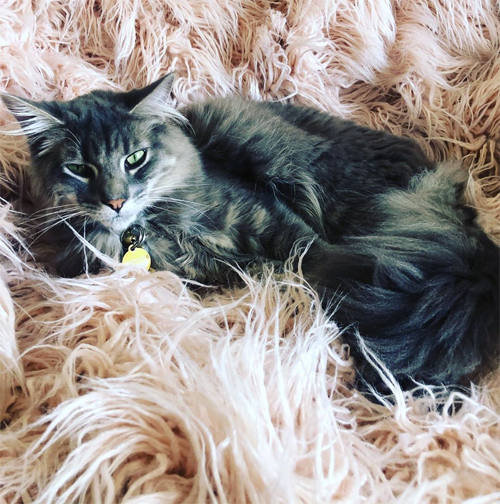 Fortunately, these incredibly cute kittens have helped them cope with losing Spencer, and Lia and her partner can always count on Hermes and Loki to cheer them up with their antics. "They enjoy zooming across the floor at each other," says Lia, and while they aren't able to walk very well, their mobility has improved as they've gotten older.
View this post on Instagram
Today, Hermes and Loki are approximately five months old, and while they don't move like typical cats, they're both incredibly happy and active. In fact, in addition to chasing after one another, these cute CH kittens love tackling each other, especially on their parents' bed.
View this post on Instagram
However, Lia and Daniel have had to take a few precautions to keep Hermes and Loki safe and healthy. "We have had to adapt a little bit," says Lia, "like making sure they don't hurt themselves falling off the bed or couch; making sure we have soft food bowls so they don't chip their teeth while trying to eat."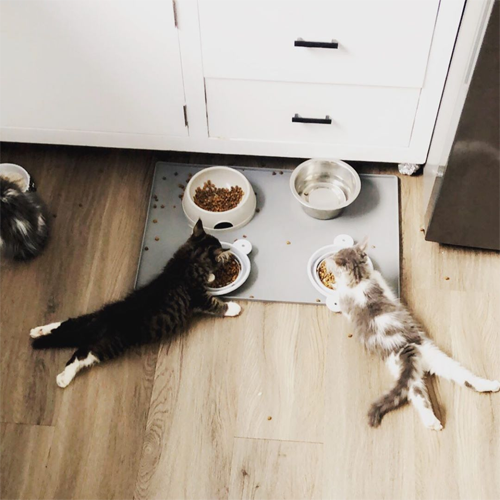 Fortunately, aside from these relatively minor accommodations, Lia and her partner haven't had to make a lot of changes to their home, proving special needs cats are often a lot more independent and self-reliant than people assume. "I think that people feel sorry for them a lot, and they think they don't have a good quality of life, which isn't true," says Lia. "They are so adaptable and stubborn — they can do whatever they want if they really want to!"
View this post on Instagram
In fact, Hermes adores playing with Lia and Daniel's dogs, who are considerable larger and more mobile than he is, and even Loki — who is a lot more timid than his brother — enjoys roughhousing with his canine siblings. "He's warming up to them slowly, but when he sees Hermes playing with them he really wants to get involved," says Lia.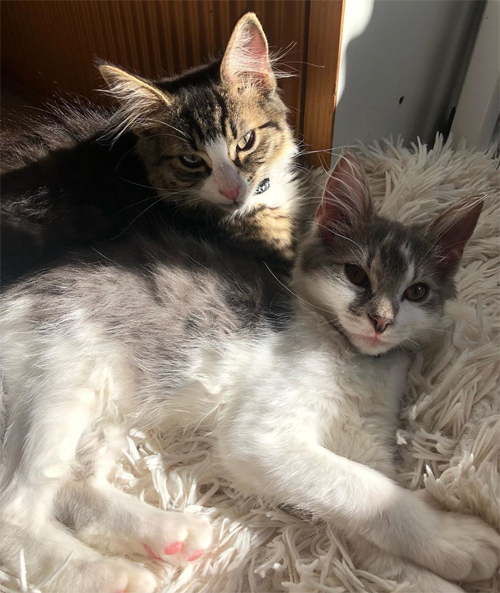 While she and Daniel weren't planning to adopt any more pets when they agreed to foster Hermes and Loki, Lia is so thankful they decided to make these cute kittens permanent members of their family. By sharing their story, Lia hopes instead of pitying cats with cerebellar hypoplasia, people will give them great forever homes.
View this post on Instagram
"I don't think people should feel sad for them because they are very determined and resilient cats," says Lia. "People should always consider a special needs pet because they really do have amazing personalities and will love you unconditionally forever."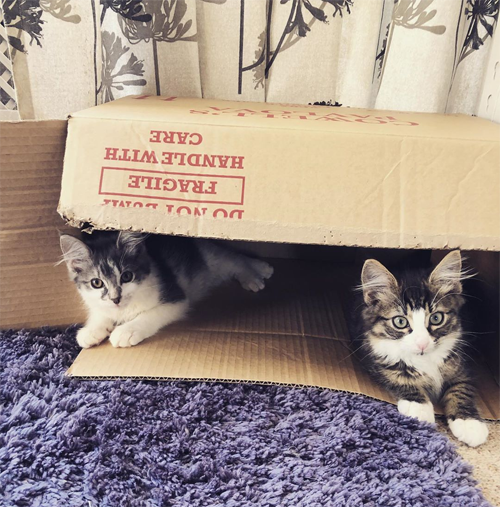 Without a doubt, Hermes and Loki, who were named after Greek and Norse gods, will adore their parents for the rest of their lives, and just like Spencer and Stanley — the special needs cats who came before them — Lia and Daniel will continue to shower these adorable brothers with love. "They are just the best little kittens I could have ever asked for," says Lia. "Every day they make me smile and laugh. They are my fuzzy little children — I love them so much."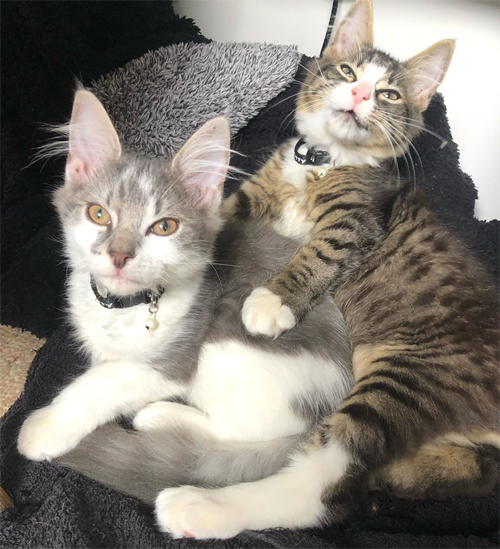 To learn more about these adorable kittens, you can follow Loki and Hermes on Instagram.