Michelle Haroun was scrolling through Facebook when a post from The Bin Kitty Collective, a group for cat lovers in the United Arab Emirates, about feline immunodeficiency virus (FIV) caught her attention. "Someone had put up a post up about their FIV positive cat and how wonderful he is and not to overlook FIV positive cats if you are thinking of adopting," remembers Michelle.
She and her husband Idris had been thinking about adopting a cat, but because the couple has a studio apartment, they wanted an older kitty who would probably be less energetic than a kitten. "I felt the lack of space and outdoor access would be unfair for a young cat," says Michelle.
While researching FIV, Michelle learned cats with the virus shouldn't be allowed outside, as the virus can suppress their immune systems, making it harder for infected felines to fight off illnesses they might encounter outdoors. She also discovered — contrary to popular belief — cats with FIV can live fairly normal lives as long they receive regular medical care and are given nutritious, high-quality food.
Intrigued by the prospect of adopting a cat with FIV, Michelle saw a comment on the post in The Bin Kitty Collective group about George, a cat with the virus who was looking for his forever home. "He was stuck in a cage at the vet due to a neck wound," explains Michelle. "I instantly fell in love with his photo; he looked so sad and disheartened."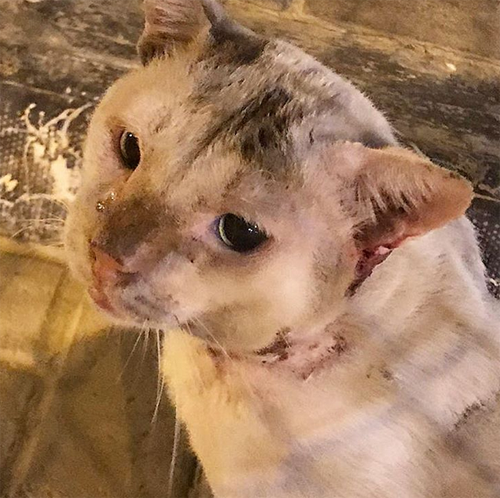 Smitten with George, Michelle learned he'd been rescued from the streets of Dubai in late 2018, and a medical examination revealed he was approximately eight or nine years old. After discovering George was an older cat like they wanted, Michelle and her husband met him in person, adopting him shortly before Christmas 2018.
View this post on Instagram
It didn't take long for this handsome tabby and white boy to settle into his new home, and less than two months later, George has formed a strong bond with both of his parents. "He loves to cuddle with me on the sofa or on the bed," says Michelle. In addition to snuggling with his mom, George loves to sleep and eat, making this special needs cat a fairly typical feline.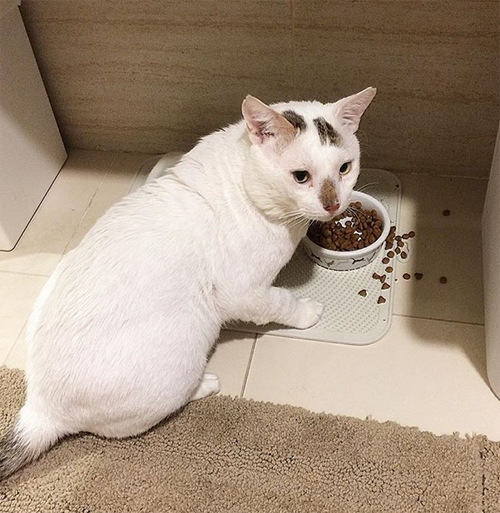 Recently, George, who was homeless when he was rescued, has been showing his parents his playful side, something Michelle and Idris are more than happy to see. "He's an ex-street cat and didn't really know the joy of playing until recently," explains Michelle.
View this post on Instagram
While George is thriving, the neck wound he had when he was rescued is still in the process of healing, as it sometimes takes cats with FIV longer to recover from injuries and illnesses. "He sometimes gets 'gunky' eyes and has been given medication a few times by the vet," says Michelle. "However, he's very big and strong and will not let us put the cream on his eyes."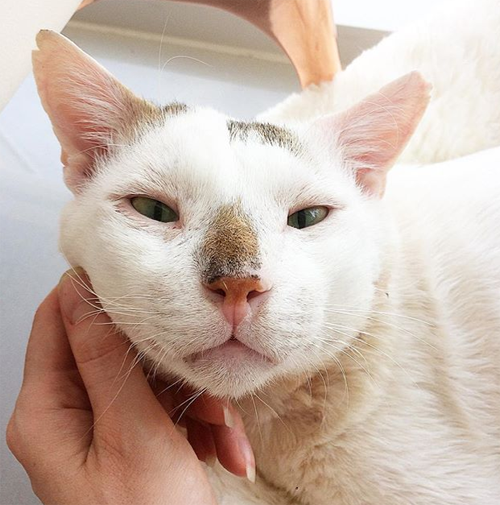 Aside from these relatively minor medical issues, George is a very happy, healthy, and active cat, and Michelle and her husband are so thankful they decided to open their home to him. Prior to adopting this adorable tabby and white boy, Michelle and Idris had their own misconceptions about FIV, and they hope by sharing George's story, they can educate others about the realities of feline immunodeficiency virus. "I think people often believe that FIV cats don't live long lives, need constant medication, and can easily infect other cats and need to live isolated lives," says Michelle.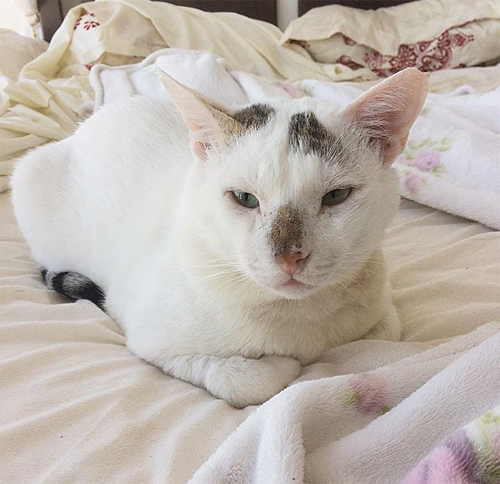 Because FIV is usually transmitted through sex or deep bite wounds, it's possible for cats with the virus to live with uninfected felines as long everyone is sterilized and gets along well with one other. Also, while FIV can compromise a cat's immune system, it's certainly not a death sentence, and simply keeping an infected kitty indoors and giving them good food and medical care can minimize the effects of feline immunodeficiency virus. "It isn't difficult to look after FIV cats," says Michelle. "They really are just very normal and easy cats to care for."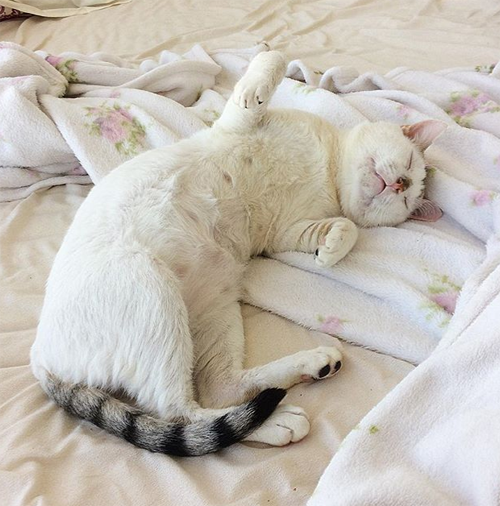 Sadly, due to a lot of misinformation about the virus, cats with FIV often have difficulty finding homes, something Michelle has become keenly aware of since adopting George. "A lot of FIV cats don't get a chance," explains Michelle. "I know of a few needing imminent homes at the moment, but nobody will take them on and it's just such a shame. FIV puts a label on them and immediately puts them in the pile of 'cats that probably won't be adopted.' "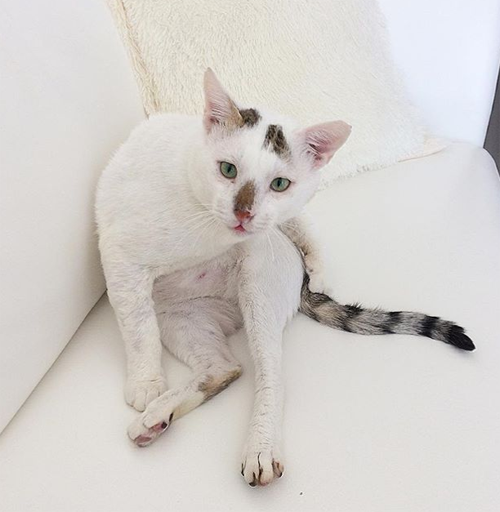 Michelle hopes raising awareness about FIV will help more cats like George find forever homes with people who are willing to give them the love and care they need and deserve. While it took a little convincing to get her husband Idris to agree to adopt George, this couple couldn't be happier to have this special boy to complete their family. "We love him so much and it means so much to me that my husband adores him as much as I do as he was hesitant to get a cat in the first place," says Michelle. "My husband and I don't have children and he has literally become our child."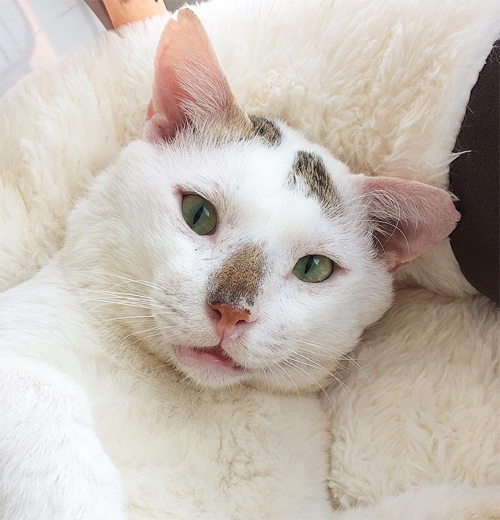 To learn more about this adorable cat, you can follow George on Instagram.