Sensitive Content
This post includes photos some people may find upsetting.
When Theresa, the founder of For Animals, got a call from a woman about a cat with open wounds who she spotted limping on Atlantic Avenue in Queens, NY, she knew she had to help the injured feline. "Theresa lent the woman a trap," explains Jenn, a volunteer at the New York City animal rescue, "and she was able to trap him and get him to Theresa."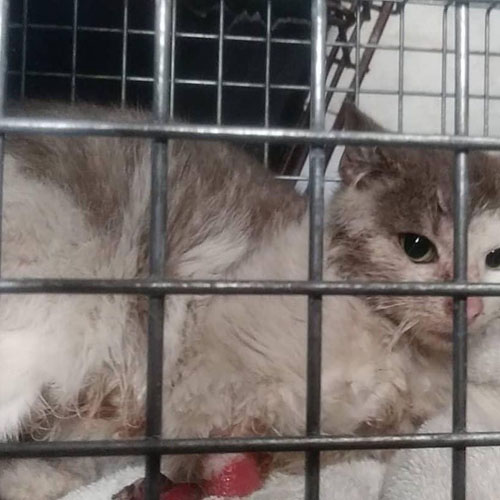 On May 3, 2021, Theresa met the grey and white cat in person for the first time, naming him Kody as an homage to her son Cody. A thorough examination revealed Kody was about a year old, and he had suffered severe injuries to his right front leg. "We think he was hit by a car," says Jenn. "He was not neutered and was not microchipped, so we don't know if he was a lost or abandoned cat or was a street cat or feral."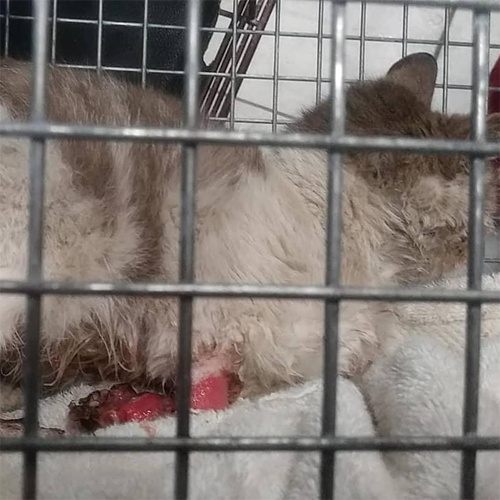 In addition to the trauma he had sustained, Kody was emaciated, dehydrated, and extremely dirty, and he didn't display the demeanor of a typical house cat. "He appeared to be feral," explains Jenn, "and would hiss and growl any time his cage was opened, even if it was to feed him." Consequently, Theresa thought once the young feline healed from the surgery to remove his irreparably damaged limb, she would have to find Kody a home at a sanctuary for feral cats.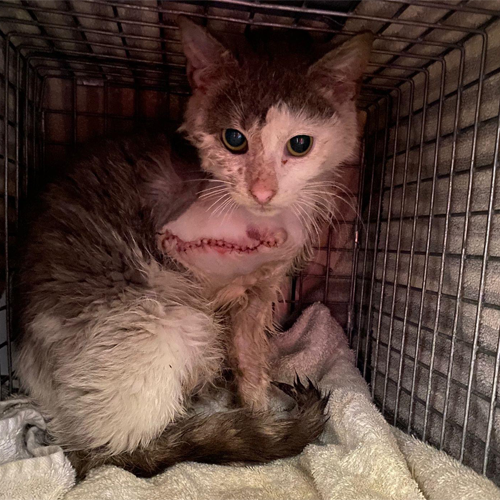 However, after Kody completed his recovery, which included cage rest, Theresa decided to allow the three-legged feline to explore the shelter. Over time, Kody began showing more and more interest in interacting with the volunteers at the shelter, including Jenn. "In August he suddenly started playing with the wand toy with me, and would approach me for treats," remembers Jenn.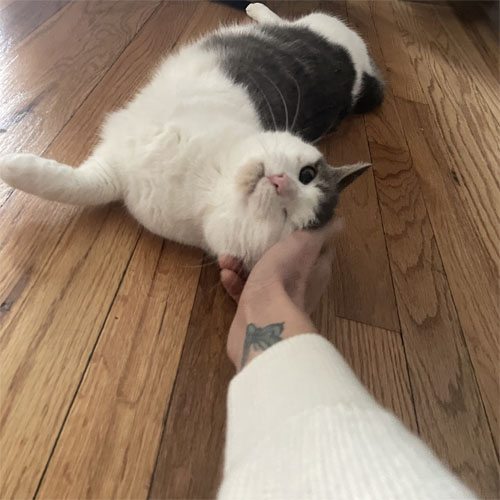 Just a month later, Kody began allowing Jenn to pet him, and she and everyone else at For Animals realized he might actually be a good candidate for adoption. However, Jenn knew he was in need of some additional socialization, so she offered to foster him! "He'd been through so much," explains Jenn, "and I wanted to help him learn to trust and find a good home."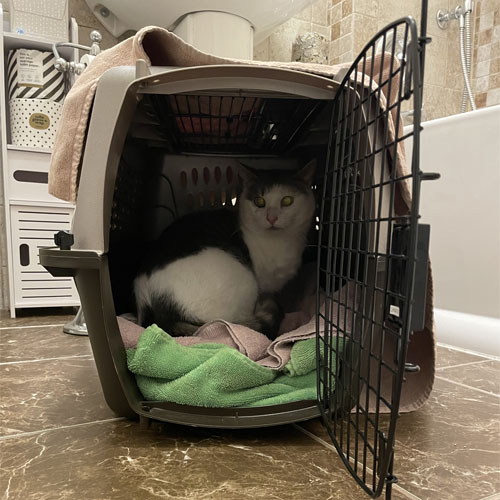 It didn't take long for Kody to adjust to his new environment or his feline foster brother, and now this adorable boy is ready for his forever home! While he might look a bit different from a typical feline, Kody is just as active and agile as his four-legged counterparts. "Kody is able to run, play with toys and other kitties, and hop onto the bed and couch," says Jenn. "Kody loves to play with wand toys! He really loves playing!"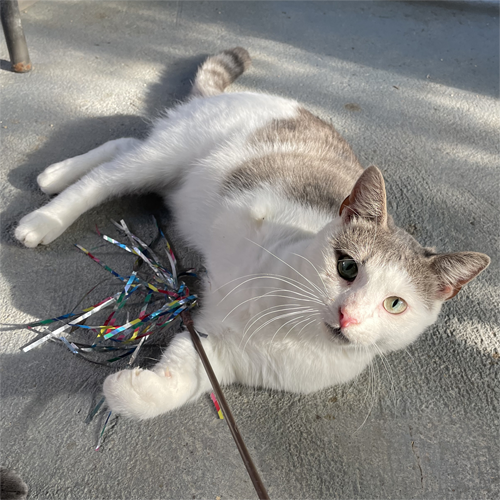 In addition to playing, this handsome grey and white cat — who once hissed and growled when anyone came near him — loves being petted! "He does the highest butt lift for pets I've ever seen!" says Jenn. "He practically does a headstand!"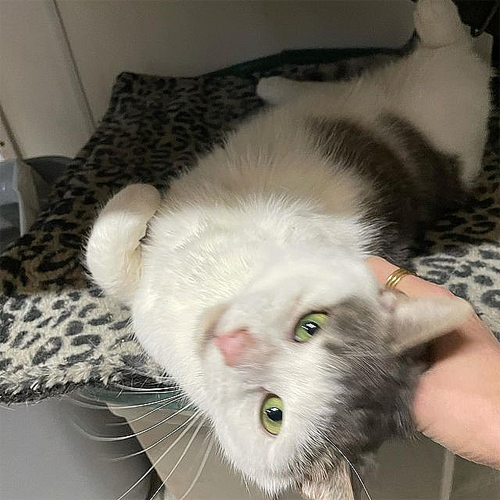 However, potential adopters should know Kody doesn't really like being picked up, and he'll probably need a bit of time to adjust and warm up. "He might take a few days to get used to a new environment and a new human," says Jenn, so this three-legged boy will require an adopter who is both loving and patient.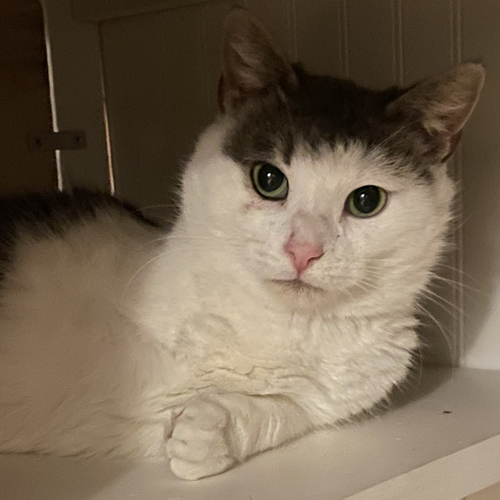 Also, Kody adores other animals, so Jenn would love for him to find a forever home where he'll have a friendly feline friend or canine companion. However, contrary to what a lot of people might assume, Kody is perfectly capable of using a normal litter box and he doesn't really require any special accommodations. "Kody uses the box just fine and is very neat," explains Jenn. "It is more difficult for him to climb, but he is still able to jump onto beds and couches."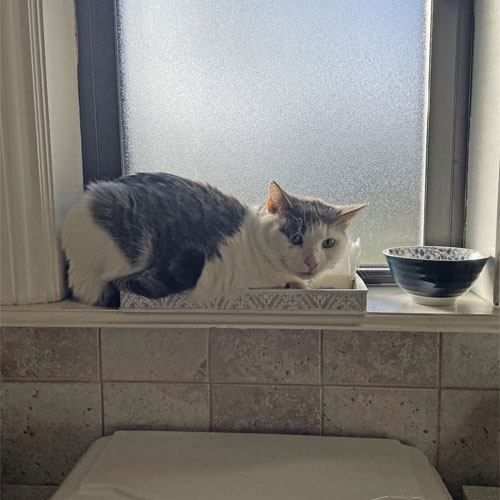 While Kody may not be all that different from the average feline, he's still incredibly special to Jenn. After all, this remarkable boy has survived and endured so many hardships in his young life, and he's shown strength, resilience, and courage time and time again. "Kody doesn't feel sorry for himself, he doesn't hold a grudge at the world for his condition, and I think it even made him more inclined to trust people because he is more dependent," says Jenn.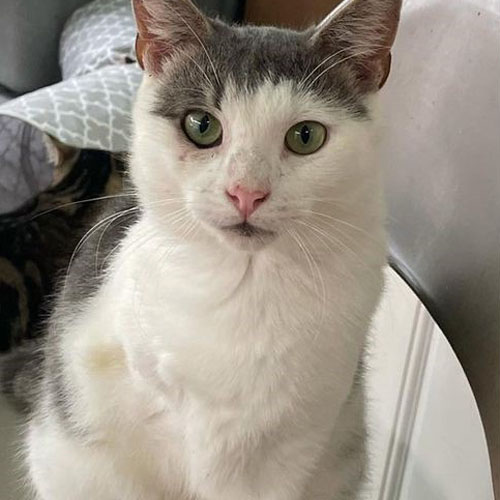 It's obvious Jenn and Kody have formed a very special bond over the last few months, and she hopes whoever adopts this adorable three-legged cat will keep her updated about his life after he leaves her home. While it's impossible to know exactly what the future holds, Jenn is confident Kody — a cat she once feared — will only continue to change for the better. "I never thought he would let me get close to him, let alone allow me to pet him and purr the way he does," says Jenn. "Kody shows me that no matter what you go through, you can get through it, and with the right attitude, life will be even better on the other side of it. He is just pure love."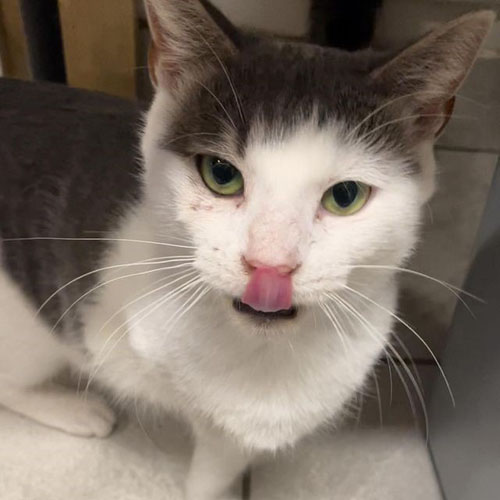 If you want to learn more about Kody, you can follow For Animals on Instagram.
If you want to adopt Kody, you can submit an application.