Rachel Tomlinson was at her job as a Certified Veterinary Technician at Strickland Veterinary Clinic in Tucson, Arizona, when a family brought in a tiny black kitten who appeared in their yard in November 2019, alone and crying for help.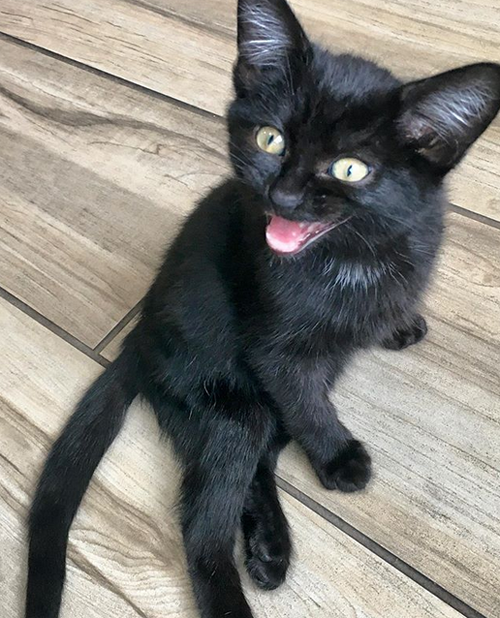 "They knew there was something wrong with her because she wasn't using her back legs," remembers Rachel. "They called us that morning and brought her in thinking she would need to be euthanized."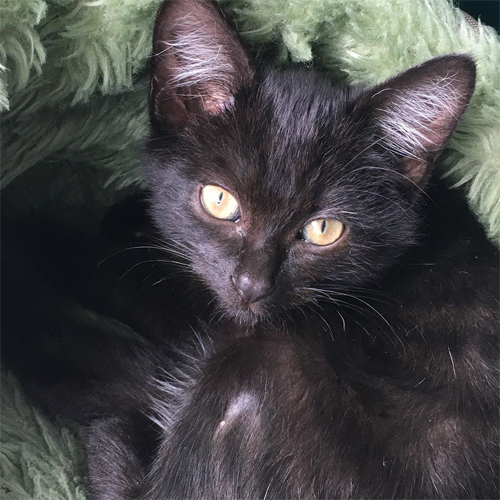 While the dirty and underweight kitten, who was named Lenox by the staff at the animal clinic, was feral and very frightened, she wasn't aggressive, and she even allowed Rachel to pet her. "She almost certainly had never been inside or interacted or been held by a human before," says Rachel. "I almost felt like she knew she needed help."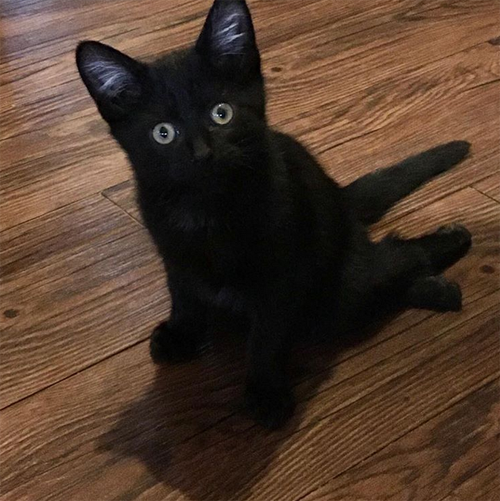 An examination revealed Lenox was approximately eight weeks old, her hind legs had very little muscle tone, she had a few areas of hair loss, and she was extremely hungry and thirsty. "She drank and drank and drank from the water bowl, all while eyeing me very suspiciously," remembers Rachel.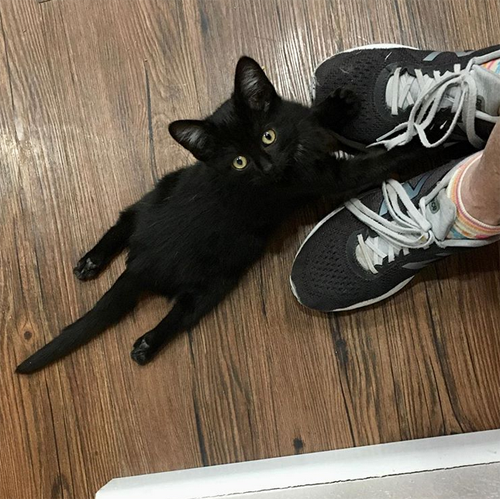 Lenox's bladder was full, indicating she was having trouble urinating, and an x-ray revealed opaque objects in her bowels, which may have been rocks she ingested while living on the streets. "There was no obvious injury to her spinal cord but she didn't have any deep pain sensation in her back legs at all," says Rachel, suggesting the little kitten was most likely born with hind leg paralysis. "We'll never know how she survived outdoors as long as she did in this condition."
View this post on Instagram
Because Lenox wasn't in any pain, the staff at the clinic determined there was no reason to euthanize her, but due to being paralyzed and unable to urinate or defecate on her own, she needed more care than the average feline. Thankfully, after four days at the clinic, Lenox was stable enough to go to a foster home, and Rachel offered to be the one to take care of the young special needs cat until she got adopted. "Although she receives excellent care at the clinic, I didn't think it was fair for her to spend any of her kittenhood in a kennel," explains Rachel.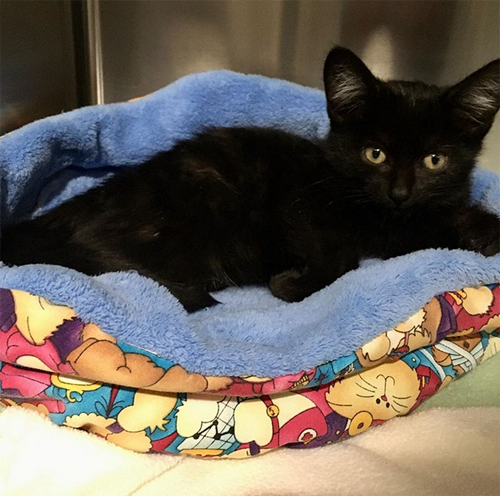 Fortunately for Lenox, she couldn't have found a better foster home, because in addition to being a Certified Veterinary Technician, Rachel has fostered animals for nearly 20 years, and she even helped start a cat sanctuary and rescue in Tucson.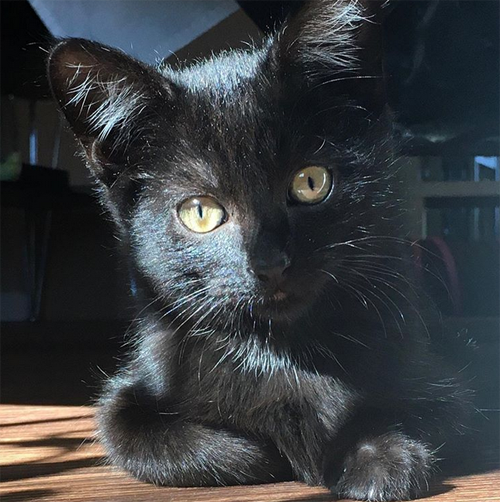 "It sounds crazy and unbelievable, but I have fostered probably close to, or over, a thousand kittens and cats total over the years — at least in the high hundreds," says Rachel. "Bringing Lenox home to foster was just a natural progression in her story and I didn't give it a second thought." After all, Rachel knew she needed to socialize Lenox in order for her to have a chance at finding a forever home.
View this post on Instagram
It's been two months since Rachel began fostering Lenox, and not only is this remarkable kitten no longer feral, she adores her foster mom. "She loves sleeping under the covers as close as possible to her human," says Rachel. "She loves sitting on my lap and playing with the ties hanging down from my hoodies."
View this post on Instagram
In addition to snuggling with Rachel, Lenox absolutely loves to play, whether it's with objects — such as balls, barrettes, and cardboard packing material — or with other cats, including Rachel's senior kitties, who don't always appreciate her youthful enthusiasm. Consequently, Rachel would like to find this special girl a home with other young cats, because she adores interacting with her fellow felines.
View this post on Instagram
Lenox also enjoys chasing her tail, scooting around her foster home, and even climbing the scratching post, proving paralyzed cats are often a lot more active — and happy — than people expect them to be! "They can climb and pull themselves up and get themselves into as much trouble as any other kitty!" says Rachel. "They are who their little cat personalities dictate — whether with four working legs or two!"
View this post on Instagram
Without a doubt, Lenox has a big personality, and Rachel believes she's just as bold, fearless, and content as any other cat. Rachel also thinks, contrary to seemingly popular opinion, cats with hind leg paralysis can get along fine without the help of wheelchairs or carts. "They can't stalk, pounce, sit, lay down, and slither along when they have wheels getting in the way," explains Rachel. "There's certainly a place for wheels in their lives if they like them and will use them, but they don't need them."
View this post on Instagram
However, Lenox does have some special needs, including a strict diet of low residue wet food, which helps prevent her from becoming constipated or developing diarrhea. Also, because she is unable to urinate or defecate on her own, Lenox has to have her bladder and bowels routinely expressed, so the person who adopts this special girl must have a schedule that enables them to accommodate her unique needs. "She needs to be part of someone's family," says Rachel. "Someone who can monitor her and notice if something isn't right quickly, so she can get necessary vet care."
View this post on Instagram

This formerly feral feline also needs to a find a home with a family who will give her the time she needs to adjust to a new environment and new people. However, Rachel is confident that with a patient and loving family, it shouldn't that long for Lenox to warm up to someone new. "She has come a long way since we first met," says Rachel. "It used to take a lot to get her to purr, but now sometimes it just takes a touch or a pet on the head."
View this post on Instagram
Ideally, Rachel would like to see Lenox get adopted by someone who lives in Tucson, but she's open to potential adopters who aren't local. After all, nothing is more important to Rachel than finding Lenox a home with kind, responsible, and loving people who will work just as hard as she did to care for this special kitten and to win her trust.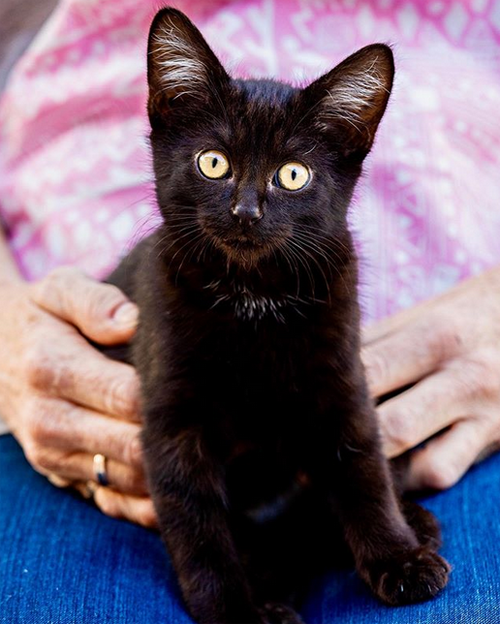 "When she runs to me, I am overjoyed because for a few weeks she only tried to run from me," explains Rachel, and the bond she's built with Lenox makes her feel as though she's making a positive contribution to the world. "She is pure joy and pure happiness to me. Her purr melts my heart."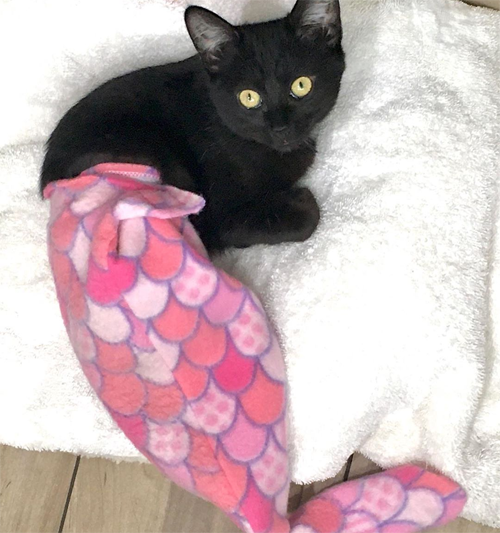 To learn more about this beautiful kitten, you can follow Lenox on Instagram.