When Martha, a volunteer for For Animals Inc., found an injured ginger kitten living on the streets of New York City, she knew she had to help the young feline and his family. "She found him, his brother, and his mom living as strays on the side of a garage," says Jenn, a volunteer at the rescue.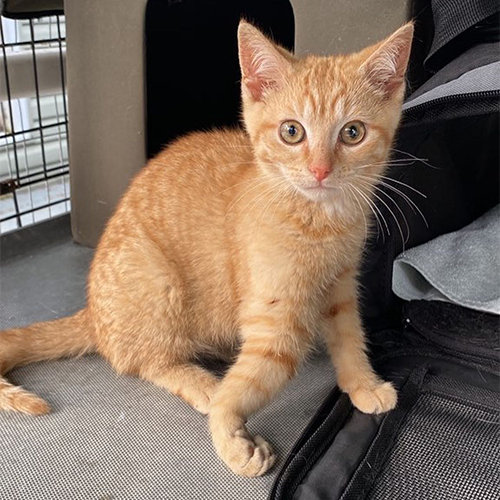 Thankfully, Martha rescued the trio of cats, and an examination revealed the little orange kitten — who was named Mango by the rescue's president due to the color of his fur — had a fractured right front leg. While it's impossible to know exactly what caused the trauma to Mango's limb, the vet determined the damage was irreparable. "It will need to be amputated when he is strong enough for surgery," says Jenn.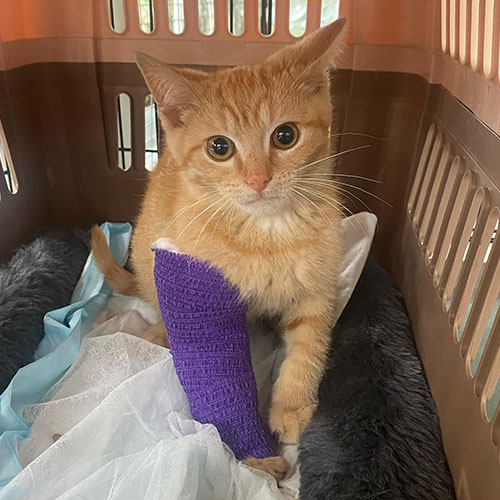 Since he was rescued in June 2022, For Animals Inc. has struggled to find a foster home for the adorable three-month-old cat, possibly due to the trauma Mango survived. "He is so sweet, affectionate, and loving, we thought he would have had many applications," says Jenn.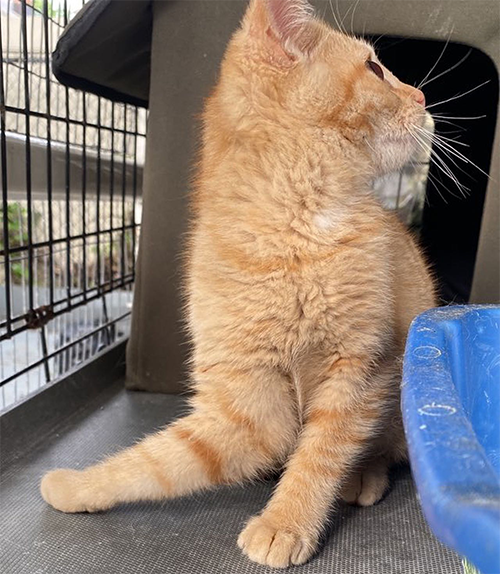 After all, despite the injury, Mango is an extremely happy and active kitten who loves to play, especially with other cats. He's also incredibly cuddly, and there's nothing Mango enjoys more than being petted. "He loves chin rubs and lower back scratches especially," says Jenn.
While Mango really isn't all that different from the average kitten, Jenn has found people mistakenly assume he must need special accommodations. However, that definitely isn't the case for Mango. "I wish more people knew how resilient cats are," says Jenn.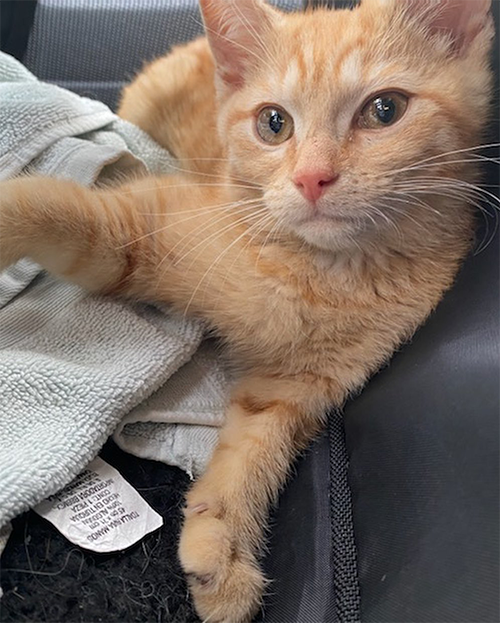 Despite the injury he suffered, Mango has no trouble getting around, and his mobility will probably only improve once his fractured leg is amputated. "A three-legged cat is able to do pretty much all the things a four-legged cat can," explains Jenn, "with the exception maybe of climbing."
Jenn also believes Mango — and other cats who have suffered injuries, like her current three-legged foster cat Kody — seems to genuinely appreciate all of the assistance he has received from everyone at For Animals Inc. "I think that cats that have survived trauma are grateful to the humans who love and help them," explains Jenn.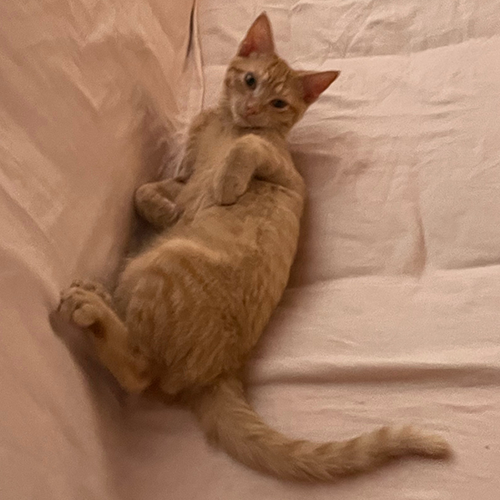 While it's been more than a month since he was rescued, Mango is still waiting for someone to offer to foster him. When that person comes along, Jenn hopes they will have the same qualities the rescue is looking for in his adopter. "His ideal adopter would be someone who can shower him with love and affection," says Jenn. "He would also do well in a home with a kitty companion since he loves other cats."
However, Mango likely won't need any special accommodations, even after his leg is removed, which is why everyone at the rescue is surprised this adorable, playful, sweet, and good-natured boy has been snapped up yet. "If I didn't have three fosters already, I would've taken him home the first day I saw him in his little cast!" says Jenn. "I love Mango."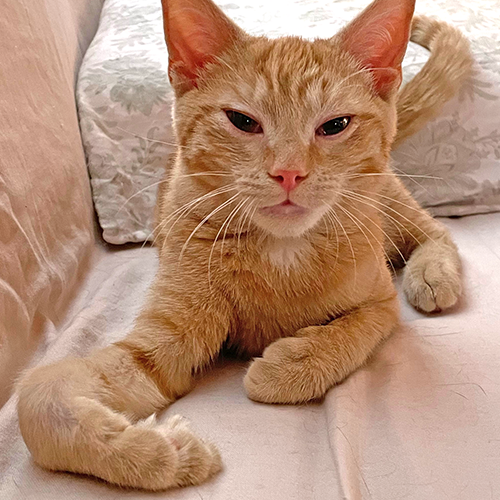 To learn more about Mango, you can follow For Animals Inc. on Instagram.
If you interested in adopting Mango, you can complete an adoption application.