When Dannielle Southon, the founder of Southon Rescue, learned about a seven-week-old kitten with Manx syndrome who was at risk of being euthanized at a county shelter, she knew she had to help the young special needs cat.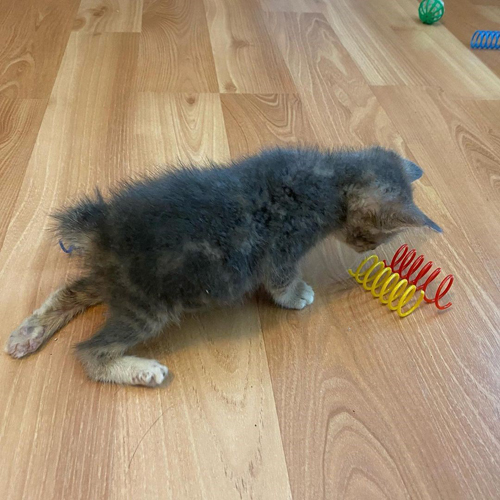 "[She] was a 'Same-Day-Out' animal," says Dannielle, "meaning she needed to leave the shelter the same day because of her Manx syndrome and issues." Dannielle had already adopted Ceb, a black and white and cat with Manx syndrome, so she felt confident would be able to give the tiny tabby kitten the special care she required.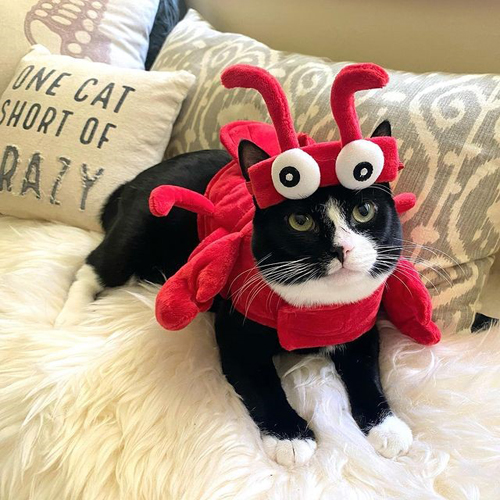 On August 19, 2021, Dannielle collected the adorable special needs cat from the shelter near her home in Winter Park, Florida, naming her Minerva, or Minnie for short. "I had been on a Harry Potter kick, and her full name is Minerva McGonagall," explains Dannielle.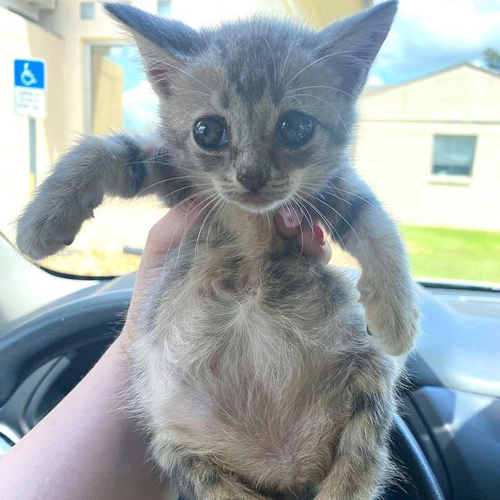 Like Dannielle's cat Ceb, Minnie was born with Manx syndrome, a condition that causes some cats with absent or shortened tails to have a form of spina bifida, a developmental spinal abnormality that can result in incontinence and partial hind leg paralysis.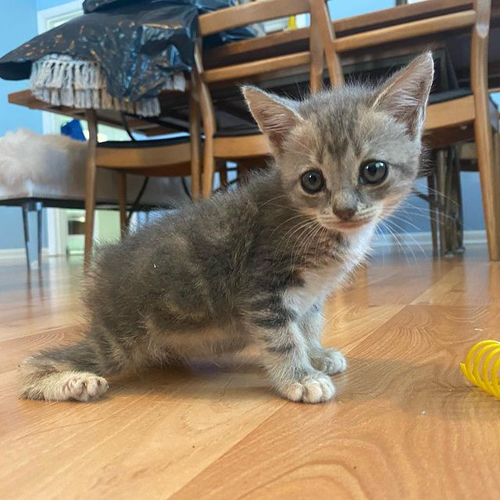 "Spina bifida is a general term used to describe several conditions where the neural tube which forms the spinal cord fails to close and the arches of the vertebrae — the bones of the spine — also fail to form completely," explains Dannielle, and the symptoms a cat exhibits can vary depending on the severity of their spinal cord abnormality. "[They] can include an abnormal 'hopping' gait, plantigrade stance — with more of the hind leg on the ground than normal — urinary and fecal incontinence, and lack of sensation in the hind legs and around the perineum — the skin around the anus and urethra openings."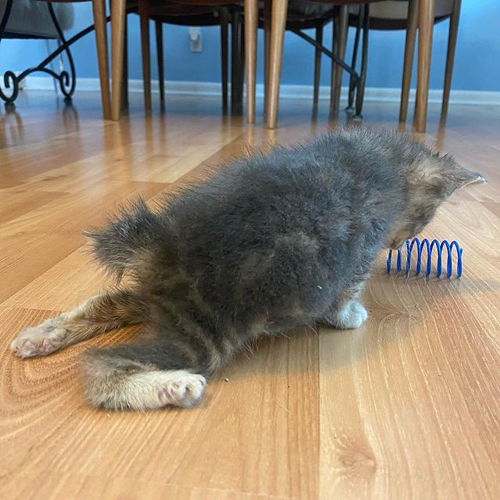 A thorough veterinary examination revealed Minnie's sixth and seventh vertebrae were fused, and she also had a fused tail, resulting in limited mobility and urinary and fecal incontinence. Thankfully, Dannielle was willing and able to give Minnie the care and attention she needed to thrive, and today she's doing very well. "We've done some work on making sure her legs don't seize up in a way that is painful," says Dannielle, allowing this special girl to run and play, just like a typical young cat.
View this post on Instagram
However, due to having Manx syndrome and spina bifida, Minnie is prone to urinary tract infections, as well as constipation and gastrointestinal issues. "She is unable to pass stool on her own," explains Dannielle, so she has to manually express Minnie's bowels multiple times a day.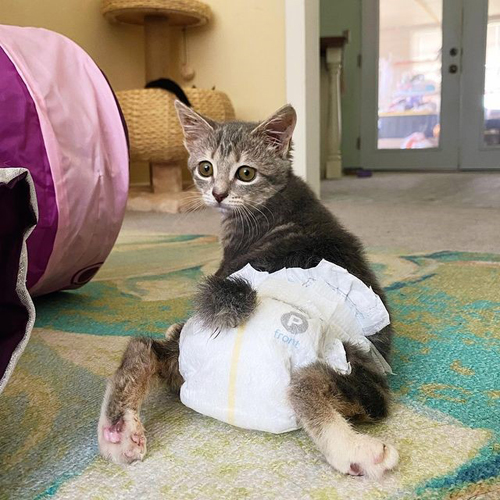 Consequently, Minnie — who is now available for adoption — is in need of a very special home. "I'm looking for a family that understands she will need additional care in terms of expression, but that will also allow her a happy and long life," says Dannielle.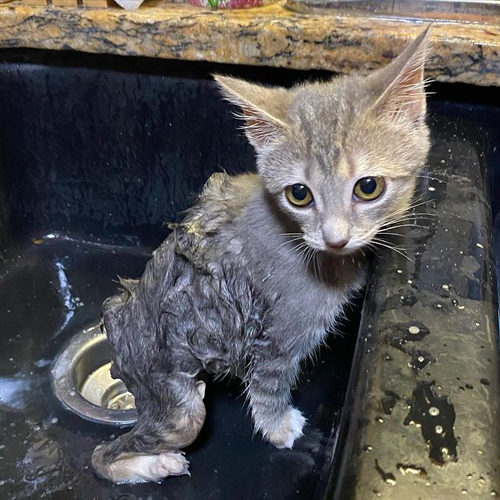 While Dannielle knows it might take a while for Minnie to get adopted, she's confident her forever family is out there. She's also certain that special needs cats like Minnie are more than capable of having great lives, despite what some people might assume. "I think a lot of people believe that Manx kittens/cats do not have a good quality of life, or live their lives in pain," says Dannielle. "That simply isn't true. They are just as lively, loving, and able-bodied as any 'regular' cat."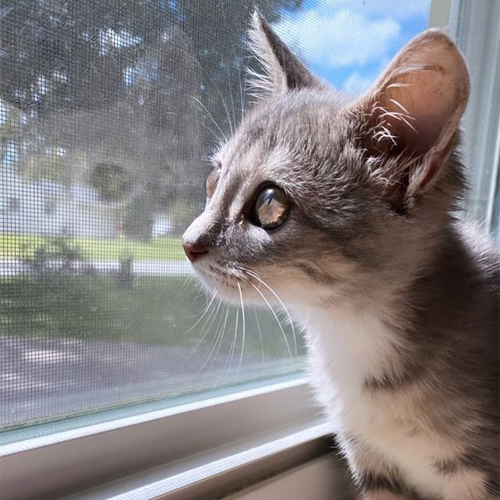 However, in order for Minnie to be able to live her life to the fullest, she needs an exceptional family, which is why Dannielle — who takes great care in finding the right adopters for all her foster cats — wants to make sure this special girl is adopted by the right people. "I love her just as I do for all my fosters," says Dannielle, "but I want her to find the perfect furever home."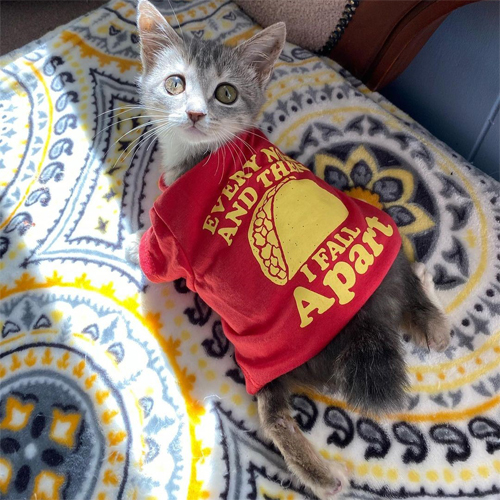 To learn more about this beautiful kitten, you can follow Minnie on Instagram.
If you're interested in adopting Minnie, you can submit an adoption application.