Emma Jackson of Brooklyn, New York, was enjoying some sangria with her boyfriend, Will, and scrolling through Instagram when a photo of a fluffy, black, one-eyed munchkin cat grabbed her attention.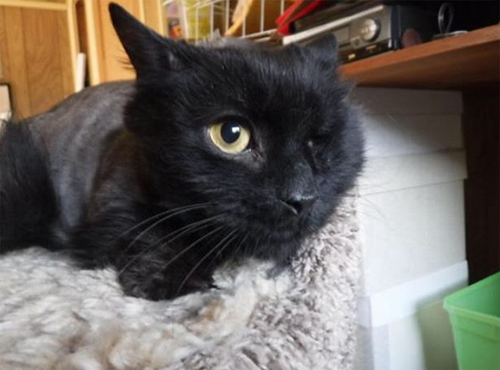 She clicked on the post, and she discovered the adorable cat, who was named Bosco, was available for adoption, and he'd already been subjected to a lot of disappointment and upheaval in an effort to find his forever family. "He had been through three homes and kept coming back to the rescue," says Emma. "The post said he had come back with matted fur and a nail embedded in his paw and was very timid."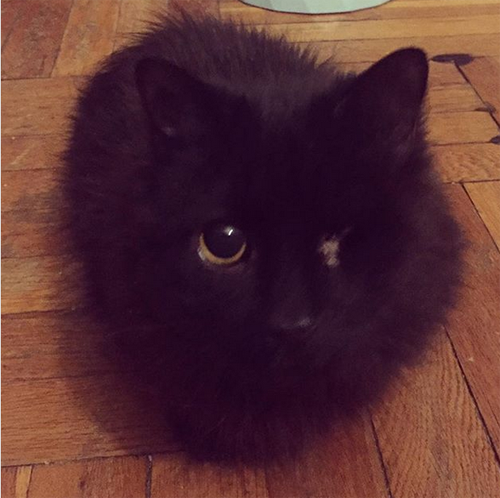 Emma, who already had Kona and Maple — two beautiful tortoiseshell cats with cerebellar hypoplasia, a non-progressive neurological condition that affects balance and coordination — wasn't looking to adopt another pet, and yet there was something about Bosco's sweet face and sad story that made her want to adopt the one-eyed munchkin cat.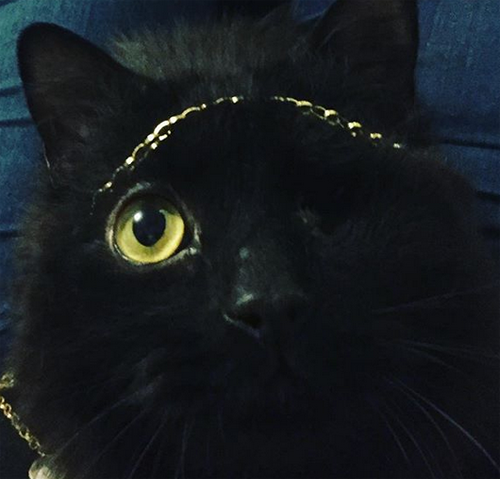 "I felt like, 'Someone needs to step up and give this little guy a real home,' " remembers Emma, and so that night in August 2016, she emailed the New Jersey rescue and expressed her desire to adopt Bosco.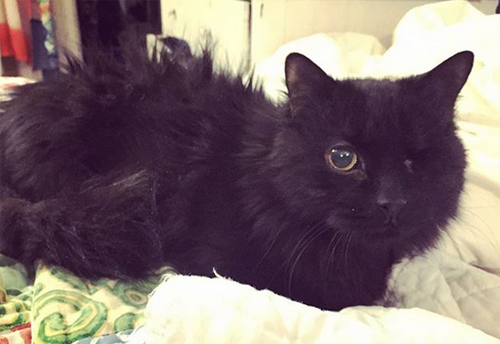 While the organization wanted to find little munchkin cat — who had lost one of his eyes to an infection — a home in New Jersey, they asked Emma to submit an adoption application. "I filled it out, sent it with photos of my kitties, and said that Bosco deserved the best home they could find," says Emma, "and if it wasn't with me, I understood; I just wanted him to be happy."
Much to her surprise, the rescue called Emma the following morning to let her know her application had been approved, and she scrambled to set up a space for Bosco in her bathroom, even buying a tiny litter box for the little munchkin cat. Emma — who already had two cats at the time — and her boyfriend Will — who had two dogs, Bear and Cody — were planning on moving in together when she decided to adopt the one-eyed feline, and Will was totally on board. "Will was completely supportive of my decision to get Bosco," says Emma.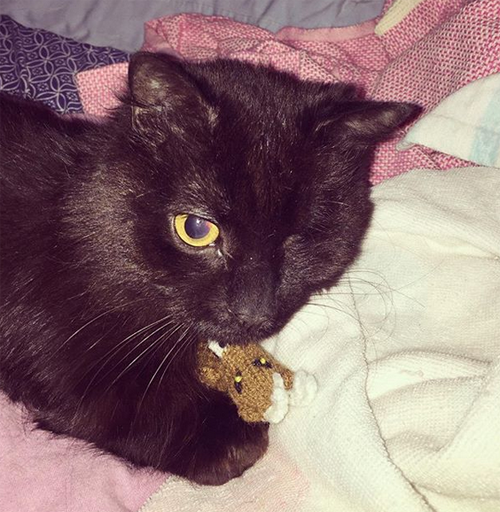 Emma and Will picked Bosco up from the New Jersey rescue, and the couple quickly discovered that the fluffy black cat was even cuter in person, but he was also very afraid. "He was terrified," says Emma, "and rode back the whole way shaking in his carrier with his face pressed into the corner."
When they arrived at her Brooklyn apartment, Emma  took Bosco — who was approximately five years old at the time — into the bathroom and let him out of his carrier, keeping him in a small space to help him adjust to his new environment. "He hopped into his shark bed once we got home," remembers Emma, "and lived inside it like a hermit crab for the next few weeks."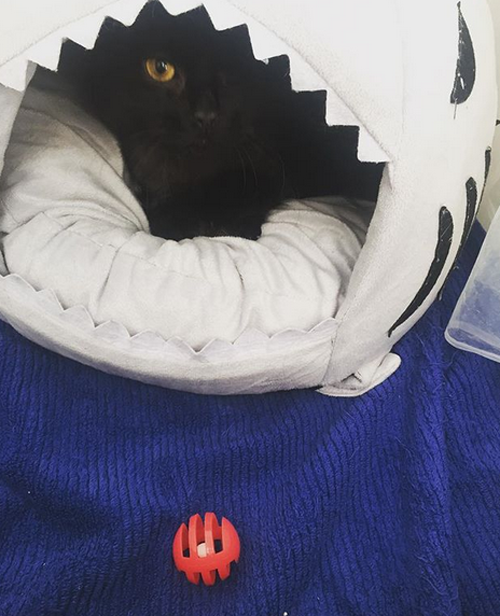 While Bosco's extreme timidness had caused other people to give up on him, Emma was undeterred, and she spent hours laying in the bathtub with the fluffy munchkin cat, holding him in her arms and singing to him. Slowly, this adorable black cat started to realize that he could trust Emma, and little by little, Bosco began feeling more at ease in his new home. "I remember the first time he let me hold his paw, the first time he played," says Emma, "the first time he fell asleep next to me."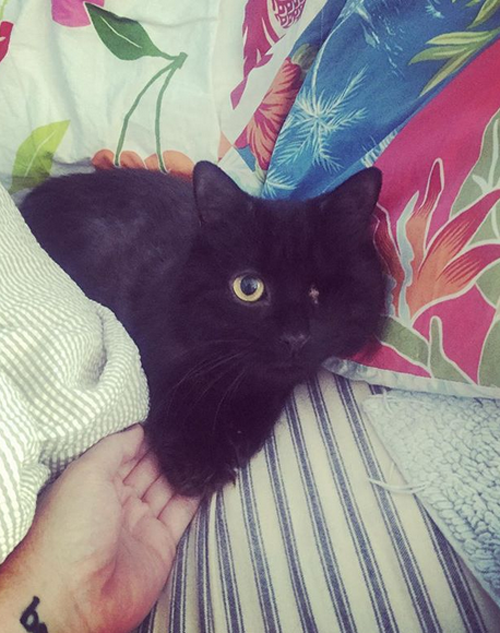 Finally, after a few weeks of living in the bathroom, Bosco woke Emma up in the middle of the night, meowing at the top of his lungs to let her know he was ready to explore the rest of his home. "I took the gate down and he scampered off," remembers Emma.
Still, Bosco wasn't entirely comfortable with his new environment, or his new roommates, Kona and Maple, but over the next few months, he became more confident and brave. "Every time Bosco goes through something he doesn't like — like getting his nails clipped — and he survives, he realizes that it's OK, and we aren't going to hurt him, and he gets a little braver," explains Emma. "It's amazing to watch."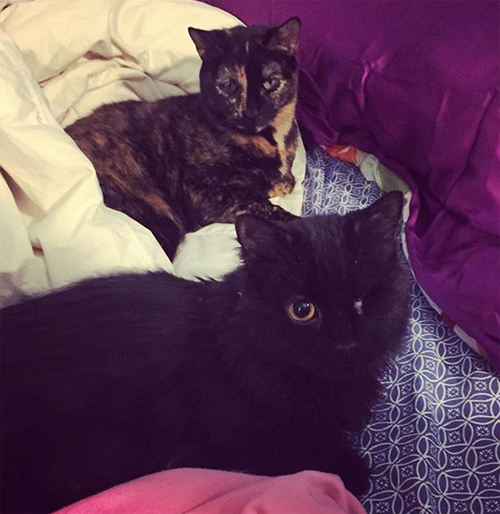 More than a year and a half later, Bosco has settled into his home, which he now shares with Will and his two dogs, and he's formed an especially strong bond with Emma, the person who refused to give up on him. This fluffy cat — who had to have his matted coat shaved when one of his previous adopters didn't brush him because he hissed at her — loves cuddling with Emma and having his chin scratched.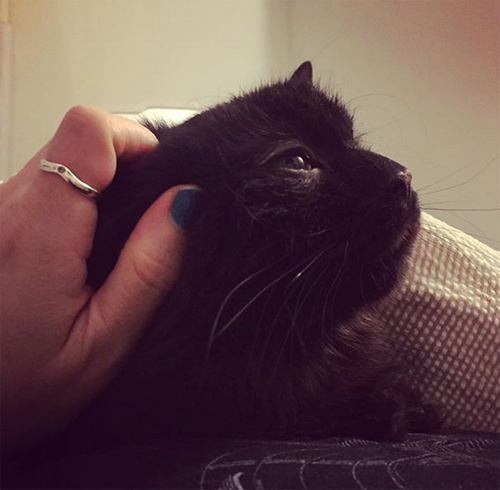 Bosco also loves meal times, and he's very vocal about his fondness for food: "He will start yelling as soon as he hears me opening the wet food," says Emma. After dinner, this sweet little cat, who went through multiple owners before he found Emma, likes to snuggle up with his mom and her boyfriend and get some rest. "He loves sleeping on our bed," says Emma, "and will walk up the stairs and tuck himself in."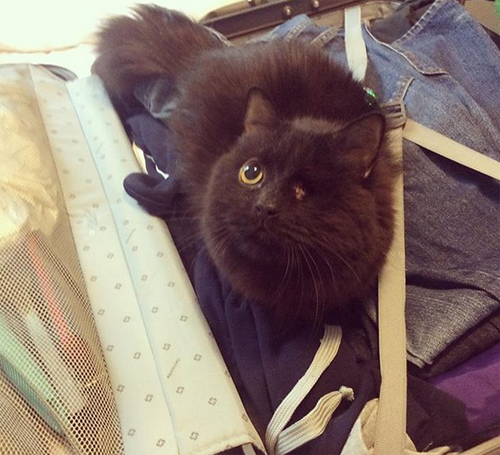 Bosco also enjoys sitting on the back of the couch, especially when the window is open, to watch the world go by and take in the scents from outdoors. While this little munchkin cat is missing one of his eyes, Emma doesn't think it has much of an impact the quality of Bosco's life, although it's possible it affects his depth perception. "He is cautious about jumping," says Emma, "but that could also be [because of] his tiny legs."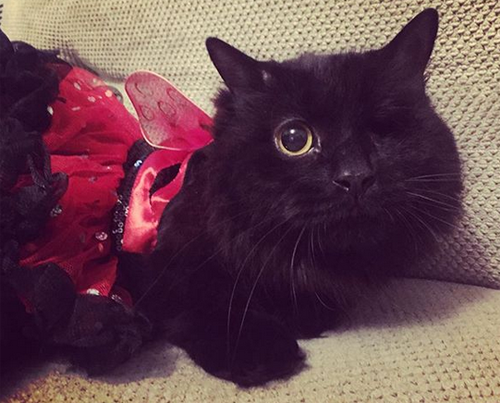 Emma is confident one-eyed cats like Bosco really aren't that different from other felines, and she hopes her rescue munchkin will inspire others to adopt special needs pets like him. She also hopes anyone who decides to seek out a munchkin cat after seeing Bosco will go to a rescue, not a breeder. "If you feel strongly that you want a certain breed," says Emma, "check Petfinder and breed recuses and you will find an adorable animal in need of a good home."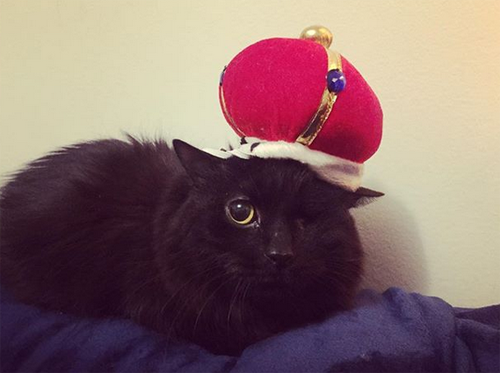 Thankfully, Bosco has the perfect home with Emma, Will, Kona, Maple, Cody, and Bear, and the love and support his parents have given him has allowed this once terrified cat to finally feel comfortable and at ease. "Watching Bosco and knowing what he has been through and seeing how he still wants to love and trust just melts me," says Emma.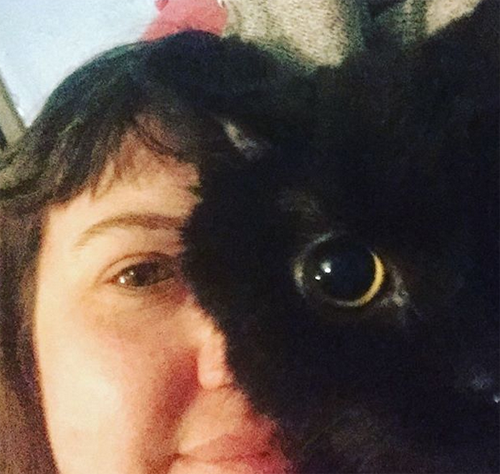 While Emma believes Kona and Maple, her tortie cats with cerebellar hypoplasia, are fearless, it's hard for her to relate to the way they are seemingly unafraid about everything, even though she finds their shared outlook endearing and impressive. However, with her little one-eyed munchkin cat, she has found a kindred spirit. "He is my soul," says Emma, "because he knows life is hard but he wants to find love and be happy. True bravery is when you know the risk, but you still try. Bosco is brave despite being afraid, just like me."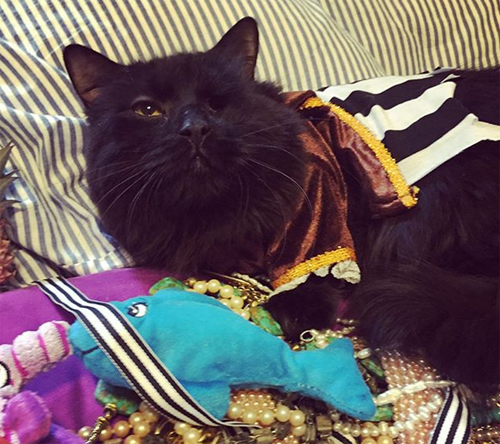 To learn more about this adorable cat, you can follow Bosco on Instagram.