When a client of Central Texas Cat Hospital was no longer able to care for Rafiki (formerly Monkey), their young Russian Blue cat who was diagnosed with Ehlers-Danlos syndrome (EDS), they surrendered the special needs feline to Shadow Cats, a non-profit organization in Austin, Texas.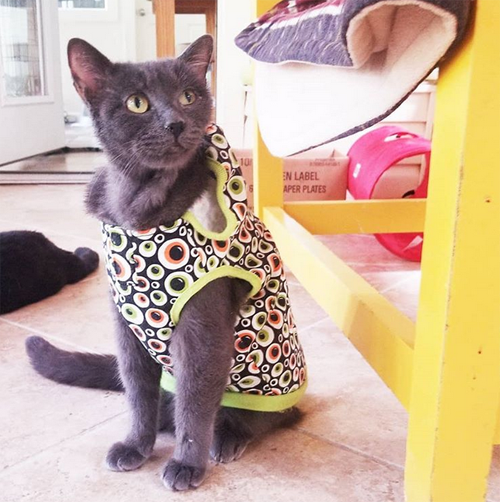 "A lot of the Shadow Cats residents come through Central Texas Cat Hospital, formerly owned by the founders of Shadow Cats," explains Maya G., a vet tech at Shadow Cats.
The organization was founded in 1997 by Sheila Smith and her husband, Dr. RB Smith, a veterinarian who still works at Central Texas Cat Hospital. While Shadow Cats initially started as a trap-neuter-return (TNR) program aimed at humanely decreasing the feral cat population in Austin and the surrounding area, the non-profit has grown over the past 30 years and now includes a sanctuary for special needs kitties like Rafiki.
"He was originally named Monkey," explains Maya, "and after he was surrendered, he was given the name of the noble monkey from the Lion King!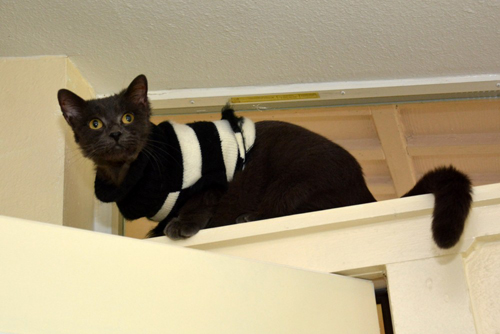 Rafiki, who was born in November 2015, has Ehlers-Danlos syndrome, a congenital condition that is also known as feline cutaneous asthenia (FCA) when it affects cats. "EDS affects Rafiki's skin," explains Maya. "He doesn't have much connective tissue in his skin, so it sags like a suit that's too big on him. It also means his skin is delicate and has a hard time healing."
Consequently, cats with Ehlers-Danlos syndrome like Rafiki need to be handled with more care than the average kitty, especially because there is no cure for feline cutaneous asthenia. "That's why he wears clothes," says Maya, "so he can't directly scratch himself — or get scratched — too much."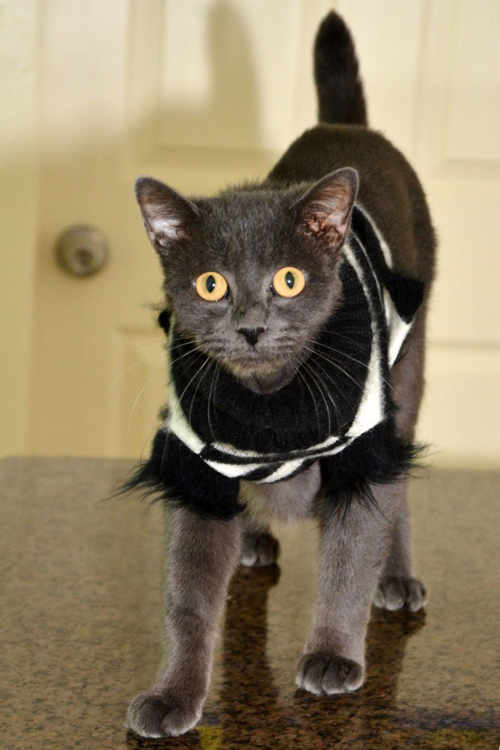 While Rafiki, who is only two years old, wants to play like a typical young feline, the staff at Shadow Cats has to make sure that in addition to wearing clothing to protect his fragile skin, this handsome boy doesn't overdo it when interacting with other residents at the sanctuary. "We just have to make sure he's not getting into trouble, which he loves to do," explains Maya. "He's outgoing and very active, but he's not allowed to roughhouse with other cats because he can't get bitten or scratched."
In addition to making mischief, Rafiki loves hanging out in his favorite cat bed, and this rambunctious boy has settled in well at Shadow Cats since he was surrendered to the organization earlier this year. "He's only been here a couple months, but is already making himself at home," says Maya.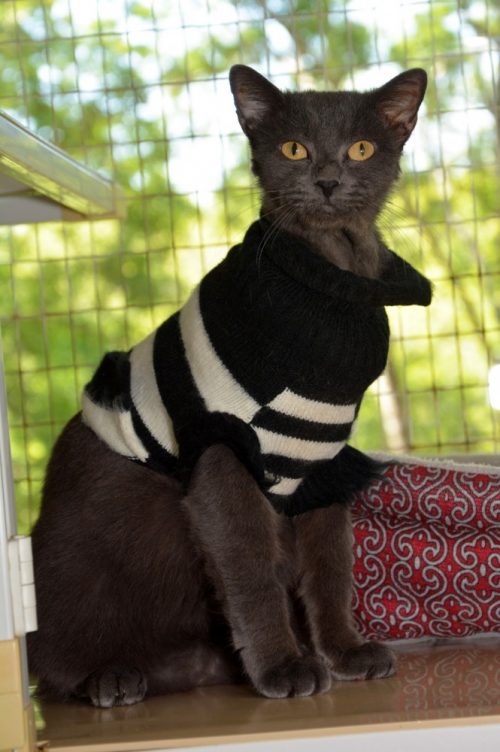 This special boy is also giving the staff at the sanctuary the opportunity to learn more about feline cutaneous asthenia, a rare condition that few people are familiar with because animals with the condition are commonly — and needlessly — euthanized. "They are often just put down when they are diagnosed, as it is assumed they will never have a good quality of life," says Maya. "So no one has the chance to learn about these conditions because the animals don't survive to have their stories told."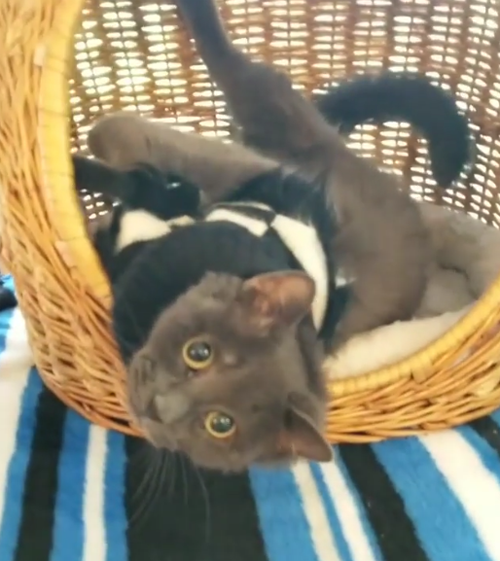 Thankfully, Shadow Cats is dedicated to sharing the stories of unique cats like Rafiki, and they're determined to raise awareness about a range of different conditions, including Ehler-Danlos syndrome. "People need to get over their own discomfort with looking at special needs animals and assuming they are suffering," says Maya. "That assumption too often costs them their lives."
Fortunately for Rafiki — and potentially other cats with feline cutaneous asthenia — the staff at Shadow Cats recognizes that this sweet and spunky boy has an excellent quality of life, and he definitely isn't at risk of being unnecessarily euthanized. "Rafiki is active and loving and happy and thriving!" says Maya. "He's such a goofball with a huge personality! He makes us all smile."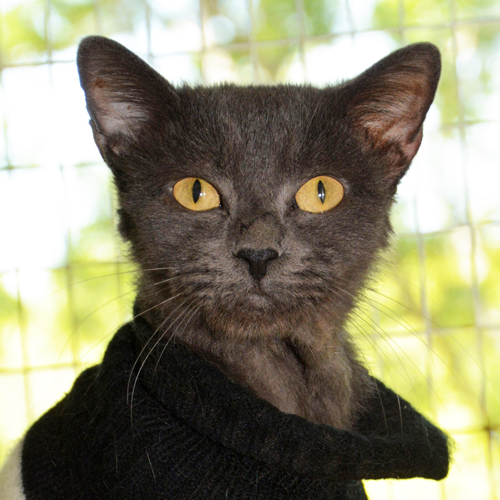 To learn more about this handsome cat, you can follow Rafiki on Instagram.
If you would like to help Shadow Cats care for Rafiki, you can sponsor this adorable boy.