When Sierra learned that Utah Animal Advocacy Foundation (UAAF) was looking for someone to foster Sabrina, a paralyzed and incontinent cat who had been rescued from the streets and taken to a veterinarian in Moab, she was interested in helping the special needs feline. "In December of 2016, I was tagged in a post from a vet clinic in Moab, Utah, by UAAF," explains Sierra. "They had a good Samaritan find Sabrina dragging herself around due to an injury."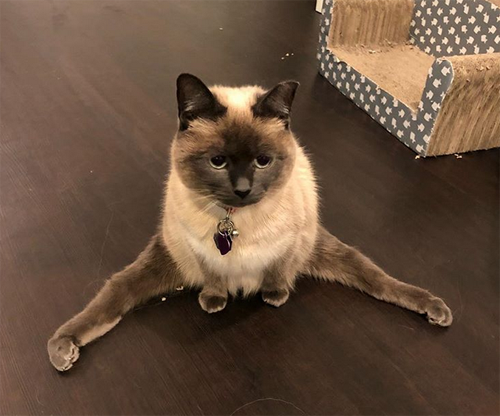 Sierra was already familiar with UAAF and caring for a kitty with paralysis and incontinence, having adopted her cat Stevie from the Salt Lake City organization a year earlier, so she contacted the rescue to learn more about Sabrina. "She was in a community that was being cared for," says Sierra. "She is ear-tipped, marking that she was TNR'ed. This indicates that she was healthy enough to be released back to her community."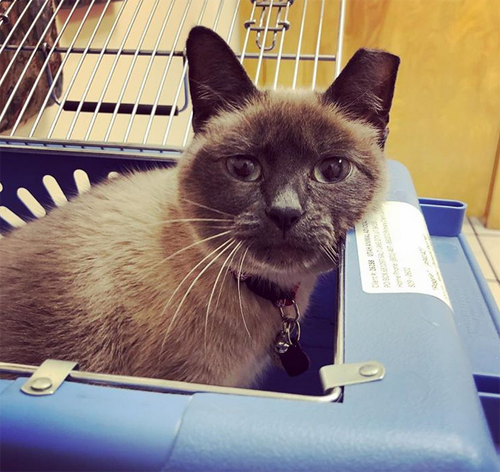 However, at some point after Sabrina was trapped, neutered, and returned to the area where she'd been living, she was seriously — and possibly intentionally — harmed. "The only thing we know for sure is that she was shot," says Sierra. "It is assumed that she is the victim and survivor of animal cruelty and abuse."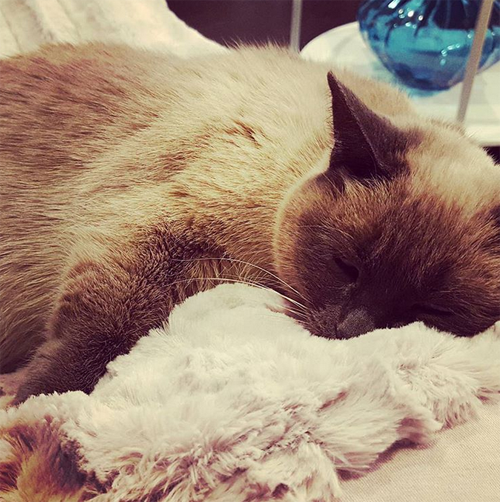 When Sabrina was taken to the veterinary clinic Moab, an examination revealed she had most likely been born in the spring of 2015, making her approximately 18 months old when she was rescued, and she had a BB lodged in her skin. The vet determined that the BB wasn't causing Sabrina any problems, so they opted not to remove it.
After learning about everything Sabrina had already been through in her short life, Sierra agreed to foster the special needs Siamese cat until she found her forever home. "She had sores and urine scald and they wanted to make sure she was okay before sending her to me," remembers Sierra. "She was transported just days before Christmas from Moab to Salt Lake City after the vet clinic cleared her."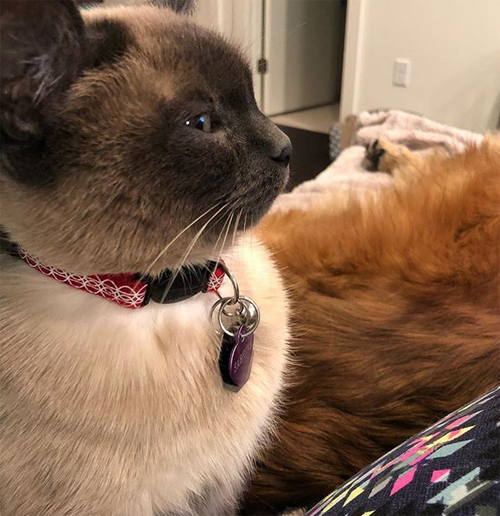 Initially, Sabrina didn't particularly like her feline foster siblings, Stevie — who has paralysis and incontinence — and Paisley — who has one eye. "She wasn't aggressive," says Sierra, "unless it came to food. Understandable from a cat that lived on the streets not knowing where her next meal might come from." At first, Sabrina preferred cuddling with her foster mom and Zoey, her three-legged dog sister, hissing at Stevie and Paisley whenever they came near her, but her feline foster siblings eventually won her over.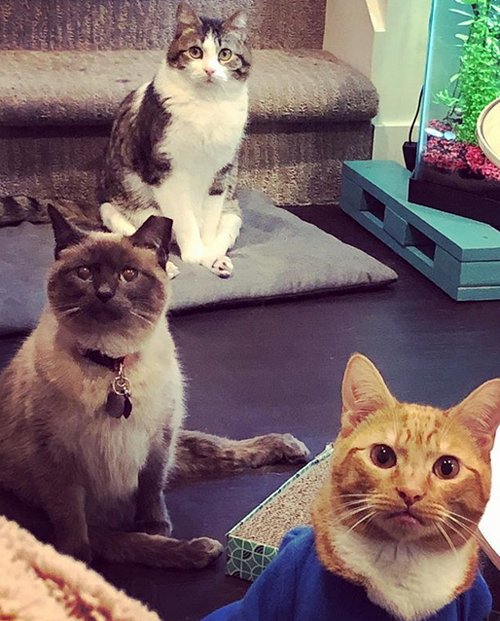 Also, when this beautiful special needs girl first arrived at her foster home, Sierra went to great lengths to help Sabrina regain use of her hind legs. "We did physical therapy and acupuncture with her to try and rehab her, but [Sabrina] did not get back any mobility," says Sierra. "We did, however, get some results from the work done on her bowels." Now, Sabrina — who once struggled with leaking — has enough tension to prevent urine from flowing out on its own, although she still wears a diaper as a precaution.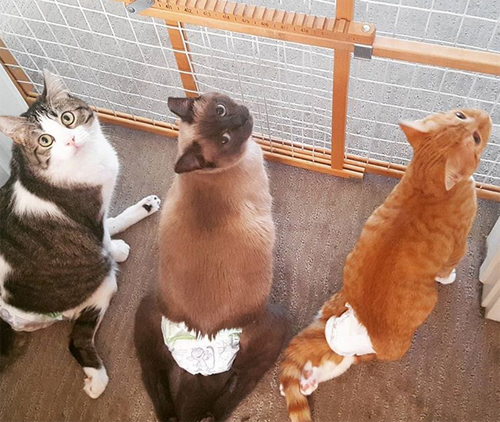 While Sabrina is unable to use her hind legs, she is a happy and very active girl who adores sitting on and scratching her cardboard kitty couch and hanging out with Sierra and Zoey. "As soon as I sit down, she has to climb up and lay in my lap," says Sierra. "She also loves cuddles with Zoey, my dog, and giving her kisses."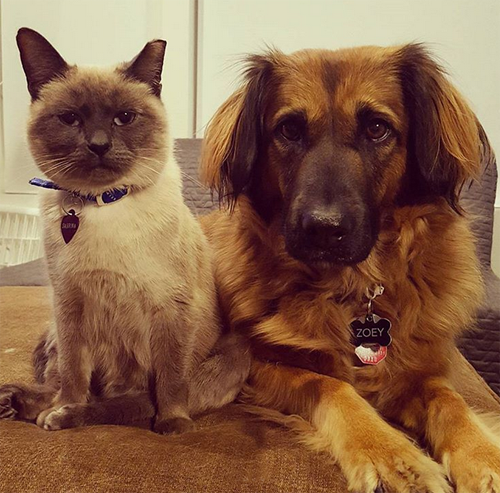 This special girl — who would do well in a home with dogs and other cats — is still looking for her forever family, and Sierra is confident the right person is out there for Sabrina. "It isn't hard to care for [special needs] animals," says Sierra. "Don't let their situation effect your love for them or your desire to add them to your family. You take a dog out to potty or scoop a litter box — her routine is just a little different."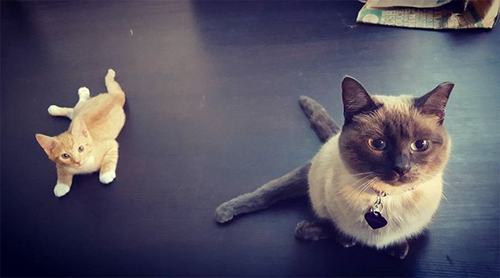 Sabrina, who is more susceptible to bladder and urinary tract infections than the average cat, has to have a home with someone who is willing and able to give her the love and attention she needs, but this resilient girl has proven time and time again that she is more than deserving of a family that is as special as she is. "She is the definition of a survivor," says Sierra. "She lived for who knows how long, injured and dragging herself."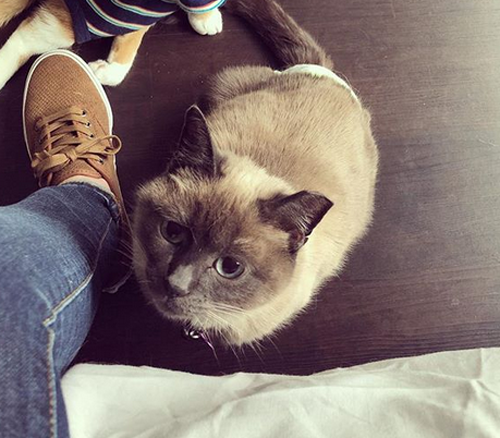 Sierra believes Sabrina is destined to have a long and happy life, she just needs to find the right family to share it with. "Many people ask why she wasn't put down if she'd been shot," says Sierra. "Well, she survived long enough on her own to prove she's a survivor."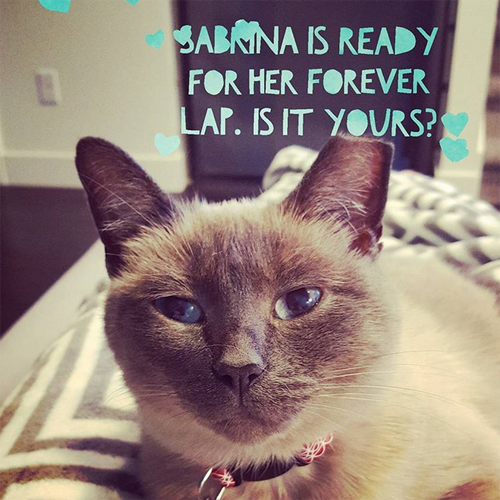 Sabrina is indeed remarkably strong, but her foster mom has found that despite everything she's been through, this beautiful Siamese girl — who was most likely the victim of abuse and cruelty — has remained gentle and affectionate. "She loves to cuddle," says Sierra. "She's sweet and loving."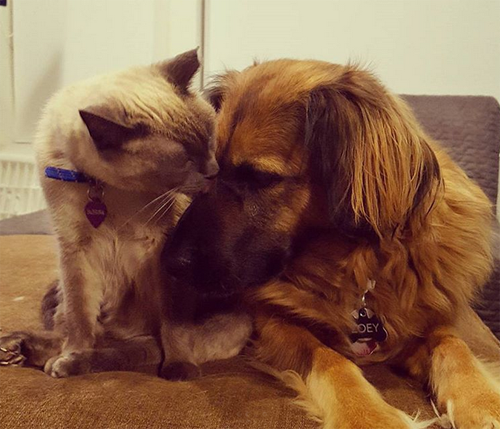 To learn more about this beautiful cat, you can follow Sabrina on Instagram.
If you're interested in adopting Sabrina, please contact Utah Animal Advocacy Foundation.