When Ariana was at Williamson County Regional Animal Shelter to get some of her foster cats vaccinated, she met an extremely vocal Siamese kitten who had been dubbed Sasha Fierce by the organization's kennel manager because of her feisty personality.
View this post on Instagram
"She was on the end in an enclosure by herself, but she was meowing through the glass and making biscuits on her blanket, clearly begging for attention," remembers Ariana. "When she turned around and I saw her rear end, I was pretty stunned — it was highly infected and looked like it was caked with fecal matter and/or dead skin."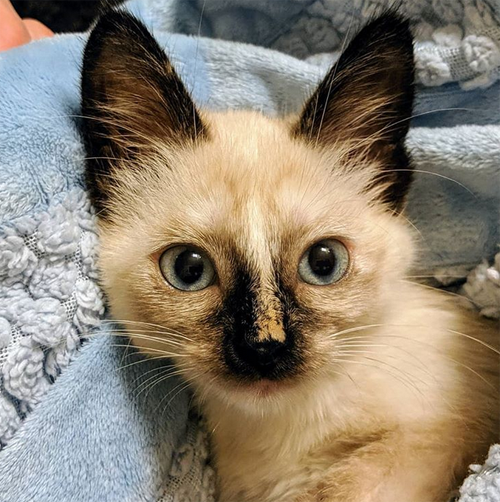 Ariana learned Sasha had Manx syndrome, a congenital condition that affects some tailless cats, causing them to often have issues with mobility and incontinence. While Ariana wanted to help the adorable 7-week-old kitten who had ended up at the shelter after being found by a concerned member of the public in nearby Round Rock, Texas, she already had two sets of foster cats, and she didn't think she would be able to give Sasha the attention she deserved and required. "I left her there that day in hopes someone else would take her," says Ariana. "Well, that lasted exactly one night."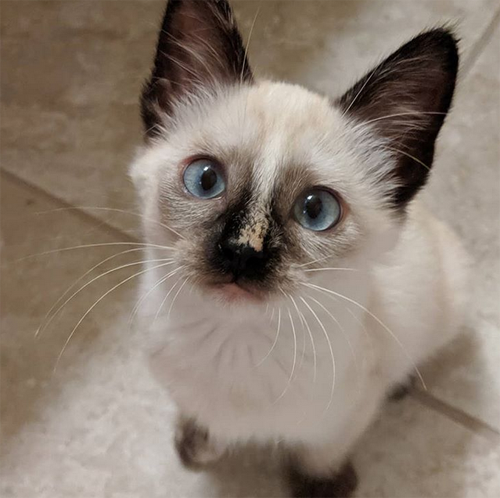 After all, despite being in what must have been a significant amount pain, Sasha was friendly and sweet to everyone who walked by her enclosure, and Ariana wanted to be able to give her the love and affection she obviously needed. The following morning — June 20, 2019 — Ariana returned to the shelter to collect Sasha, taking her directly to her veterinarian for a thorough examination. "The shelter does have a vet on staff, but they don't always have funding to take on crazy medical cases," explains Ariana. "I often pay for my foster kittens to go to my vet to get taken care of to help alleviate the burden on the shelter."
View this post on Instagram
Sasha was in such bad shape, Ariana's vet put the young cat under anesthesia in order to remove all of the necrotic tissue from her bum, revealing new, healthy skin. Ariana was then able to begin treating Sasha's skin infection, which was most likely caused by urine scalding and matted feces. With the help of hydrotherapy multiple times a day, as well as regular application of silver sulfadiazine cream, Sasha's rear end started to heal, and nearly a monthly later, she's doing great! "She has easily tolerated her daily butt baths and medication application — she seems to understand that I'm trying to help her," says Ariana.
View this post on Instagram
However, Sasha — who is a very active young cat — has a hard time sitting still while Ariana changes her diaper, but once it's on, she pretty much ignores it. "She doesn't even notice it and runs around like a completely 'normal' cat!" says Ariana. "I have a toy that is a feather on a stick that she will chase for hours. She can jump about a mile in the air to catch it! She makes these little tiny squeaking noises when she's playing that are so adorable."
View this post on Instagram

While Sasha loves to play, she also loves to cuddle, making it extremely rewarding for her foster mom to give her the extra care and attention a cat with Manx syndrome requires. "When she's done with playtime, she wants to be on your lap, receiving pets and snuggles and kisses," says Ariana. "She will sometimes put her little paws on my chest and kiss my face when she feels like I'm not snuggling her close enough. She's such a human-oriented kitten."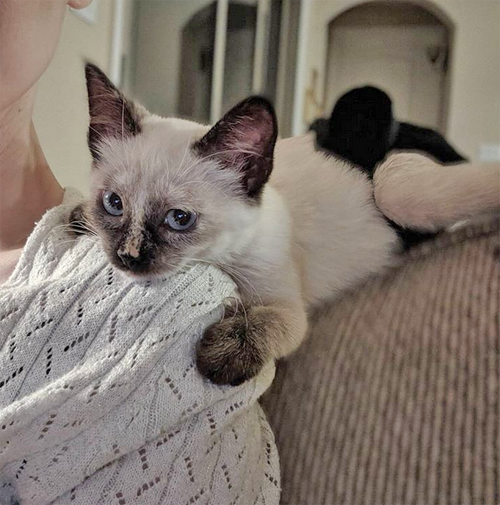 Thanks to Ariana's hard work and dedication, Sasha is now available for adoption, and her foster mom wants to make sure she finds a home with people who are willing and able to change her diaper and bath her regularly.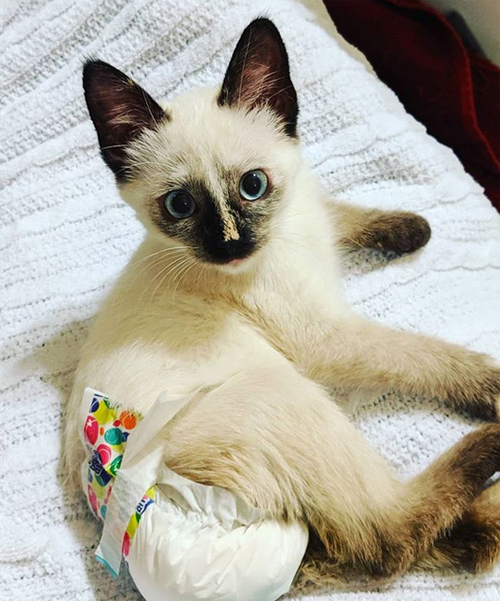 "She doesn't love her butt baths, but she has resigned herself to them and will sit still for me while I clean her off," says Ariana, and aside from these relatively minor tasks, Sasha is just as easy to care for as any other cat. "She just needs food, water, a warm, soft place to sleep, toys, and of course, lots of snuggles and love. Heck — you don't even need to keep out a litter box for her! Bonus!?"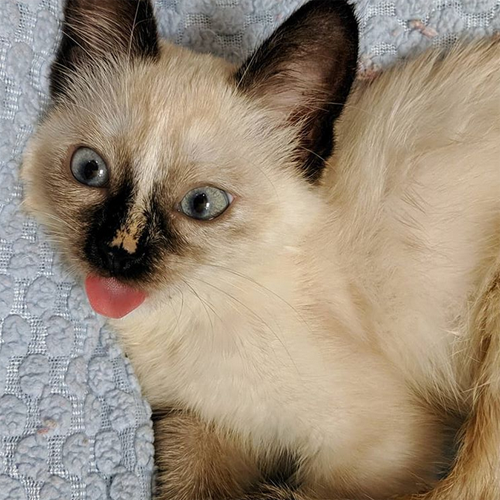 Ariana is confident Sasha will become more tolerant of baths and diaper changes over time, making this adorable cat — who is already pretty easy to look after — even easier to care for over time. She also believes that the family who is fortunate enough to adopt this resilient little girl will find, just as she has, that special needs kitties more than make up for any additional attention or care they require.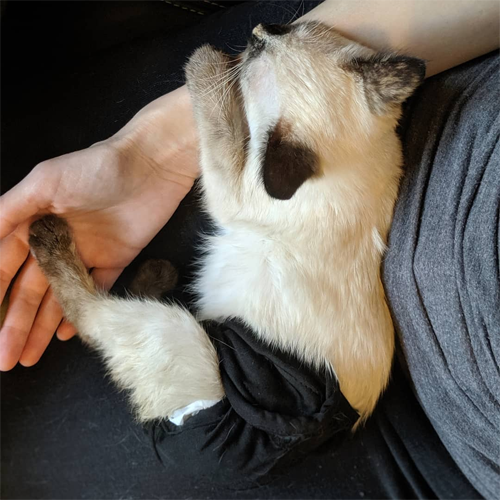 "Special needs cats will repay the effort you put into them tenfold," explains Ariana. "In exchange for regular diaper changes and butt baths and medication on the still-healing skin, I get constant kisses, snuggles, purrs, biscuits, and entertainment. I honestly think I'm the winner in the bargain."
View this post on Instagram
When Sasha finds her forever home, there's no doubt Ariana will miss her terribly, and she's so glad not only that she made the decision to foster this fun-loving kitten, but also that this stunning girl  found a temporary home at Williamson County Regional Animal Shelter in Georgetown, Texas.
View this post on Instagram

"I don't even want to think about where this kitten would be or what her life would be like if my shelter didn't exist," says Ariana. "She's just such a happy cat — she has a huge purr, loves making biscuits, loves being held, will chase a feather toy for hours, and is just in general a very sweet little baby."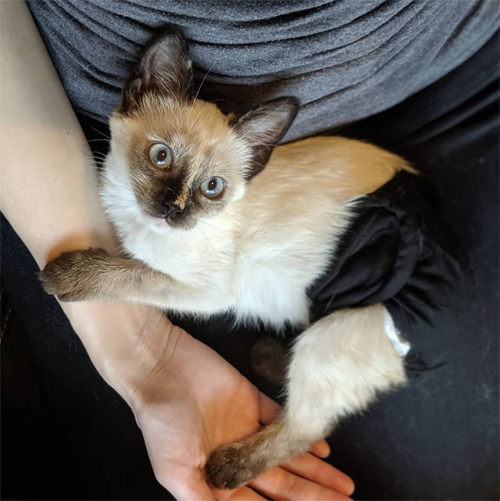 To learn more about this gorgeous kitten, you can follow Sasha Fierce on Instagram.
If you're interested in adopting Sasha Fierce, you can submit an adoption application.