Following a cross-country road trip, Shay and her spouse returned to their home in Los Angeles in early June 2018 only to discover a total of eleven cats living in their backyard, including nine kittens. "All of their eyes were very infected, and we could just see the fleas crawling on them," remembers Shay. "Some [of the kittens] were big, but some were very small and struggling."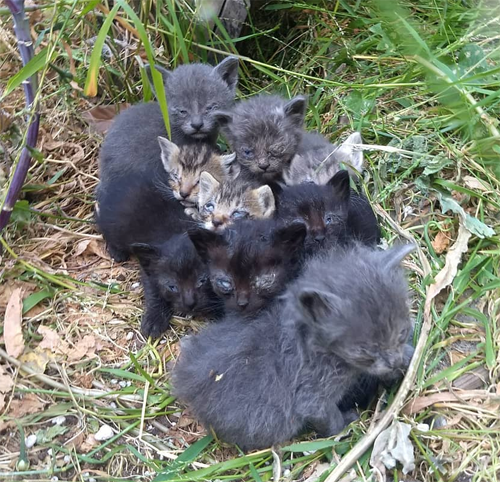 The kittens were being taken care of by two mother cats, but the young felines were in poor health and desperately needed medical attention. Shay, her spouse, and their roommates contacted local shelters and rescues, looking for an organization that would be able to assist them.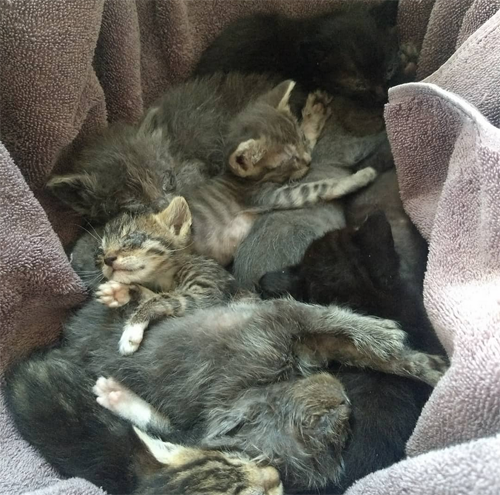 "None [of them] had the capacity to handle nine sick kittens, and they would be put down," explains Shay. "We couldn't have that, so we took in the kittens as soon as we secured a safe place indoors for them."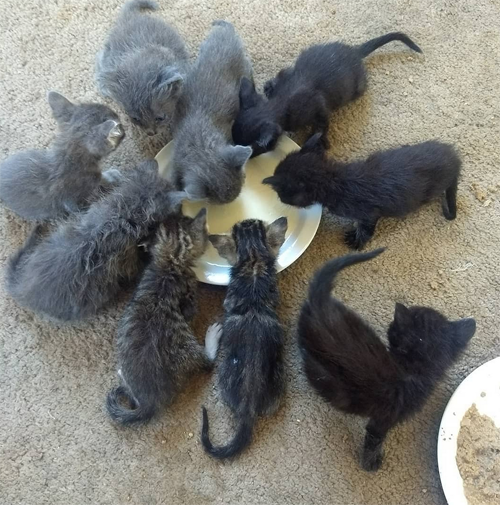 After bringing the kittens into their house, which was already home to three to other cats, Shay, her spouse, and her roommates went to a vet to get medication to treat the young felines for various illnesses, including eyes infections.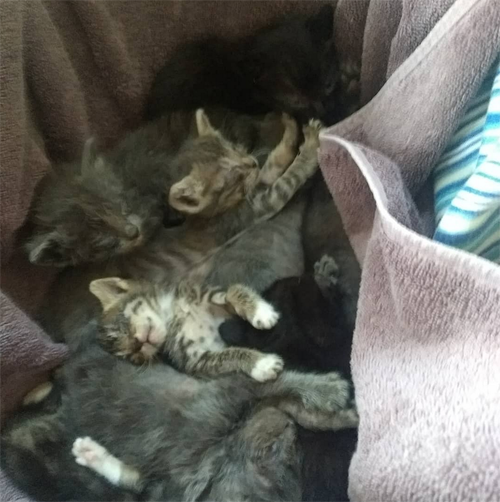 However, one of the kittens — who was named Roomba by Shay and her spouse's roommates — didn't have any eyes, and after taking the adorable one-month-old tabby and white cat to the vet's office on June 14, 2018, Shay discovered why. "Roomba never had use of his eyes," says Shay, "and the vet suspects that having the infection so young prevented them from developing or ruptured them very early in development."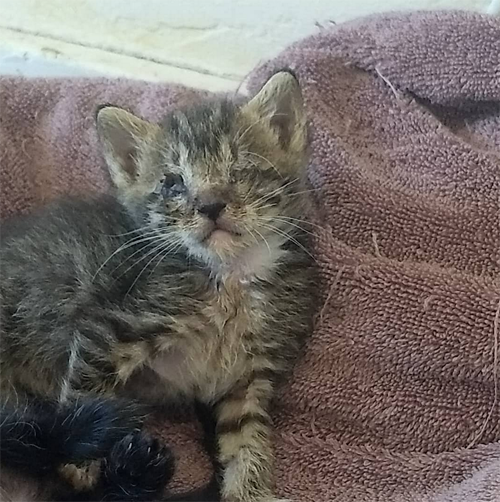 Consequently, Roomba — who was most likely born in early May 2018 — was completely blind and had been for the majority — if not all — of his short life, but it didn't prevent him from being a very happy and active young cat. "Roomba got his name from the way he would move around as a kitten, bouncing off the walls a bit like the Roomba robot vacuum!" explains Shay. Following a thorough medical examination, Roomba was given a clean bill of health, and he promptly fell asleep in Shay's arms.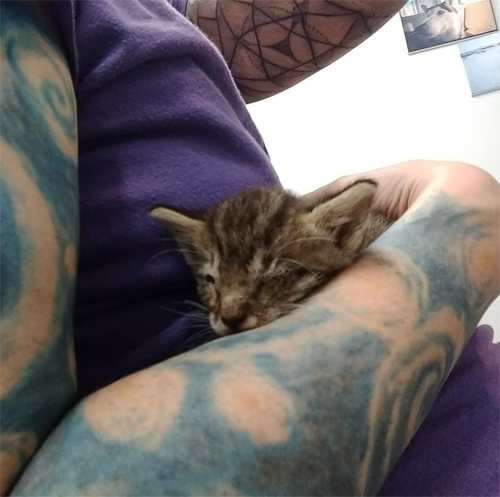 Not surprisingly, Shay fell in love with Roomba's sweet and fun-loving personality, and she and her spouse decided to adopt him just a week after they found him and his siblings in their backyard. "I didn't have a pet of my own and I have a soft spot for tabbies since that was what my cats were growing up," says Shay. "I have been interested in adopting a special needs cat in the past, so this just seemed meant to be!"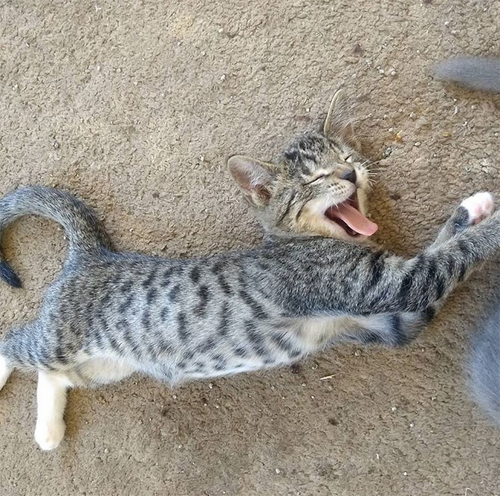 Initially, it took Roomba a little while to adjust to his new home, and using a litter box was particularly challenging for this blind cat who had lived outdoors until he was rescued. "He wasn't always the best at getting in the bin," says Shay, "but once he got big enough to use the bigger litter box, this problem went away."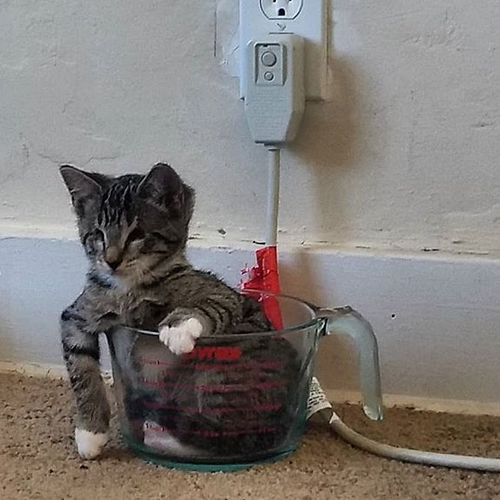 Over time, Shay, her spouse, and their roommates realized it was important for them to allow Roomba to navigate their home on his own, because it was too disorienting for him if they picked him up and carried him to another part of the house.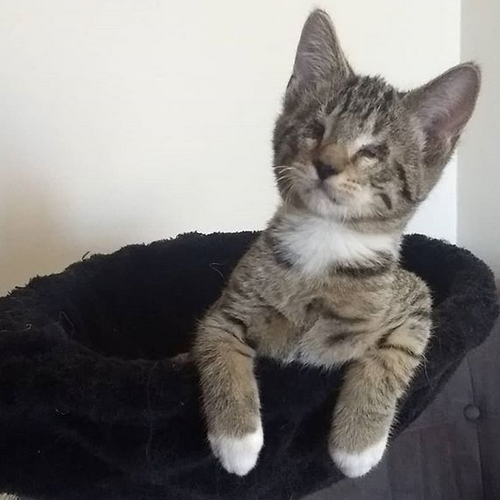 Shay has also learned to keep this cute blind cat's food, water, toys, and litter box in the same location so that Roomba doesn't have difficulty finding his belongings. Today, Roomba has adjusted well to his new home, often relying on his sense of hearing when he's walking around the house or playing with the other cats.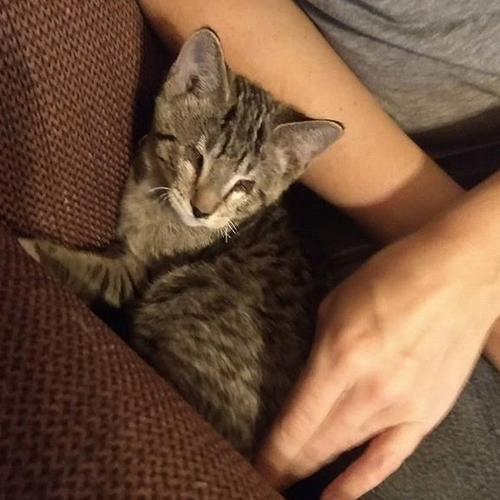 "We use waterfall style drinking fountains for the cats, which provide excellent sound locators for little Roomba," explains Shay. "We have noticed the other cats in the house adapting to his play style also, and they will chirp or make a small sound before pouncing him, giving him a little heads up to react and not be scared."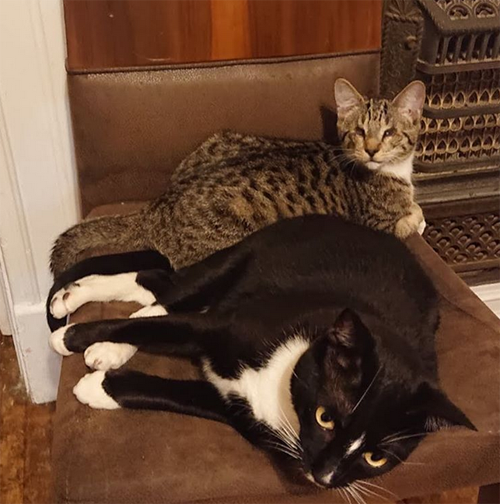 Aside from making a few relatively minor adjustments for Roomba, this handsome blind cat has proved that he's really not all that different from typical kitties, so much so that people often don't believe he doesn't have eyes. "He is great about getting around despite his eyeless-ness," says Shay.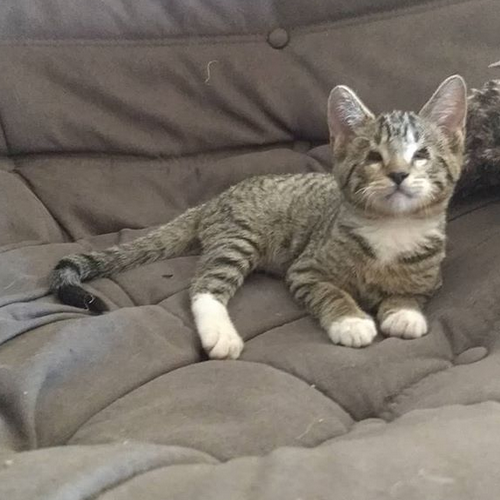 In fact, not only does Roomba enjoy batting around the ball in his Petstages Tower of Tracks Cat Toy, he loves playing with Nix and Norman — two of the other cats who live in his home — and scaling the gates Shay uses to try — unsuccessfully — to keep him out of certain rooms, making him a fairly average feline.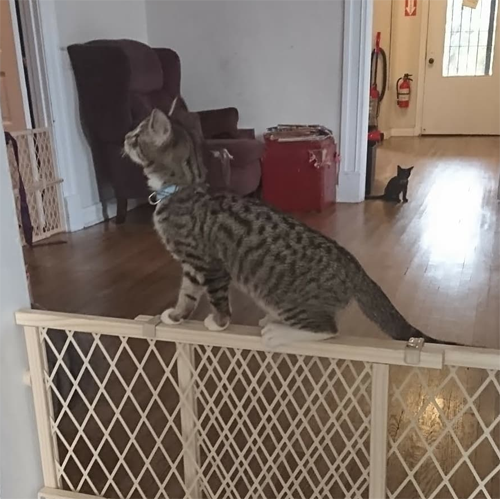 "I wish people knew that blind cats are just as awesome as a cat with eyes," says Shay, "and that there are very few accommodations that need to be made in order to have a happy life."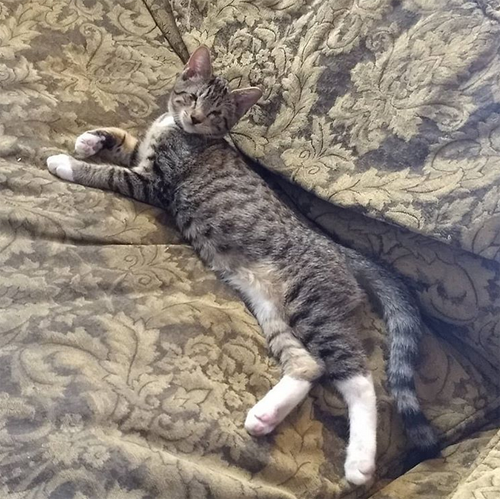 Thanks to Shay, her spouse, and her roommates — who not only rescued Roomba and his siblings, but also participate in trap-neuter-return (TNR) programs to help homeless cats in their community — this blind cat has a very happy life with people who adore him.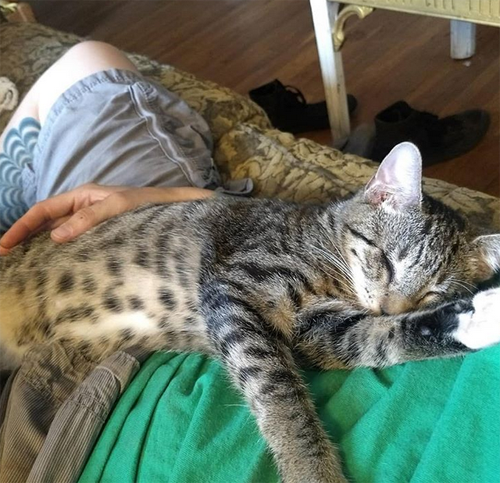 While Roomba loves all of the people and animals who live in his Los Angeles home, this friendly and affectionate boy shares a very special bond with Shay, especially because he's the first cat she's had as an adult. "Roomba means the world to me, not having a cat of my own since I was a small kid," says Shay.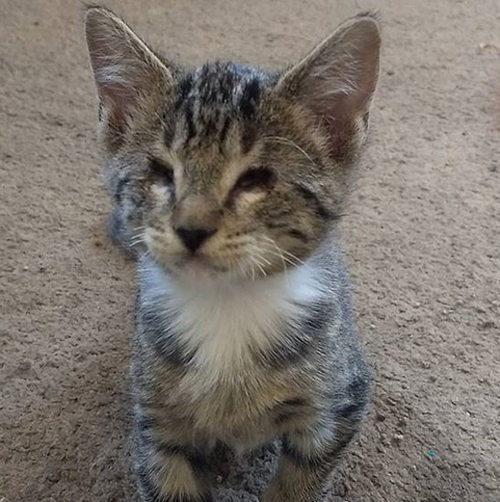 To learn more about this adorable cat, you can follow Roomba on Instagram.