When Stephanie McCurry first saw an adorable black cat without a tail hanging around outside of her Greeneville, Tennessee apartment during Labor Day weekend in 2006, she had no idea the feline would help her get through not one, but two cancer diagnoses. "I went outside," remembers Stephanie, "and she came running to me."
Her husband didn't want to take on the responsibility of another pet, but that didn't stop Stephanie from feeding the stray black cat that night. Then — much to Stephanie's surprise — her husband left food out for the friendly feline the following night, and the couple began feeding the cat — whom they called Kitty — on a daily basis.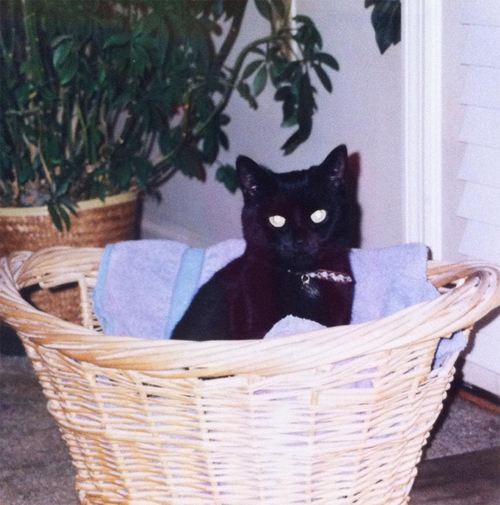 "I thought she was the most beautiful little cat I'd even seen," Stephanie says. "I'd go outside and she'd immediately jump in my lap." After taking care of Kitty for more than a month, Stephanie concluded no one was looking for the cute black cat. The couple had fallen in love with Kitty, so Stephanie took her to the vet for a checkup and vaccinations before officially making the sweet black cat their own.
Kitty — whom the vet determined was approximately two years old — quickly settled into her new home, and she proved to be an excellent lap cat, as well as an incredibly playful, sweet, and loving companion.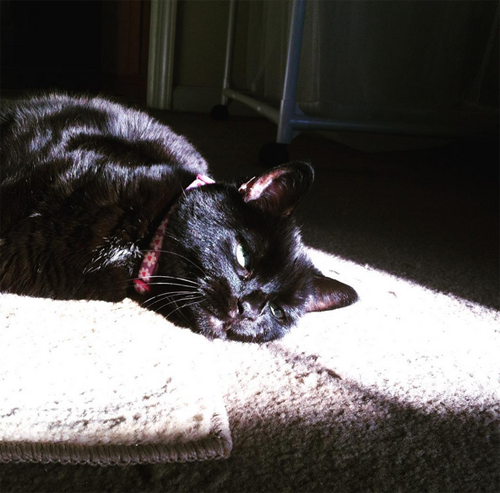 Less than a year after Stephanie found Kitty hanging around outside of her home, she made another life-changing discovery. As she was putting on lotion one evening after work, Stephanie found a lump in her breast. Concerned, she had a mammogram, ultrasound, and biopsy, and on August 21, 2007, Stephanie was diagnosed with cancer at just 30 years old. "It didn't run in my family," says Stephanie, "so it was a huge shock to me, my husband, and my family and friends."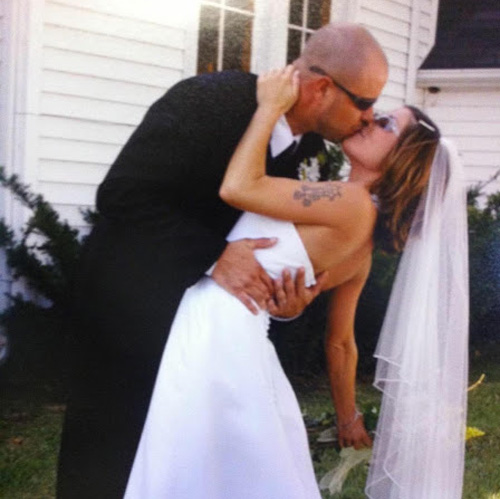 Thankfully, the cancer hadn't spread to Stephanie's lymph nodes, and after a lumpectomy, countless chemotherapy treatments, and 35 radiation treatments, she was declared cancer free in July 2008. Throughout the terrifying ordeal, Kitty, as well as the couple's dog Macy, were by Stephanie's side, both literally and figuratively. "When I was so very sick, Macy would lay beside me and Kitty would lay on my lap," Stephanie recalls. "They were the best nurses ever!"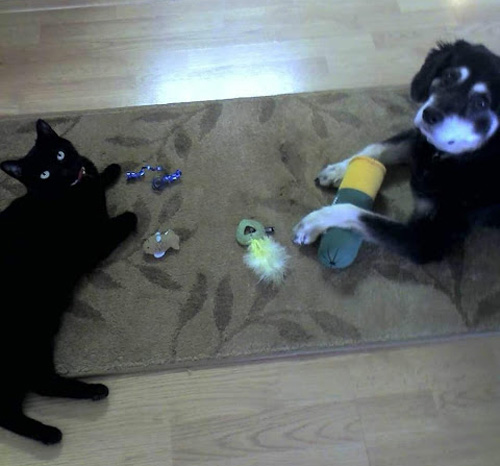 After surviving cancer, Stephanie, with the help of her husband, friends, family, and beloved pets, began working to get her life back to normal. However, a month before she was due to return to work, a routine scan found an abnormal mass in Stephanie's mammary gland chain.
Stephanie and her husband traveled to Rochester, Minnesota, where she underwent a fine needle biopsy on Valentine's Day 2009: two days later, she learned she had breast cancer for the second time. "Surgery wasn't an option," Stephanie explains, "so I had to start chemotherapy all over again."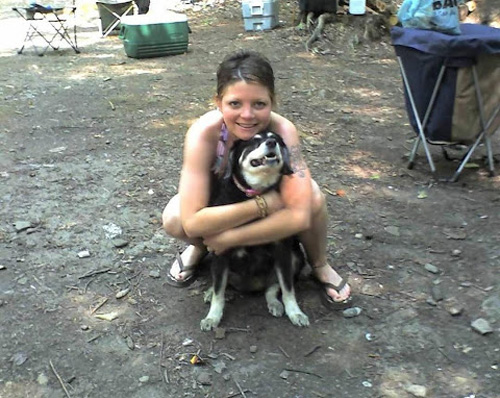 Understandably, Stephanie fell into a deep depression, which worsened when her beloved dog Macy passed away on March 1, 2010. "I didn't want to finish my treatments after Macy passed," says Stephanie.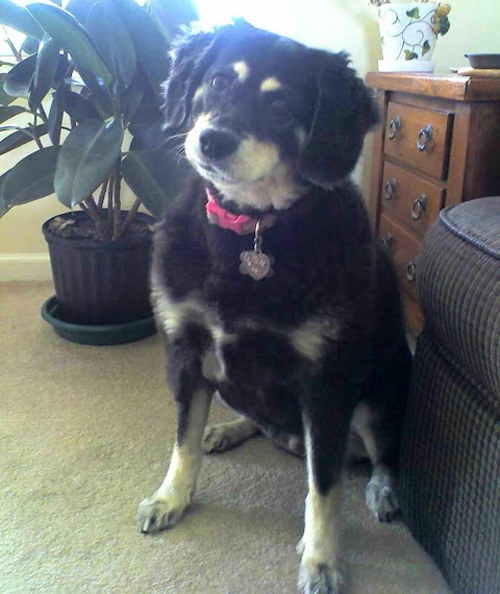 Even though Stephanie had gotten to the point where she questioned if there was any reason for her to continue on with chemotherapy and radiation treatments, Kitty refused to let her mom give up. "She helped me during my grieving," Stephanie remembers, "and she would wipe my tears away with her face. She made me realize that she loved me and still needed me to take care of her."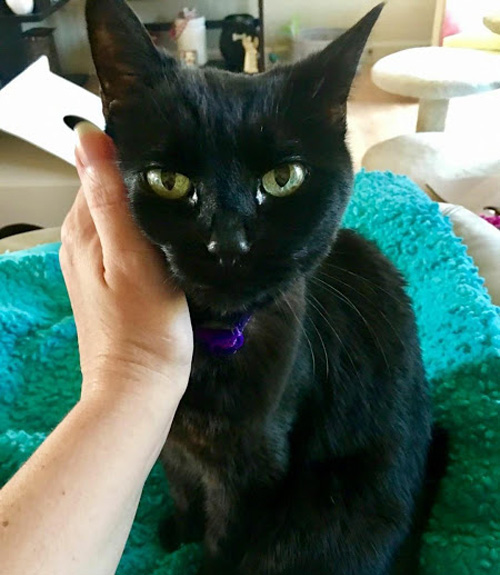 With Kitty's love and support, Stephanie finished her treatments in June 2010, and her cancer has been in remission for five years. It's been more than a decade since Stephanie first spotted Kitty near her apartment, and during the last 11 years, the two have forged an incredible bond.
While Stephanie is cancer-free, her health simply hasn't returned to what it was before she was first diagnosed, causing her to often feel tired and unwell. Thankfully, Kitty is more than happy to keep her mom company when she's feeling under the weather. "She always knows when I'm not feeling well," says Stephanie, "and she'll hold my hand with her paw until I go to sleep."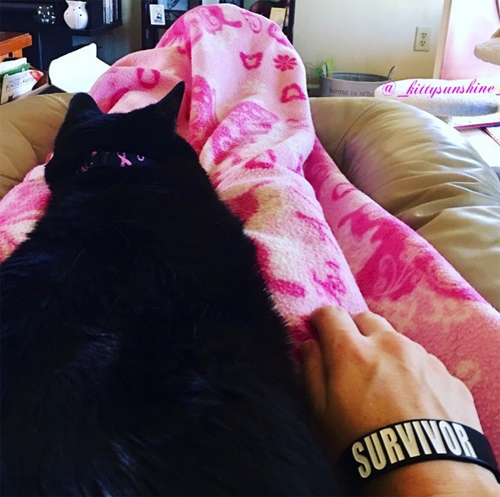 In addition to helping Stephanie get through two battles with breast cancer and the passing of her beloved dog Macy, Kitty has helped her mom cope with the loss of her mother and two grandmothers. Consequently, Stephanie gave her devoted black cat a middle name, calling her Kitty Sunshine. "She really is my sunshine," says Stephanie, "and she definitely makes me happy when skies are gray!"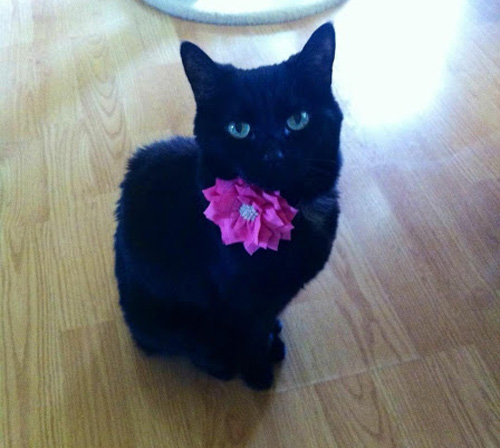 While Stephanie has definitely had more than her fair share of tragedies, she's thankful she's had Kitty Sunshine by her side — and in her lap — to help her get through it all. "Kitty is truly my little angel disguised in a feline body," Stephanie says, "and I can't even imagine my life without her."
Undoubtedly, Stephanie and Kitty Sunshine will face many more challenges, but there's no question that they will be able to rely on each other for love, companionship, and strength. "Kitty and I can communicate without saying one word," Stephanie explains. "I love her with every single ounce of my heart and soul."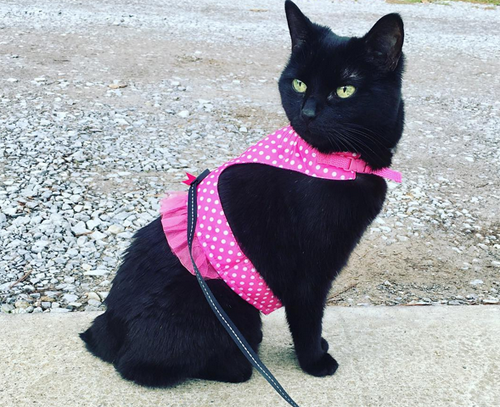 To learn more about Kitty Sunshine, you can follow her on Instagram.