When John and Leda went to the San Francisco SPCA in March 2015, the couple was looking for a companion for their cat, DJ Lady Bunny, having lost their beloved kitty, Velveteen, six months earlier to a neurological disorder. "We were visiting a friend in the same neighborhood as the SPCA," remembers John, so he and his wife Leda decided to pop in to the shelter to see the cats who were available for adoption.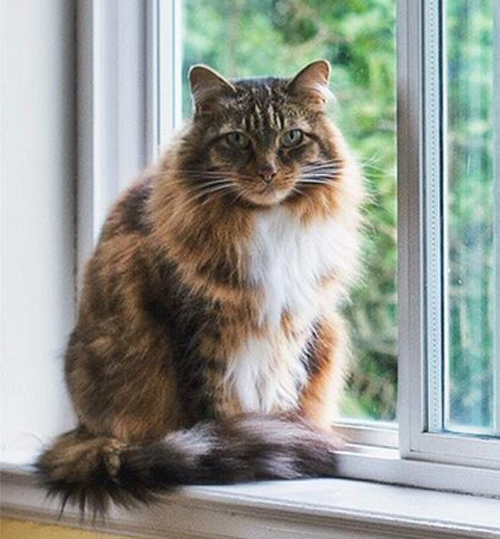 "In the second window was this adorable little boy with the funny paw, wearing the cone of shame," says John. "As soon as he saw us, he came up to the glass trying to get closer, almost able to push his little pink nose against it."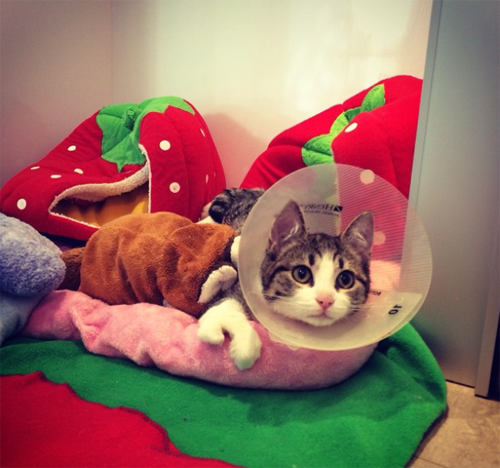 While John and Leda had a specific type of cat in mind — "We walked in hoping to find a female cat, maybe four or so years old, and on the smaller side," says John — they were both drawn to the friendly four-month-old male feline with the malformed paw who had been named Lobstah by the staff at the San Francisco SPCA.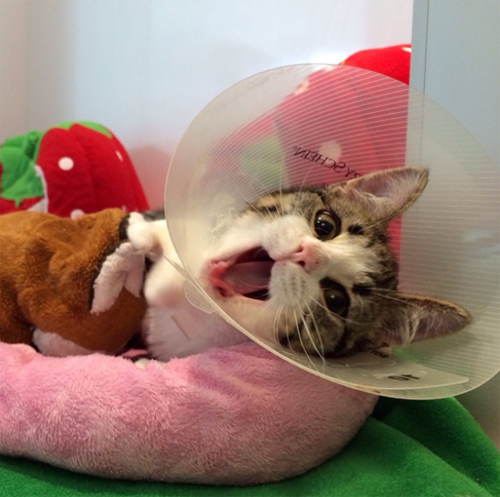 "We asked about his paw and we were told it was a birth defect, and that he had a few other medical issues," says John. In fact, when John and Leda saw Lobstah for the first time, he was still recovering from a recent surgery to repair a hole in his diaphragm.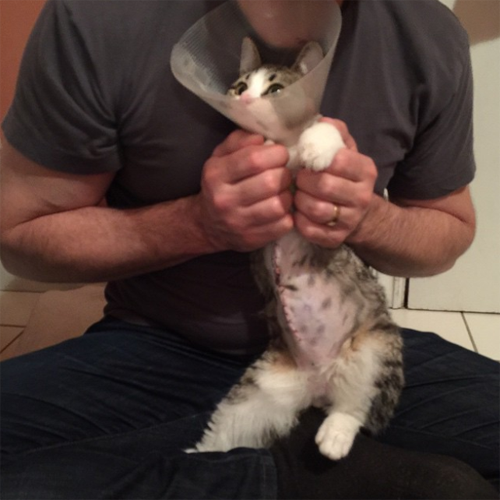 "His intestines had started to 'leak' through that hole, putting pressure on his lungs, restricting his ability to breath, and restricting his ability to eat, pee and poop," explains John. "We were told he likely had maybe 24 hours to live before his surgery." A vet tech explained to John and Leda that in addition to the hole in his diaphragm, Lobstah — who was living on the streets when he was taken to a local shelter — was born without a sternum or a pericardial sac, although neither congenital condition was deemed life-threatening.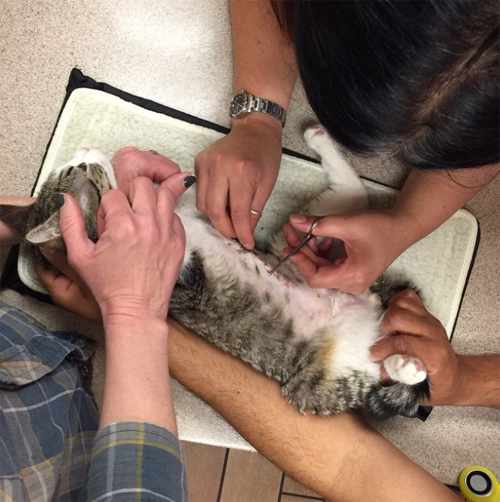 While John and Leda thought Lobstah was adorable, they hesitated when the vet tech asked if they'd like to have a meet and greet with the cute special needs kitten. "We certainly were not there to adopt a special needs cat!" says John. "You see, Velveteen was a special needs cat, and she required a lot of care." Having just recently gone through the heartbreak of losing Velveteen, John and Leda were understandably reluctant about the possibility of adopting another cat with health issues, and yet they both wanted to take a closer look at Lobstah and agreed to meet him in person.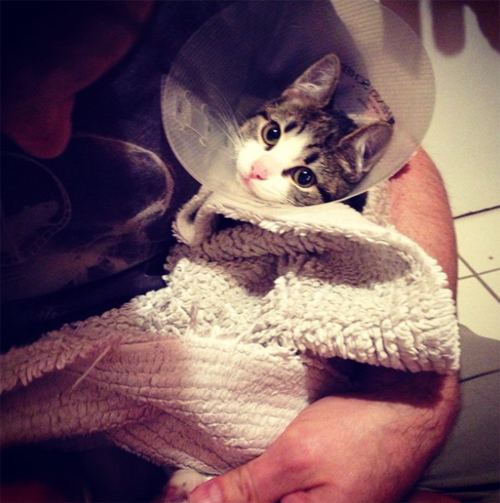 "He came right up to us and that is when we saw firsthand the extent of his other medical issues; he had sutures running from the top of his chest to the bottom of his belly," remembers John. "Leda started crying immediately."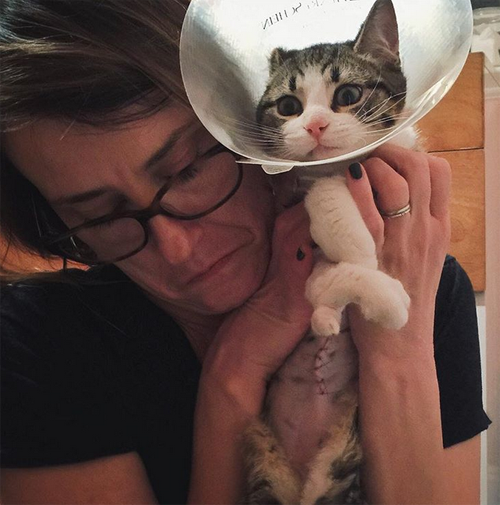 While Lobstah was as sweet and friendly as could be, the couple wasn't able to commit to adopting him that afternoon, so John and Leda asked the SPCA to hold the adorable special needs cat for 24 hours, giving them a bit more time to contemplate opening their home to another pet with medical challenges.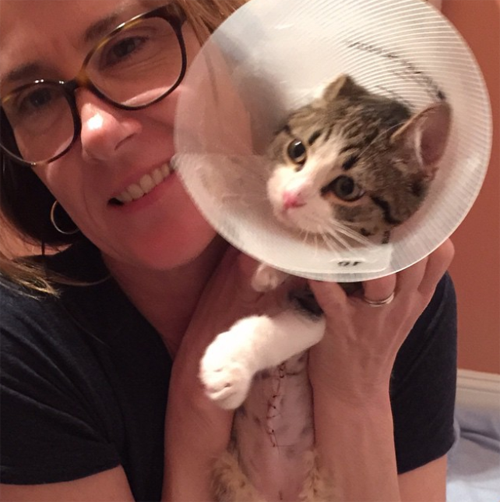 "The thing is, we couldn't get Lobstah out of our minds," says John, and he and Leda spent most of that evening thinking about the four-month-old kitten with a malformed paw and an indomitable spirit. The following day, the couple continued discussing Lobstah, and at the urging of one of Leda's clients, they decided to adopt the cute tabby and white kitten. "Our adopting Lobstah was meant to be," says John, "and the lead vet tech told us she knew right away we were the right people to adopt him."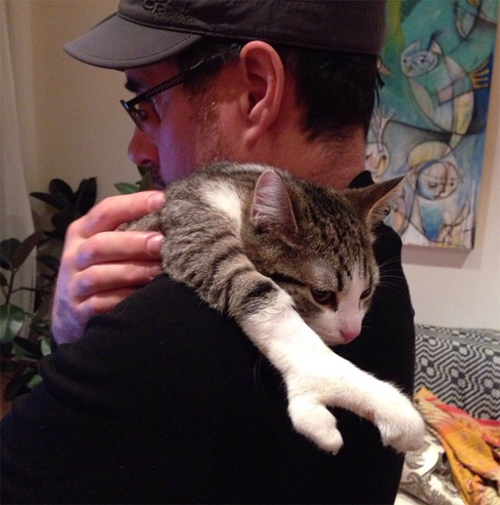 On March 13, 2015, John and Leda officially adopted Lobstah, and more than three years later, he has grown from a frail kitten into a strapping young cat! "We assumed he was going to be little and delicate his whole life and he is anything but!" says John. "We are careful with him though, but he's not careful with himself!"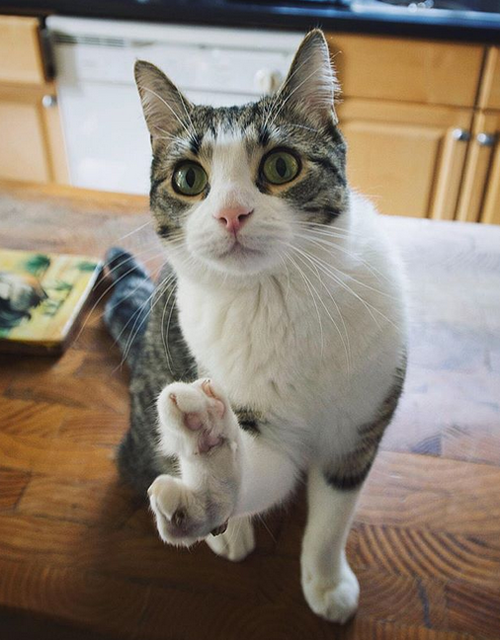 While John and Leda had some reservations about adopting a cat with special needs, Lobstah hasn't had any medical problems since he came to live with them, although they are prepared to deal with any health issues that may arise. After all, when they adopted Velveteen, they didn't realize that she would need extra care, but John and Leda didn't hesitate when it came to helping their her. "We would have — and did do — everything for her," says John.
Right now, Lobstah is in great health, and his parents are convinced that this special boy has no idea he's special. "He doesn't know any different than the body he was born with," explains John, "and he acts like any other 'normal' cat."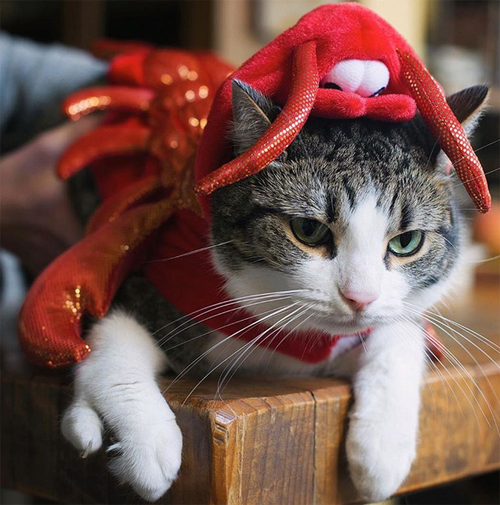 Lobstah, who will turn four this November, is extremely active and strong, and he has seemingly boundless energy.  "If we haven't played with him enough he will just run it out on his own," says John. "He loves to be chased, and he loves to wrestle."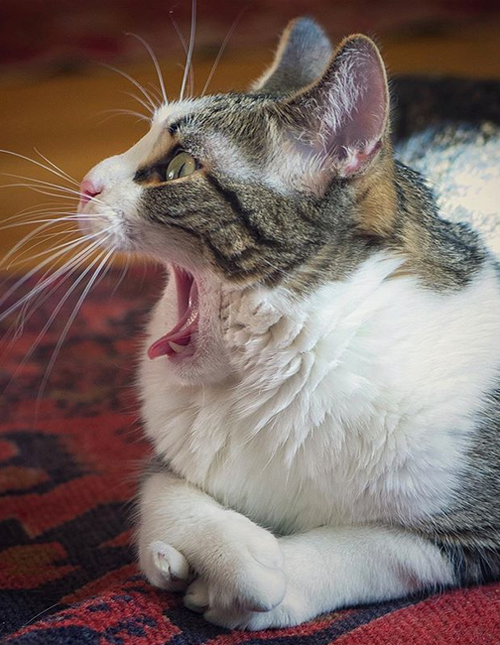 Lobstah is also very loving, and this young cat — who had life-saving surgery when he was just four months old — adores cuddling with his parents. "Lobstah is one of the most affectionate cats we've ever known," says John. "We think he knows how close he was to his number being up and is over compensating!"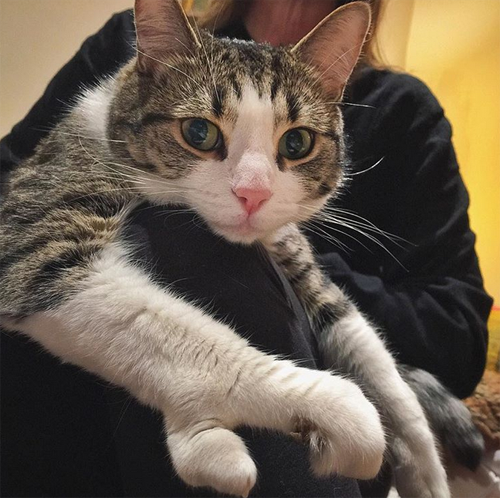 While Lobstah wasn't the cat he and Leda had in mind when they visited the San Francisco SPCA in March 2015, John is so grateful he and his wife were given the chance to adopt such a special cat. Though John and Leda had their reservations about adopting Lobstah, having gone through the devastation of losing their beloved Velveteen, they are confident they made the right decision. "He brings us so much joy, love and fun," says John. "We can't imagine our lives without him now."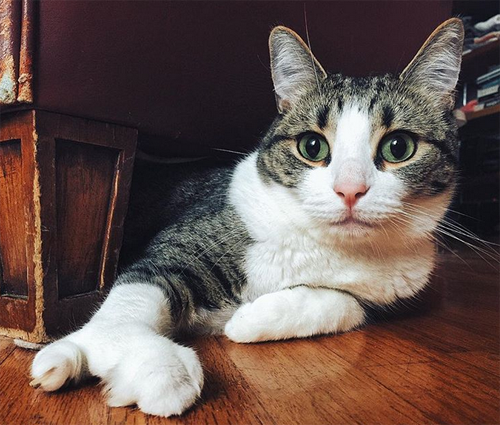 To learn more about this adorable boy, you can follow Lobstah on Instagram.