When Odile visited her veterinarian near her home in Roubaix, France, in the summer of 2019, she met an adorable ginger and white kitten in the waiting room who had been rescued from euthanasia by Cindy, the vet's assistant.
View this post on Instagram
The kitten, who was found on the streets of Tourcoing and taken to a shelter, was approximately nine months old, and he was born with a cleft nose and cerebellar hypoplasia, a non-progressive neurological condition that affects balance and coordination. "I'd never seen a cat like that before," remembers Odile. "I was alone with him and he went directly to me. I put him on my knees and he gave me a big cuddle."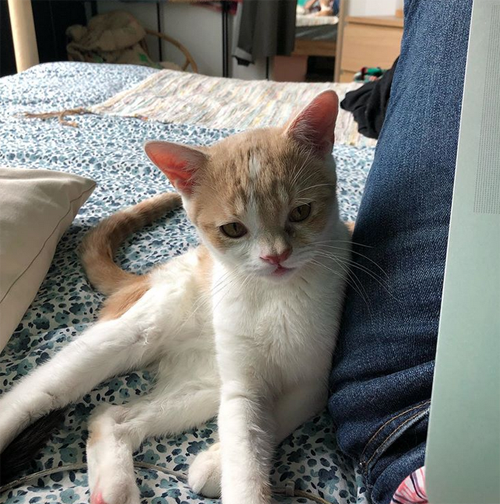 Smitten with the young cat, Odile — who began fostering cats for Action Adoption in 2018 — offered to foster him until he found his forever home. "The vet kept telling me he was looking for an adoptive family," says Odile. At the time, Odile thought the cute ginger and white feline would make an excellent temporary companion for her cat Oxalis, but she wasn't thinking about adding another permanent pet to her home. However, the more she thought about it, the more she warmed to the idea, so Odile officially adopted him in August 2019, naming the sweet rescue cat Chuck.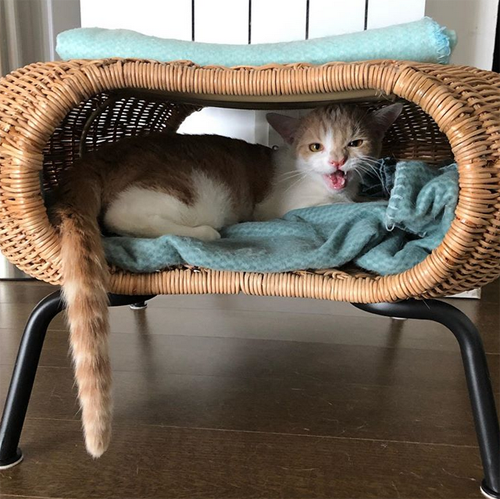 When she adopted Chuck, Odile knew very little about cerebellar hypoplasia, a neurological condition that occurs in utero, often when a pregnant cat is exposed to a virus or toxin, causing her kittens to be born with underdeveloped cerebellums. "When I chose to adopt him, I just chose a very nice cat," explains Odile, and neither Chuck's cerebellar hypoplasia nor his cleft nose really factored into her decision.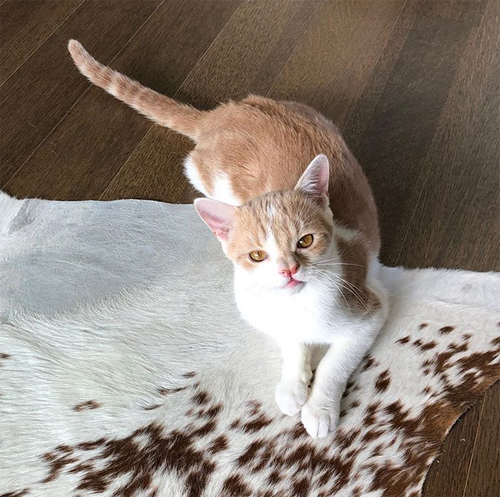 Initially, Chuck's cleft nose caused him some issues, including chronic congestion and watery eyes, and Odile thought he might need to have surgery. Thankfully, this issue resolved on its own, and several months after he found his forever home, Chuck is doing great! "He just sneezes and snores sometimes, but other than that, everything is normal," says Odile.
View this post on Instagram
Also, because of his cerebellar hypoplasia, Chuck has a wobbly gait and he falls more often than a typical cat. Fortunately, he's never suffered any injuries as a result of his poor balance and coordination, and his cerebellar hypoplasia doesn't prevent Chuck from enjoying his life just like any other young cat. "His favorite activity is, of course, to play!" says Odile. "He's so bored when the other cats are sleeping, and he loves french fries! He plays with them and then eats them!"
View this post on Instagram
While people sometimes assume cats with physical disabilities aren't as intelligent as the average feline, that's definitely not the case with Chuck. In fact, he is incredibly smart — and has excellent hygiene despite his lack of coordination — proving special needs cats are a lot more capable than people often think. "His physical condition doesn't match his intellect," says Odile. "He has his own tricks to get what he wants!"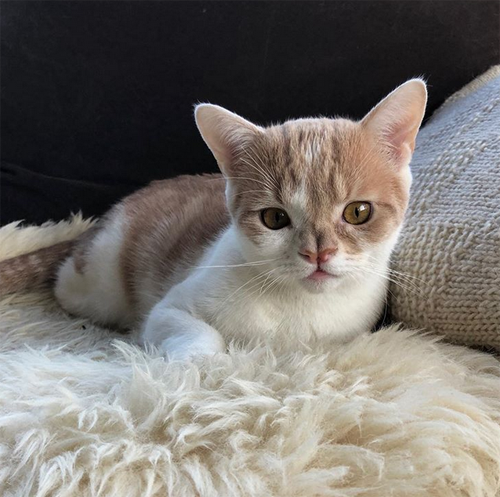 Even though his life got off to a very difficult start, Chuck's time in his forever home has been relatively easy, and Odile is thankful she made the decision to adopt this incredibly nice and friendly boy. "He escaped death on the streets and then in the shelter," says Odile, "but together, we haven't really have faced anything bad actually."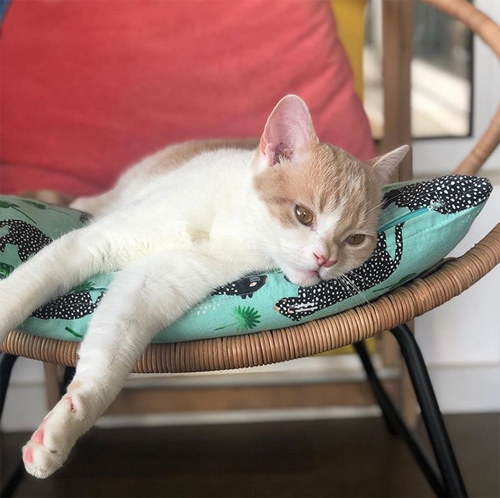 Instead of struggling to survive as a homeless cat with special needs, Chuck is thriving, and this remarkable feline — who stole Odile's heart the first time he met her in the waiting room of a vet's office — is spreading love and happiness everywhere he goes. "He likes everybody, he fears nothing, he runs after dogs to play," explains Odile, "and everybody loves him in return."
View this post on Instagram
Cindy, the vet's assistant who rescued Chuck from a shelter, especially adores getting to spend time with this one of a kind cat every time Odile brings him in for an appointment. However, there's no one who loves Chuck more than his mom Odile, and while she knows there's a chance he may not live as long as a typical cat because of his congenital conditions, she's so grateful for every moment she gets to share with this fun-loving and affectionate feline. "What a waste it would have been if he was euthanized," says Odile. "This cat is so much love and fun! I can't imagine my life without him now."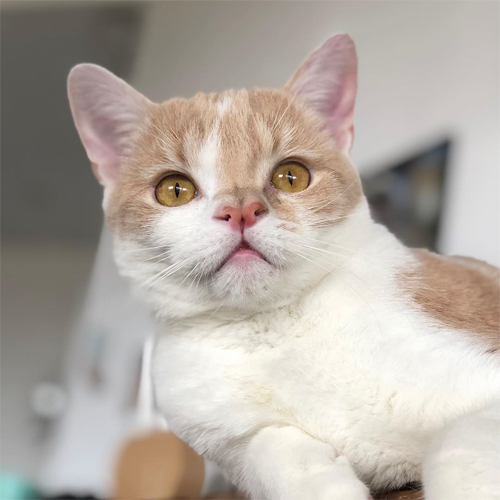 To learn more about this handsome cat, you can follow Chuck on Instagram.