When Nicole Wulfekuhle saw Tippers, an adorable tuxedo cat with cerebellar hypoplasia (CH), for the first time, she was trying to determine why one of her former foster kittens, Onyx, was having difficulty finding a home. Nicole had fostered Onyx, an adorable black kitten, since birth, and she couldn't understand why everyone else in his litter had been adopted while he was still waiting for his forever family to come along.
"I decided to see what the black cat competition was," remembers Nicole, and she turned to the Tri-County Human Society's website to see who was available for adoption. "That was when I saw Tippers."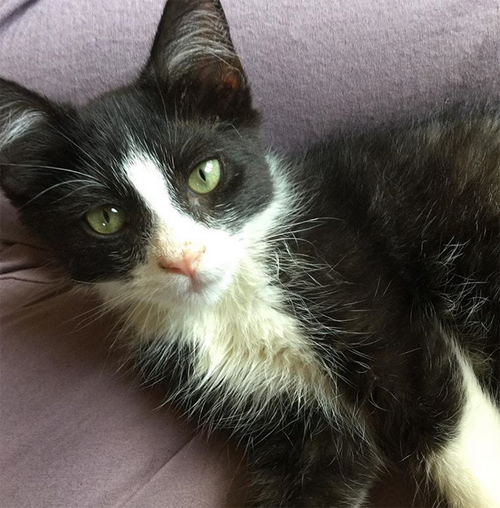 Intrigued by the cute black and white cat, Nicole read Tippers's profile and learned that the young kitten — who was approximately three months old at the time — was born in June 2015 with cerebellar hypoplasia, a non-progressive neurological condition that affects balance and coordination.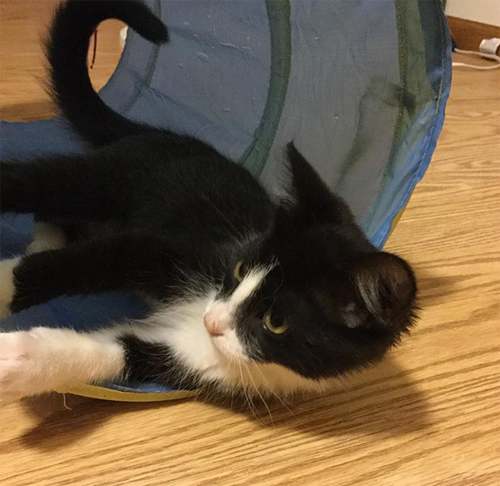 "Tippers was surrendered after being picked up as a stray, so not much is known about his background," explains Nicole. "I assume that his mumma must have acquired panleukopenia during her pregnancy." Cerebellar hypoplasia occurs when a kitten is exposed to toxins, malnutrition, or a virus, such as feline panleukopenia, while in utero, causing cats with the congenital condition to often have wobbly gaits and head tremors.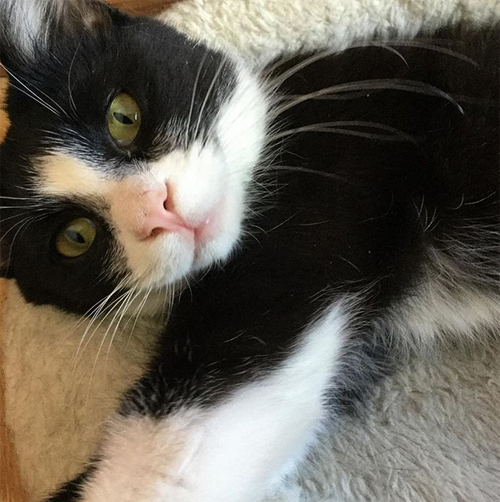 While Nicole had fostered plenty of cats, she'd never cared for a kitty with cerebellar hypoplasia before, but she was somewhat familiar with the neurological condition. "I had heard of CH because the shelter had previously had a CH cat called Wobbly Wilma," says Nicole.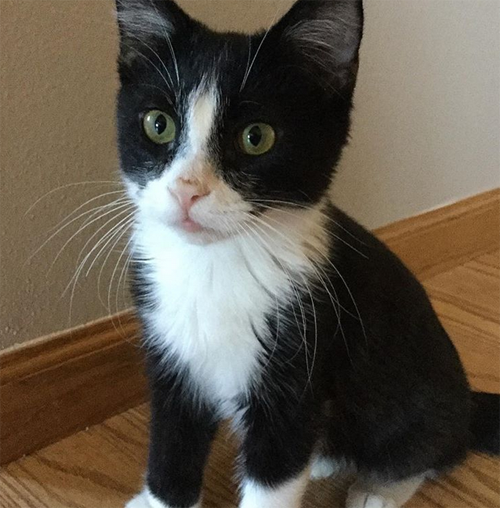 At the time, Nicole was already an advocate for people with special needs — "My husband is a quadriplegic," explains Nicole — so it made perfect sense for her to look into fostering the wobbly rescue kitten. "The following day, I went to the shelter to meet Tippers," remembers Nicole. "We asked if we could bring him home for foster care."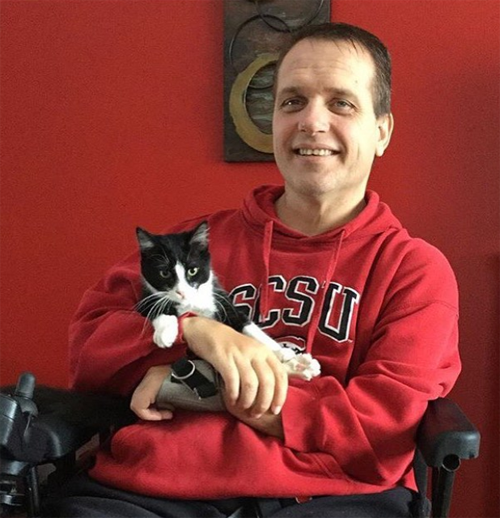 On September 12, 2015, Nicole brought Tippers back to her home in St. Cloud, Minnesota, intending to care for the cute special needs cat until he was adopted, but it didn't take long for this adorable boy to win over his entire foster family.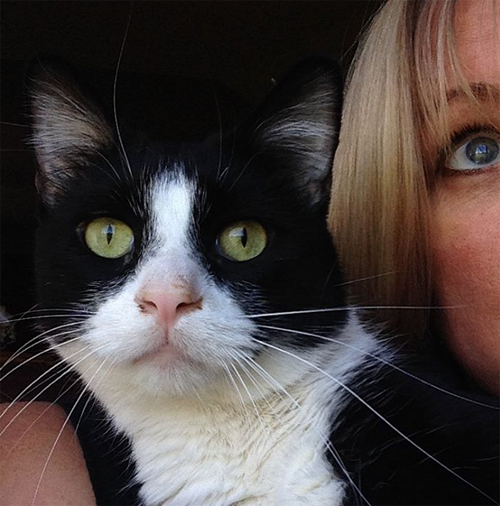 "He was the cutest little kitty," says Nicole, and she, her husband, and her daughters quickly realized that they would be able to provide the ideal forever home for Tippers. "When I met Tippy, I knew he needed a family that would be able to adapt to his different abilities," says Nicole. "We are used to doing that in this family."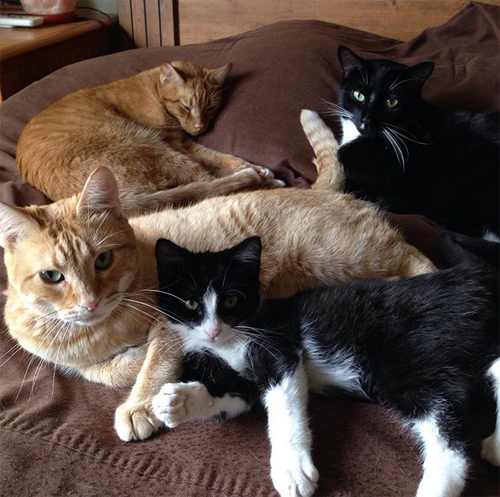 The Wulfekuhles officially adopted Tippers, and this cute tuxedo kitten didn't waste any time making himself right at home with his new family. "He loves to snuggle and to be with people," says Nicole. "CH cats are typically very loving and affectionate."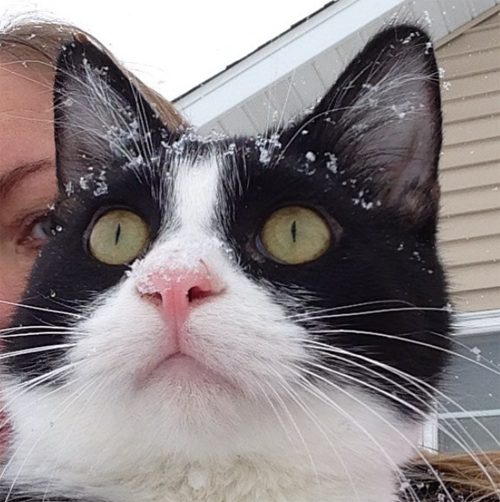 However, Nicole found that due to his issues with balance and coordination — "His rear end tips over when he walks," says Nicole — Tippers had difficulty using the litter box like a typical cat. "Tippers cannot poop standing up," explains Nicole. "If he tries to 'go' standing up, he topples backwards."
Thankfully, Tippers and his family persevered, and this handsome black and white boy eventually learned to go to the bathroom while on his side, solving many of the issues related to relieving himself. To make sure this special boy remains as clean as possible, Tippers's mom even established a grooming routine for him:  "He gets regular baths and regular hair cuts, affectionately called a short butt and sides!" says Nicole.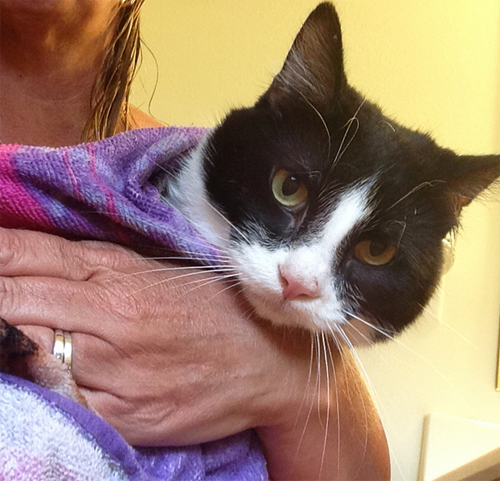 Due to his challenges with balance and coordination, Tippers can't jump or climb, and while he doesn't seem bothered by these limitations, his mom has the occasional pang of sympathy for this sweet boy. "Sometimes I feel sad that he cannot do things like jump on the bed with the other kitties," says Nicole, but then she reminds herself that Tippers and cats like him rarely let anything get them down. "They do not know life to be any different and they do not judge in the same way that humans do," says Nicole. "They are very happy in their own wobbly or tippy way."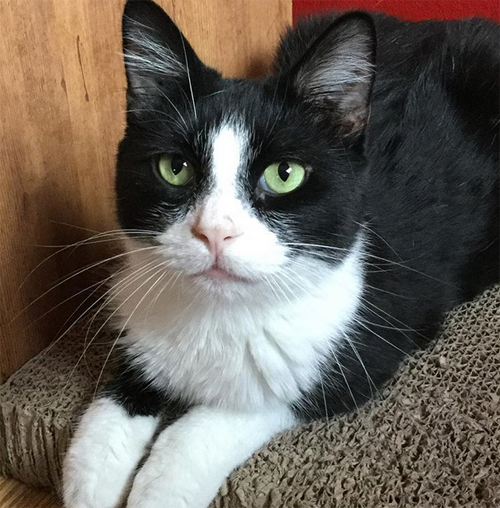 Indeed, Tippers is nothing if not content, and when this affectionate boy isn't cuddled up with his family, he enjoys chasing after his cat siblings or trying to catch the elusive red dot. He also likes hanging out with his dog brothers, and he can often be found beside them, begging for food.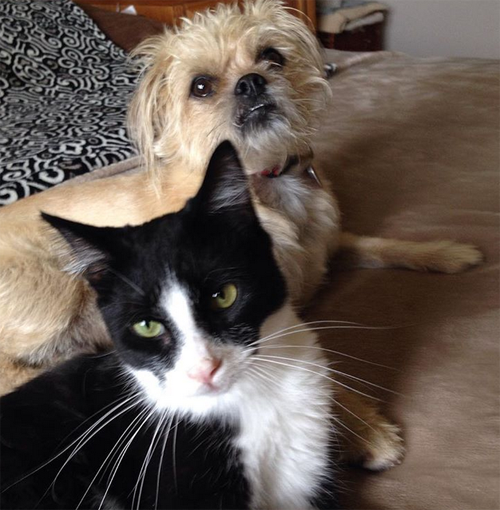 While Tippers is a typical cat in many ways, he does have one unusual obsession: "He loves ice," says Nicole. "He comes running when he hears the ice from the fridge. He will wait next to the fridge and stare at you until he is given some."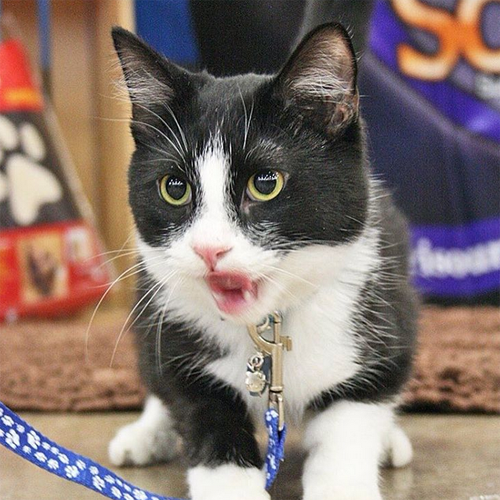 While Tippers doesn't make a lot of noise, this adorable special needs kitty uses his beautiful green eyes to make his every wish and desire known. "He is a man of few words," says Nicole. "He loves to communicate through looks rather than meows."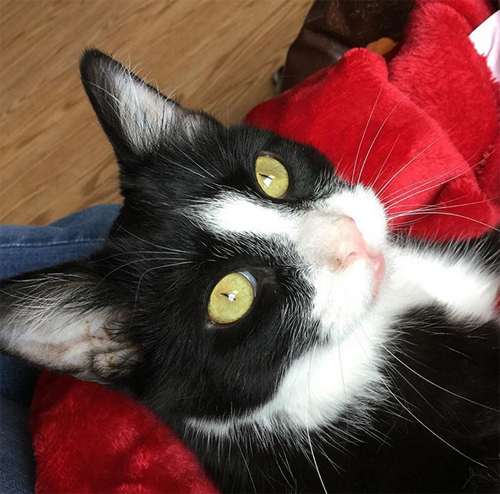 Not surprisingly, Nicole and Tippers share an incredibly deep bond, and she credits him with inspiring her to help other special needs animals, including Coraline, her blind cat.  "He evoked a passion for helping animals with special needs," says Nicole.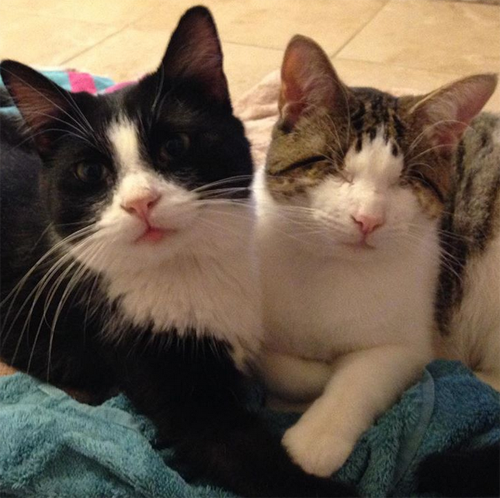 Since meeting Tippers for the first time back in 2015, Nicole has opened her heart and her home to many special needs animals, and her husband — who is a quadriplegic — is more than happy to support her.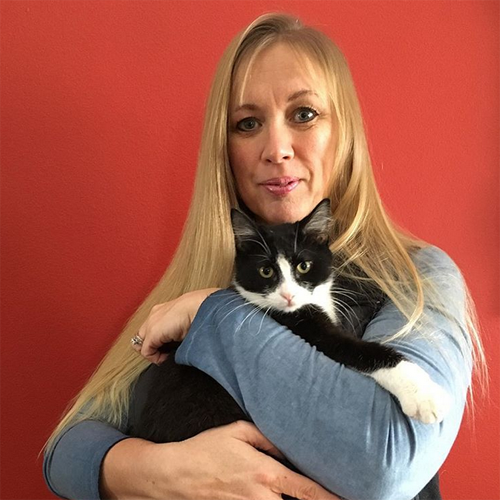 "I tell my husband that I can either help more special needs animals or more special needs men," says Nicole. While Nicole has changed the lives of lots of different animals — including dogs, cats, and even a bunny — Tippers, the one who started it all, will always be incredibly special to her. "He is a wise soul who has a beautiful heart," says Nicole.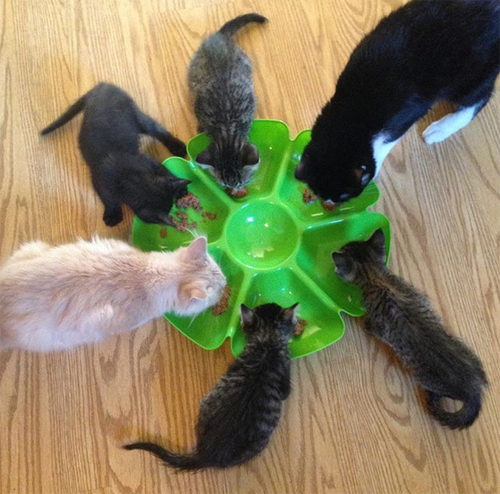 To learn more about this incredible cat, you can follow Tippers on Instagram.