When Emily and Charles heard a kitten crying outside their home in Orgeon in October 2020, they wanted to rescue the little cat from the alleyway between their house and their neighbor's home. However, they were unable to easily reach the young feline, so the couple began formulating a plan to get to the tiny Siamese kitten. "While we tried to figure out what to do his mom came and scooped him up," remembers Emily.
A month later, the couple spotted the kitten and his four siblings huddled together near their home, seemingly abandoned by their mother, a stray cat, and trying to seek refuge from the cold and rain. Once again, Emily and Charles attempted to help the young cat and his litter mates, but when they approached the five felines, three of them immediately fled. "One kitten was steadfastly laying on top of another refusing to budge," says Emily. "You could see the fear of the unknown in her eyes, but for some reason she would not abandon her sibling."
Charles picked up the kittens — who were most likely born in a rural farming community where people often abandon their unwanted cats — and brought the pair inside. Together, he and Emily gave the two-month-old felines a flea bath before moving them to a spare bathroom to allow the pair to get settled into their new home.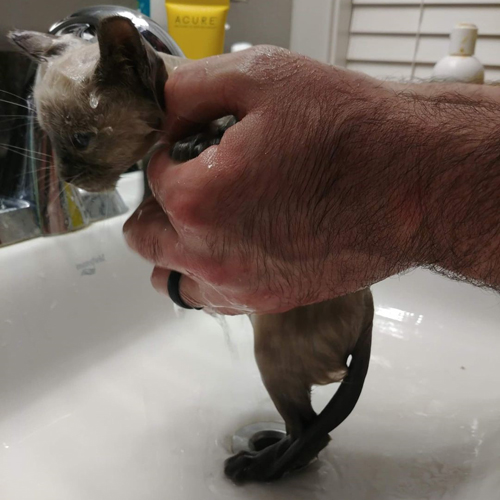 "He was so small and underweight that when he curled up on a heated blanket, Emily said he was a little dumpling," explains Charles, so they named the male kitten Dumpling and his sister Latte. With the help of a local organization, they were eventually able to rescue their mother and siblings, and they all found forever homes.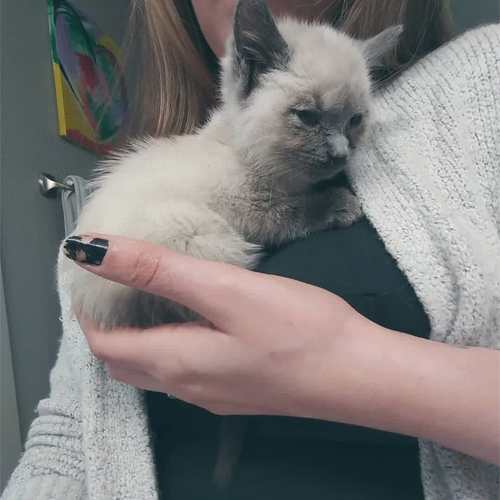 While Dumpling and Latte looked similar to one another, both being Siamese, it was immediately apparent he was a bit different from his sister. Not only was his coloring typical of a Blue Point Siamese, he was significantly smaller than Latte despite being the same age as her. "Dumpling has always been a runt," says Emily, and after taking him and his sister to the vet, they had no reason to think his small size was due to a specific medical condition. "As he was a stray with suspected inbreeding, the vets just thought he was 'particularly runty,' especially because his sister was very typical."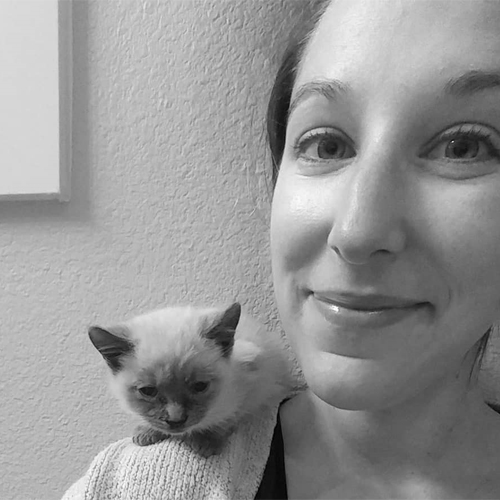 However, as time went by, the differences between Dumpling and Latte became even more pronounced. While Latte was extremely agile, hitting developmental milestones like a typical cat, by the time Dumpling was seven months old, he could walk and climb, but he still wasn't able to jump. "He was born on the streets, and we assumed he was malnourished or something," remembers Emily. "However, when his legs started to give way, and he stopped climbing, we knew something was wrong."
View this post on Instagram
Concerned about the young cat's health and well-being, Emily and Charles took Dumpling to multiple vets, hoping to get some answers about his developmental issues. After seeing a number of different veterinary professionals, Dumpling was eventually referred to a feline neurologist who diagnosed him with mucopolysaccharidosis (MPS), a group of metabolic disorders that seems to be more common among Siamese cats. "MPS 6 specifically — which is what Dumpling has — is a lysosomal deficiency disorder characterized by skeletal and facial deformities, growth retardation, shortened life-span, and other physical abnormalities," explains Emily. "Dumpling, as the feline neurologist described, is a textbook example of MPS 6. He has very minimal function with his hind legs, his joints are very poor, and his growth and development are stunted."
View this post on Instagram

Sadly, the average lifespan for cats with MPS 6 is two to four years, a prognosis that left both Emily and Charles devastated. "We have never cried so hard over an animal that was still alive before in our lives," says Emily, especially because they received the diagnosis just a week before Dumpling was scheduled to be neutered and to have surgery to repair a hernia. "The vet told us that because of his condition, he would not have survived the anesthesia."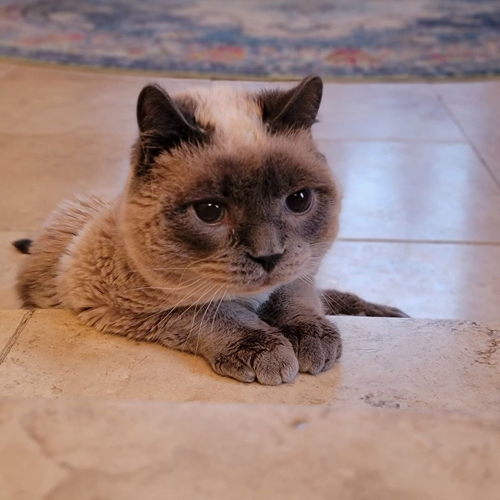 Incredibly, Dumpling not only survived, he is alive today and enjoying life despite not being able to move like a typical cat. While his sister can run and jump, this adorable boy gets around by rolling, crawling, and scooting, as well as 'walking' around his home with his parents' help. "We've found success in wheelbarrow-walking him around the house which allows him some autonomy with where he can go," explains Emily. "He has a full personality and when we walk him around our house, he absolutely knows what he does and doesn't want."
View this post on Instagram
In addition to exploring his home, Dumpling likes napping in front of the fireplace, stealing his dog sibling's bed, and laying under a blanket. He also loves to play with toys, as well as with Emily and Charles. "When we play with him he loves, bar none, chomping on our fingers when we aren't paying attention," says Emily.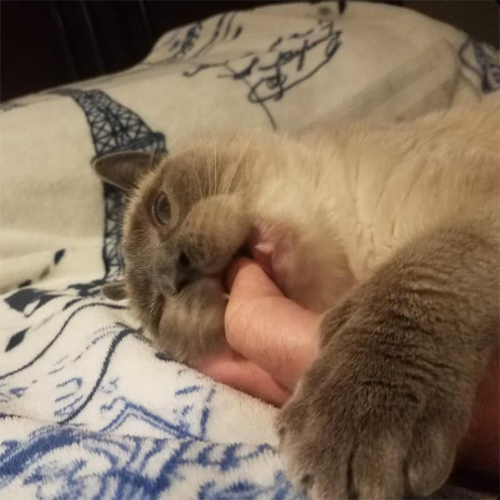 While Dumpling is a bit different from the average feline, he actually doesn't need a lot of special accommodations. In fact, the only real assistance he requires from his parents to have a good quality of life is when he has to relieve himself. "We need to help him go to the litter box because if we don't, he will ultimately go potty on himself and get litter everywhere," explains Emily. However, Emily and Charles definitely don't mind giving Dumpling the extra care he needs to thrive, and they do their best to make sure he is able to be as autonomous and independent as possible.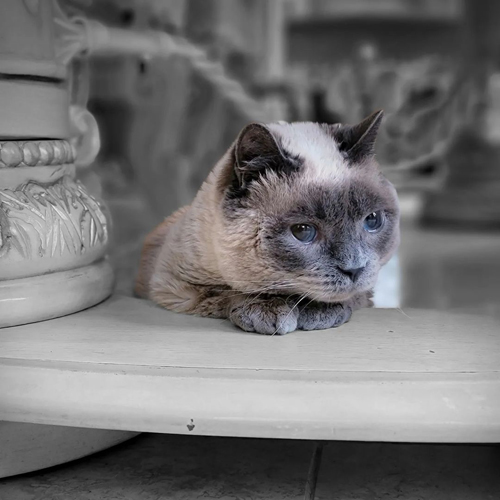 Fortunately, Emily and Charles seem to have struck the right balance with Dumpling, because not only is he self-possessed and brimming with personality, he's also extremely happy. "He has been dealt one of the worst hands a cat can get," says Emily. "Despite that, every morning when we wake up and get ready for the day, he will roll over, showing us his belly and let out the loudest purr you've ever heard."
View this post on Instagram
Consequently, Emily and Charles hope sharing his story will inspire — not discourage — people from adopting cats with special needs, including those who have been diagnosed with serious conditions like MPS. After all, while he may have a shorter than average lifespan, Dumpling's days can still be filled with happiness and meaning. "What we want people to know, generally, is that Dumpling and special needs animals are living a full life," says Emily.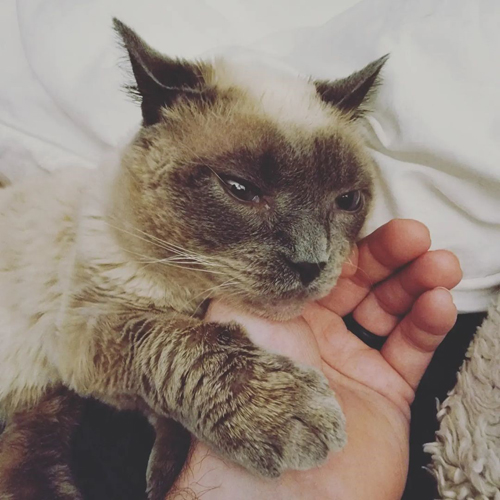 While he may not live as long as his sister Latte, there's no doubt Dumpling's life will be longer and happier than if he hadn't been rescued from the streets by Emily and Charles when he was just two months old. Plus, no matter what the future holds for Dumpling, there's also no denying the tremendous impact he has had on his parents, the people who have made him the center of their worlds. "Dumpling doesn't care what type of day he's having, he's pure love and joy," says Emily. "We call him our angel baby because it is a gift to be his parents."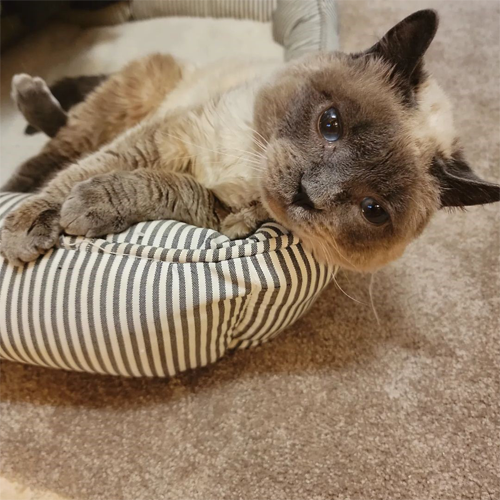 To learn more about this adorable cat, you can follow Dumpling on Instagram.