Anna was working in the adoption department at the Austin Humane Society in late 2017, when volunteer photographers were taking pictures of cats who had recently arrived at the organization, and Forest, a tabby and white feline, caught her eye.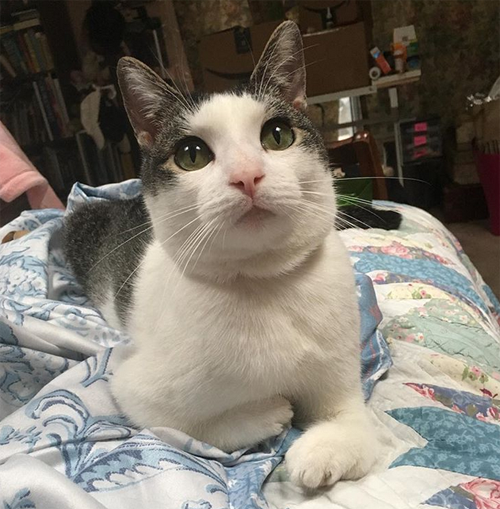 "Initially, Forest was laying down, so I thought she was a 'normal' cat," remembers Anna, "and then when she stood, I thought for a second she just had short legs." However, Anna quickly realized that not only were Forest's front legs unusually short, they were twisted, so she located the unique cat's file to learn more about her.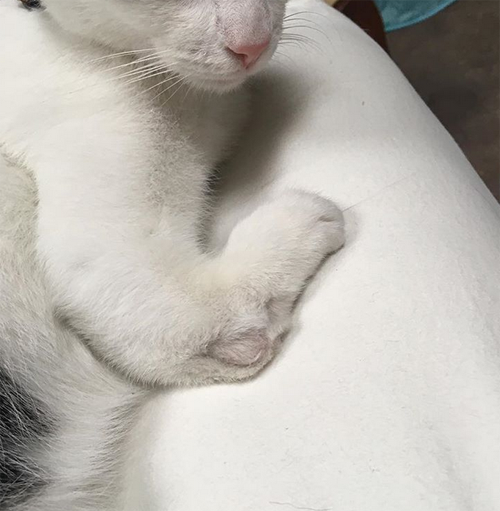 Anna discovered that Forest, along with a few other felines, had recently been surrendered to the Austin Humane Society by a blind couple that was no longer able to care for their many pets. She also learned that Forest was approximately three years old, and she had been born with radial hypoplasia (RH). "Our vet at the Humane Society said that it was likely a birth defect," explains Anna, "and that her mobility wasn't really impaired at all by it and that Forest wasn't in any pain."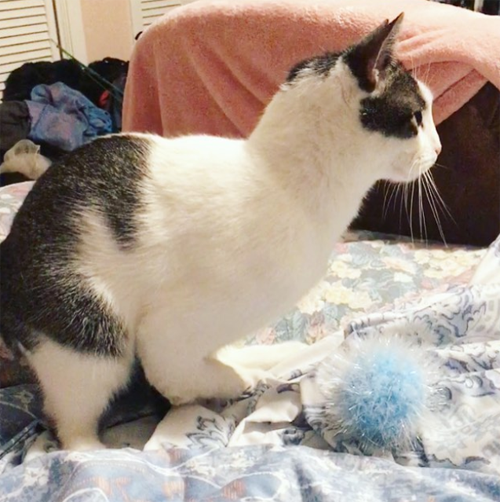 Christmas was right around the corner, and Anna didn't think Forest would be able to find a home before the holidays, so she decided to foster the cute special needs cat for just a couple of weeks. "We were offering people the opportunity to be short-term two-week fosters to give animals a break from the shelter during the holidays," says Anna, "and I took her home with that intention." Just a few months earlier, Anna's beloved cat of more than 15 years had passed away, and she knew she wasn't ready to adopt another pet just yet.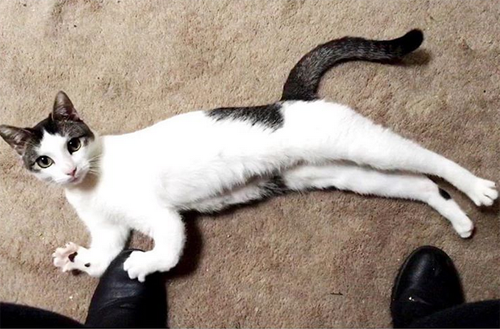 When Anna agreed to provide a foster home for the holidays, she didn't plan on bonding with the adorable kitty with radial hypoplasia — a congenital condition that causes cats to have short and twisted front legs — but Forest had other ideas.
"What I wasn't expecting was how attached to me she would become!" says Anna. "She would cry if I was in another room, burrowed in my dirty clothes when I was away for extended periods of time, and for the first few weeks, would only come out from under the bed when I called to her and was skittish around everyone else."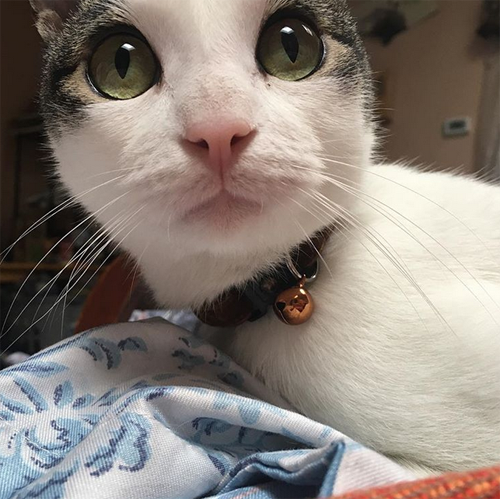 At the shelter and with other people, Forest was extremely shy and nervous, but in her foster home with Anna, she showed another side of her personality that took her foster mom by surprise. "She's a freakin' handful," says Anna. "It's like having a puppy —  she's bouncing off the walls, jumping on and off furniture, running around my bed at 3 A.M., chewing on bedding. She's a lot."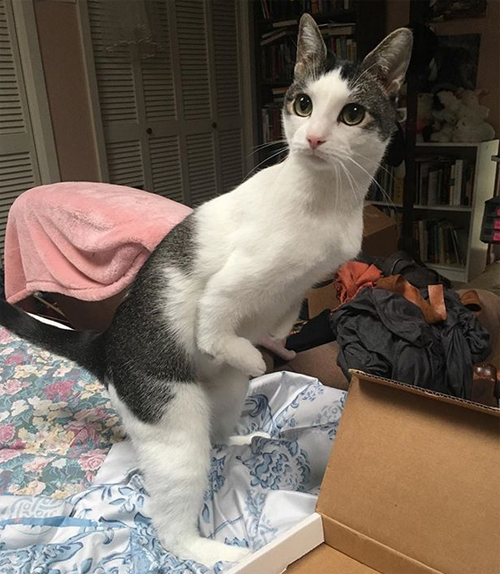 While Forest definitely had a lot more energy than Anna had bargained for, she couldn't help but become attached to her, and a month later, she officially adopted this spunky special needs cat. "She's so different from my previous cat that I don't feel any guilt about 'replacing' her so quickly," says Anna.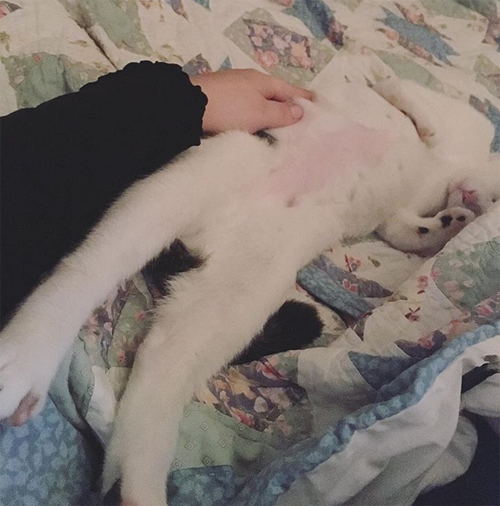 Forest hasn't wasted any time settling into her new home, and while she looks and moves a bit differently from other cats, she's incredibly curious and active. "She can easily jump up onto things," says Anna, "but then is a dummy and jumps off and splats her elbows and chin onto the floor."
On advice from other people with RH cats, Anna is looking into getting large dog beds to place around her home to cushion Forest's awkward landings. In addition to jumping, this beautiful tabby and white cat loves laser pointers, playing with her SmartyKat Hot Pursuit toy, watching the neighborhood birds and squirrels, and of course, eating and napping.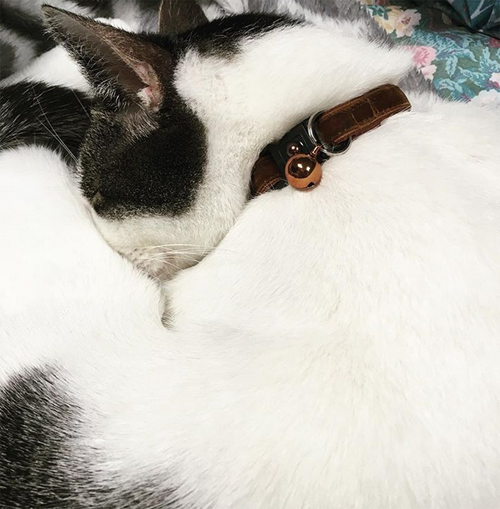 While people occasionally express sympathy for Forest — assuming that she feels sad about having radial hypoplasia — Anna insists that she's anything but unhappy. "She's a ball of energy and jumps and leaps and runs around like crazy," says Anna, and she has found that cats with RH really don't need much additional care or many special accommodations. "Most households could take on an RH cat without changing much of their lifestyle or homes," says Anna.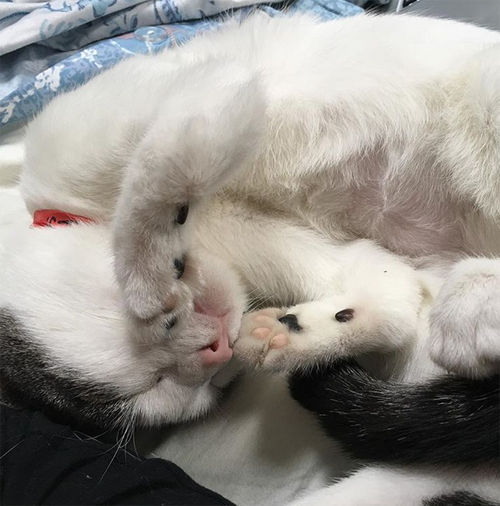 Initially, Anna found Forest's over-the-top personality a bit stressful, but now she absolutely adores this gorgeous special needs kitty and her boundless energy. "She's a part of the family," says Anna. "She keeps me entertained." In addition to hours of entertainment, Forest has provided her mom with a wonderful education about RH cats and encouraged Anna to learn more about other types of special needs kitties.
"She's taught me a lot and has drawn my attention to many more disabled cats and what marvelous, full lives they're living!" says Anna. "She's hilarious and keeps me perky. I'm so happy that I got to give a special kitty a home."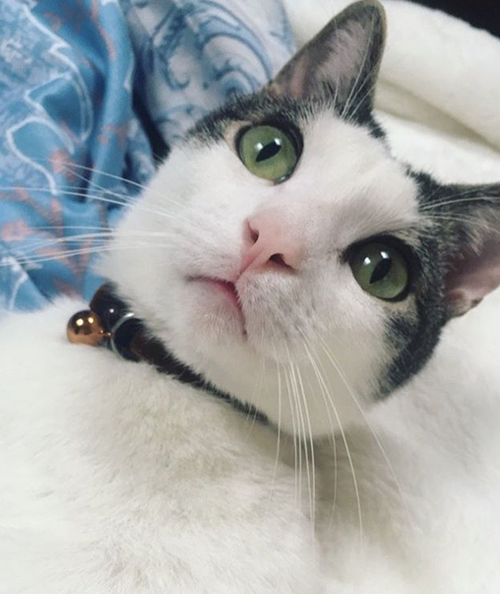 To learn more about this adorable cat, you can follow Forest on Instagram.