When Gabby and her boyfriend went to an adoption event at Catnip Cat Cafe near their home in Virginia Beach, Virginia, in May 2019, they were looking forward to spending a few hours playing with some cute kitties. "I had no intention of adopting a kitten," says Gabby. However, shortly after arriving at the adoption event, they learned about Stevie and Meatloaf, a pair of kittens who were rescued from a rest stop in North Carolina after their mother was struck by a car and killed.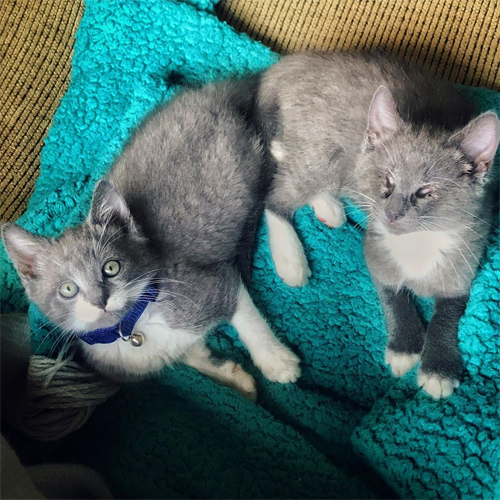 "Someone from Billy the Kidden Rescue saw them and brought them to a foster home in Virginia," explains Gabby. Both kittens were extremely sick with giardia and coccidia, and Stevie was also diagnosed with anophthalmia, a congenital condition that causes some animals and people to be born without eyes, rendering them completely blind.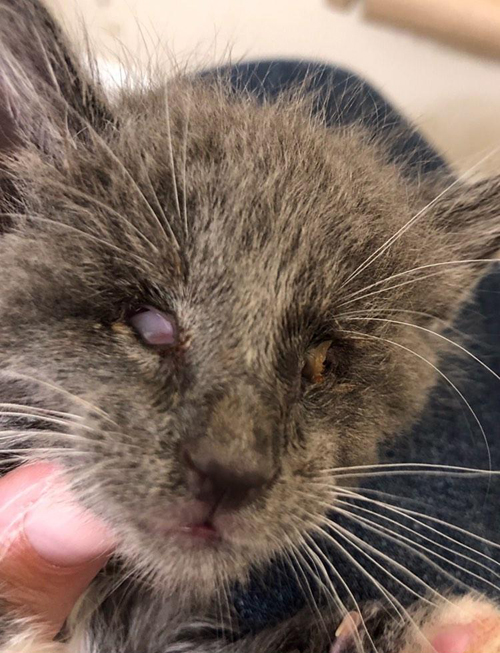 "Their foster mom had to work day and night to nurse them back to health and get them to gain any weight," says Gabby. "She was unsure they would survive, but they bounced back!" Once the brothers were healthy enough to be adopted, they were transferred to the cat cafe to find a home where they would be able to be together forever.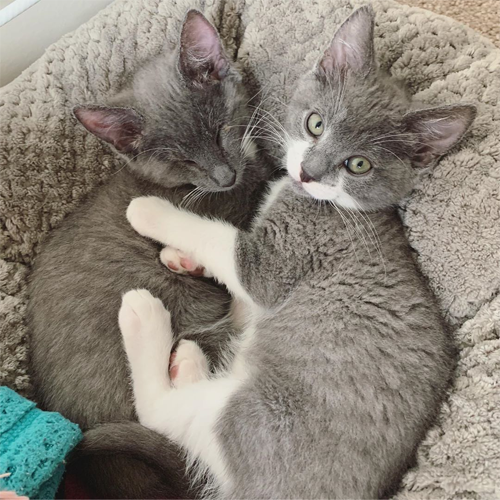 "The owner of the cafe told us all about Stevie and how he was the most loving and playful of the bunch despite being blind," says Gabby. Initially, Gabby and her boyfriend didn't get to interact with Stevie because he was too busy racing around the cafe and playing with his brother and his toys, behaving no differently from a sighted kitten. However, the cute blind kitten and his brother eventually approached the couple, with Meatloaf cuddling up with Gabby while Stevie climbed into her boyfriend's lap and fell asleep.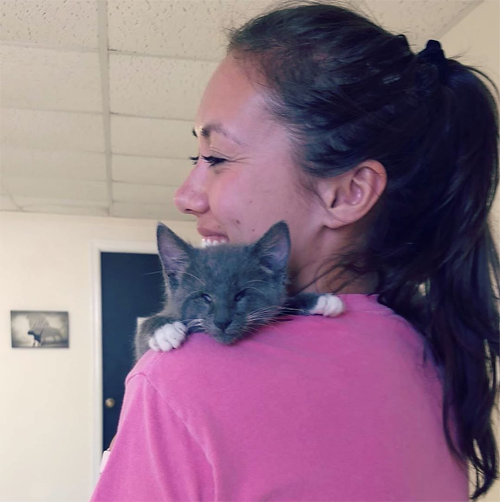 "They purred and slept on us the rest of the hour," remembers Gabby. "Everyone in the room told us we had just been chosen."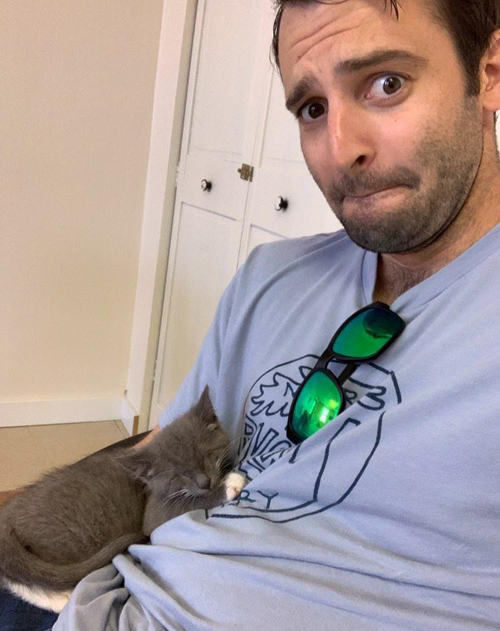 Even though Gabby and her boyfriend were smitten with the adorable pair, they hadn't gone to the cafe planning to adopt a cat, much less two, and neither of them had any experience caring for an animal with special needs. Still, Gabby felt a very strong connection with Stevie and Meatloaf, so she went home and read articles to get tips and advice about looking after a blind cat.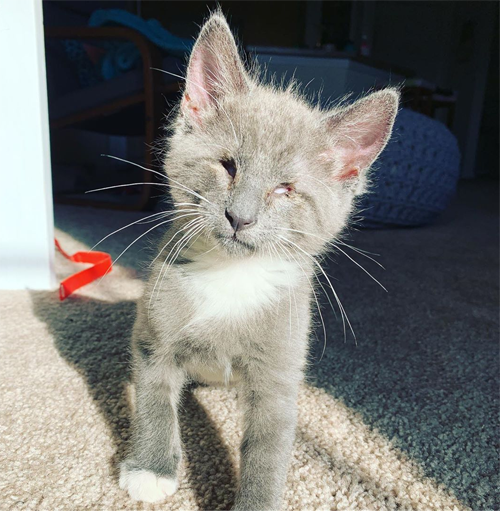 Confident they would be able to give Stevie and Meatloaf the care they needed to thrive, Gabby and her boyfriend officially adopted them the following day. "I was nervous at first to take in a blind cat, but after bonding with him like that, I fell in love," explains Gabby. "Seeing him play and interact, I knew he was very brave and that any problems we faced I could help him through it."
View this post on Instagram
In fact, when Gabby and her boyfriend first adopted Stevie, they put a bell on Meatloaf's collar to make it easier for his blind brother to find him, but it quickly became apparent it wasn't necessary. "Stevie did not need the bell to be able to hunt down and tackle Meatloaf," says Gabby. "Poor Meatloaf couldn't get away from him for even a second!"
View this post on Instagram
While Stevie can do pretty everything his sighted brother can do — including jumping on and off the countertops — it took him a little while to learn how to get up and down the cat tree. Also, if he gets too excited, Stevie occasionally bumps into objects and people, but this usually only happens when he's chasing after Meatloaf!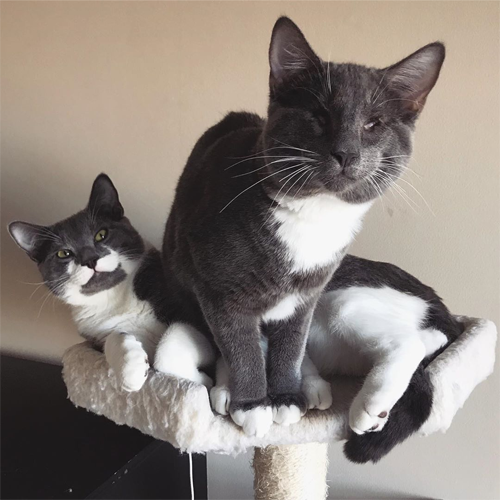 In order to not disturb the mental map Stevie has made of his environment, Gabby and her boyfriend try not to move their furniture around too often. However, this remarkable boy adapts incredibly easily, so even when they have to rearrange items, it doesn't take long for Stevie to figure out the new layout. "Within half a day of moving to a new apartment, he was running around knowing exactly when to turn corners," remembers Gabby.
View this post on Instagram
Plus, Stevie can always count on his mom and Meatloaf to help him get up and down from places, but he rarely needs their assistance. "I wish more people knew how easy it is to care for and love a blind cat," says Gabby. "People think that Stevie has a difficult or sad life. Others think he is scary looking."
View this post on Instagram
However, there's nothing frightening about this handsome boy, and it's obvious Steve's life isn't hard or unhappy. Instead, this resilient blind cat is thriving, and Gabby has found Stevie is often more courageous than his sighted sibling. "He is actually much braver than his brother," explains Gabby. "He enjoys going outside in a harness and likes meeting dogs. He is a very chill and brave cat."
View this post on Instagram

Stevie is also incredibly affectionate, and he loves nothing more than being close to his mom, and can often be found napping on Gabby's chest or face.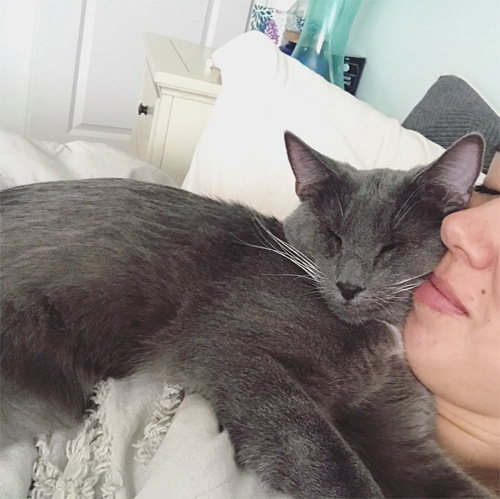 When she and her boyfriend visited The Catnip Cafe in Norfolk, Virginia, in May 2019, Gabby had no intention of adopting a cat, let alone two, and she was unsure if she'd be able to provide a good home to a kitty with special needs. Fortunately, she took a leap of faith, and nearly a year later, Gabby is so thankful she didn't allow Stevie's blindness to deter her from adopting him. "He has been so easy to care for and even easier to love," says Gabby. "He is the light of my life!"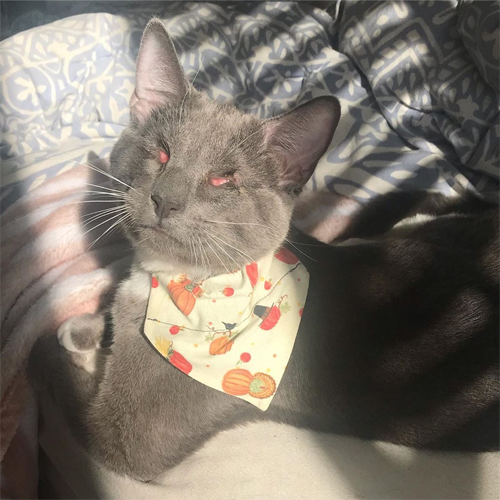 To learn more about this adorable cat, you can follow Stevie on Instagram.