Sensitive Content
This post includes photos some people may find upsetting.
When Maddy saw a Facebook post about Leon, a blind ginger and white kitten who was looking for a good home, she thought he would be the ideal addition to her family. "The post said they were looking for a kindhearted family who had flexible work hours, and that suited us perfectly," says Maddy.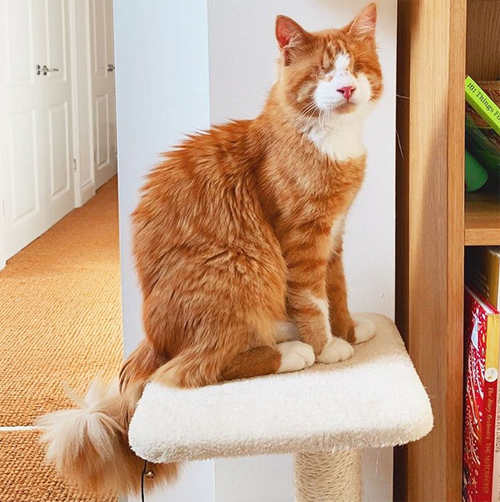 While Leon was only seven months old, he'd already been through a lot in his short life, so it was imperative for him to be adopted by a family who would be able to give him the love and understanding he deserved. Prior to being rescued by Meriam, a woman who works with Rescue Animals of North Africa, the little orange and white cat was living on the streets of Tunisia with a number of very serious injuries.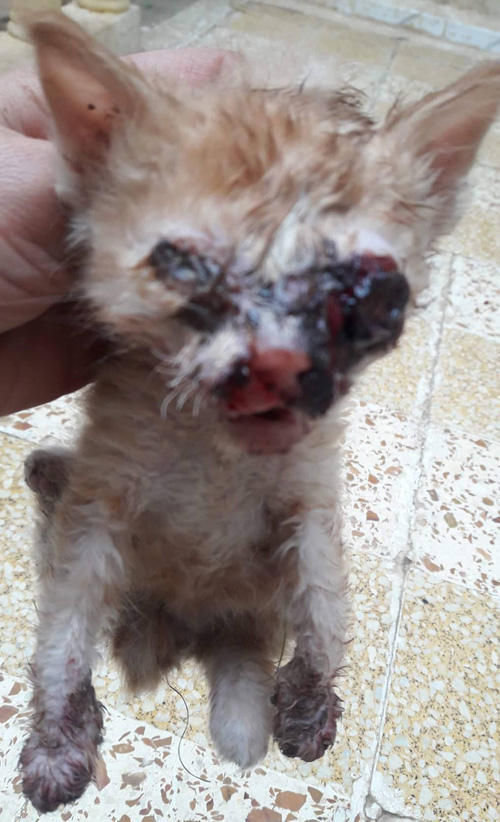 "When he was found he had a broken jaw, bloody congealed masses where his eyeballs should be, and a tail that was broken in two places," explains Maddy. "It's safe to say he was living in a nightmare before he was kindly rescued."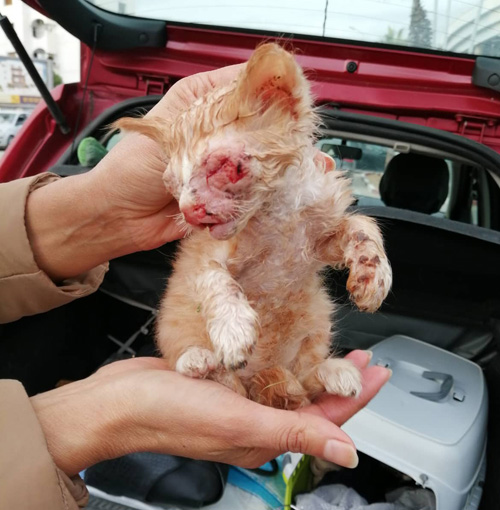 Fortunately, RANA got Leon the medical care he desperately needed, although his eyes were so badly damaged, they ultimately had to be removed. Sadly, eye infections aren't at all uncommon among homeless cats, and without a course of antibiotics, they can end up just like Leon.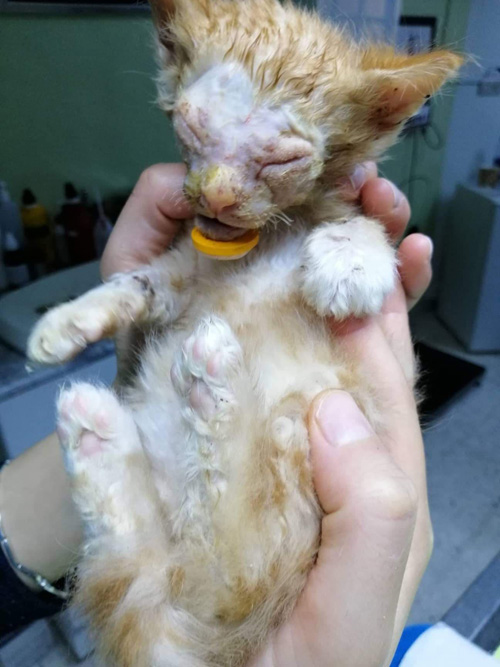 "When untreated, a simple eye infection that is normally very treatable will become a much bigger issue," explains Maddy. "So he was left untreated from whatever it was that affected him and his eyes were just covered in congealed blood."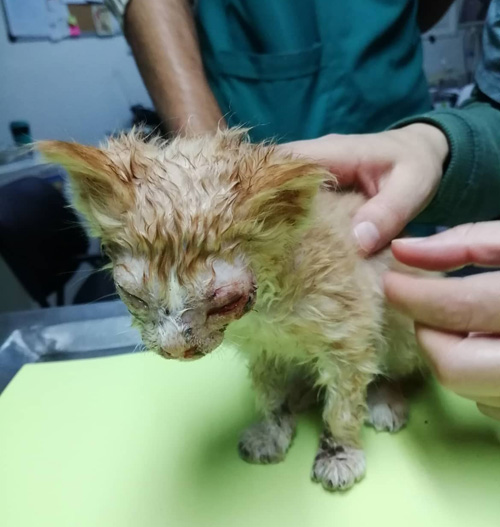 Thankfully, Leon, who was already blind when he was rescued, adjusted well to life without eyes, and after being featured on RANA's website, he was adopted by a family in England. Unfortunately, the adoption didn't work out, leaving the handsome blind kitten in a foreign country and desperately in need of a new home, which is when Maddy came across his picture on social media and immediately fell in love with him. "We saw his gorgeous little face and couldn't resist," says Maddy.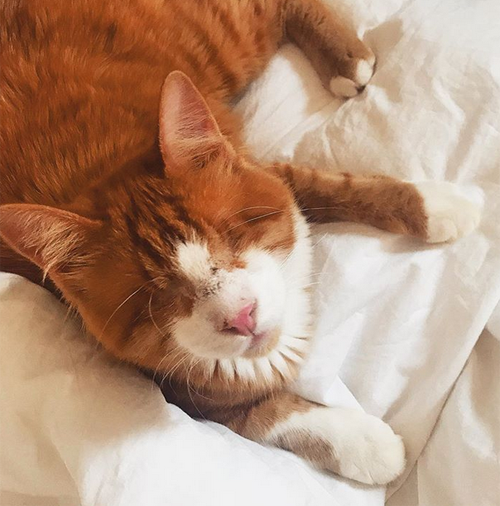 On June 17, 2019, Maddy and her family officially adopted Leon, and it didn't take long for this remarkable boy to settle into his new home. "He had the lay of the land after two days and we were completely floored by how quickly he worked it all out," remembers Maddy. More than three months later, this special kitty is doing great, and Maddy and her family are amazed at how well Leon gets around despite not having eyes.
View this post on Instagram
"We have to remind ourselves that he's blind!" says Maddy. "He's always chasing and pouncing exactly where he needs to — it's really impressive!" In fact, while Maddy has to make sure they don't leave any windows open that Leon could get out of, she hasn't really had to make many special accommodations for this handsome ginger and white kitty. After all, despite being blind, Leon quickly learned how to jump on to a stool to get on the kitchen counters, and the only time he bumps into anything is when he gets super excited.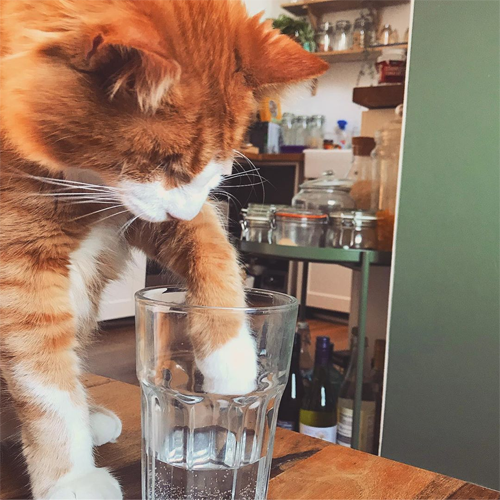 "Honestly, it's been a breeze," says Maddy. "I'm sure there are cats out there who go blind later in life who will need extra care, guidance, and reassurance, but as Leon was so tiny when he had his eyes removed, it really is all he's ever known." Consequently, Leon is an incredibly happy and active kitten who loves playing with crinkle balls, taking naps, eating, and attacking his family's feet and ankles.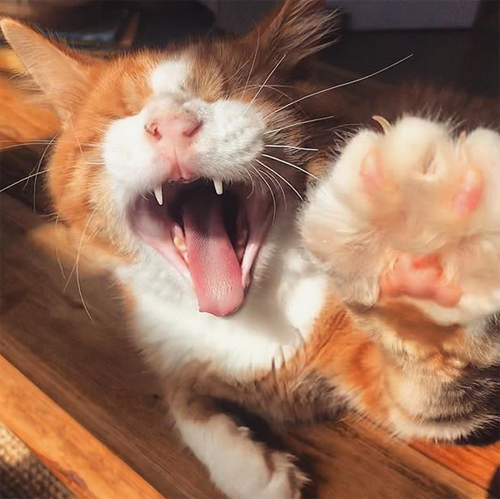 However, while he's a pretty typical feline in a lot of ways, Leon is the most affectionate cat Maddy and her family have ever met. "He will willingly climb on top of us, give us licks and snuggles, and rub his face all over ours," says Maddy. "It's very sweet."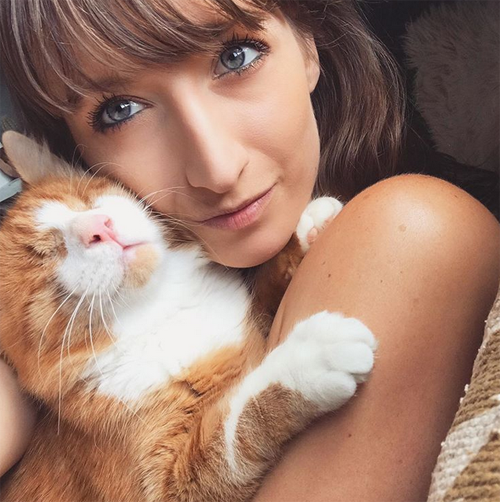 Not surprisingly, Maddy thinks blind cats like Leon can make wonderful pets, and while it might take a while for some people to adjust to having a kitty who doesn't have any eyes, it's difficult for her to imagine this special boy any other way.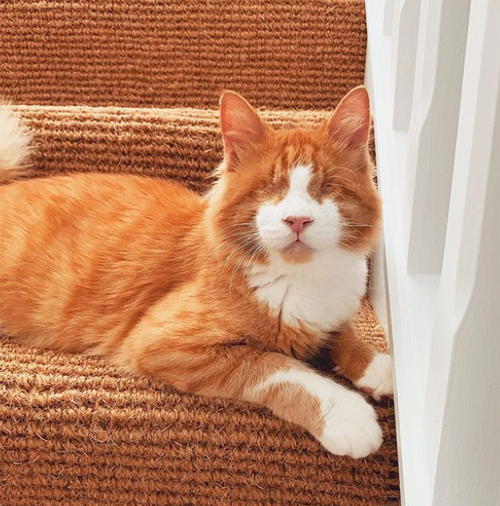 "His face is just so super cute that it's really weird to picture him with eyes," says Maddy. In addition to being adorable, Leon's unique appearance has shown Maddy and her family that no matter how someone looks, everyone deserves to give and receive love. "He is gorgeous and constantly reminds us that you don't have to be perfect."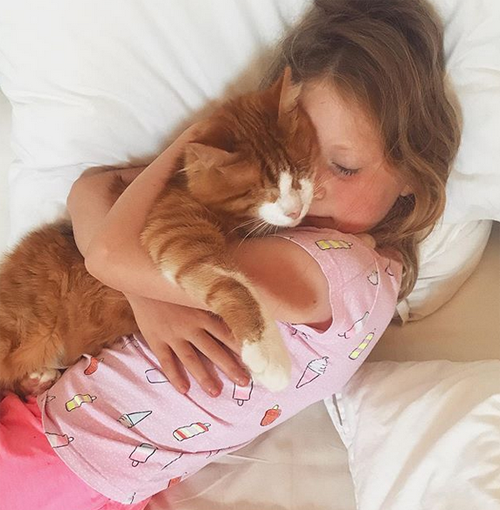 Maddy's young daughter, who is Leon's constant companion, will surely benefit from learning this very important lesson at such an early age, proving this beautiful boy isn't the only one who got lucky when Maddy and her family adopted him. "We're very lucky to have him and he will always be well looked after by us," says Maddy. "You never now how much you might benefit from having a 'broken' cat join your family."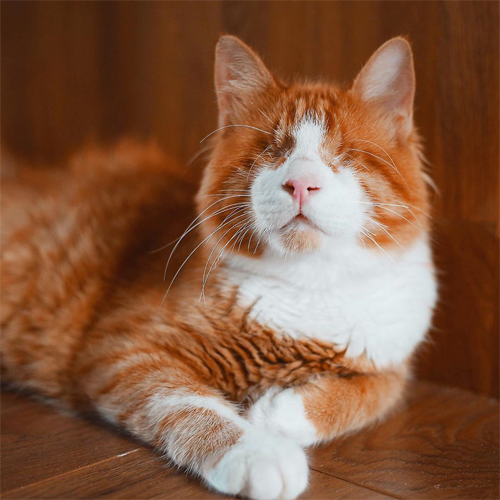 To learn more about this stunning cat, you can follow Leon on Instagram.