Brittany Baker was scrolling through Instagram when a video posted by Rancho Relaxo about Rollie, formerly Reptar, a tiny black and white kitten with cerebellar hypoplasia (CH), immediately grabbed her attention.
The New Jersey animal welfare organization was in the process of rescuing Rollie from Camden County Animal Shelter, and Brittany was certain that she could provide the little wobbly cat with the perfect home. "I instantly fell in love with him," remembers Brittany. "I contacted Rancho Relaxo about adopting Rollie right away."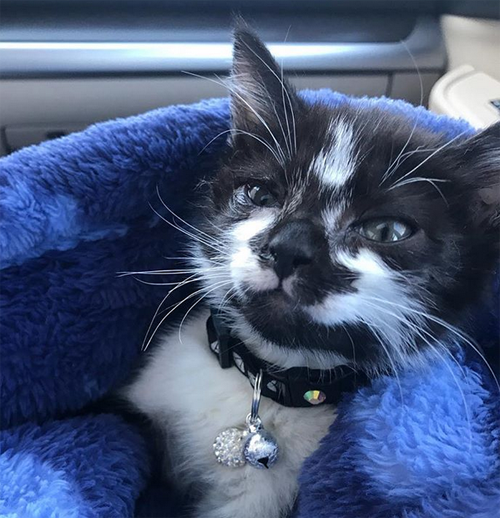 After speaking with Rollie's foster family in late February 2018, Brittany discovered that the young cat was approximately five weeks old and had already been through a lot in his short life. "Rollie was brought in to a shelter in New Jersey with his mother," explains Brittany. "Rollie was the only kitten in his litter that lived. All his siblings had died."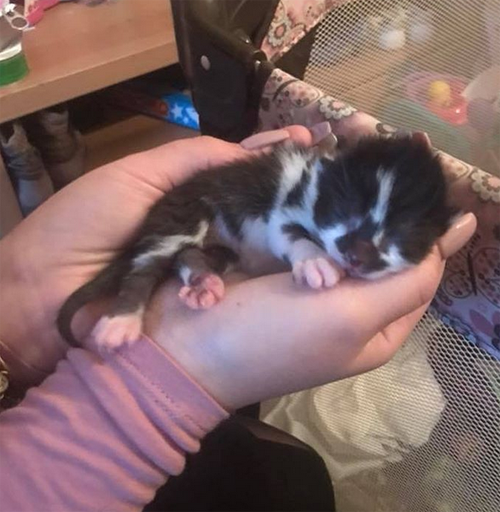 While in his foster home, Rollie began have difficulty walking and fell over frequently, and a veterinarian diagnosed him cerebellar hypoplasia (CH), a non-progressive neurological condition that affects balance and coordination. Cerebellar hypoplasia occurs in utero, often when an unborn kitten is exposed to a toxin or illness while still in the womb, causing them to be born with an underdeveloped cerebellum.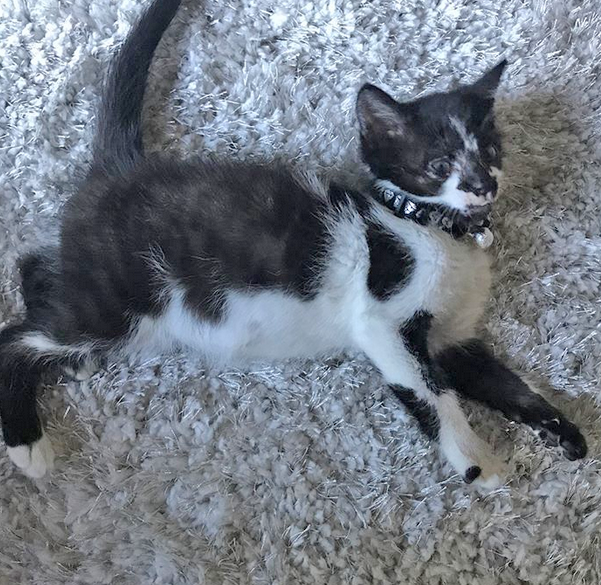 Determined to help Rollie find the best home possible, Camden County Animal Shelter contacted Rancho Relaxo, an animal welfare organization that had experience caring for cats with cerebellar hypoplasia.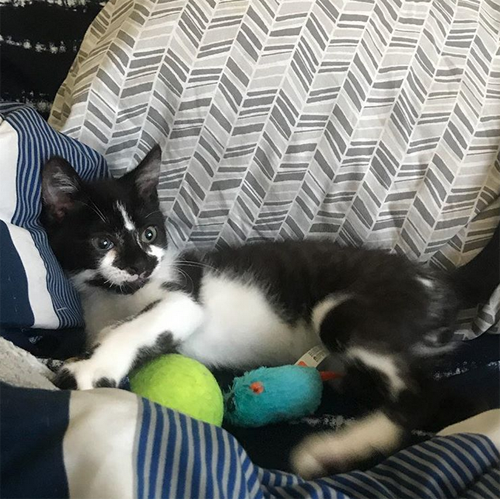 Shortly after Brittany contacted the New Jersey animal rescue about adopting Rollie, her application was approved, but the special needs kitten wasn't ready to go to his forever home quite yet. "Rollie had to go through some vet visits before I could officially adopt him due to him having a ruptured eye when he was a kitten and they weren't sure if it would have to be removed," explains Brittany.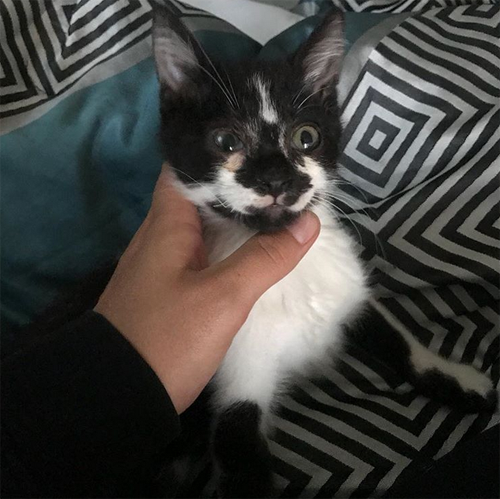 Thankfully, doctors were able to save Rollie's eye, and two months after Brittany saw his video on Instagram, she drove from her home in Carver, Massachusetts, to Connecticut to meet the adorable black and white kitten in person for the first time. While Brittany had never thought about adopting a special needs kitten before she learned about Rollie, coming face to face with him on March 31, 2018, confirmed what she'd felt for him all along. "When I saw him, he stole my heart and I knew it was meant to be," says Brittany.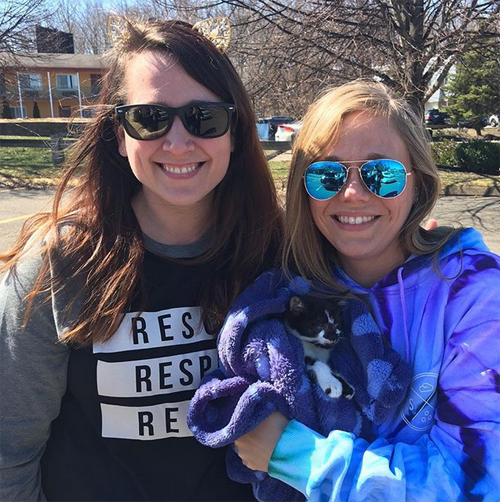 Shortly after arriving at his forever home in Massachusetts, Rollie began winning over the rest of his new family with his fun and energetic personality, including Brittany's father. "My dad named Rollie," explains Brittany, "because he spends a lot of time rolling on the floor. In no way were we making fun of him; we just thought it was fitting and cute."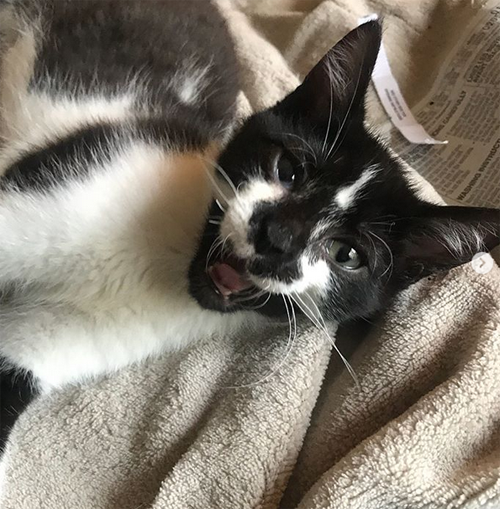 He also became friends with the other animals who share his home, including his dog brother Radar and his cat brother Ash. Several months later, Rollie has developed great relationships with the various members of his family, and while he's gotten less wobbly over time, he still has issues with balance and coordination. "He does have difficulty when it comes to eating and using the litter box but he manages just fine," says Brittany. "He is figuring out the best way for him to do it and he doesn't want help."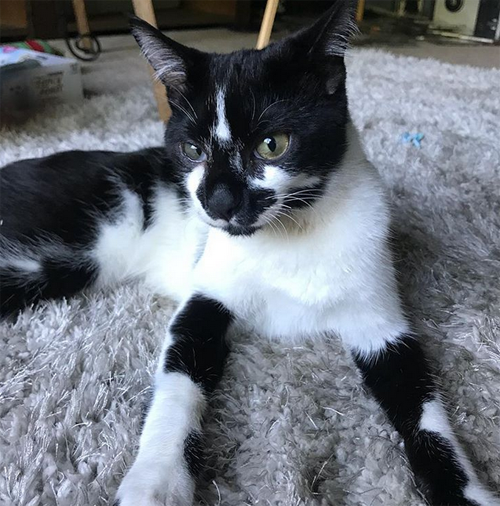 While it's not always easy for Brittany to resist the urge to assist Rollie when he has trouble, she does her best to give him the freedom and independence he wants. "He is so determined that any issue he has he works through it and figures out a way to do it," explains Brittany. "Regardless of if he falls or not, he keeps getting back up and trying again."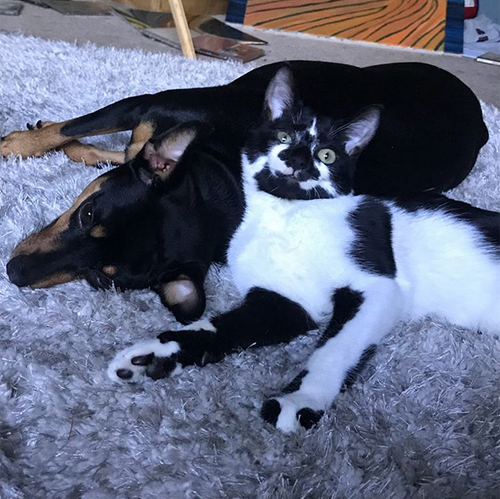 Rollie's unwavering tenacity and determination has been a huge inspiration to Brittany and her family, especially her father, the man who named the little special needs kitten. "My dad was diagnosed with stage 4 cancer recently," says Brittany, "and he even inspires my dad to keep fighting. It's crazy that a cat can have such an impact, but he does."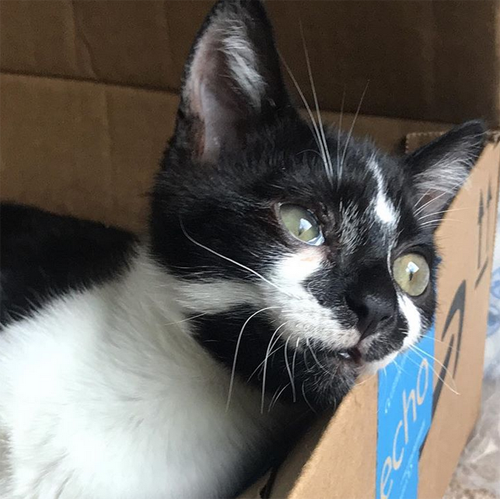 However, not everyone sees Rollie the same way his family does, and Brittany has encountered people who think he and other cats with cerebellar hypoplasia are suffering and don't have good lives. "This is so untrue," says Brittany. "Rollie is the happiest cat I know and has more determination than some people I know. He is the toughest, sweetest, most loving cat I own. He has more quality of life than I do, I think."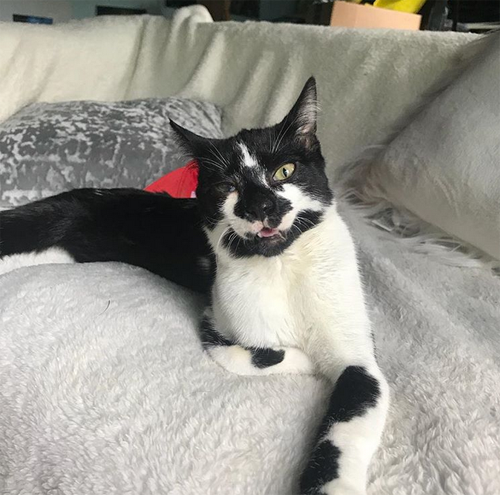 Even though Brittany is confident that Rollie is extremely content, she admits that he and other special needs kitties often require more attention and care than typical cats. However, she's certain that the bond she has with Rollie is more than worth any extra time or effort he might require. "Cats with special needs rely on you more, so they love that much harder," says Brittany. "My cuddle sessions with Rollie sometime make me want to cry. He is so special."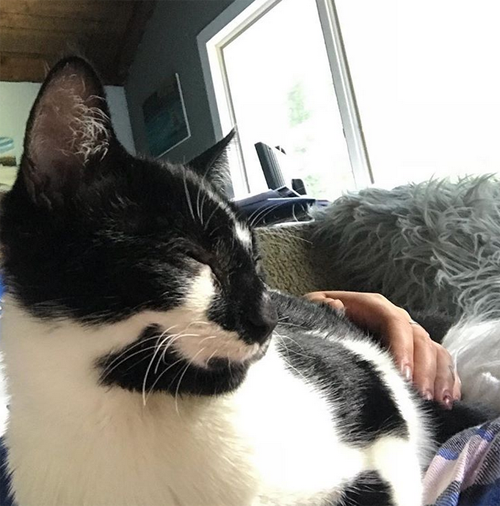 Whether he's snuggling with his mom, playing with his brothers, or taking a nap on his favorite pillow, Rollie is enjoying his life and proving that special needs cats make wonderful companions. Without a doubt, Rollie is an incredibly unique kitten who inspires everyone he meets, including Brittany's father, with his resilience and determination, but it's his relationship with his mom that is truly touching. "He means everything to me," says Brittany. "We have a very special bond. I can't imagine my life without him now — I love him more than some people."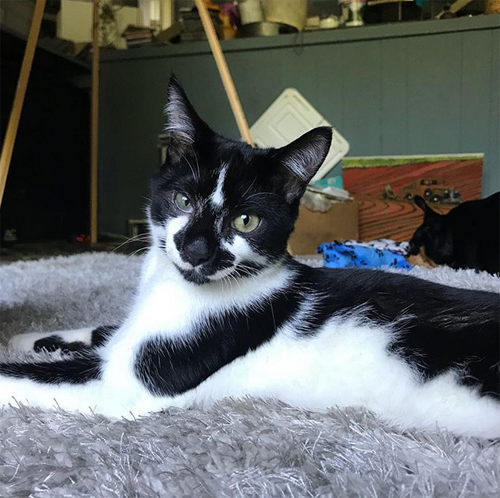 To learn more about this adorable kitten, you can follow Rollie on Instagram.