When Sarah Bennett and her wife Jordan were visiting her parents on August 25, 2018, at their home in rural Oklahoma, they decided to get a closer look at the feral kittens who were living underneath the porch, including a tiny orange cat they dubbed Simba.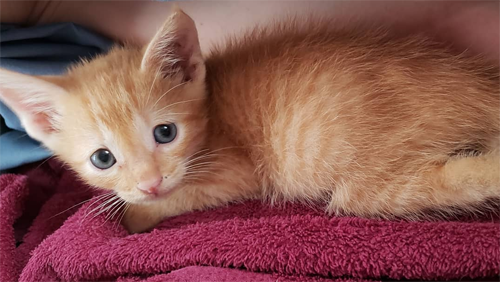 "My wife and I peeked through the pallet to see Simba sitting there with his legs stuck out behind him," remembers Sarah. "The other kittens ran away but not Simba. Eventually he just dragged himself along."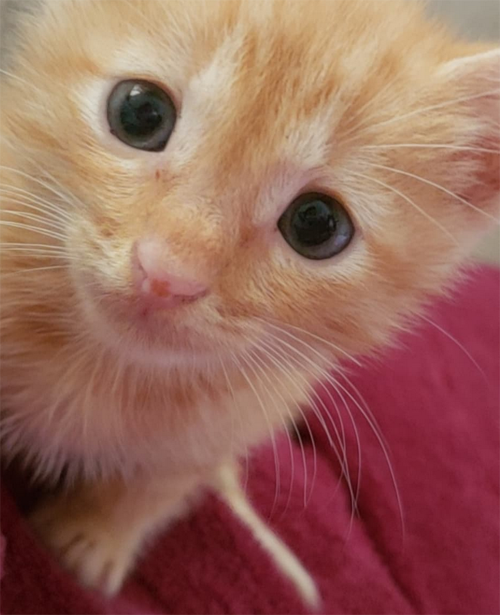 The couple discovered Simba was approximately six weeks old, and he had hind leg paralysis and incontinence, most likely due to nerve damage caused by an incident with a dog a month earlier. At the time, Sarah and Jordan had been contemplating getting a pet, but they were both unsure about bringing a dog into their apartment in Howe, Oklahoma. "We had convinced ourselves that when the time was right, we would adopt an animal," explains Sarah. "And that special Saturday was all we needed. As soon as we saw Simba we fell in love!"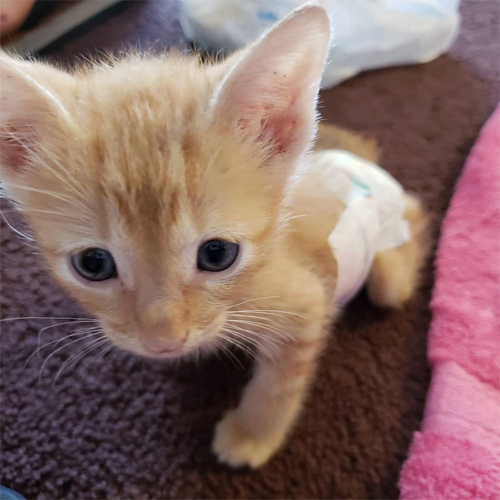 While the other kittens in his litter were spitting and hissing at Sarah and Jordan, Simba was friendly and outgoing, and the couple was certain he was meant to be a part of their family. "He knew he needed us as much as we knew we needed him," says Sarah. "It was an instant match. We both knew he was more than deserving of all the love our giant hearts have to give."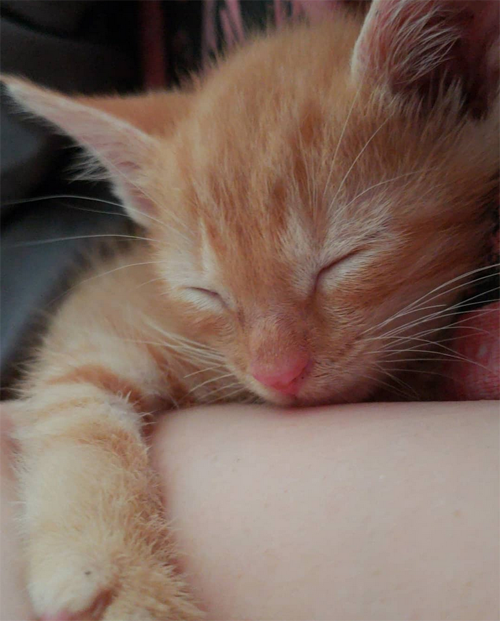 Even though neither Sarah nor Jordan had taken care of a cat with special needs before, they were determined to do their best to care for Simba. Thankfully, the little orange kitten quickly proved that they were right to have named him after the lovable prince from The Lion King. "With all he has been through, he is as strong as a lion," says Sarah. "Still a goofy little cub, but he is destined for greatness — with a strong will and the fight of a lion."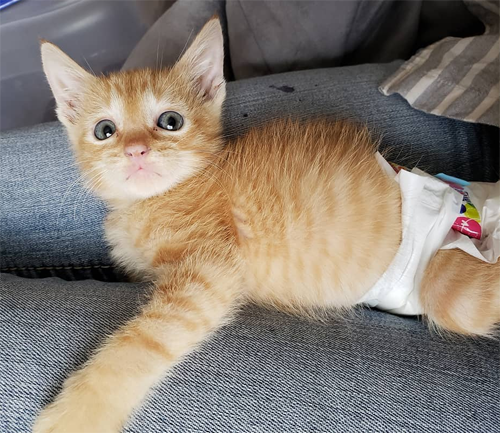 With his confident and curious personality, Simba didn't waste any time adjusting to his new home, although there were a few obstacles his moms had to help him overcome in the beginning. "It has been a big challenge for us — since he is so tiny — to find diapers and drag bags to actually fit him," explains Sarah. "He has developed sores on his knees from all his running around and playing."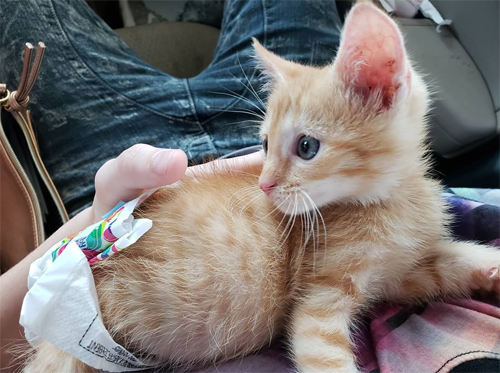 Fortunately, the couple visited their local Walmart and discovered that diapers made for Baby Alive dolls are perfect for Simba, and they began ordering them in packages of 130 from Amazon. Today, Simba is a little over two months old, and while he has both incontinence and rear limb paralysis, he is a happy and active cat who is enjoying his new life with Sarah and Jordan. "Simba loves taking cat naps on his blanket in the sun and attacking his mommies' fingers and toes," says Sarah.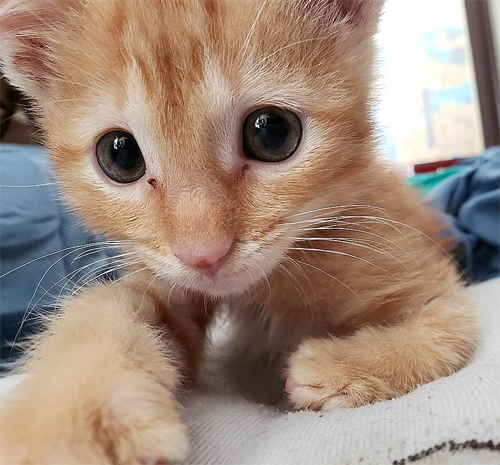 While Simba isn't a typical cat, this Oklahoma couple is certain that he is just as a content as kitties with two working legs, and Sarah and Jordan both agree this adorable ginger kitten is worth the extra effort he needs to thrive. "Simba may require a little more TLC, but his quality of life is not affected in any way," says Sarah.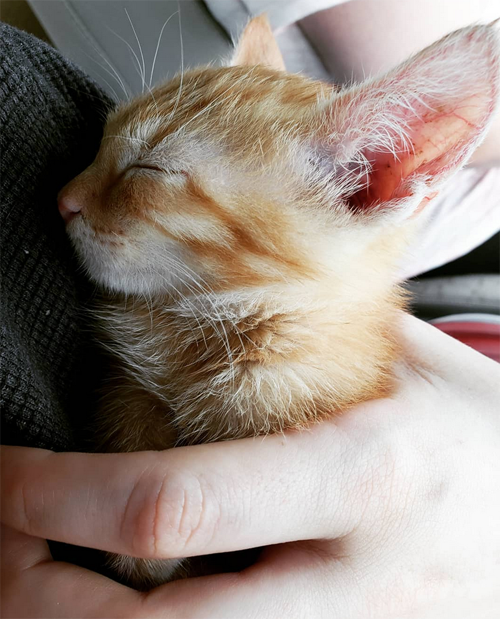 After all, Sarah and her wife have formed a remarkably strong bond with Simba over the course of just a few weeks, and he has already given them so much in such a short time. "To us as a lesbian couple, he is like the child we could never have," says Sarah. "We love him like he is our own. There is literally nothing we wouldn't do for him."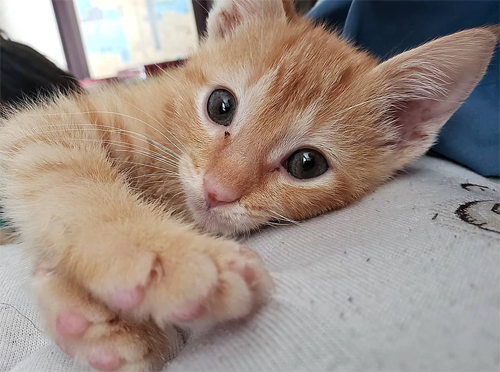 Simba, who most likely suffered nerve damage after an incident with a dog, has inspired his moms with the way he triumphs over adversity, refusing to let such a life-changing experience prevent him from facing the world with optimism, bravery, and tenacity.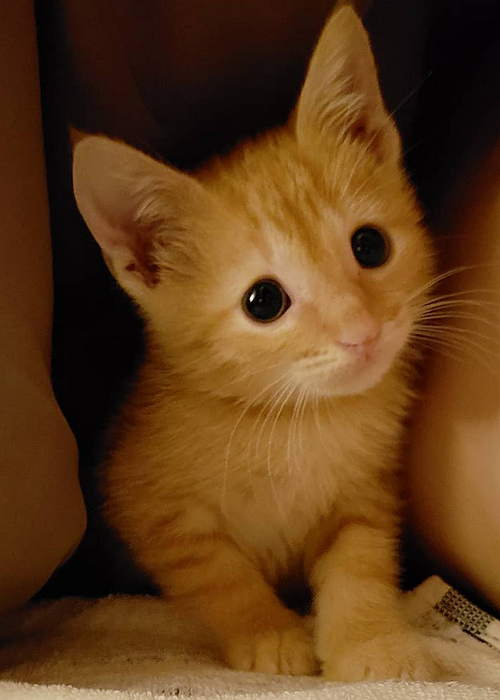 "He has taught us how to be strong; he has showed us determination and strength through how he tackles daily obstacles and overcomes them; he is our light in the dark," says Sarah. "He shows us that if he can go through life with the determination he has, never giving up; never holding grudges; never being afraid; then how could we?"
To learn more about this adorable kitten, you can follow Simba on Instagram.