When Shelly saw a Facebook post about a five-week-old kitten at a shelter near her home in Fethiye, Turkey, who was desperately in need of help, she immediately offered to foster the young cat. "There was a short post about a cat who was having seizures and couldn't lift her head up and the lady was asking for help," remembers Shelly.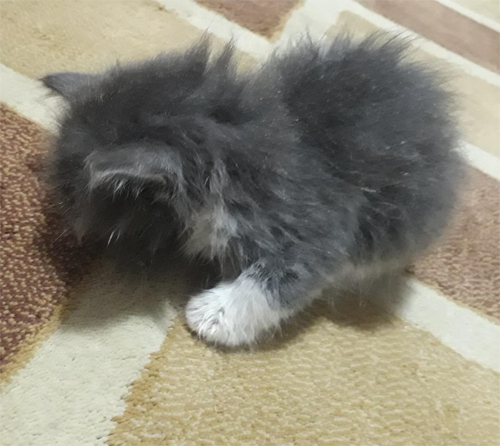 Not only did Shelly agree to foster the little grey and white kitten, she offered to get the sickly feline the medical attention she needed to determine the underlying cause of her health issues. On April 29, 2020, Shelly met the tiny cat for the first time, a moment she vividly remembers. "When I picked it up from the shelter she was in a coma, she couldn't walk, and she was blind and deaf," says Shelly.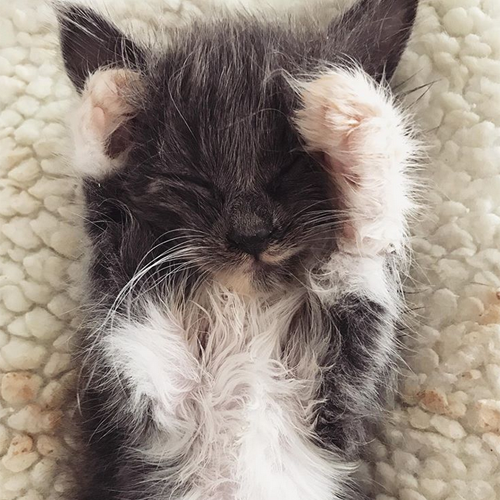 In addition to her obvious medical issues, the kitten was incredibly tiny, so Shelly decided to give her a name that reflected her diminutive size.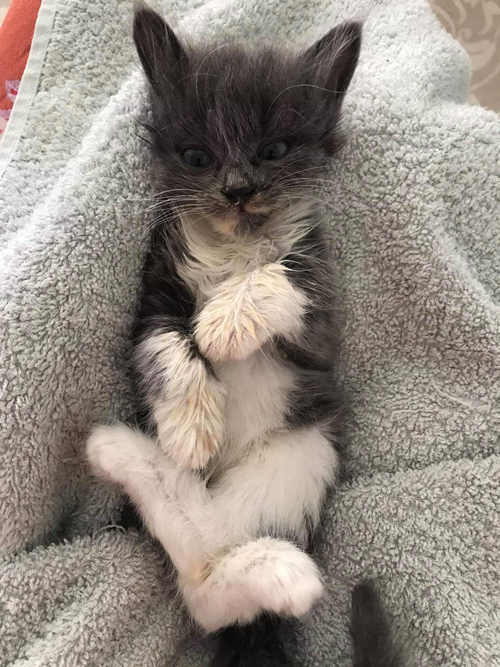 "She was so small and so delicate that the name Penny just seemed to suit her well," explains Shelly, and a visit to the vet revealed the fragile cat was actually suffering from hydrocephalus, a rare neurological condition characterized by a buildup of fluid in the brain.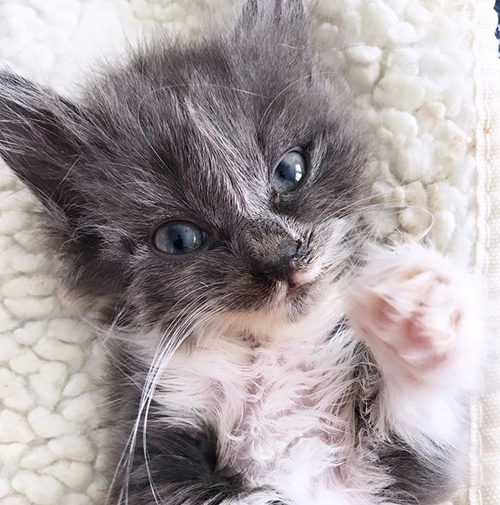 Thankfully, Penny responded to treatment for hydrocephalus, and Shelly watched as she slowly regained the ability to walk, see, and hear.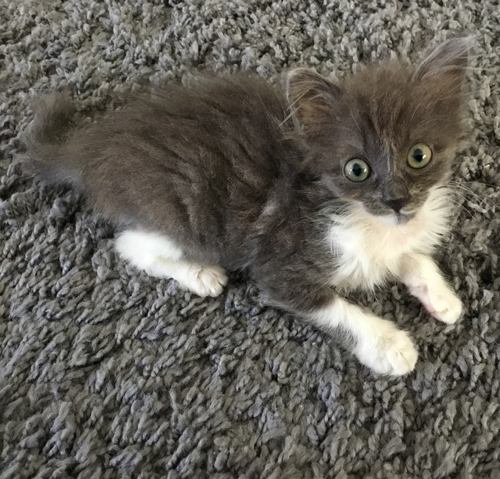 However, Shelly, an experienced cat fosterer, wanted to make sure Penny would continue to receive the treatment she needed to successfully manage her hydrocephalus for the rest of her life, so she decided to adopt the adorable special needs kitten. "She'd already come so far and there was no way we wanted to give up," says Shelly.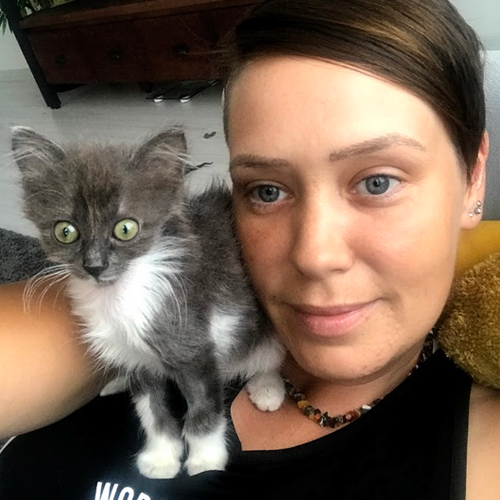 Just a few months later, Penny is doing great, but she does have delayed motor skills, occasional seizures, and some issues with depth perception. "She can't always use or find a litter tray," explains Shelly, "and she is now four months old and only started to play with balls."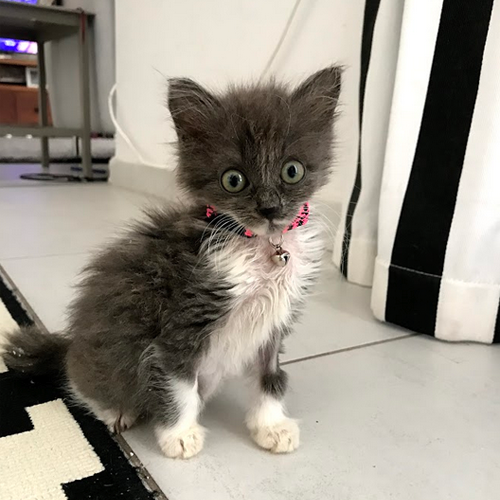 Fortunately, Shelly has accepted that Penny will most likely always have issues using the litter box, and she chooses to focus instead on her many strengths and abilities. "She likes to groom my other cat often, especially first thing in the morning when they greet each other," says Shelly. "She also has a huge appetite and will always finish her food and lick every piece from the bowl."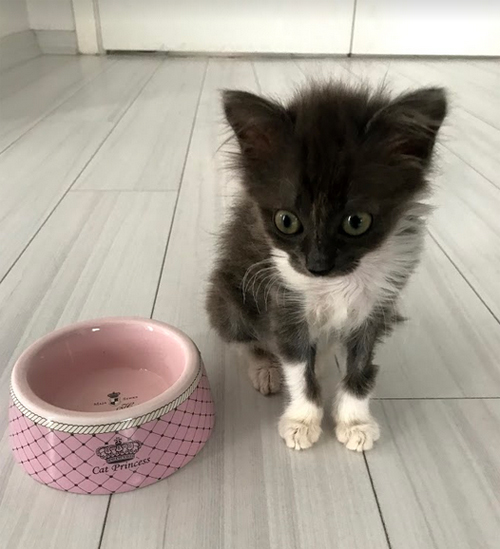 While she knows not everyone would be willing or able to provide Penny with the care and understanding she needs to thrive, Shelly hopes more people will realize euthanasia isn't the only option for cats with hydrocephalus.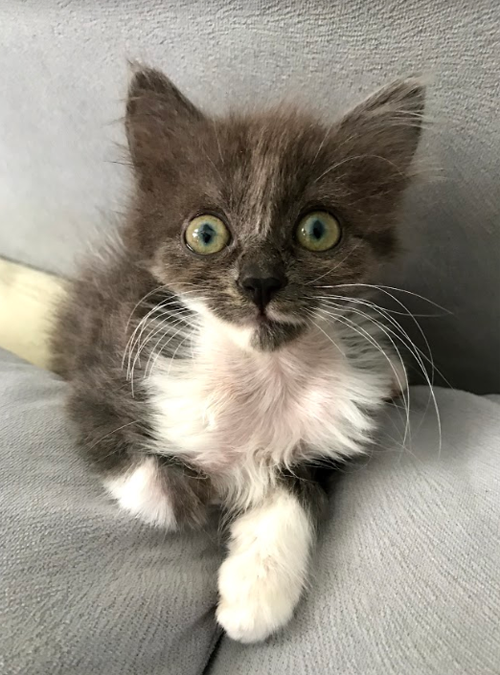 "Many people think it is easier and kinder for them to be put to sleep because they feel their quality of life will not be the same as a 'normal' cat," says Shelly, "but Penny has proven to me and many other people that she can live a normal, happy life with hydrocephalus."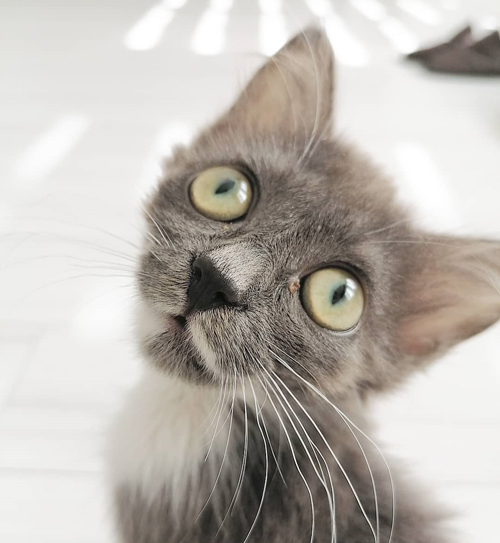 Even though Shelly has been involved in animal rescue for years, Penny is the first cat with hydrocephalus she has ever met in person.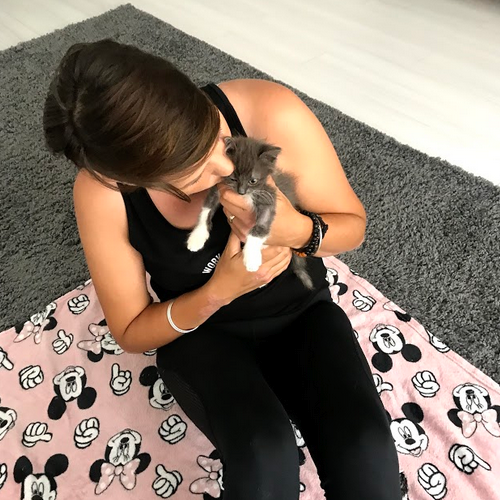 However, Shelly has found social media to be an excellent resource for information and support, and she encourages more people in rescue to educate themselves about hydrocephalus so that they can easily recognize the symptoms of this rare condition. "Once diagnosed, the quicker the treatment is started, the better the outcome," explains Shelly.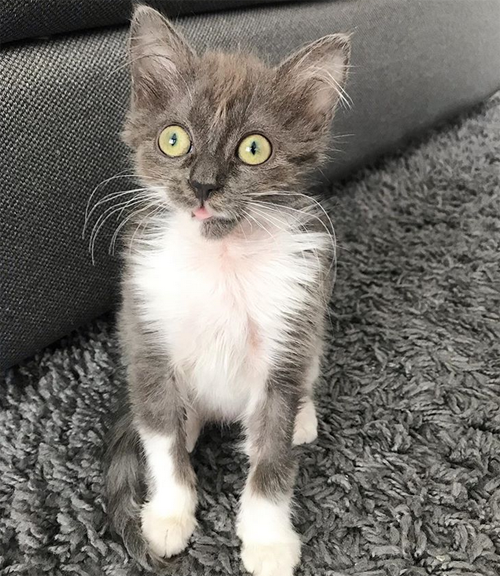 Thankfully, Penny — who is currently on two medications to reduce the buildup of fluid in her brain — is still responding well to treatment, and her resilience makes her an inspiration, especially to her Shelly and her family. "Penny means the world to us," says Shelly. "We have all bonded with her — the whole family — and she is definitely the one who we worry about the most."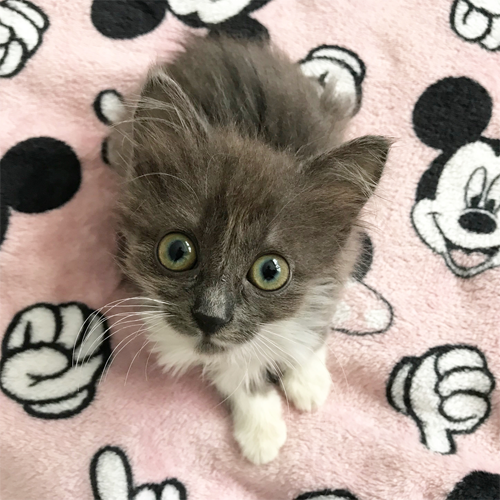 To learn more about this beautiful kitten, you can follow Penny on Instagram.