When Anna Dickerson-Homan, a fosterer for Claws & Paws Rescue in West Branch, Michigan, saw that someone was trying to use social media to find a home for a tailless tabby kitten with a malformed paw and her tailless brother after finding them in a horse barn, she immediately knew she had to help the special needs cat and her sibling.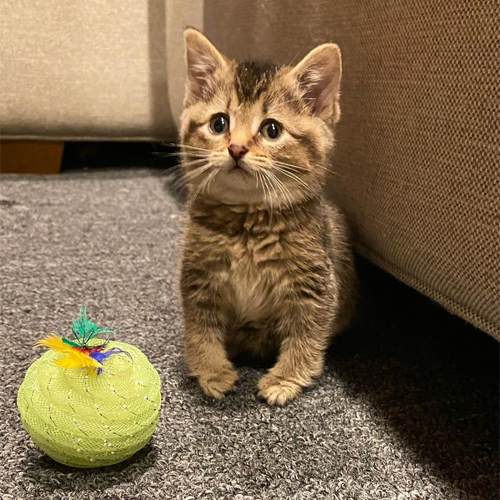 "She was being given away on a Facebook group and I saw a video of her walking and jumped into the messages of the owner who was quickly trying to get rid of her," remembers Anna.
View this post on Instagram
After all, Anna was extremely worried about what might happen to the kittens, especially the female tabby cat, if they were given away for free or taken to a shelter.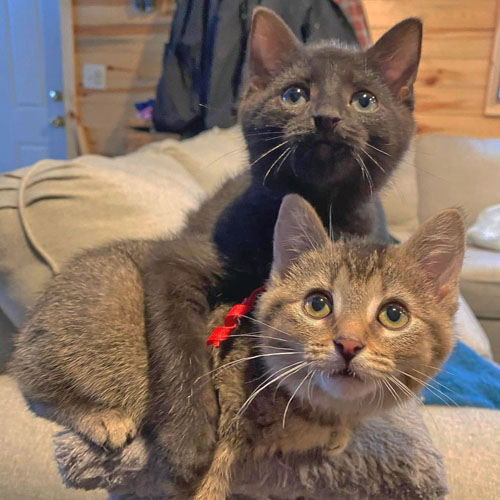 "It was almost certain that they would be euthanized due to their obvious health issues if they were put into a shelter or possibly tortured — used as hunting dog bait or dog fighting bait — if given to the wrong people," explains Anna. "I couldn't stomach the thought of that happening, and decided to open my home."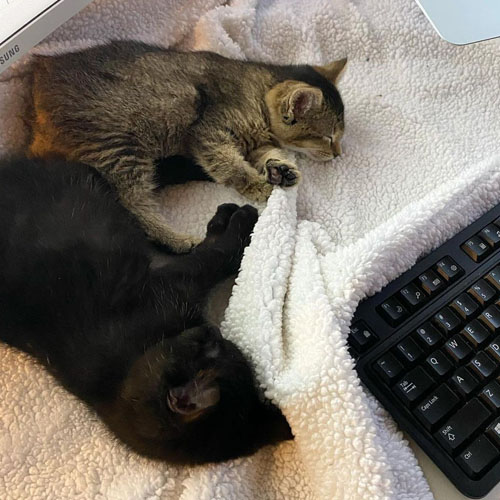 In late November 2020, Anna picked up the kittens, and while she'd been told they were approximately eight weeks old, it quickly became apparent they were much younger. "It was very clear that in actuality they were closer to 3.5 weeks old and couldn't even use the litter box on their own yet," says Anna, and they were both malnourished and in very poor health. "They were being fed dry dog food and were covered in fleas, and had dirt and feces crusted onto their fur."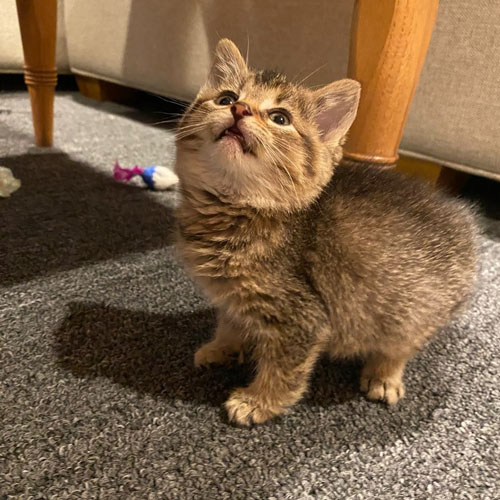 Despite being in terrible shape, the kittens were both very sweet and playful, and with the help of a virtual fundraiser on Facebook, Anna picked the perfect names for the adorable duo. "The public overwhelmingly chose Bart and Lisa as a nod to the TV show The Simpsons," explains Anna, "but few know that the reason I chose their names [as an option] is because I thought it would be silly to name them after my parents."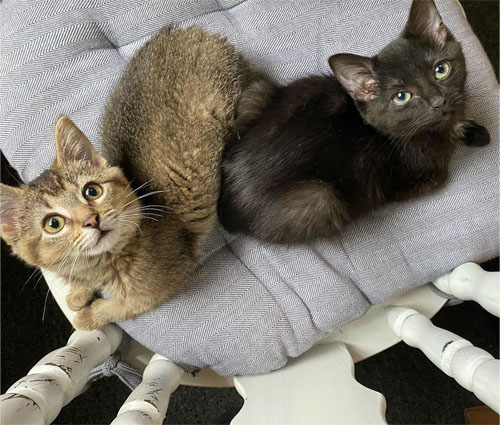 Shortly after rescuing the cute kittens, Anna took them to the vet, and an examination revealed Lisa was born with multiple medical conditions, including Manx syndrome, a genetic mutation that causes tailless cats to have shortened spinal columns and malformed vertebrae, which can cause varying degrees of incontinence and paralysis.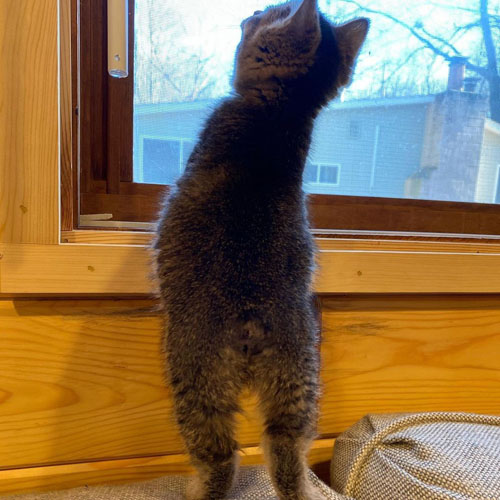 Lisa was also diagnosed with a malformed paw, causing her to walk on her forearms, and persistent rectal prolapse, a condition that causes the lining of the rectum to protrude from the anus. "She will likely need an invasive procedure called a colopexy — stapling of her colon internally to keep her rectum in her body — in the future," says Anna.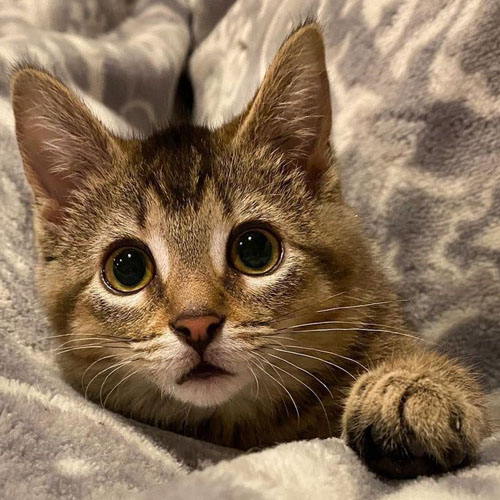 Thankfully, Lisa is responding well to a stool softener that allows her to defecate without causing the rectal lining to prolapse, and as she's gotten older, her malformed paw has actually improved. "Although Lisa's conditions are painful at times, we are doing our best to keep her comfortable," says Anna, and she seems to be achieving this goal. "She is consistently playful, happy and bright."
View this post on Instagram
In fact, even though Lisa moves a bit differently from a typical kitten, this gorgeous girl isn't all that different from the average feline. "Lisa is a cognitively normal cat who just wants to do cat things — watch birds out the window, chase a string, and cuddle on your lap," explains Anna, although she has had to make a few modifications to her home because Lisa's malformed paw makes it difficult for her to climb and jump. "Since she walks on her feet incorrectly, she also has some bruising, open sores, and hair loss on the pressure points on her arms."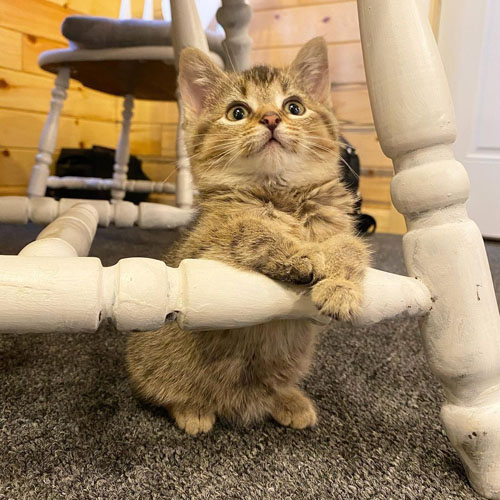 Fortunately, Lisa is still able to enjoy a very happy and active life, and she likes cuddling and playing, just like any other kitten her age. "Lisa loves to snuggle and has to be smooshed as close as possible to her humans at all times," says Anna. "She loves to play with string toys and her crinkle balls and to follow her brother Bart around."
View this post on Instagram
While this beautiful special needs kitten isn't ready for adoption just yet, Anna is confident she will eventually be able to find the right family for Lisa. Even though potential adopters might assume they have to have experience caring for a cat with Manx syndrome, persistent rectal prolapse, or mobility issues in order to give her a good home, Anna believes this simply isn't true.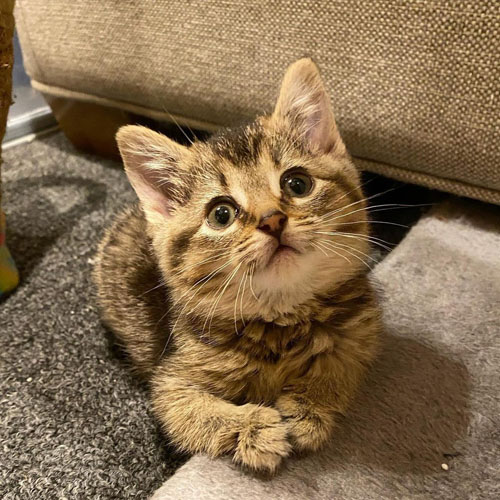 "The reality is that the only kind of expertise you need is the ability to advocate for the care of an animal and to love the animal where they're at," explains Anna. "With a little patience and determination, you too can be a hero for a special needs kitten."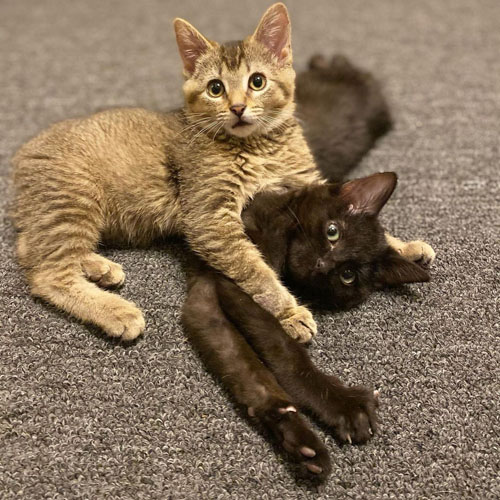 Until Lisa is ready for her forever home, she can depend on Anna to keep her safe, happy, and healthy, as well as the heroism of people all over the world who have helped this very special kitten.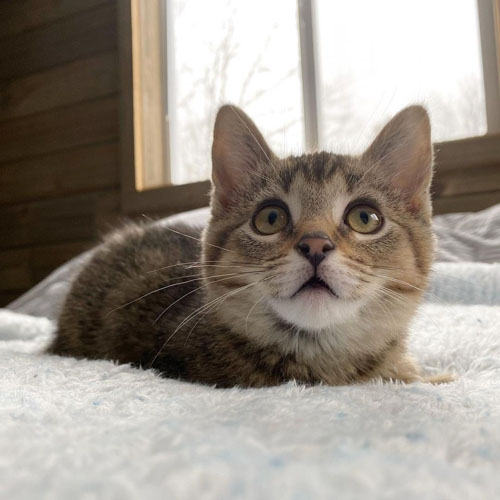 "Lisa means so much to me, but most of all she represents the overwhelming good in humanity," says Anna. "I am still blown away that in a year filled with a pandemic, record job loss, a hard election, and what feels like endless sadness, strangers from all over the world have banded together to provide monetary and virtual support for a little kitten that no one wanted. She represents that even in one of the worst years on the planet where everything feels heavy, there is still a glimmer of hope and kindness in humanity as we rally together to care for a helpless being."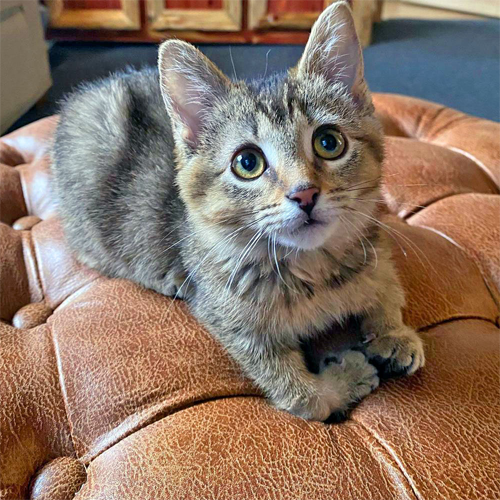 To learn more about this beautiful kitten, you can follow Lisa on Instagram.