When Chelsea saw a Facebook post about Theo, an incredibly cute white cat who had recently had his left eye removed, she immediately fell in love with the unique feline. "I don't know who could resist his handsome, adorable face," says Chelsea.
View this post on Instagram
Reading the Facebook post, Chelsea discovered one of Theo's eyes was severely infected and ulcerated when he was abandoned at his rescuer's home.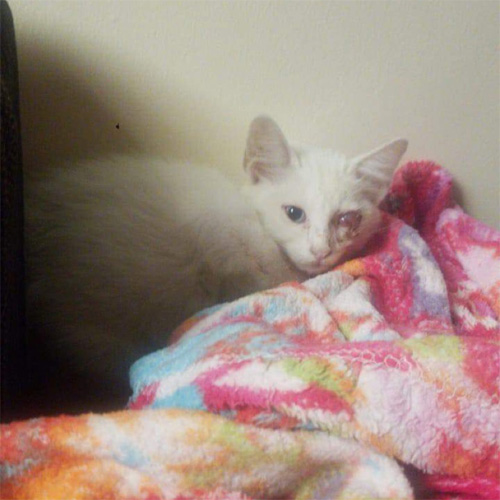 "There was no saving it," says Chelsea, and Theo still had stitches around his eye in the photo she saw of him on social media.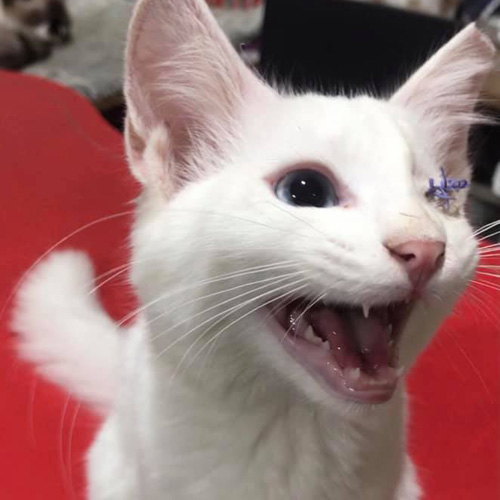 Chelsea was smitten with Theo, as well as concerned he might have trouble finding a home due to his unique appearance, so she applied to adopt the gorgeous one-eyed cat from Desert Paws, a rescue based in Dubai.
View this post on Instagram
Thankfully, her application was approved, and Theo made the trip from Dubai to his new home in England in December 2020. "I sat up all night and followed his flight on an app and even watched his plane fly over my flat in Wembley since we live near Heathrow Airport," remembers Chelsea.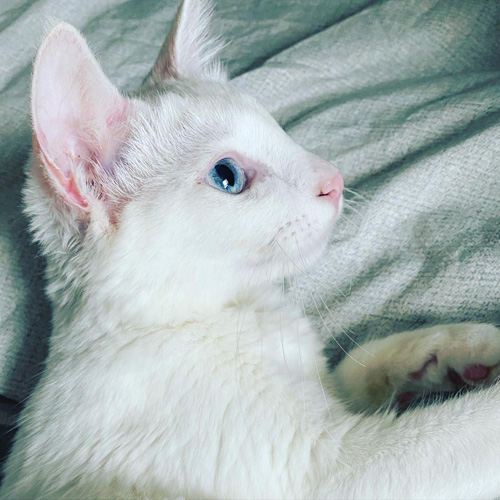 Even though Theo had spent several hours traveling to England, he didn't seem the least bit upset by the journey. In fact, Theo was completely at ease as soon as Chelsea and her boyfriend Luke let him out of his carrier. "We were worried he was going to be scared," says Chelsea, "but he just kept purring and wanting to give us head bumps."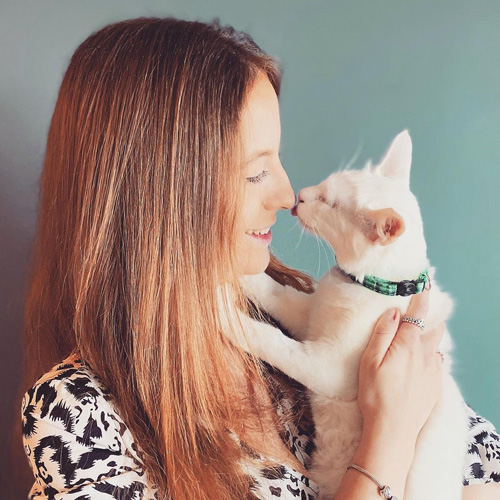 While it didn't take long at all for Theo to adjust to his forever home, he still had some challenges shortly after getting to England. "The surgery he had to remove his eye in Dubai wasn't performed very well," explains Chelsea, "so it was weeping pus and had some wound breakdown which meant the socket was still slightly open."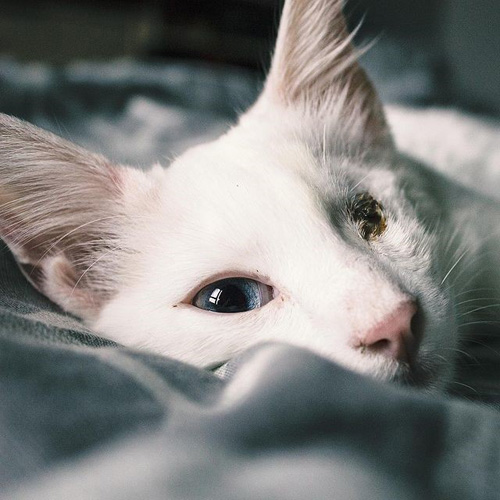 After several visits to the vet, Chelsea and Luke eventually decided the best option was for Theo to have surgery to remove the soft tissue that had been left behind during the initial enucleation. "It cost us a lot," says Chelsea. "However, he is so much happier now and doesn't have to keep going to the vet anymore as it is all sealed up properly."
View this post on Instagram
Several months after arriving at his forever home, Theo is thriving, and there's nothing this beautiful boy loves more than playing! "Theo is the most playful cat I've ever owned!" says Chelsea. "He is the only cat I've had that would choose toys over food."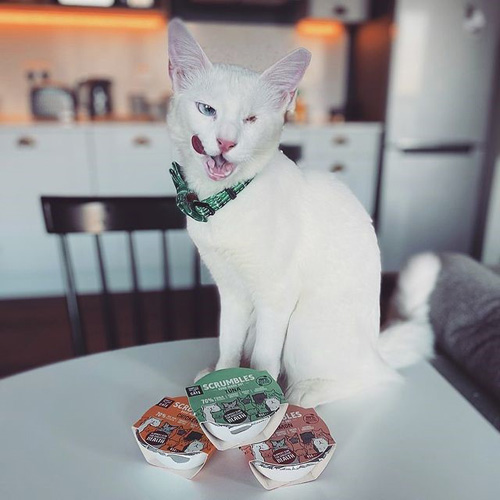 In addition to stalking his parents around the apartment, Theo likes playing with his toys, sunbathing, sitting on Chelsea and Luke's shoulders, and even playing fetch. While people often assume one-eyed cats having difficulty seeing, that definitely isn't the case with Theo, although he occasionally has issues with depth perception. "Whilst his depth perception can sometimes be off, he is incredibly accurate with pouncing on his toys and playing and you wouldn't even know he was one-eyed most of the time," explains Chelsea.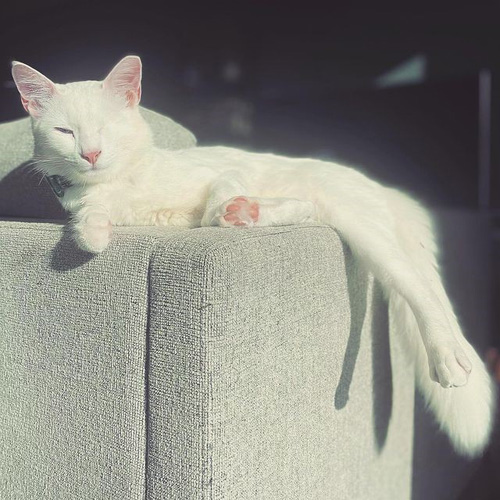 Chelsea has also found some people are a bit nervous about adopting a one-eyed cat like Theo because they're concerned they might have medical issues. However, while he did have to have any additional surgery to correct his initial enucleation, Theo hasn't had any other medical issues since arriving in England. "It doesn't take much to adjust to whatever extra care they need," says Chelsea.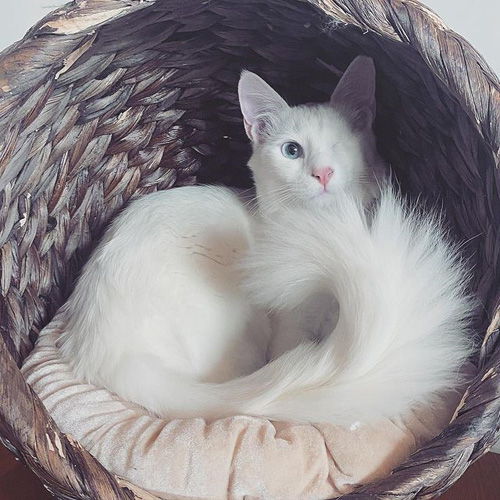 She's also found some people are reluctant to adopt a one-eyed cat simply because they look different, but Chelsea thinks Theo is perfect just the way he is! "Sometimes people find it a bit odd that he only has one eye, but I just see him as a cat with permanent winking face," explains Chelsea. "He is beautiful regardless and the one eye he does have is the most beautiful blue eye in the world!"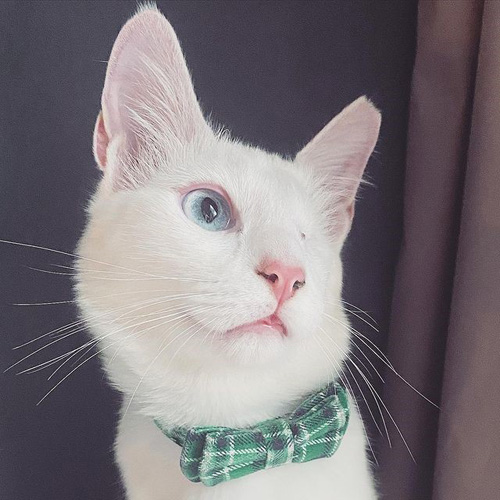 By sharing Theo's story, Chelsea hopes more people will consider adopting special needs cats, which is why she set up 9 Lives 1 Hope with two of her friends. Not only does the charity provide support for TNR, or trap-neuter-return — the humane practice of reducing pet overpopulation by trapping feral and community cats, sterilizing them, and then returning them to their original locations — it also assists rescue cats and kittens with finding homes in Europe. "It helps cats like Theo receive fundraising, which allows them to be rescued, treated, and relocated to better lives in happy homes across the world," says Chelsea.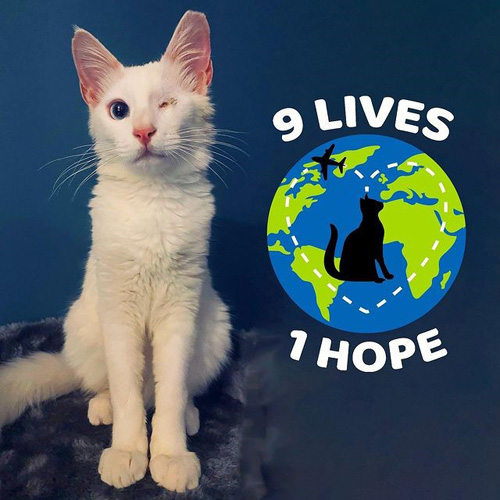 When Chelsea saw Theo's photo on social media several months ago, she had no idea how much he would change her life. After all, this gorgeous one-eyed boy not only inspired her to start an organization to help other cats in need, Theo has brightened Chelsea and Luke's home with his sassy, cuddly, and intelligent personality.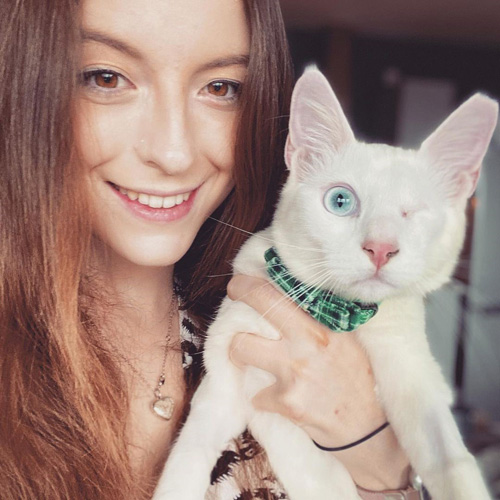 "I still to this day don't understand why someone would dump him in the condition he was in," says Chelsea. "He has brought a ray of sunshine to our lives and I can't imagine my life without him now."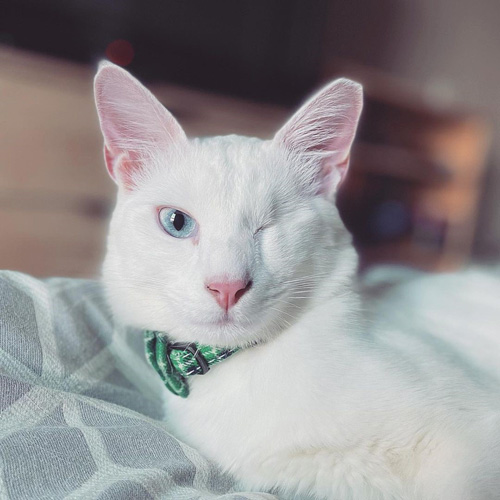 To learn more about this handsome cat, you can follow Theo on Instagram.
To learn more about 9 Lives 1 Hope, you can follow them on Facebook.