When Tara Kawczynski, the founder and president of The Odd Cat Sanctuary, was asked to help an adorable grey kitten who had suffered extensive abuse that left him with two broken hips, cracked teeth, and a severely damaged eye, she eagerly agreed.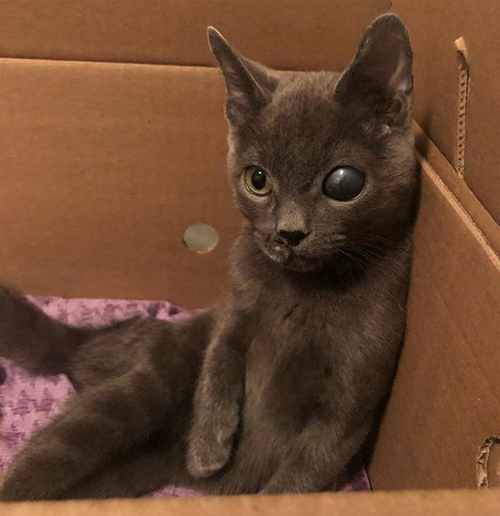 "I thought he was perfect when I saw him," says Tara. "He was purring and nibbling the first time I met him, so happy and sweet despite all he had been through." Born with a cleft lip — which doesn't hinder his ability to eat — the kitten was approximately 12 weeks old and weighed just three pounds when he was rescued by Tara in October 2018.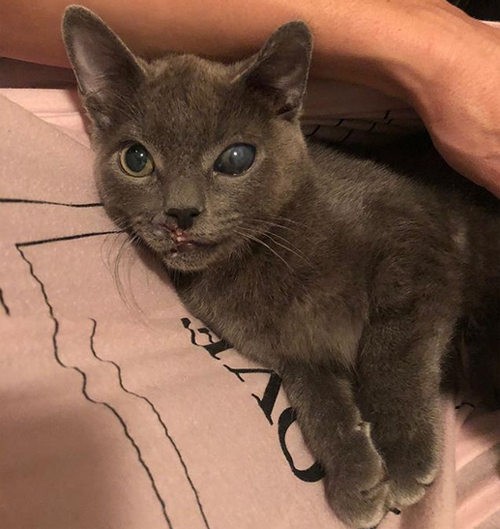 With the help of their followers on social media, The Odd Cat Sanctuary — a rescue in Salem, Massachusetts, that is dedicated to caring for cats who often have difficulty finding homes — named the three-month-old feline Wolf, giving him a new name to go with his new life. "Someone suggested it on Instagram," explains Tara, "and it he just seemed like a Wolf from that day on."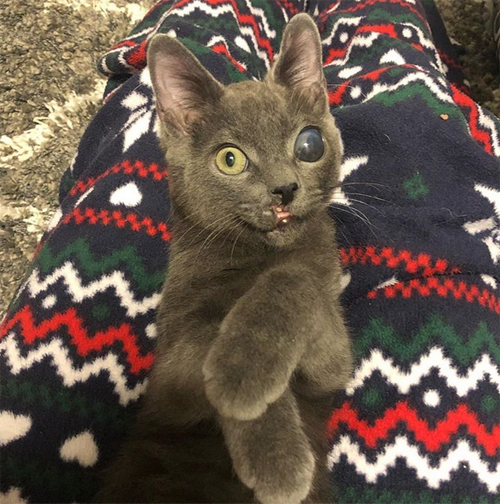 After Wolf was rescued by The Odd Cat Sanctuary, Tara took him to an animal hospital to get a better understanding of his injuries and the treatment they would require. "The vets who have examined him believe he was battered terribly," says Tara. "His life before he was rescued was truly awful. He was severely abused and discarded on to the streets."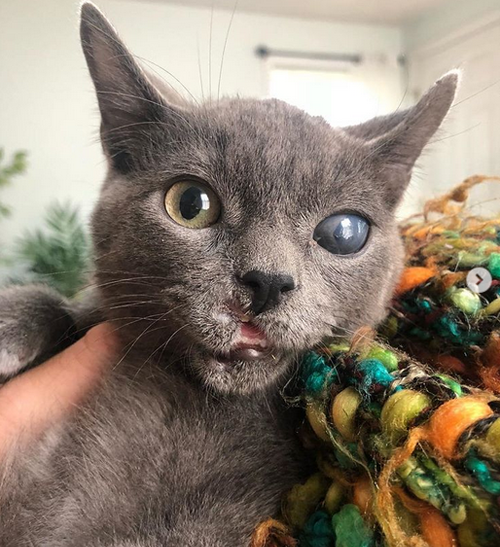 The damage to Wolf's eye was so severe, the veterinarian initially thought he had a tumor, but it was later determined to actually be layer upon layer of scar tissue from repeated trauma.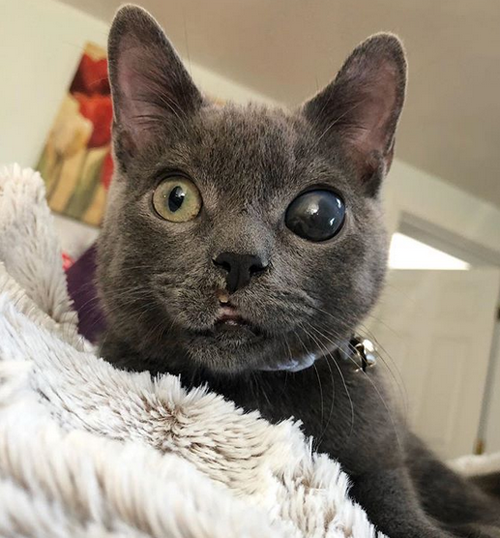 Sadly, Wolf's eye couldn't be saved, and it was surgically removed shortly after he was rescued. Despite all of the injuries this adorable little kitten sustained at the hands of his abuser, Wolf has done a great job of healing from all of the trauma he experienced. "He's thrived and exceeded all expectations since he arrived with us," says Tara. "He's an old, trusting soul, even after all he's been through."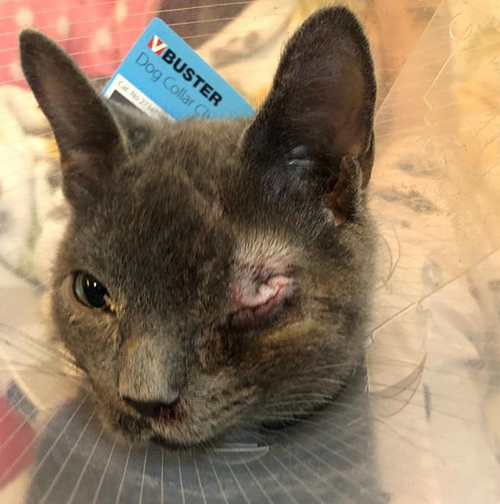 While Wolf, having survived such horrific abuse, would be forgiven for being fearful around people, this special boy loves making new friends — both human and feline. Like a typical kitten, Wolf enjoys playing with his toys, climbing his cat tree, nipping his foster mom's nose, and snuggling with people and other cats. "He has such a zest for life," says Tara. "He's so deserving and perfect in our eyes."
View this post on Instagram
Despite his unique appearance and tragic past, Wolf is a happy and active young cat, making him the ideal pet for a family who is searching for a playful and affectionate kitty. While some people might be reluctant to adopt an abuse survivor, worried they would be unable to cope with the consequences of the psychological and physical trauma the animal has endured, Tara is confident cats like Wolf make phenomenal feline friends.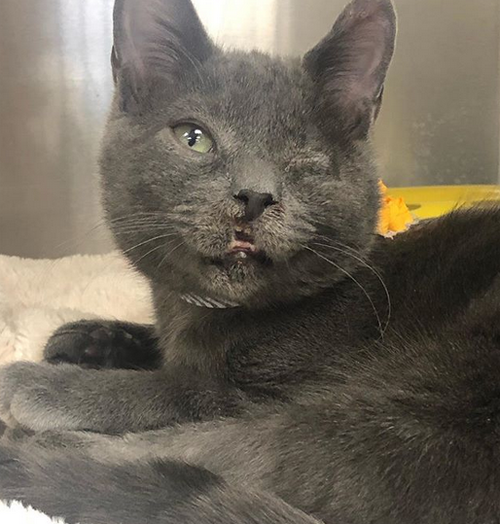 "They deserve the same chance at a wonderful life as any other cat," says Tara. "They are unique, special, and wear a badge of honor with their scars. They are extra grateful for any love." However, Wolf is not available for adoption at this time, although it's possible he will be ready for a forever home at some point in the near future.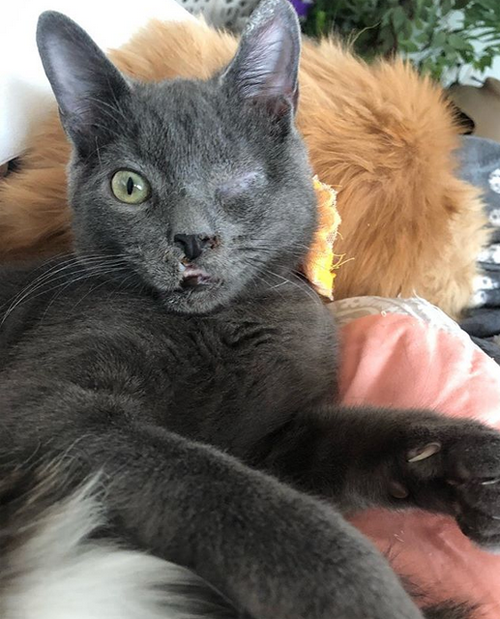 While Wolf has only been with The Odd Cat Sanctuary for a few weeks, he has moved the organization's staff and volunteers with his sweet, resilient, and friendly personality. "He is an inspiration to have been through so much and to still love everyone he meets regardless of what he endured," says Tara. "He means the world to us."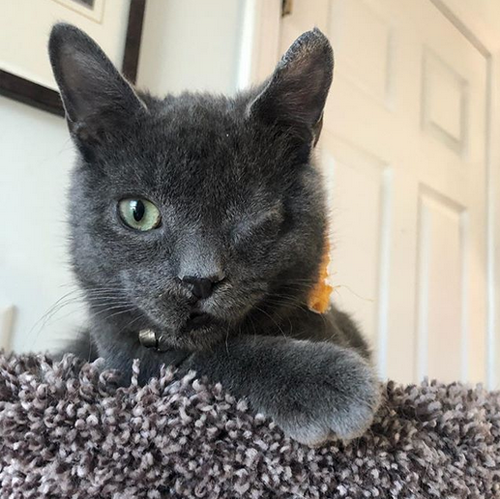 To learn more about this adorable cat, you can follow Wolf on Instagram.