When Megan Hale saw a picture online of a one-eyed Maine Coon kitten who was available for adoption through F.E.R.A.L., a rescue near her home in Salem, Virginia, she knew the young special needs cat was destined to be a part of her family. "I saw his face and it was love at first sight," remembers Megan, and when she read his story, her feelings for the fluffy kitten only grew.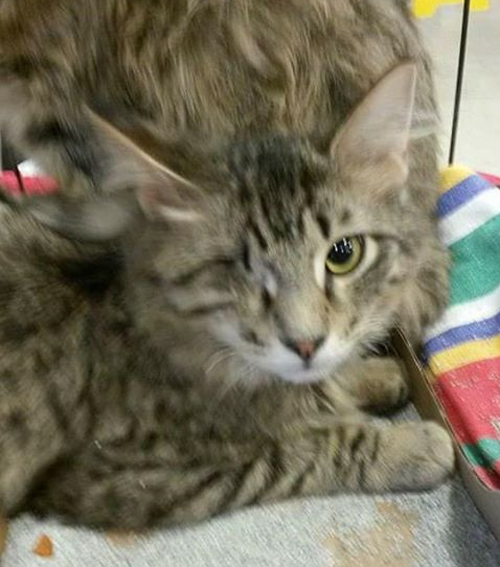 Megan learned that the kitten — who was rescued in late 2015 — was homeless when one of his eyes was seriously injured. "He lived under an abandoned trailer with multiple cats," explains Megan, and when he was found by F.E.R.A.L., one his eyes was actually hanging from the socket. "Since he was a baby kitten, he was likely attacked in the eye, which caused infection to burst it," says Megan.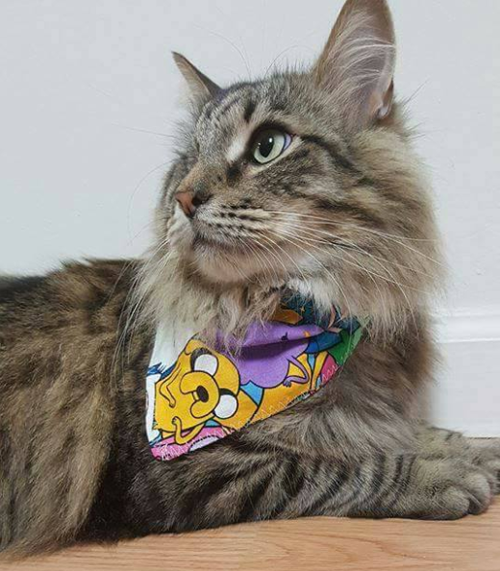 After he was rescued, this one-eyed kitten had a difficult time finding a home, perhaps because he didn't look like every other cat. "He had been passed over multiple times," says Megan, but she refused to let the opportunity to adopt this special kitty pass her by: "I immediately dropped what I was doing," says Megan, and she headed down to her local PetSmart to meet him in person. "I picked him up and he head bonked me and started purring," remembers Megan, and she knew she wouldn't be able to leave the adoption event without him.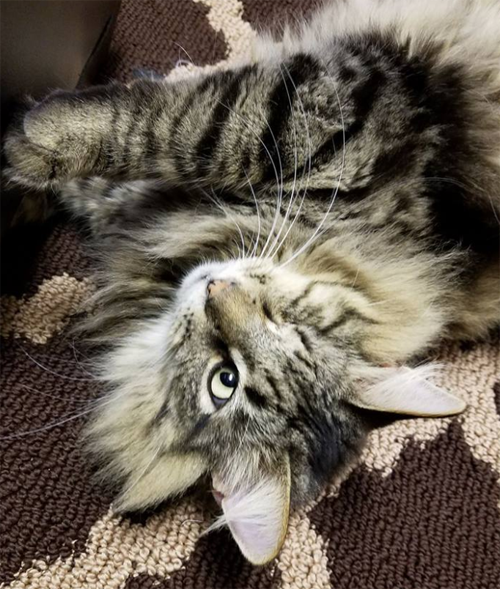 On February 15, 2015, Megan brought the handsome one-eyed kitten home to live with her, and she gave her girlfriend Emjay the honor of choosing his name. "I asked my girlfriend to name him after her number one thing in the world," says Megan, "so she picks Taco."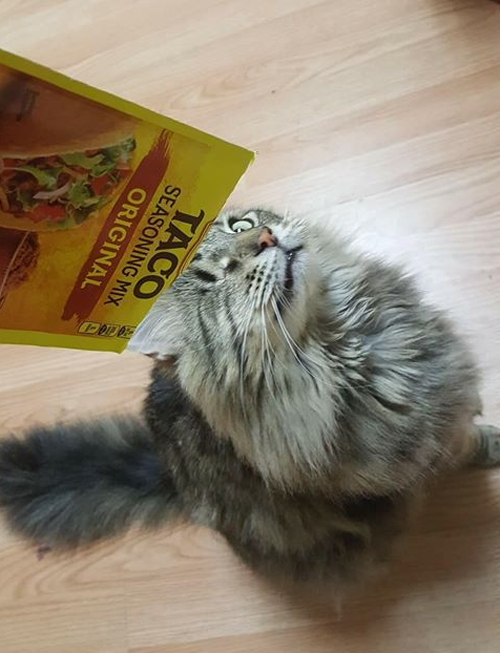 It didn't take long for Taco to settle in with his new moms, nor did he waste any time showing Megan and Emjay that despite having only one eye, he was a typical kitten who just wanted to play, eat, and cuddle. More than two years later, Taco is doing great, although he does have a few limitations due to his missing eye. "When playing, he misses the toys every time due to his depth perception, but I find it cute," says Megan.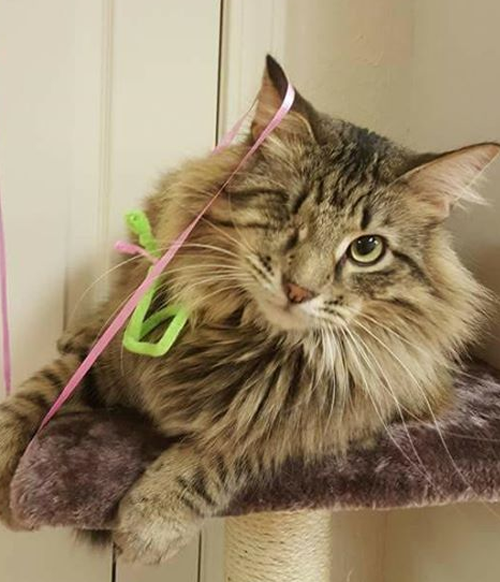 Other than this relatively minor issue, Taco is an average cat who enjoys sunbathing, cuddling with his moms, and helping Megan with her many craft projects. "He inspired me to start a shop that sells handmade animal supplies," says Megan, "and with the money, I donate beds and supplies to rescues."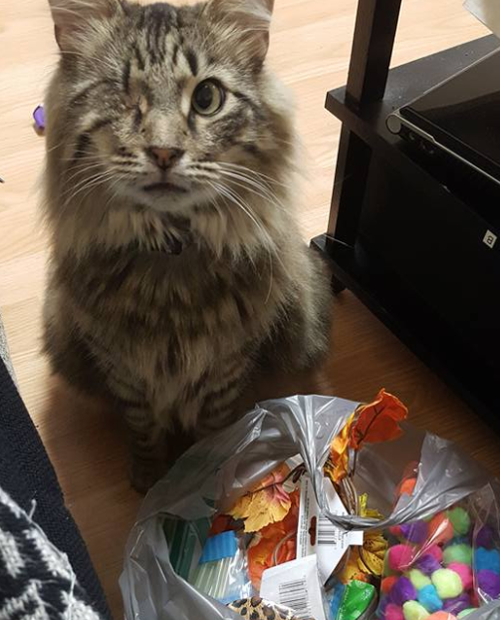 Taco, who now weighs 25 pounds, could easily overpower the other animals who share his home, but this special boy who most likely lost his eye when he was attacked as a kitten, is definitely a lover, not a fighter. "His favorite thing is to help me craft," says Megan. "His second favorite things are hair ties and cuddling with his ferret brothers and rat sisters."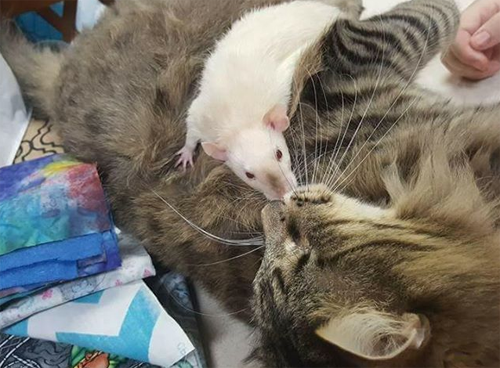 Since adopting Taco, Megan and Emjay have formed an incredibly strong bond with this handsome one-eyed boy, so much so that they've each gotten a tattoo of his adorable face, as well as a decal of him for their car.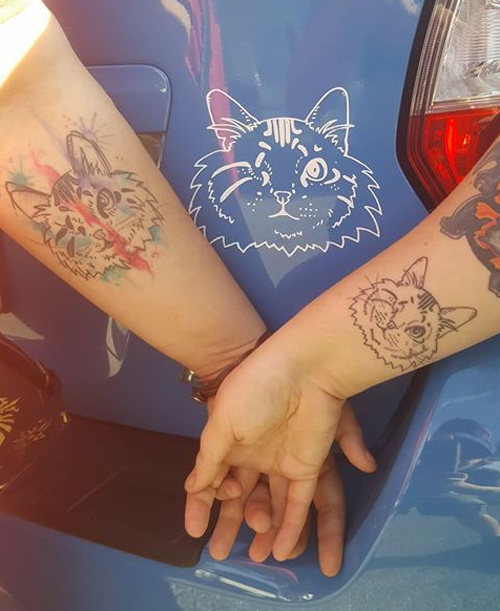 However, judging by Taco's behavior, he's just as in love with his moms as they are with him. "He now waits by the front glass door watching for my car every day," says Megan, "and tries to dig through the door to get to me quicker."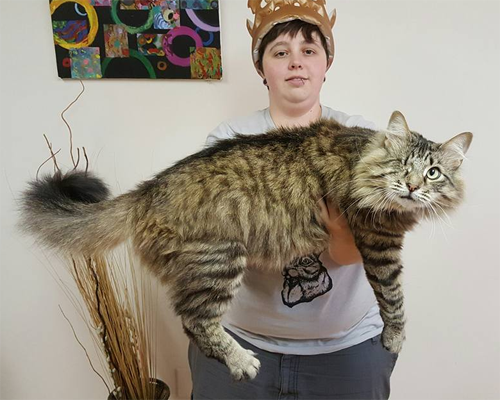 When Megan saw Taco for the first time back in February 2015, she didn't know anything about special needs cats, but a little over two years later, she couldn't imagine her life without her lovable one-eyed boy.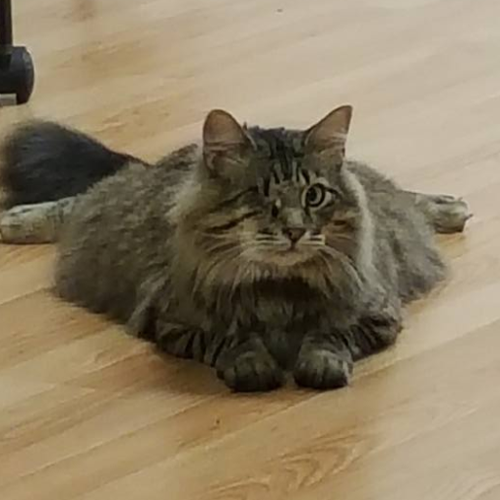 "He is such an inspiration that I will no longer adopt animals that aren't special needs," says Megan, and she hopes Taco's story will inspire other people to consider opening their homes and their hearts to special cats like him. "People shouldn't pass them over due to that little of an imperfection," says Megan.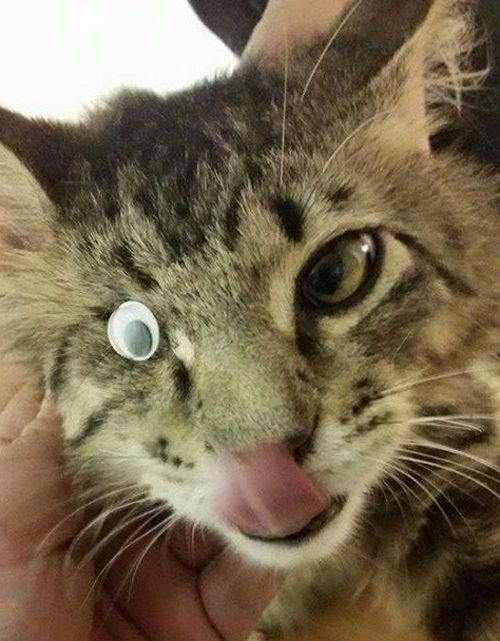 While Taco may not be perfect by many people's standard, this 25 pound beauty is perfect for Megan and Emjay. "He is the love of my life," says Megan. "I love him so much, I have him tattooed on my body. We were meant for each other."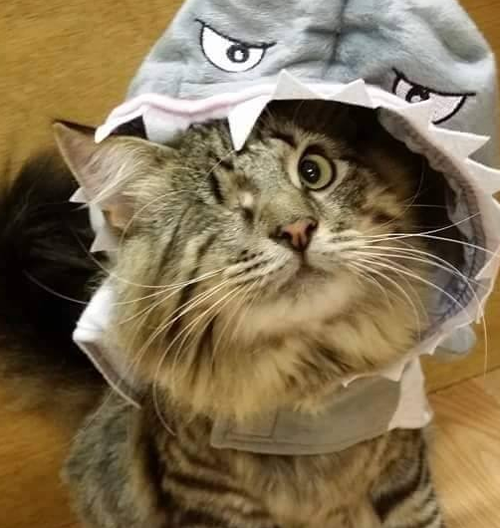 To learn more about this adorable cat, you can follow Taco on Facebook.