In June 2015, Melanie saw Dizzy and P2D2 on Petfinder, and she immediately fell in love with the pair of one-eyed cats who — while not litter mates — were as close as siblings, having grown up together in the same household before they were taken to Happy Cats Haven, an animal shelter in Colorado Springs, Colorado. Melanie and her husband had recently lost their beloved cat, Meatball, and after mourning for several months, they decided they were ready to have a new feline — or two — join their family. "We went to meet them," remembers Melanie, "and adopted them on the spot."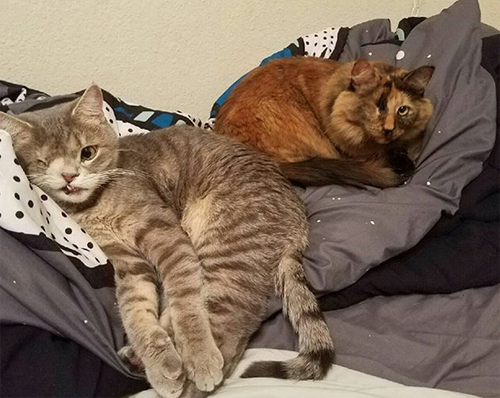 During the adoption process, Melanie and her husband learned that Dizzy, a grey and white tabby, and P2D2, a fluffy tortie, had ended up at the no-kill shelter because their owner failed to pick them up after leaving them in the care of a friend. Unable to continue caring for the pair, the owner's friend surrendered Dizzy and P2D2 to the Happy Cats Haven where they waited for someone to give them a loving home. "They were at the shelter for quite some time before we adopted them," says Melanie.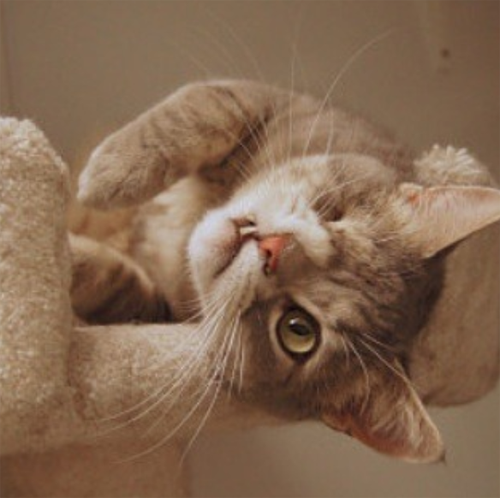 Due to how they ended up at the shelter, Happy Cats Haven didn't have any medical records for the pair, nor did they know when the two adorable cats had been born, so they took Dizzy and P2D2 to the vet. The veterinarian determined they were approximately four years old, and after meeting with two doctors, Happy Cats Haven discovered Dizzy had a congenital condition that impacted the right side of his skull, causing his face to "squish" up. "It kind of closes his right nostril, gives him that snarl," says Melanie, "and just makes him adorable in general."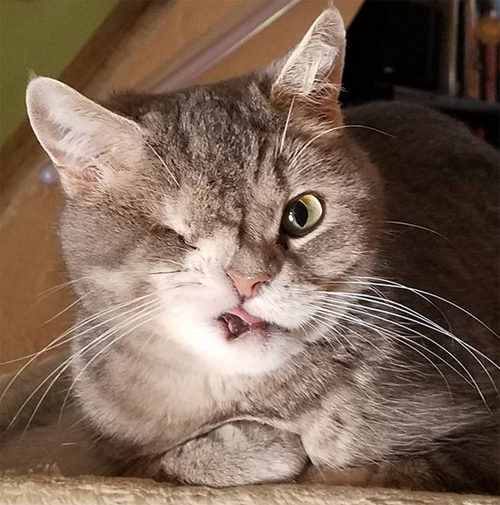 As a result of the condition, Dizzy only has one eye, which is of little consequence except for the negative effect it has on his depth perception. However, the condition seems to have impacted Dizzy's brain, causing this cute grey and white tabby to display some unusual neurological quirks: "He will literally spin clockwise in circles," says Melanie, "until you pick him up or he falls over from dizziness."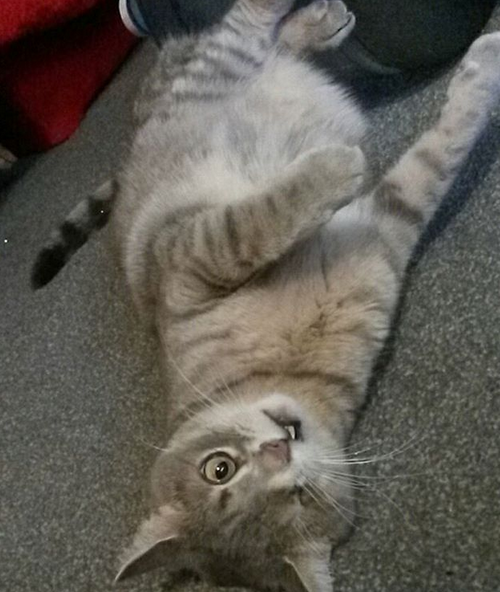 While Dizzy may look and act a bit different from other cats, he has lots in common with the average feline. "He loves boxes, bags, Lance Armstrong style bracelets, strings, catnip, and all the stuff cats are supposed to care about," says Melanie. However, Dizzy is exceptionally loving and affectionate, and he shares a particularly close bond with Melanie, cuddling up with his mom every morning and crying when she leaves for the day. "He runs to me when I come home," says Melanie, "and he loves riding on my shoulders."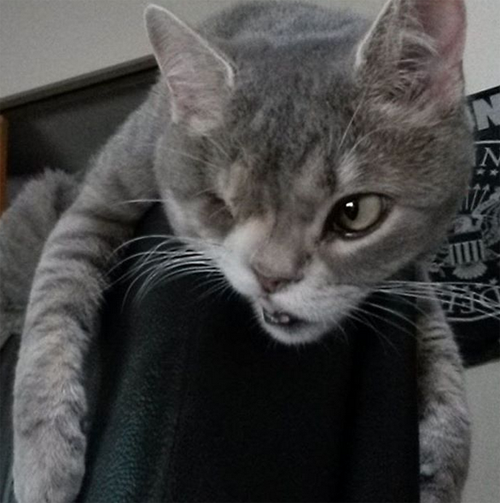 Because he's missing several teeth — including a prominent snaggletooth that fell out shortly after he was adopted — Dizzy only eats wet food, getting the occasional treat of deli turkey and pepperoni. While Dizzy and his sister P2D2 — who is in love with Melanie's husband and son — may have been abandoned by their former owner, that experience enabled this adorable pair of one-eyed cats to find the purrfect forever home where they receive all of the love, attention, and care they could ever want. Melanie has had other cats, but she's convinced her adorably different boy is one of a kind. "Dizzy has turned out to be the best cat I've ever had," Melanie says.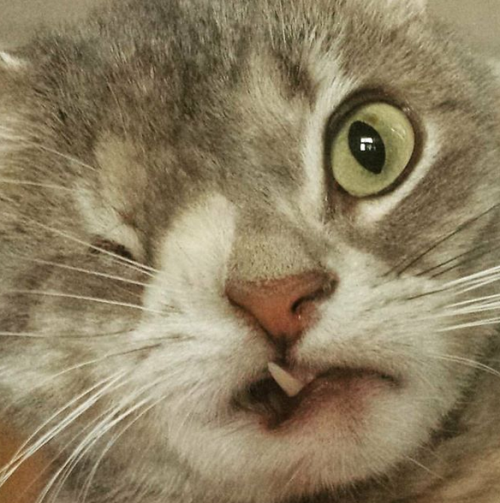 To learn more about this adorable cat, you can follow Dizzy on Instagram.