When Dr. Emily Shotter visited a veterinarian near her home in Muscat, Oman, in September 2014, she learned about a young cat who was recovering at the vet's office from surgery to remove both of her eyes. "I had been looking for a companion for my first rescue, Luna, and the vets mentioned that they had a one-year-old blind Persian," remembers Emily. "I was resistant at first, but they persuaded me to 'just come and meet her.' "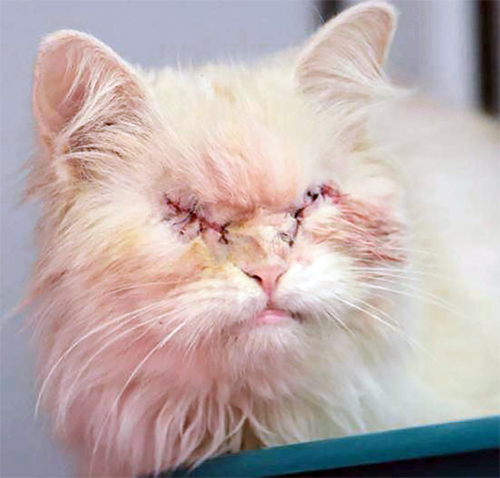 Emily had never interacted with a blind cat before, so she wasn't entirely sure what to expect, but when she stroked the champagne-colored cat's cheek, the friendly feline immediately rolled over for a belly rub. "I was sold!" says Emily. "She purred and purred and was so sweet-natured and seemed so happy. The instant connection I felt was so strong."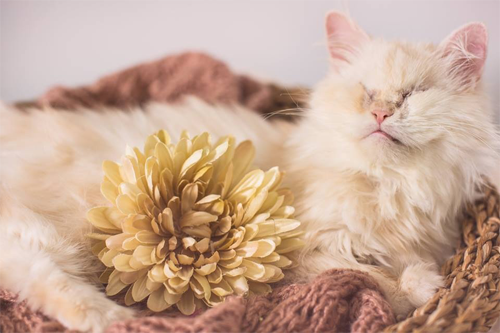 Smitten with the beautiful blind kitty, Emily learned she'd recently been rescued from a pet shop where she'd suffered severe neglect. Not only was she denied the vaccinations she should have gotten, when the fluffy feline developed feline respiratory disease, commonly known as "cat flu," she didn't receive any medical care. "She was left untreated to die – often without food and water, a dirty cage, no bed to lie on, no toys," says Emily. "Over time she just got sicker and sicker."
Eventually, the sweet and affectionate young cat went blind, an experience that must have been both incredibly painful and extremely confusing for her. Fortunately, in the summer of 2014 she was rescued by a woman who routinely visited pet shops in Muscat, searching for animals who were being neglected. "She was taken to a local vet's office who do a lot of pro bono work for strays and abandoned, abused, and neglected animals," says Emily. "They nursed her back to health and removed her decaying eyes to save her life."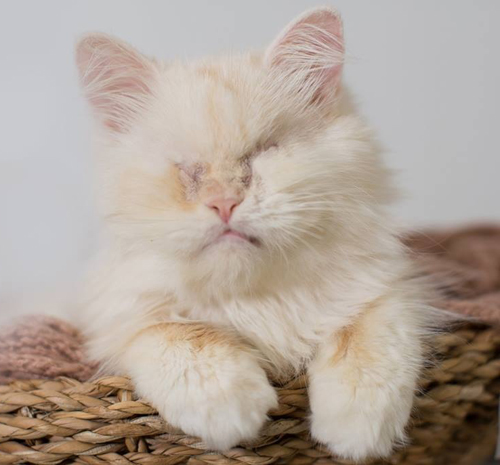 When Emily encountered the stunning feline, she was still recovering from surgery, so she had to wait three days before she could bring the pretty Persian home. "Even though I'd only spent 20 minutes with her, I couldn't stop thinking and talking about her," remembers Emily, and in the interim, she came up with the perfect name for her new pet:  Moet. "Well, she's champagne-colored, and so I wanted a name that reflected her."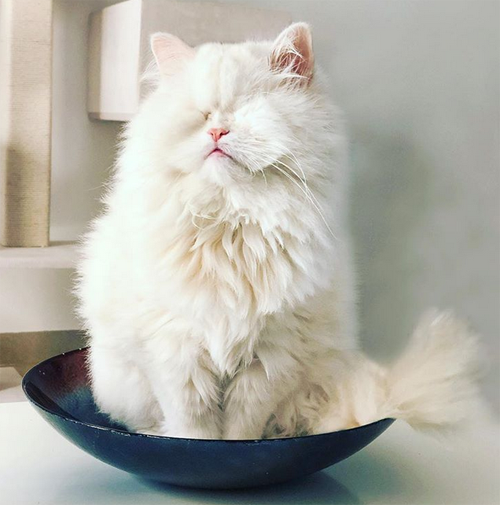 After Moet finished her medication and had her stitches removed, she was discharged from the vet's office, allowing Emily to bring her home. The one-year-old feline adjusted well to her new environment and her new family, and more than four years later, Moet is thriving, although she definitely keeps her mom on her toes. "She gets bored easily and likes lots of stimulation, playtime, and interaction," says Emily.
View this post on Instagram

In fact, this five-year-old feline is so active, Emily's friends and family members are constantly impressed at how well she navigates her home, proving blind cats are often much more capable than people give them credit for. "They play, run, jump, love, cuddle, use the litter box, drink from water fountains, hunt bugs, purr, pester you, and look beautiful — just like any other cat," explains Emily, "but they are more amazing because they do all of this without seeing and make you forget that they can't!"
While Moet is understandably a little wary about meeting new people or going to unfamiliar places, she's a very confident and friendly girl, and Emily thinks she's not all that different from a sighted cat. However, while Emily knows Moet is incredibly capable, she wishes she hadn't suffered the neglect that ultimately caused this remarkable kitty to lose her vision. "I wistfully look at her sometimes and wish I could share my sight with her," says Emily. "To look into her eyes just once, so she can 'see' how much I adore her."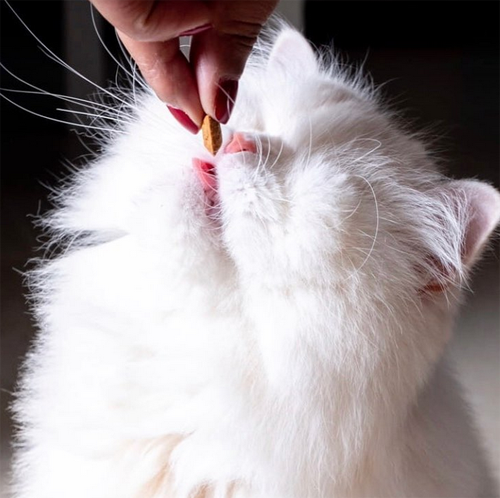 Unfortunately, Emily can't restore Moet's vision, so she's chosen instead to try to raise awareness about special needs cats, especially blind felines, by showing people just how amazing they are. "I think most people expect them to be really tentative and not to be able to get around at all," says Emily. "Our mission is to change that perception so that more blind and other special needs cats are adopted. There are so many in shelters that don't need to be there — they are amazing, capable, loving and, most of the time, like 'normal' cats!"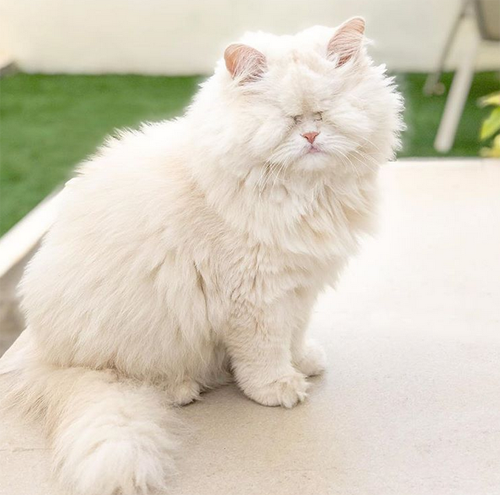 Moet has also inspired Emily to rethink the way she views pet adoption, and in the future, she intends to open her home to more animals who are often overlooked. "I think I'd go out of my way to adopt a cat that had behavioral or physical challenges, one that had maybe had a rough start in life," explains Emily. "I'm very interested in feline behavior also, and believe that every cat deserves love, security, a full belly, and much more."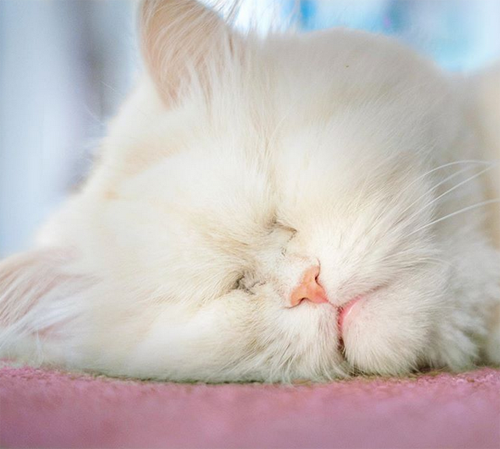 Fortunately for Moet, who suffered horrific abuse during her first year of life, not only was she rescued and given the medical treatment she desperately needed, she found a forever home with Emily, who says this fluffy feline means everything to her. "Once I'd met her, I knew she belonged with me and I loved her almost from day one."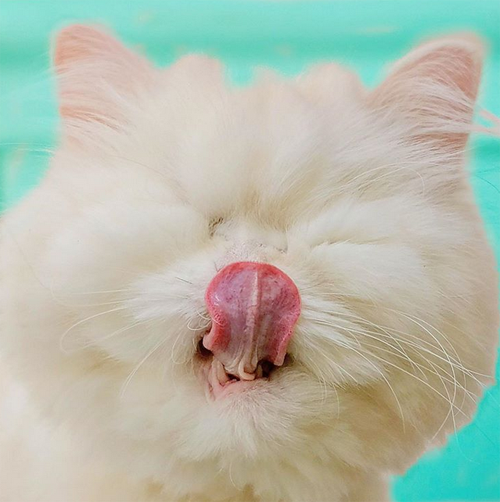 To learn more about this stunning cat, you can follow her on her website, Instagram, Facebook, Twitter, and YouTube.