Sensitive Content
This post includes photos some people may find upsetting.
When Caroline Pierce learned about an orange and white kitten with an irreparably damaged eye via social media, she knew she had to help the tiny feline. "[She] was found in a ditch with her eye already damaged, so we will never know exactly what happened to her," explains Caroline.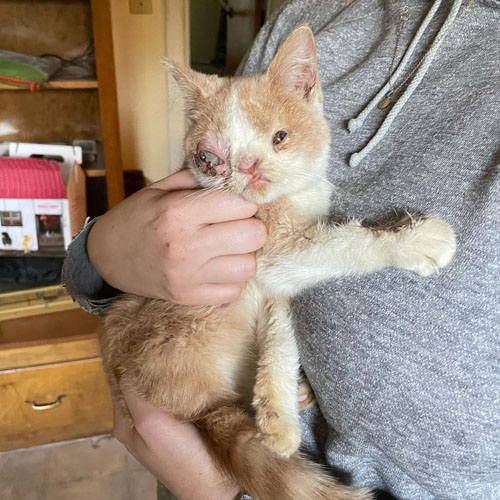 A week after she was rescued, the young cat was surrendered to a local animal hospital, and they in turn transferred her to the Humane Society of North Central Florida in Gainesville. "I'm a medical foster for the local Humane Society," explains Caroline. "I've been a foster for a while now and at one point I did start to notice the lack of interest in the harder medical cases."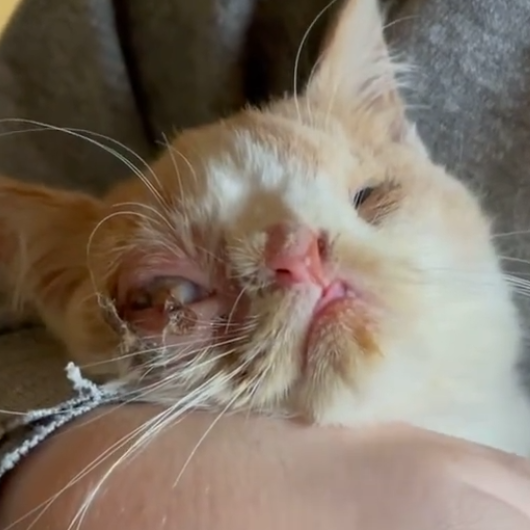 After seeing the four-month-old feline's photo on February 2, 2022, Caroline reached out to the organization's foster department and arranged to pick up the ginger and white cat the very same day. "I got home, took her out of the carrier, and held her in my arms," remembers Caroline. "I knew at that moment she was staying with us for good."
View this post on Instagram
Caroline immediately emailed the Humane Society to let them know she thought she would be able to give the adorable kitten a great forever home, and the organization agreed! However, Caroline couldn't officially adopt her until after she was spayed and completely healed from the surgery to remove her irreparably damaged eye, but that didn't stop her from giving the cute kitten a name: Maitie. "My partner wanted to name her Matey, because of her eye," says Caroline. "I loved it, but wanted the spelling to be a little sweeter."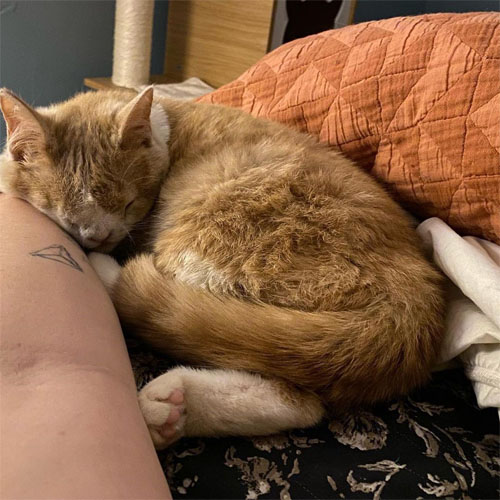 On February 4, 2022, Maitie's eye was removed, and it didn't take long for her to recover, allowing Caroline and her partner to make the adoption official on February 24, 2022.
View this post on Instagram
Several weeks later, this beautiful girl is thriving, although Maitie was diagnosed with eyelid agenesis, a congenital condition characterized by underdeveloped eyelids. "We were told she will most likely need treatment once she's a little bigger to keep that eye as healthy as possible," explains Caroline.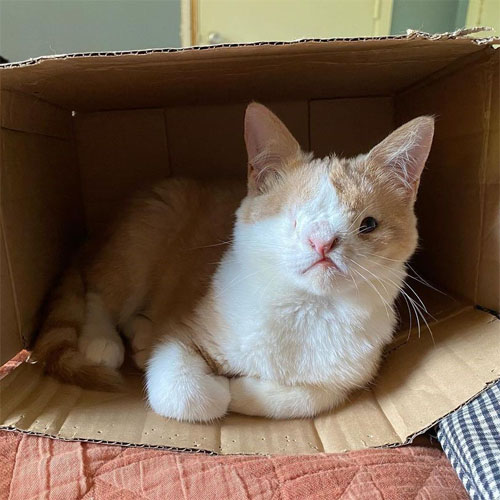 Despite having eyelid agenesis and just one eye, Maitie is still a pretty typical cat. "She loves sitting in her cat tree and looking out the window," says Caroline. "One-eyed cats only judge you half as much because they only see half of what you do."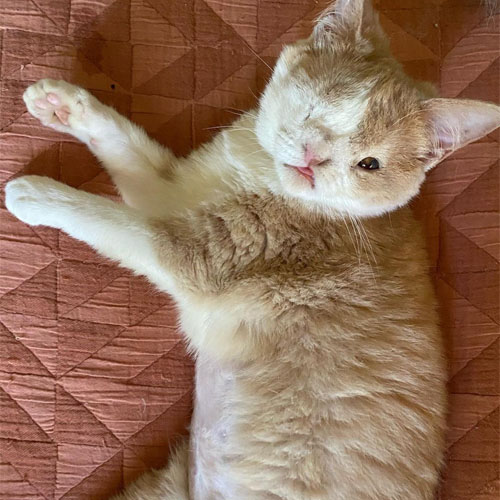 This sweet and good-natured girl also adores spending time with her mom, and one of Maitie's favorite pastimes is keeping Caroline company while she takes baths. "I tell her stories and hide treats around the bathroom," explains Caroline, "and before I get out I always give her a Churu, which are her absolute favorite treats."
View this post on Instagram
However, there's nothing Maitie loves more than giving her mom kisses, a habit Caroline finds both endearing and a little painful. "She will lick my face as long as I let her," says Caroline, "but it becomes raw and hurts after a while and I have to stop her!"
View this post on Instagram
While it's obvious Maitie is an extremely happy cat, when Caroline first started sharing her story on social media, she received a few comments saying she had a poor quality of life and should be euthanized. "I feel like we have definitely proven them all wrong," says Caroline. "Seeing her verve for life, I know with certainty that they were wrong."
View this post on Instagram
Even though Maitie's life got off to a very difficult start, with the help of her mom, this resilient girl has overcome every challenge she's faced. As a result, these two share a very special bond that only has gotten deeper and more meaningful over time. "It's been so special to watch her heal and develop a very strong, beautiful personality," says Caroline. "Maitie means the world to me. She is my best friend."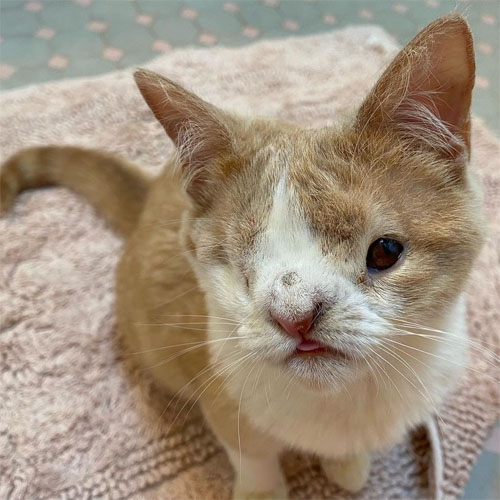 To learn more about this beautiful cat, you can follow Maitie on Instagram.
View this post on Instagram