Tanika and her husband were volunteering at Rescued — a resale store near their home in Moline, Illinois, that's dedicated to raising money for pets in need — when someone surrendered and unkempt and underweight Persian kitten and her parents to the organization.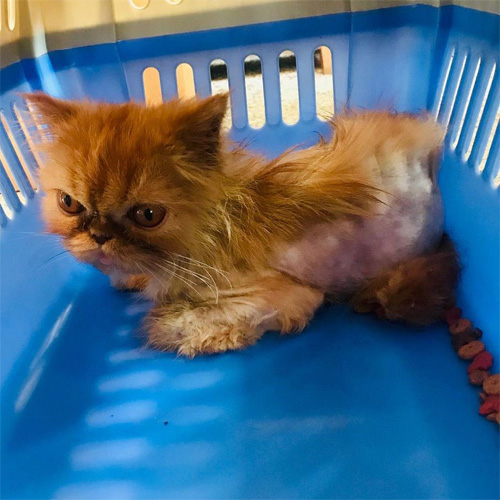 While Rescued doesn't normally allow people to surrender pets to them, it was obvious the little ginger kitten was desperately in need of help. "She was really scared and so very tiny and she just wanted to be held," remembers Tanika. "We were worried that she wouldn't survive."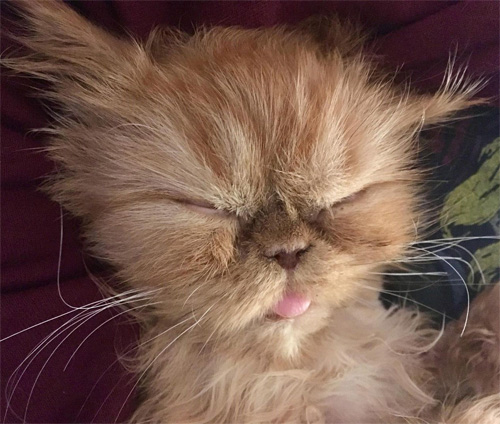 In September 2019, Tanika and her husband started fostering the 11-month-old Persian feline, naming her Minerva Joan Hepburn, or Minnie for short. "I wanted to name her after strong women because I hoped that strength would help her survive," explains Tanika, which is why she gave the fragile feline a moniker inspired by Professor Minvera McGonagall from Harry Potter and actresses Joan Crawford and Katherine and Audrey Hepburn.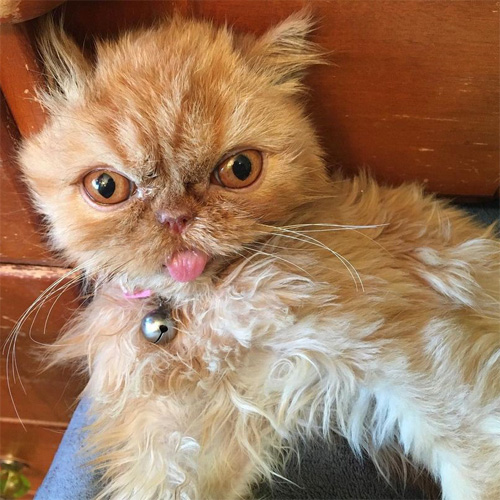 Minnie needed all the help she could get, because when she was a young kitten someone accidentally stepped on her pelvis, causing it to break. Tragically, the injury went untreated, making it one of the many instances of neglect Minnie had already been subjected to over the course of her short life. "Her previous owners were breeding and selling Persian cats out of a dirty, flea-infested van," says Tanika. "Minnie was flea-infested and poisoned by bad flea meds, so most of her fur had fallen out, and she was malnourished."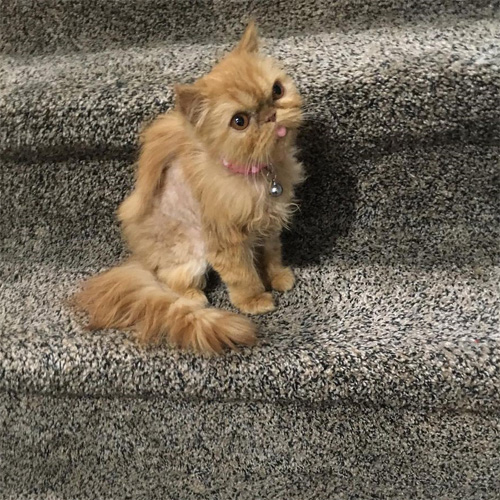 At the time, the couple already had two special needs cats, so Tanika and her husband were confident they would be able to give Minnie the care she needed and deserved. Initially, their plan was to foster the tiny Persian cat until she was healthy enough to be adopted, but they quickly realized there was no way they'd ever be able to part with Minnie. "After caring for her — and seeing her get healthier and overcome obstacles — we fell in love," remembers Tanika. "We didn't trust anyone else to take care of her."
View this post on Instagram

When Tanika and her husband adopted Minnie, she was still able to use her hind limbs, despite the untreated pelvic injury she had suffered. However, as the young feline developed, it became more and more difficult for her to move like a typical cat. "As she got healthy and grew more, her back legs just couldn't support her," says Tanika. "She isn't paralyzed but she can't use her back legs anymore."
View this post on Instagram
Consequently, Minnie — with her parents' help — had to figure out how to get around without using her back legs. Thankfully, she's incredibly resourceful and resilient, and now not only is Minnie able to go pretty much anywhere she wants to go, she can even go up and down stairs without any assistance. "Sharing in her triumphs of not only overcoming obstacles — but thriving — is amazing," says Tanika.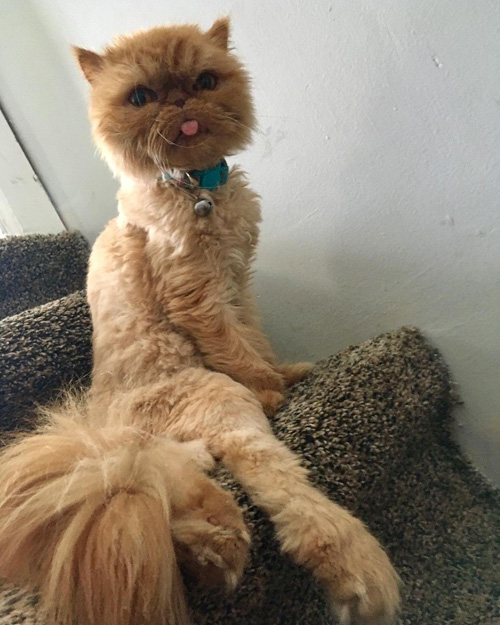 While climbing stairs isn't a challenge for Minnie, she does have trouble getting in and out of a litter box, so her parents tape pee pads to the floor for her to use. Minnie also has difficulty defecating, so her dad assists her by expressing her bowels. "We also have to keep her fur shaved because she can't squat to pee and so she sort of tilts sideways and often gets pee on her sides," explains Tanika, "so my husband has learned how to shave her."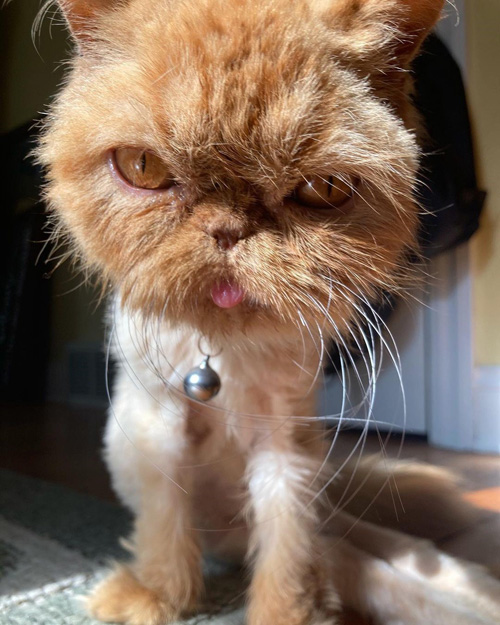 Even though Minnie requires a bit more care and attention than a typical cat, she's a very happy and active girl who loves to play with ball toys and laser pointers. She also likes napping next to her favorite heating vent during the cold Illinois winters, eating treats, and chasing after the other cats who share her home. "One of her new favorites is cuddling and napping with her new fur brother — another special needs Persian — Wimsey!" says Tanika.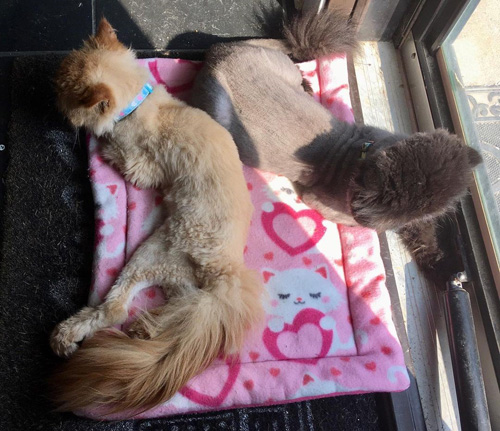 While it's obvious Minnie has an excellent quality of life, Tanika has found some people still assume she must be suffering or in pain. Fortunately, that definitely isn't the case for Minnie, and Tanika hopes sharing her story will help other people realize just how rewarding it can be to care for a cat with special needs. "There's a bond that forms between you and a special needs pet like Minnie that's so unique and incredible," says Tanika. "We feel so honored to be able to care for and love her."
View this post on Instagram
Without a doubt, the attention and affection this special couple has given Minnie over the past two and a half years has made all the difference in her life, but Tanika insists she and her husband are the lucky ones. "Her strength and determination are so inspiring to me," says Tanika. "She means the absolute world to us and her love and trust are amazing gifts!"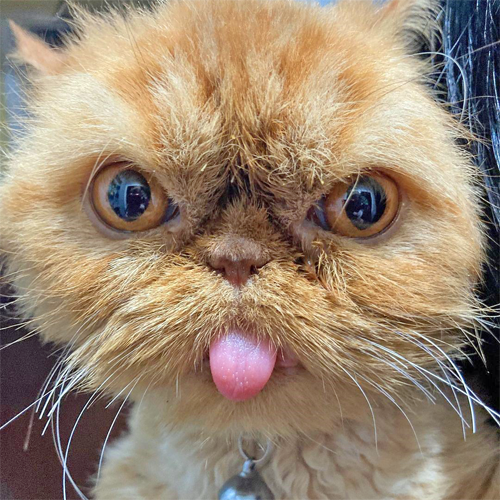 To learn more about this beautiful cat, you can follow Minnie on Instagram.