Once a month, Donovan "Donny" Smith goes to a day program in Long Island, New York, where he provides much-needed companionship and comfort to people living with Alzheimer's disease. However, unlike the other volunteers, Donny is blind, he has a neurological condition called cerebellar hypoplasia, and he's a cat.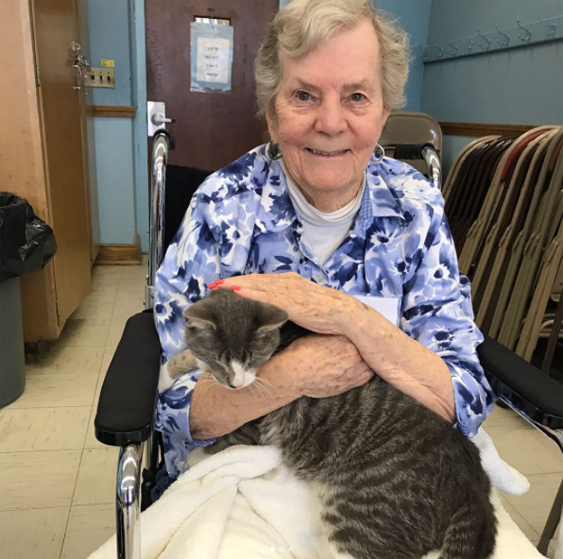 When Donny was rescued by the North Shore Animal League as a kitten, he was suffering from a severe infection that necessitated the removal of both of his eyes. The North Shore Animal League, a no-kill rescue and adoption organization in Port Washington, New York, also determined Donny had cerebellar hypoplasia, a non-progressive, non-contagious neurological condition that causes affected cats to experience difficulty with balance and motor skills. While the exact cause of Donny's cerebellar hypoplasia is unknown, it's likely he — like the majority of cats with this condition — was exposed to the feline panleukopenia virus in utero which prevented his cerebellum, the part of the brain responsible for coordination and fine motor skills, from fully developing.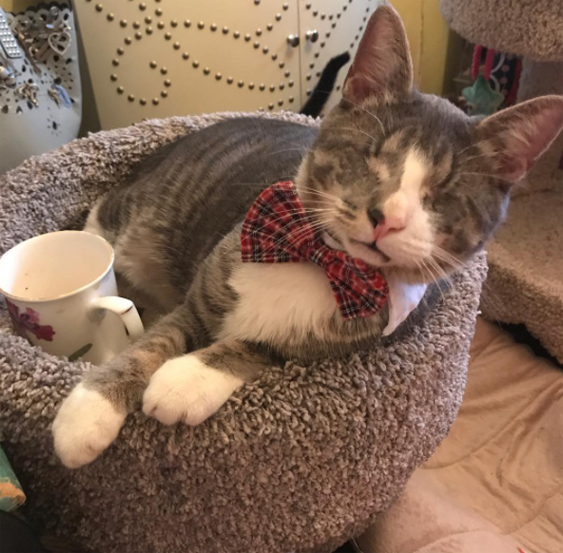 Despite his challenges, Donny quickly found a home with Susan Smith, a Long Island woman who had already adopted multiple blind cats from the North Shore Animal League. According to Susan — who adopted Donny on March 6, 2016, when he was approximately five months old — there are a lot of misconceptions about blind cats, and she has found they are no more difficult to take care of than sighted cats. "It's very rare for them to bump into things, and they have absolutely no trouble finding their litter boxes and food and water bowls," says Susan.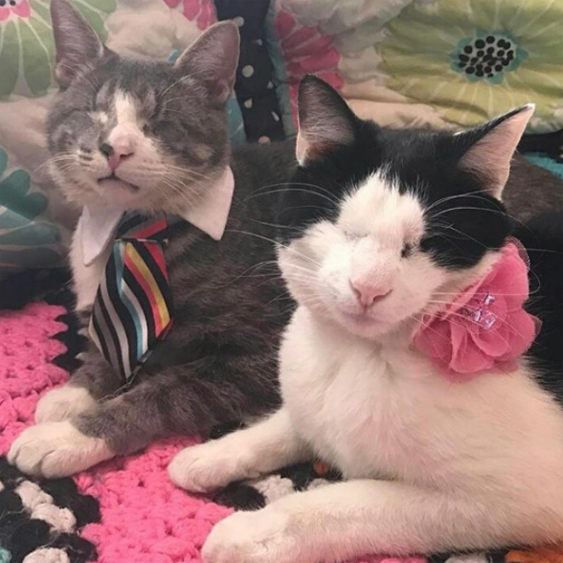 However, shortly after Susan brought Donny home, she realized he was a little different from her three other blind cats, and it wasn't just because he had a wobbly walk. Susan quickly discovered Donny was exceptionally loving and affectionate and he wanted nothing more than to spend time with her and her other cats, Blossom, Cookie, and Ray, who are all blind, and Jasmine, who is sighted. Many people who have opened their homes to wobbly cats —  as they're affectionately known by their fans — have noticed felines with cerebellar hypoplasia seem to be markedly more affectionate than cats without the neurological condition.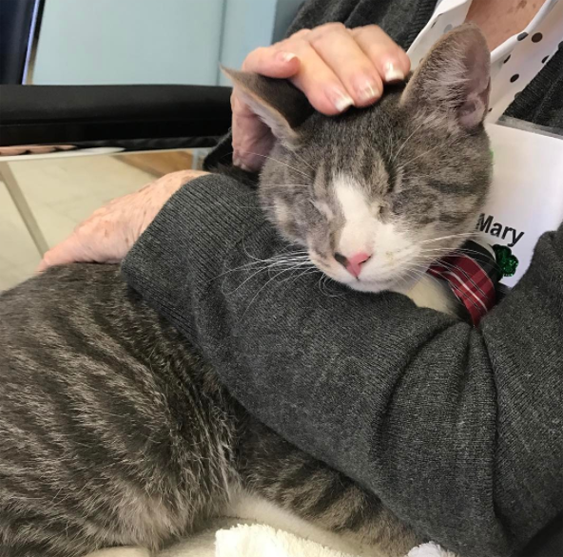 Due to Donny's unique disposition, Kate Haslbauer, a volunteer at the North Shore Animal League, thought he might make an ideal therapy cat. Excited by the prospect of using Donny's special temperament to help others, Susan had him tested by Dorit Shevach, a cat behaviorist at the North Shore Animal League, and he passed with flying colors! After receiving his certification as a therapy cat from the North Shore Animal League, Donny began spending time with people with Alzheimer's and dementia. Once a month, this special cat visits a day program for Alzheimer's patients and a nursing home where people living with dementia get to cuddle and pet Donny, an experience this exceptionally affectionate feline loves as much as the patients do.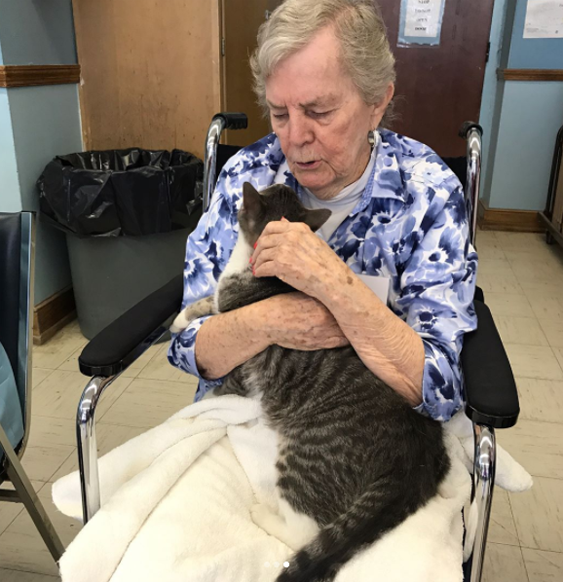 According to Donny's owner Susan, "When we first get there he is a little scared and very clingy to me, but as soon as I place him in a lap it's like something clicks in his brain and he immediately relaxes. It's like he knows he has a job to do." While not many cats would enjoy spending an hour being passed from person to person, it's the ideal afternoon for this extraordinary boy!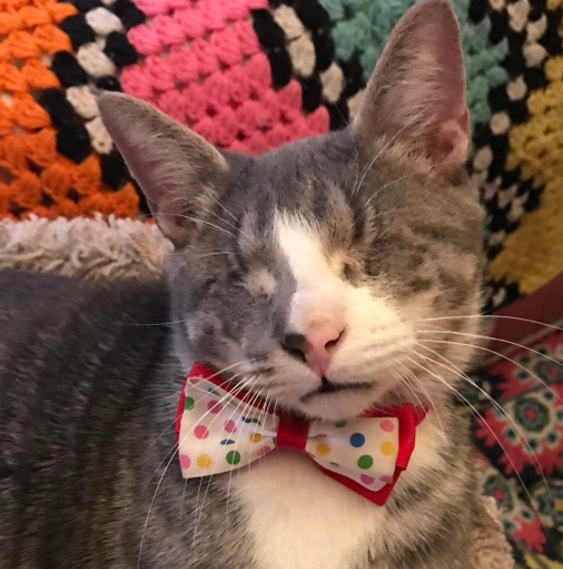 Not surprisingly, Donny and the patients with dementia aren't the only ones who enjoy the therapy sessions. "I am very, very proud that he's a therapy cat," says Donny's owner Susan. "I know that not too many cats have the temperament to do it and seeing the smiles on the patients' faces make me so happy." While volunteering as a therapy cat has provided Donny with an outlet for his affection, Susan recently adopted a kitten with cerebellar hypoplasia to provide her special boy with a companion who loves snuggling as much as he does. Ozzy the kitten and Donny became fast friends, and the pair are practically inseparable, indicating this remarkable therapy cat has a seemingly limitless amount of love to give.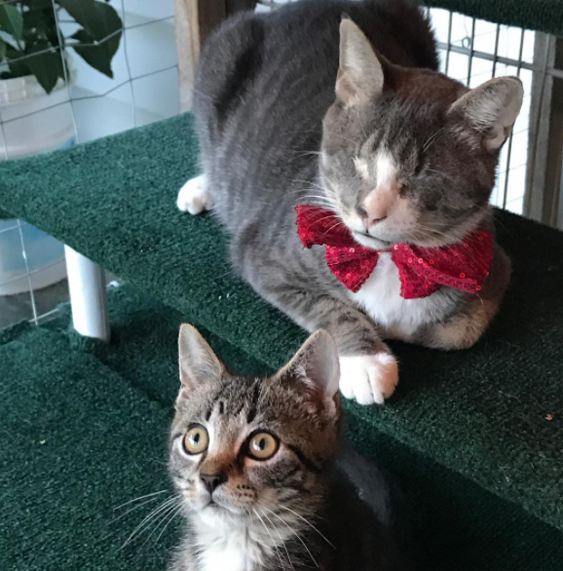 If you think your feline might have the right temperament to become a therapy cat, you can contact your local animal rescue for information about the certification process in your area. You can also contact Pet Partners, a national organization devoted to training therapy pets and connecting them with volunteer opportunities.
To learn more about Donny and his amazing family, you can follow them on Instagram.