When Michele Hoffman, the president and co-founder of Milo's Sanctuary, first heard about Thomas, a handsome ginger cat who had been the victim of horrific abuse, she knew she had to help the injured feline. Thomas had been living on the streets of Littlerock, California, a small town north of Los Angeles, for quite some time, relying on the kindness of people like Judie Merrill to provide him with food.
For months, Judie had been feeding Thomas, who had most likely been abandoned in the high desert by his owner, when one day in the summer of 2016, the friendly feline turned up in her backyard: he was in a daze and suffering from severe acid burns on the right side of his face.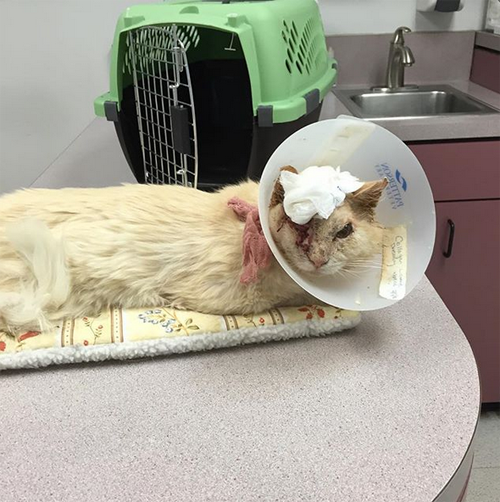 Judie immediately rushed Thomas to an animal hospital hospital where the vet found the beautiful orange cat's right eyelid had been burned off, some of the burns went down almost to the bone, and he had an upper respiratory infection. While the veterinarian recommended putting Thomas to sleep, Judie refused, instead turning to social media in hopes of helping the severely injured cat.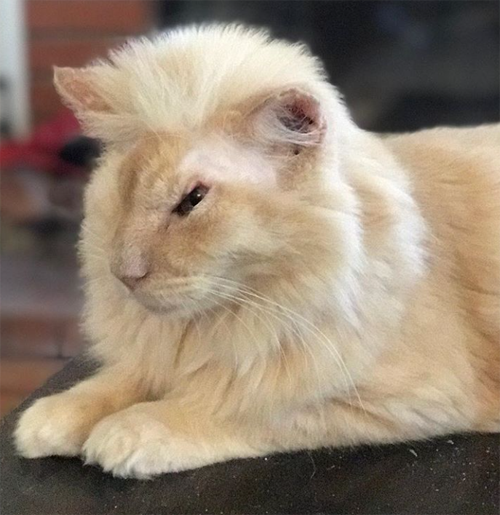 Michele from Milo's Sanctuary, a non-profit organization in California that is dedicated to helping less adoptable cats, answered the call, taking Thomas to the sanctuary's vet to begin what turned out to be approximately three months of treatment. "It took six weeks at our veterinarians' office," says Michele, "and lots of honey and sugar bandages, IV antibiotics, and pain medications since there was basically nothing to graft the skin to."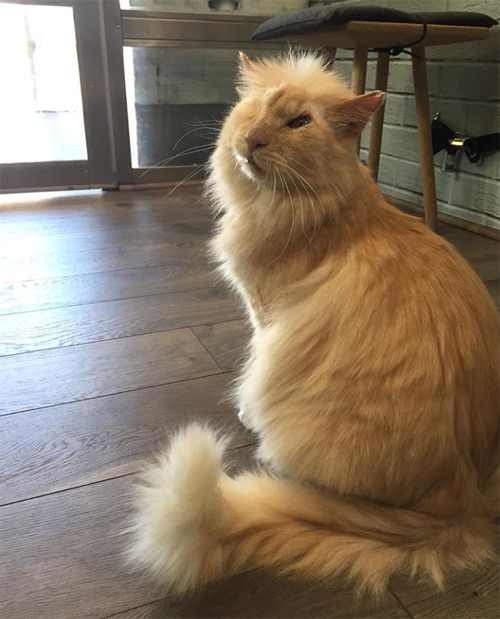 In addition to the injuries he sustained as a result of appalling abuse, the vet determined Thomas — who is approximately seven years old — had feline immunodeficiency virus (FIV), hadn't been neutered, and had multiple scars from fighting with other cats while living on the streets. Even though Thomas had lived an incredibly difficult life and had been the victim of unthinkable cruelty, he maintained a happy disposition and was still willing to trust people.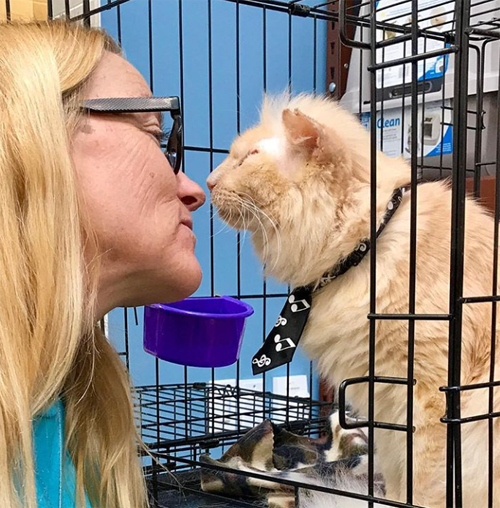 After six weeks of treatment, Thomas underwent two surgeries, and his recovery had to be monitored very closely as being FIV positive puts him at and increased risk for infection. "He healed well," remembers Michele, "and through it all he purred and loved his food!"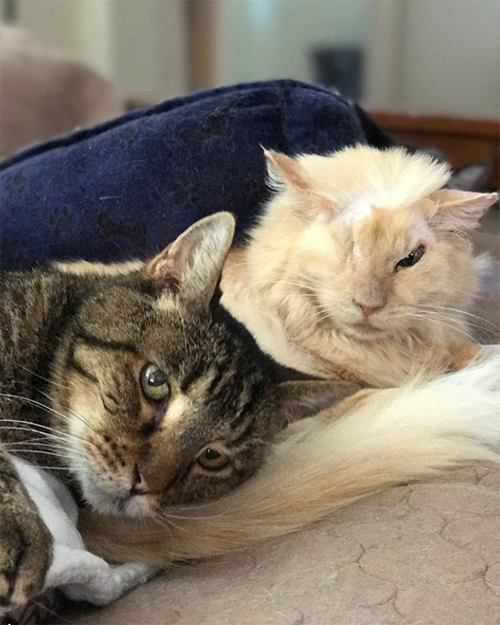 During this time, Michele and Thomas formed an incredibly strong bond based on mutual love and respect. "I spent more than one night sleeping in the bathroom with him to make sure he wasn't scared or lonely," says Michele. After he recovered from his injuries, Thomas joined the other cats at Milo's Sanctuary, and thanks to generous donations, he became a member of the organization's Lifetime Care Program, which means he will always have a home, food, and medical care.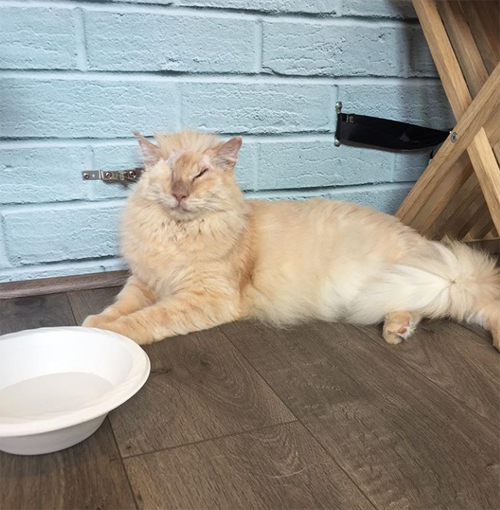 This affectionate feline, who once had to fight with other animals for scraps of food, loves his new life at Milo's Sanctuary, and the safety and security of the environment has allowed Thomas to showcase his caring and nurturing side. "He loves the kittens we foster," says Michele, and the organization's volunteers and staff members call him "Papa Lion" because he's established himself as a father figure at the sanctuary. "He's a happy boy who loves people and treats and enjoys being spoiled rotten," says Michele.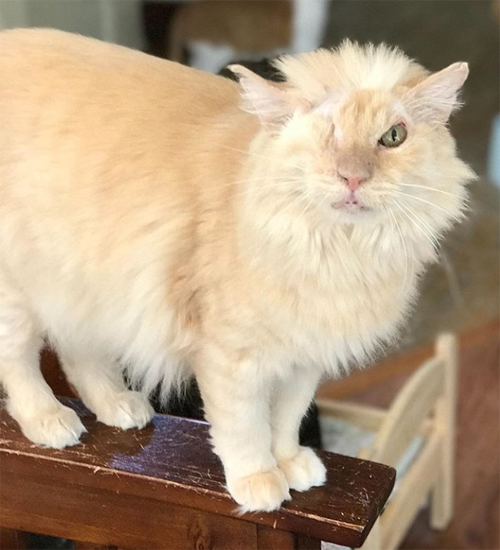 However, Thomas's medical issues didn't end after he recovered from the abuse he suffered: due to his FIV positive status, this inspiring ginger cat is prone to stomatitis, a painful inflammation of the mouth and gums, and he had to have all of his teeth removed. Still, Thomas is loving his new life at Milo's Sanctuary, and while he's experienced unspeakable trauma, he's very much a typical cat. "[Thomas likes] sleeping, knocking stuff off of counters and judging you when you don't get his food fast enough!" says Michele.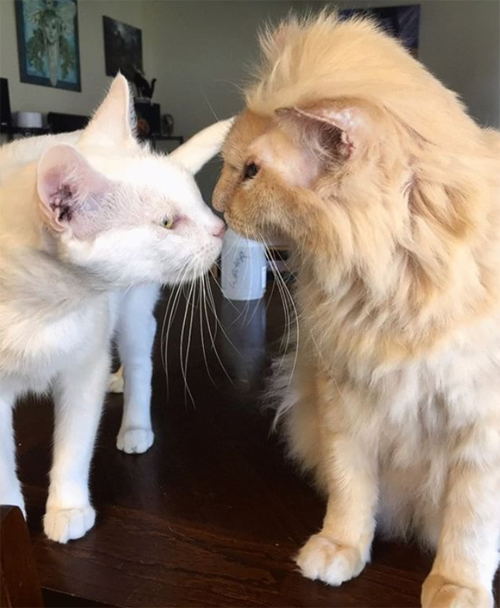 In fact, having had lots of experience with special needs cats, Michele thinks most felines are the same, regardless of any challenges they might face. "They don't know they are blind, or have a birth defect," Michele explains. "They are just cats and full of love and nonsense."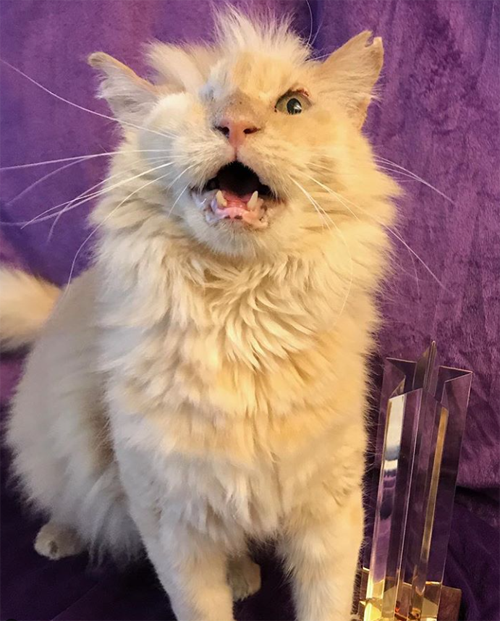 However, it's hard to deny that there's something special about Thomas, and Michele hopes this adorable ginger cat can help raise awareness about animal cruelty and abuse. "Our goal for Tommy in 2018 is to be the voice of the abused and to start doing more advocacy for stopping abuse of any animal anywhere in the world," says Michele. Thomas has already had a significant impact as an advocate, and his story has encouraged more people to report animal abuse and adopt pets with special needs.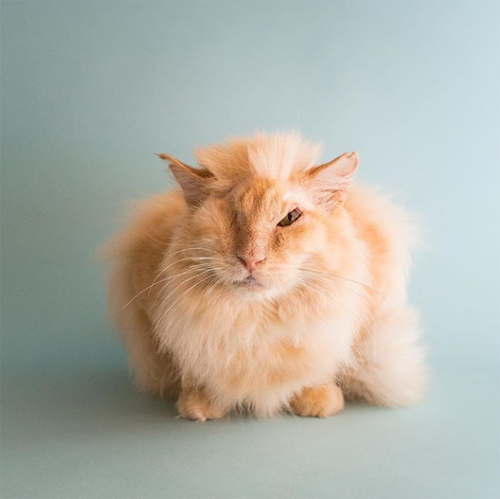 This beautiful boy is also an inspiration to Michele and the many people who have been touched by his story. "I have a deep respect and admiration for him," explains Michele, "and how he's come through such pain, fear and abuse with such a noble heart and such forgiveness."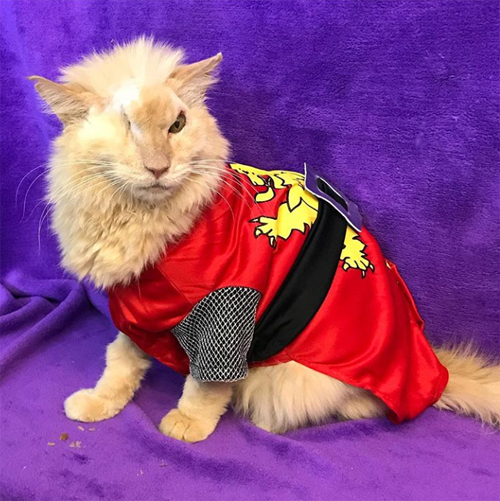 While Thomas's injuries have left him with scars that will never go away, the horrific abuse he suffered is also responsible for giving him someone who will be by his side for the rest of his life. "Tommy is my friend," says Michele. "He is proof that given a second chance, you can change the world and make it a better place."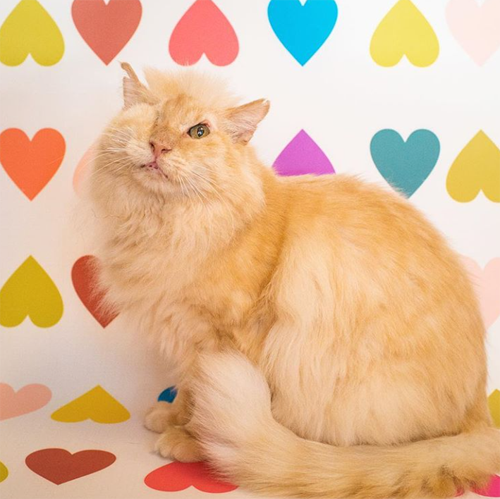 To learn more about about this inspiring cat, you can follow Thomas on Instagram.
You can also follow all of the other amazing cats from Milo's Sanctuary on Instagram.