When Danielle Chavez learned about a family of homeless felines who were living on the grounds of a casino near her home in Las Vegas, she knew she had to help the mother cat and her four kittens. "I am a volunteer trapper with our local non-profit [C5] here in Las Vegas and I wanted to help," explains Danielle.
One of her fellow volunteers had already managed to rescue three of the kittens using a humane cat trap, but he had been unable to get the mom and the remaining baby. When Danielle discovered the elusive kitten, like his litter mates, had a painful eye condition, she knew she had to at least try trapping him. "The thought of a kitten living on the streets — in the cold, in pain — was so upsetting to me, so I decided to help," explains Danielle.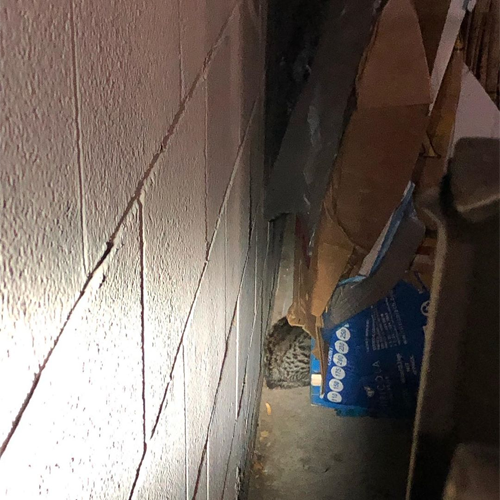 In December 2018, Danielle and another volunteer from C5 went to the casino, and after two hours of attempting to catch the incredibly savvy and smart kitten, they were finally able to get him using a drop trap. "We ended up barricading him under a bunch of pallets and set up a drop trap on the other side of a wall," remembers Danielle. "The other trapper was on the opposite side of the wall from me and scared him, and I was ready on the other side ready to pull the cord on the drop trap."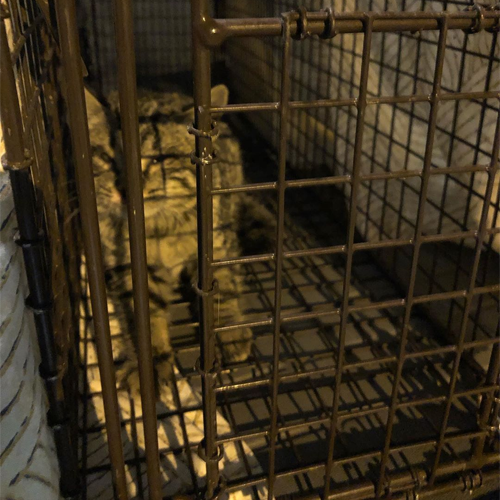 After trapping the little tabby kitten, who Danielle named Niko, the pair attempted to catch the mother cat, but she was far too afraid to go anywhere near the trap. However, when they returned the following evening, they were able to get the mom using a drop trap, and after she was spayed and given medical treatment, the mother cat — who was not welcome at the casino — joined a managed colony of other free-roaming felines.
While the mother cat was in relatively good health, all of her offspring had eye issues, and a medical examination revealed Nico, who was approximately eight weeks old when he was rescued, was born without fully developed eyelids, a congenital condition know as feline eyelid agenesis, as well as entropion.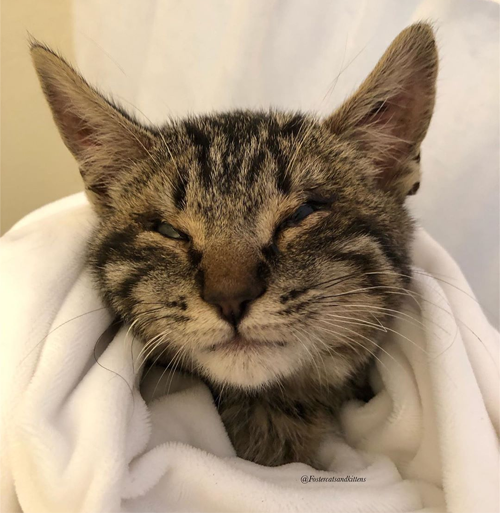 "One of Niko's eyes barely had an upper eyelid at all, the other one was not as severe, but still bad," says Danielle of Niko's eyelid agenesis. "Entropion is a condition where the eyelid folds inward, causing the lashes to rub on the cornea. This condition is very painful and can cause infection and can lead to blindness."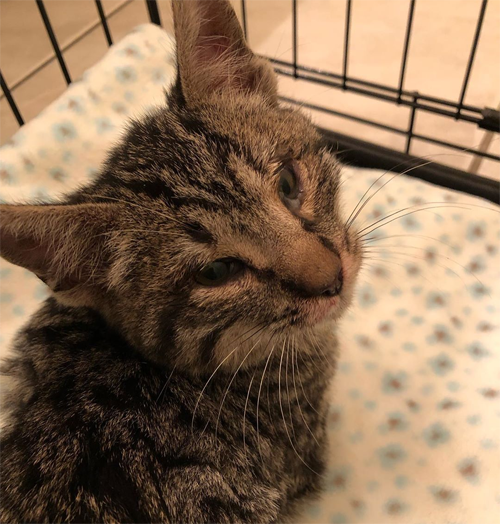 In order to alleviate discomfort caused by entropion, Danielle was instructed to put lubricating  and antibiotic drops in Niko's eyes multiple times a day, a particularly difficult task because the young feline was feral when he was rescued. "He would run and hide from me every time, which made his socialization very difficult," explains Danielle. "I was the mean lady who was chasing him around every day to put drops in his eyes."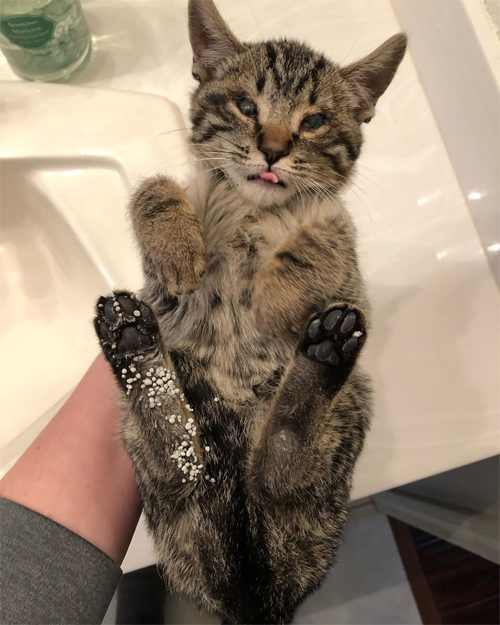 However, Danielle knew Niko was at risk of losing his eyes if she didn't give him the treatment he needed, so she persisted, even though it made it much harder for her to win the feral feline's trust. Niko also needed regular treatments for his entropion, which he definitely didn't enjoy.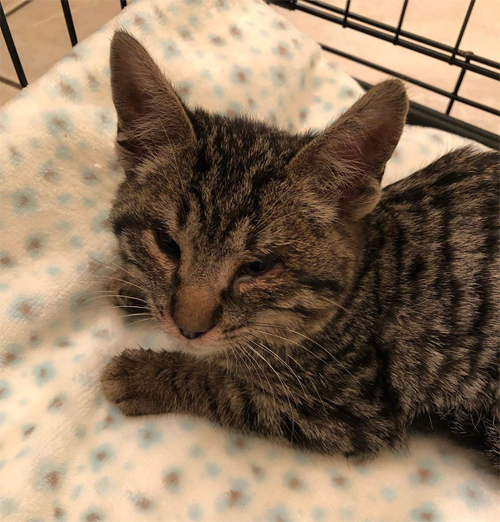 "We would go every two to three weeks to the specialist to have his eyelashes removed," says Danielle, because one of the biggest threats to cats with entropion is eye irritation and trauma caused by their own eyelashes. "He also had several cryosurgeries to freeze the area around his lashes to prevent them from growing back."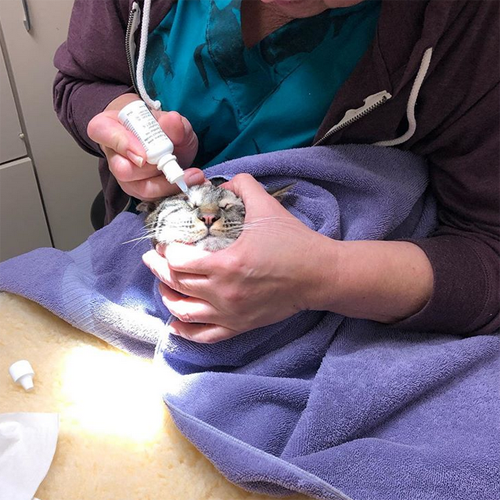 One he was old enough, Niko also had reconstructive surgery to treat his eyelid agenesis, as well as a tissue graft on one of his eyes after he developed a hole in his cornea. Not surprisingly, helping Niko through so many health challenges allowed Danielle and her husband to develop a unique bond with the special needs kitten, but she had no intention of permanently adopting him.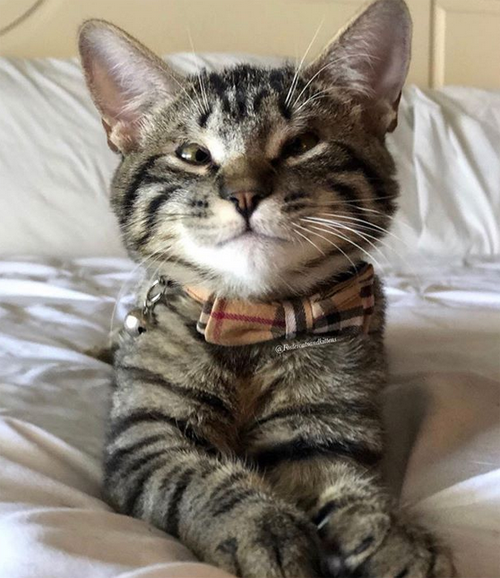 "I've fostered countless cats and kittens and truly believe that goodbye is the goal," explains Danielle, but while visiting a friend in New York City, she learned her husband wanted to keep Niko forever and she discovered she shared his sentiment. "My husband knew it for a long time, but for me — when you have the mentality that you honestly have to have when you rescue and foster — deciding to adopt is a very difficult decision."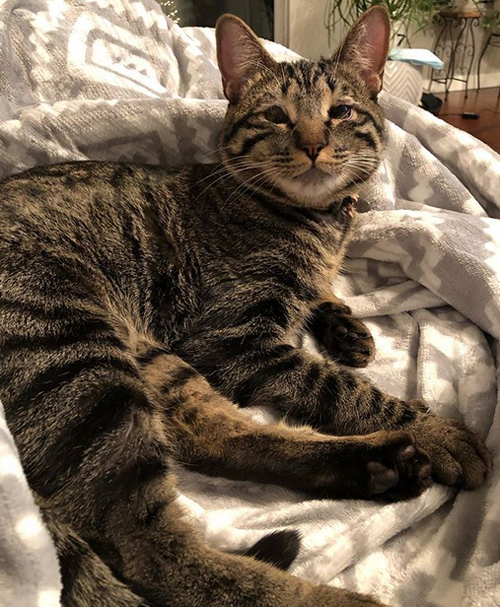 As a foster parent, Danielle had come to view herself as a bridge between a difficult beginning and a happily ever after, but neither she nor her husband could bear the thought of Niko — who they had worked so hard to socialize — having to adjust to a new home.
View this post on Instagram
More than a year after he was rescued, Niko is thriving in his forever home, and he absolutely adores playing with Mateo, his adoptive brother who also has special needs, or on his own. "He loves these little sparkle pom pom balls and throws them up in the air and stands on his hind legs to catch them," says Danielle. "He plays fetch with them also."
View this post on Instagram

In addition to playing fetch, Niko has learned how to give his parents a fist bump for a treat, proving this once feral feline has come a very long way since that day in December 2018 when Danielle and another volunteer spent two hours trying to trap him.
View this post on Instagram
However, due to the nature of Niko's entropion, he may need another round of cryosurgery, but Danielle and her husband are determined to give this special boy the care he needs to thrive. "He is funny, loving, and has taught us so much about strength and never giving up," says Danielle. "This little guy is so brave and we truly feel lucky to have him in our lives. Our little Neeks means the world to us."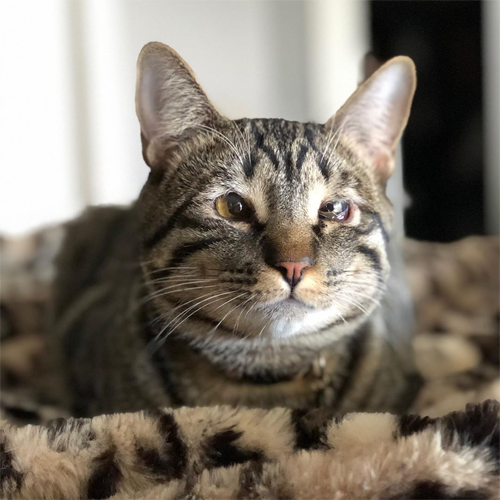 To learn more about this handsome cat, you can follow Niko on Instagram.