When Zoli delivered a litter of kittens at a vet's office in Kalamazoo, Michigan, on May 23, 2016, after a long and difficult labor, everyone, including her foster mom Lindsey, was surprised when they discovered the newborn cats were Manx, a breed of feline known for being tailless or having extremely short tails. "I had no idea she would give birth to Manx kittens since she has a basically normal tail," says Lindsey.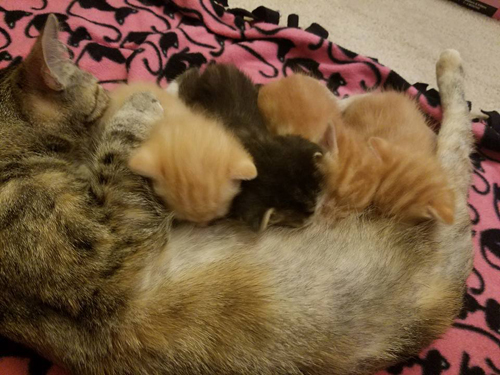 Aside from being tailless or having very stumpy tails, Zoli's kittens were seemingly typical and healthy young cats. However, less than a week later, Lindsey noticed one of the kittens, a tiny tailless cat she and her partner at the time had named Pebble, appeared to have some issues with his bladder. "Every time I picked him up to weigh him," remembers Lindsey, "he peed on me."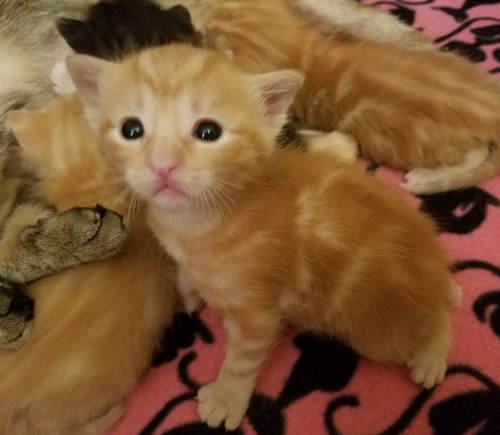 Concerned, Lindsey did some research, and she realized Pebble might have been born with Manx syndrome, a congenital condition that affects some — but not all — naturally tailless cats. "I knew what Manx cats were but had never heard of Manx syndrome before," explains Lindsey. "I immediately looked up everything I could find and talked with my vet."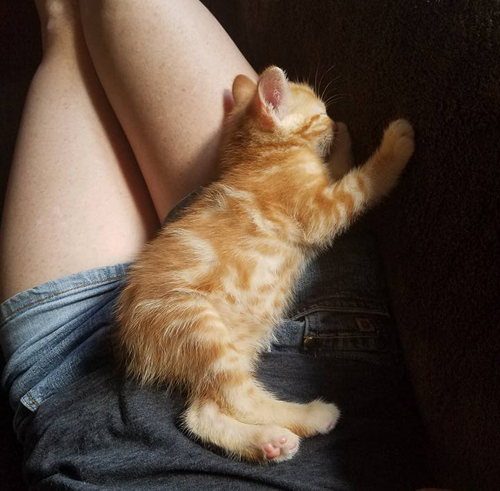 Through her independent research and her vet, Lindsey learned that Manx syndrome causes affected cats to be born with missing or malformed lower vertebrae which can cause a number of problems related to the nerves in the bladder, bowels, and legs. "Manx syndrome cats are frequently bowel and/or bladder incontinent, and have issues walking with their hind legs," explains Lindsey. "Bunny-hopping is a characteristic of Manx syndrome because they can't move their back legs independently."a
After thoroughly examining Pebble, the vet told Lindsey the little kitten had the most severe case of Manx syndrome he had every seen. While some people, including medical professionals, think cats with Manx syndrome aren't capable of having happy and healthy lives, Lindsey's vet didn't share this sentiment and agreed to do everything he could to help Pebble. "We got lucky that our vet had experience with treating Manx syndrome," says Lindsey. "He was willing to put in extra work to learn with us."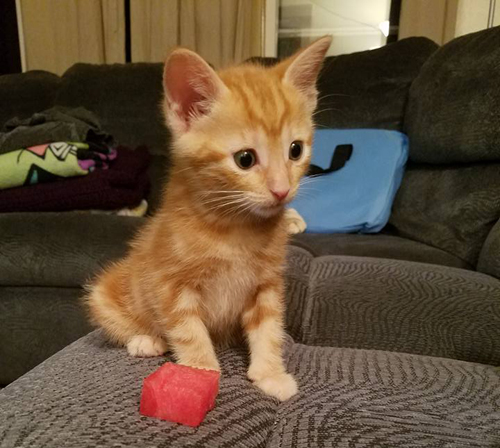 Having lost her mother just six weeks earlier, Lindsey was still very much in mourning when Pebble came along, but she still felt compelled to do everything in her power to give him the chance she knew he deserved. "I think the timing was perfect," says Lindsey. "He gave me a purpose and someone to love and look after." While she'd intended to foster Pebble until he was able to find a forever home, Lindsey couldn't help but develop a special bond with him as she gave him the extra care and attention he needed to thrive.
When Pebble was approximately four months old, Lindsey realized there was no way she would ever be able to part with the adorable ginger kitten, especially when he developed a bowel impaction, a serious and potentially life-threatening medical emergency. "I wanted to know that he would be taken care of and given the best chance at a good, healthy life and I knew I was able to give him that," says Lindsey. "I wouldn't trust his care to anyone else."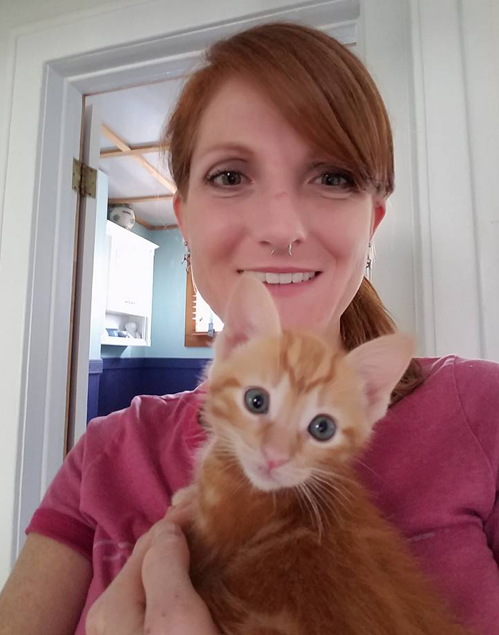 On May 23, 2019, Pebble will celebrate his third birthday, and while he's had a number of health issues over the past few years, he's an extremely happy and active young cat. In addition to eating wet food, this handsome ginger boy enjoys playing with wand and catnip toys and he loves spending supervised time outside. "I call Pebble a wild bunny," says Lindsey. "He loves running around the yard at full speed. He's amazingly fast and I think he actually runs better than he walks."
In addition to being incredibly agile, Pebble is very smart, affectionate, strong, and determined, making him an inspiration to people and animals alike. "He does whatever he puts his mind to, even if he has to do things a different way than the other cats," explains Lindsey.
Still, having Manx syndrome has caused this special feline to have some serious health challenges, including mega colon, which required him to have his colon surgically removed. Pebble is also somewhat urinary incontinent, so he has to wear diapers, something he doesn't necessarily enjoy.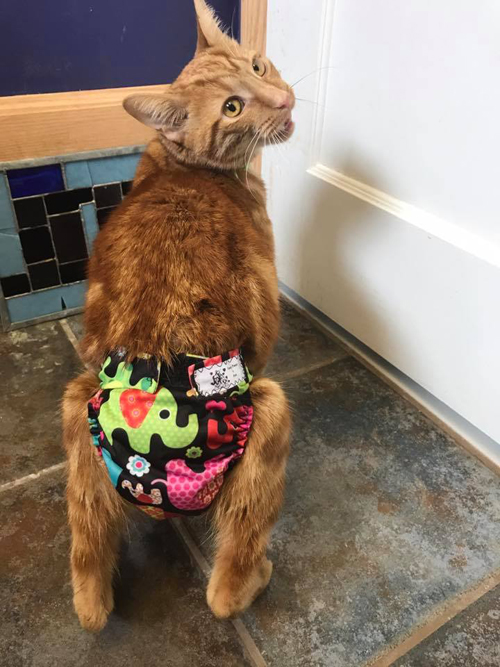 Without a doubt, Pebble requires more care than the typical cat, but Lindsey believes that for the most part, he's a fairly average feline, as are the majority of kitties with Manx syndrome. "Just because these cats have hind end issues doesn't mean they aren't as smart, spunky, playful, and adventurous as other cats," says Lindsey. However, she does have to admit that Pebble and other special needs cats like him are undeniably unique in other ways.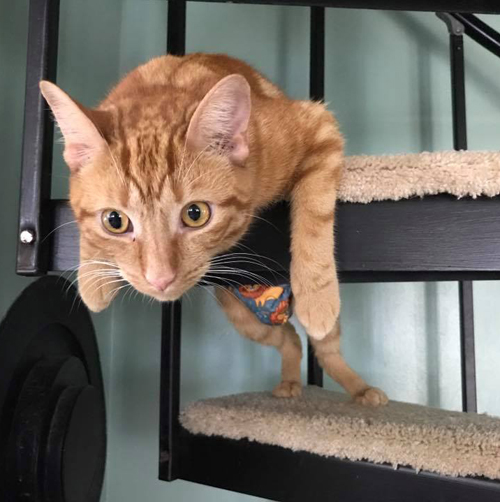 "Everyone I know with a special needs cat has bonded with their cat in ways they don't always with normally-abled cats," says Lindsey. "These cats can live perfectly happy lives. They don't know they are any different and they don't feel sorry for themselves."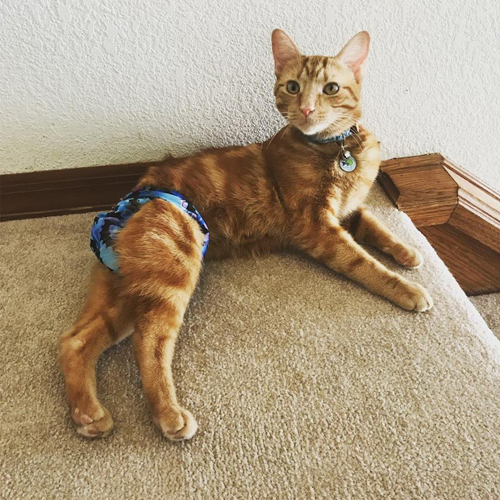 Instead of pitying himself and his situation, Pebble provides comfort and affection to those around him, especially his mom. In fact, this remarkable little guy is Lindsey's emotional support animal, proving she needs him just as much as he needs her. "He's very intuitive," says Lindsey. "He gives me love when I'm depressed, and he really can tell when I need him."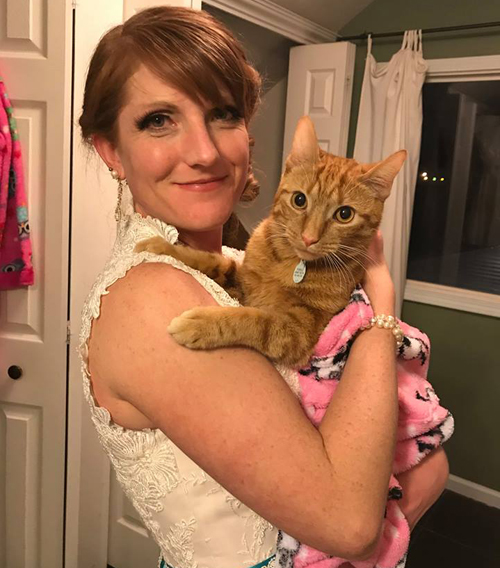 Not only does Pebble provide Lindsey with the support she needs to cope with emotional challenges, he has taught her how to become a more patient person and has even helped her in her work to earn a doctorate in physical therapy. "I can relate things I'm learning in school back to him, so I can better understand why he has the problems he does and that allows me to explain it to other people to increase their understanding," says Lindsey.

Her time with Pebble — which has included several flights and two cross-country road trips — has also shown Lindsey the importance of trust and forgiveness, and she is grateful for the nearly three years she has shared with this truly special boy.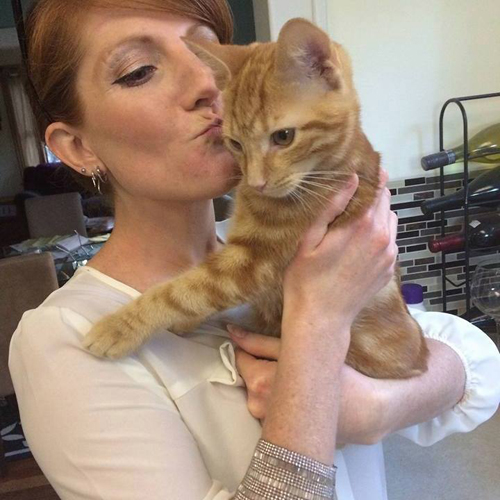 "As much as he dislikes diaper changes and his daily butt baths, he forgives me instantly," says Lindsey. "Despite everything he's been through — with multiple bowel impactions, major abdominal surgery that reorganized his digestive system, and several urinary tract infections — he is still so brave and happy and loving. He trusts me to do what is best for him."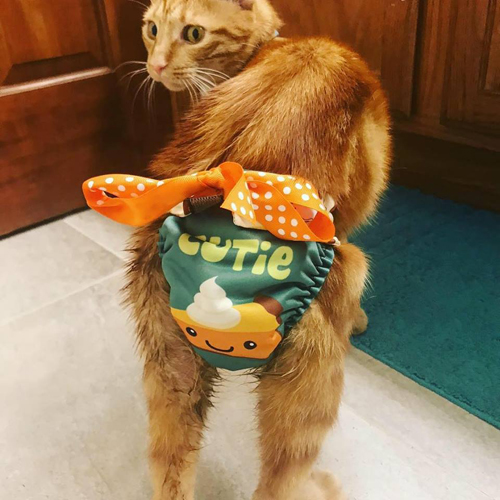 To learn more about this adorable cat, you can follow Pebble on Facebook.