When Vanessa Fedeli and her fiancé Zach Roy got a call from their friend Heidi at Heidi's Kitty Haven asking them if they would foster a special needs kitten who was scheduled to be euthanized the following day, the couple couldn't refuse.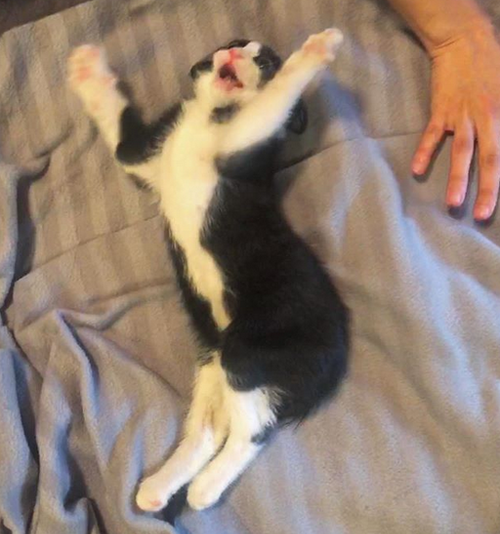 "Heidi had been contacted by the SPCA in Montreal saying they had a kitten who had been crushed in a door who was paralyzed and incontinent but he was also the happiest little dude," says Vanessa.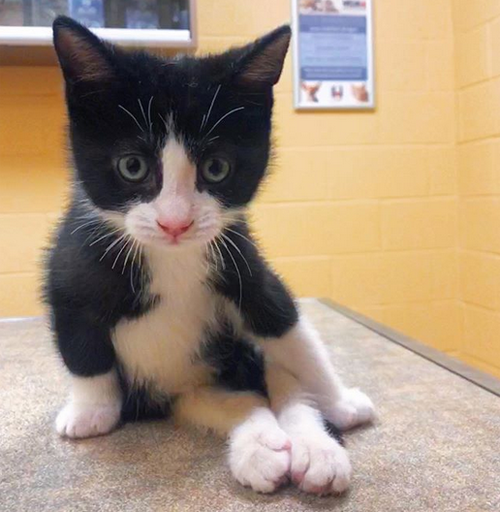 While they'd never cared for a cat with paralysis before, Vanessa and Zach had lots of experience looking after a kitty with incontinence thanks to Amun, who has Manx syndrome and spina bifida and wears a diaper.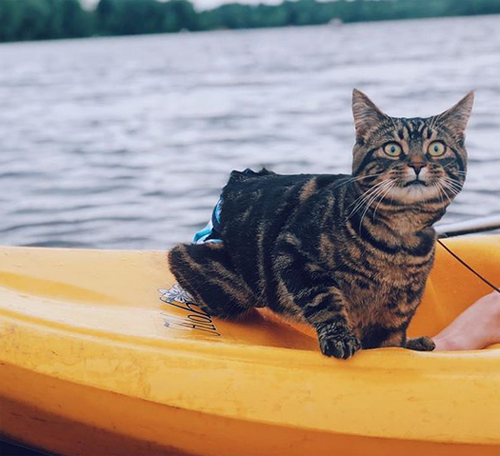 "Knowing how much happiness Amun has brought us, we believed loving this little dude would only give it back tenfold," says Vanessa. Plus, if they didn't agree to foster the kitten — who was named Johnny Bravo — he'd be at serious risk of euthanasia, a fate neither of them was willing to accept.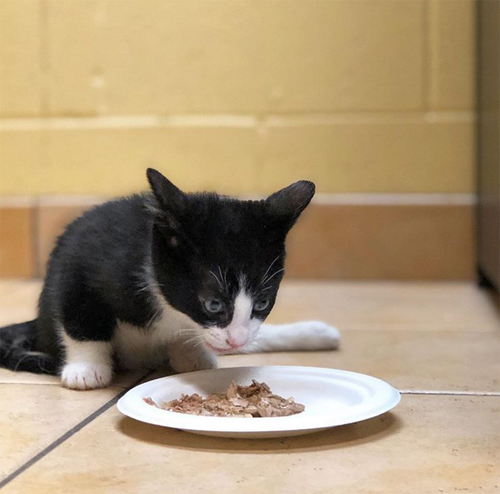 "Zach and I looked at each other and decided if all it took to save this baby was a week of fostering, we couldn't say no," explains Vanessa, and on Zach's birthday in late May 2019, they met Johnny in person for the first time.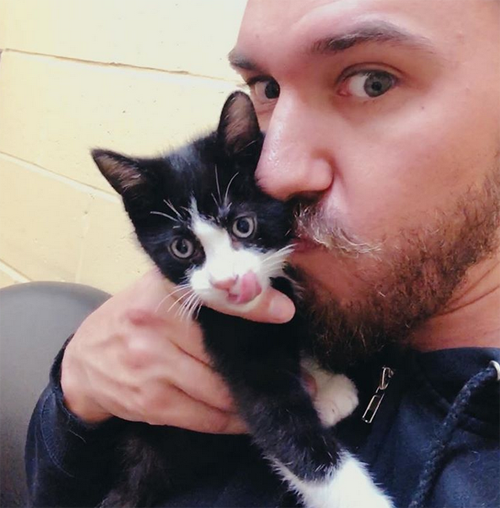 "Heidi picked him up from Montreal and we received the cutest little blue-eyed, noodle-caboodle-legged kitten a few hours later!" While it didn't take long for the couple to fall in love with the 7-week-old tuxedo cat, Vanessa and her fiance were both extremely concerned about how Amun would react to Johnny.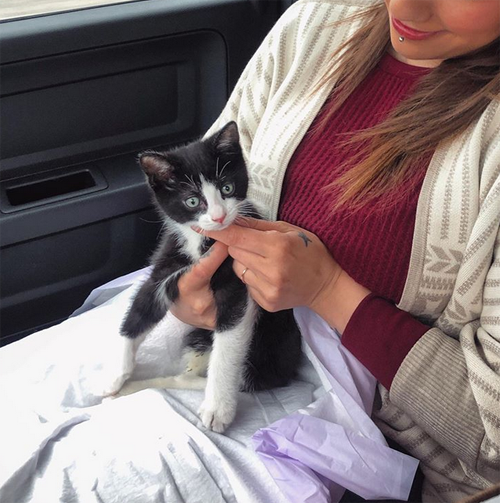 "Amun has always been a special little thing," explains Vanessa. "We can't say he accepts other animals easily." Knowing it would take some time for Amun to warm up to Johnny, Vanessa and Zach focused on helping their foster kitten adjust to his new home. Despite the severe spinal damage he'd sustained, Johnny wasn't in any pain, and he quickly learned to navigate Vanessa and Zach's home by scooting around.
View this post on Instagram
"His tail has no feeling which became very apparent when we realized it was his favourite toy!" says Vanessa. However, just as Johnny was getting settled with his foster family, three of Vanessa and Zach's cats became extremely sick. In fact, all of the pets in their home, with the exception of Amun and Johnny, were struck by a mysterious illness, which — tragically — proved fatal.
"We lost three of our cats to an unknown toxin in our home," says Vanessa, including Santana, a senior cat whom she and Amun both adored. "He was my best friend." After losing so many of their pets so rapidly, Vanessa and Zach were absolutely devastated, and they were both very concerned about how Amun would react to so many sudden changes. After all, he didn't get along well with a lot of other cats, and yet he and Santana had shared an exceptionally strong bond.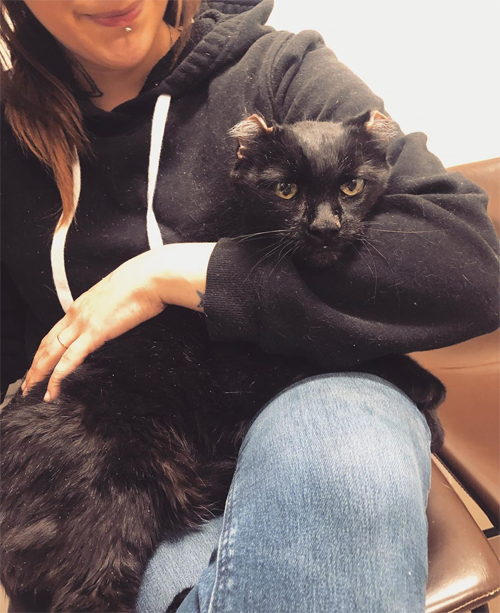 "We thought he would be heartbroken," says Vanessa, but not long after losing his best friend, Amun began showing interest in his new foster brother. "One day he passed Johnny's crate and trilled — this happy little meow — and from that exact second he stopped growling like a possessed little beast and Johnny became his little bro." As time went on, Amun and Johnny's friendship grew stronger and stronger, as did Vanessa and her fiance's bond with the paralyzed tuxedo kitten.
View this post on Instagram
Eventually, it became apparent to both of them that Johnny, who had helped them get through the pain of losing three of their beloved pets, was meant to be a permanent member of their family, so they adopted him.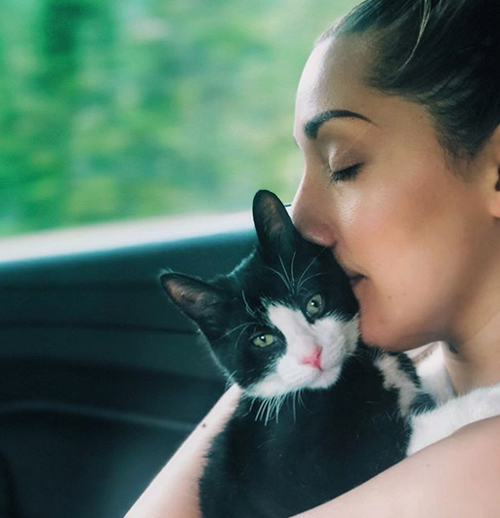 Today, Johnny is approximately five months old and doing great, and while he can't move like a typical cat, he is extremely happy and active. "Johnny can climb stairs and jump off the couch and bed," explains Vanessa. "At least once a day we have to look at him and say 'Now how the heck did you get up there?!' "
View this post on Instagram

Consequently, the biggest challenge they have when it comes to caring for Johnny is making sure he doesn't hurt himself because he is a dangerous combination of fast and fearless. "He is truly a little go-getter," says Vanessa. "Absolutely nothing stops him — to my utter horror!" In addition to playing with his own tail, Johnny, who's now nearly as large as Amun, adores hanging out with his big brother.
View this post on Instagram
"There isn't a chance he passes up to bug him in one way or another," says Vanessa. "He loves his brother." The feeling seems to be mutual, which is very fortunate, because shortly after adopting Johnny, Vanessa and Zach moved out of their home and into an 86 square foot bus, allowing them to travel around Canada and the United States with their two special needs cats.
View this post on Instagram
While a lot of people find it difficult to imagine caring for two incontinent cats in this unique environment, Vanessa and her fiance have found it surprisingly easy, largely because they have established a schedule that works well for them and Amun and Johnny.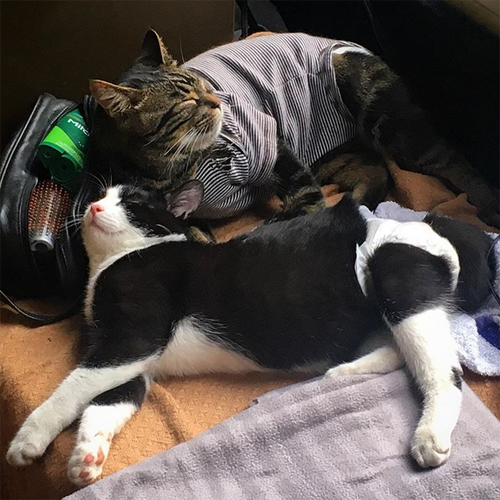 "If we can live in a bus with two special needs cats, that must be a true testament to not needing to live in a vet's office!" says Vanessa. While their home might be a bit different from the average family's living situation, Vanessa and Zach are still capable of — and committed to — giving Amun and Johnny the care and attention they need to thrive.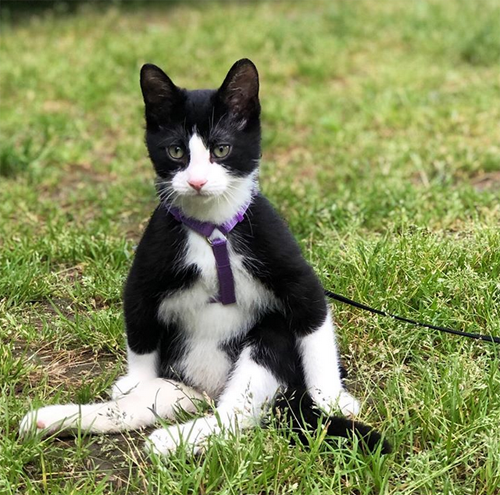 "Quality of life is and will always be the most important thing in their lives," says Vanessa. "But the reality is, most of these special guys have no idea they are any different." While Johnny's legs often seem as though they have minds of their own — "They end up behind his ears, one goes to the left, one goes to the right, sometimes they both go backwards," explains Vanessa — the only time he gets upset about being paralyzed is when one of his hind limbs gets caught on an obstacle while he's racing around his home.
View this post on Instagram
After losing three of their pets in quick succession, including Vanessa's best friend, Santana, this couple is incredibly thankful Amun and Johnny were there to help them cope with such a devastating tragedy. Five months later, Vanessa and Zach are both still grieving, but each day of mourning has been a little easier thanks to these two very special boys.
View this post on Instagram
"Amun is our feisty little guy that raises our spirits and makes us laugh every day," says Vanessa. "Johnny is independent, loving, a fighter, kind-hearted and funny. I sometimes think Santana sent him to me and I couldn't be more thankful. Johnny was sent to us to heal."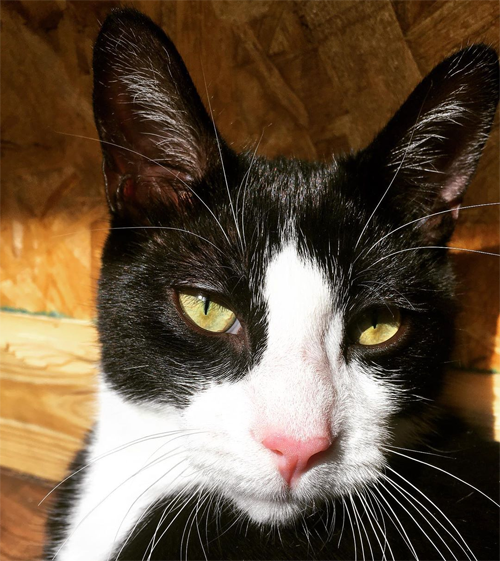 To learn more about this adorable kitten, you can follow Johnny on Instagram.