When Jessica Ruf, the founder and president of The Kitten Carer, learned about a potentially blind calico kitten who had ended up at an animal shelter after she was found near a pub in rural Australia, she was eager to help the young feline. "As soon as I saw photos of her, she melted my heart," remembers Jessica. "I Immediately said yes to taking her into care because I knew I could give her all the medication attention she deserved."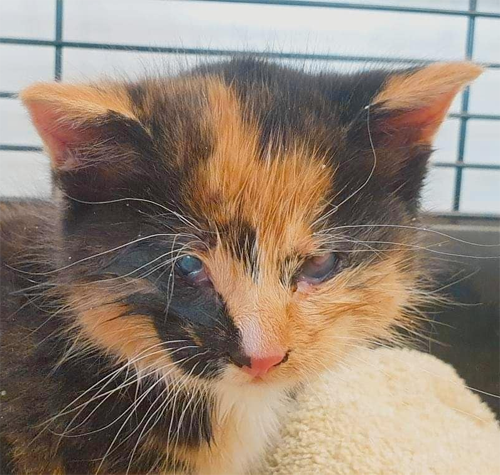 While other organizations often don't have the resources to care for special needs animals, The Kitten Carer — a rescue based in Melbourne, Australia — is devoted to helping cats with medical challenges. "My rescue is very small and that's because I like to give the extra care and funds to the kittens that desperately need the help and a second chance at life," explains Jessica.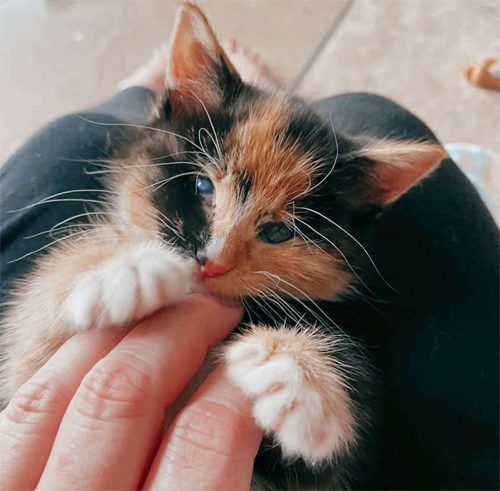 However, the little kitten would have to wait a little longer for the next chapter of her life to begin, because she was actually too sick to make the five hour trip to Jessica's home. Thankfully, a week later she was healthy enough to travel, and on October 21, 2020, Jessica met the tiny calico cat in person for the first time when she collected her from the transport drop off location. "I gave her a big cuddle," remembers Jessica. "She was so smoochy and happy."
View this post on Instagram
In order to raise money for the kitten's medical expenses, Jessica held a raffle on Instagram, allowing The Kitten Carer's followers to suggest a name for the two-week-old cat in exchange for making a donation towards her care. "Her name was randomly drawn by one of my other special rescue kittens, Arky, who was recently adopted and overcame feline infectious peritonitis," explains Jessica, and the little calico kitten was christened Callie.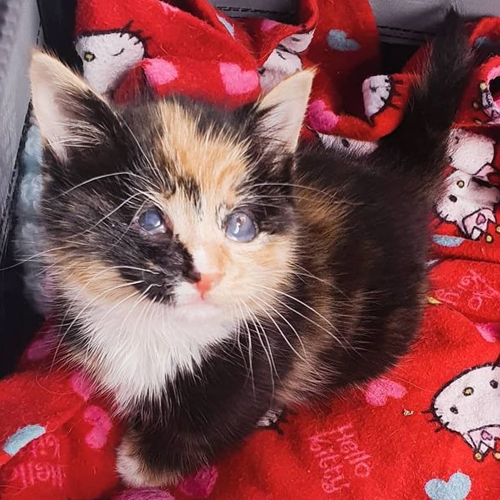 A visit to the vet revealed Callie was blind, just as the shelter had suspected, and her lack of vision was due to a number of congenital issues. She was diagnosed with micropthalmia in her right eye, which is a developmental disorder that can cause people and animals to have unusually small and malformed eyes, and persistent pupillary membranes, a condition characterized by strands of tissue crossing the pupil.
View this post on Instagram
The young kitten was also born without eyelids, a condition known as feline eyelid agenesis, as well as trichiasis, which is characterized by abnormally positioned eyelashes that grow towards the eye. Consequently, Callie's eyelashes had rubbed against her corneas, causing them to become extremely irritated and badly infected. "Her left eye was severely ruptured," says Jessica, and she and the veterinarian weren't sure if Callie would survive. "The first two weeks were very touch and go with little Callie."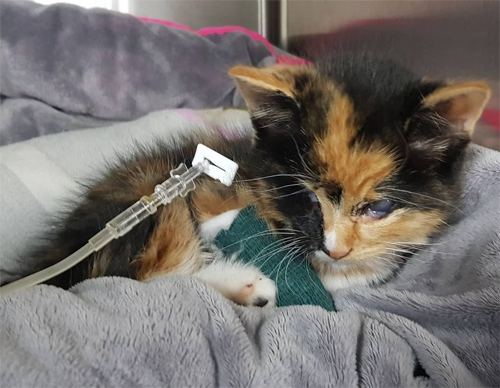 However, Jessica and Kimberly, Callie's foster mom, refused to give up on the little special needs kitten, even after her ruptured eye prolapsed on December 2, 2020, requiring emergency surgery to remove it.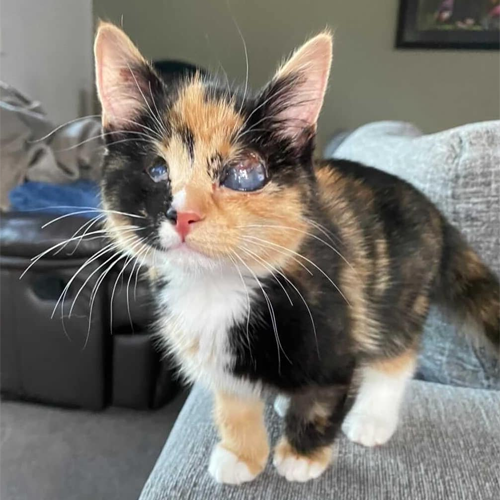 "Somehow with all her strength, determination, love, and palliative care, she pulled through!" says Jessica. "She really is a little miracle."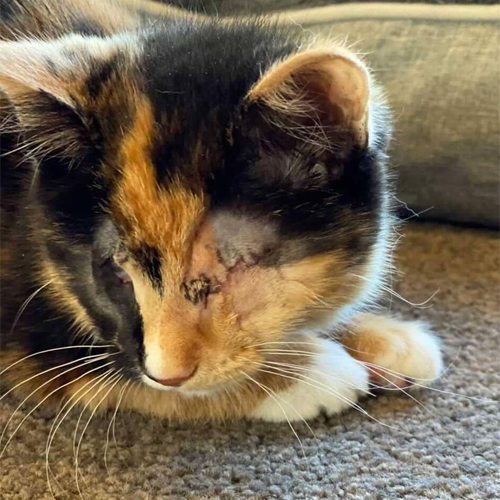 Today, Callie is doing extremely well, and while she is unable to see, she loves to run, play with toys — especially felt balls — wrestle with other cats, and climb to the top of her scratching post. "Callie loves being extremely brave!" says Jessica. "She has no limits!"
View this post on Instagram
While Callie is thriving, taking care of her hasn't always been easy. After all, even healthy kittens require a lot of attention and have to be closely monitored, and looking after one who is blind and very sick comes with a whole other level of challenges.
View this post on Instagram
"You have to constantly keep a close eye on her — since she doesn't understand boundaries — to help prevent any serious injuries," explains Jessica, and Callie's foster mom Kimberly even outfitted her stairs with clear acrylic panels to make them safer for this special girl.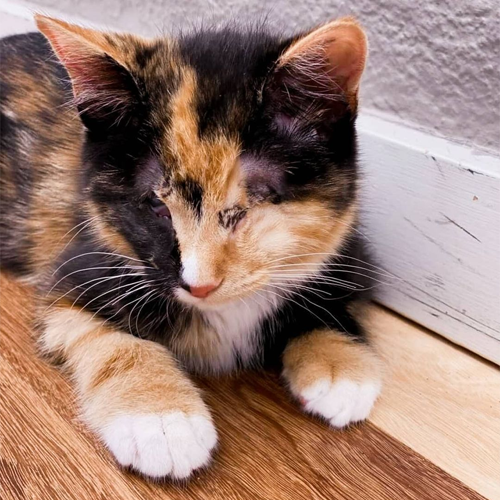 Without a doubt, Callie has required — and continues to require — more care and attention than the average kitten, and she still needs to have surgery to remove her remaining eye. However, Jessica believes she and other special needs cats like her are more than worth the extra time, money, and effort they need to thrive.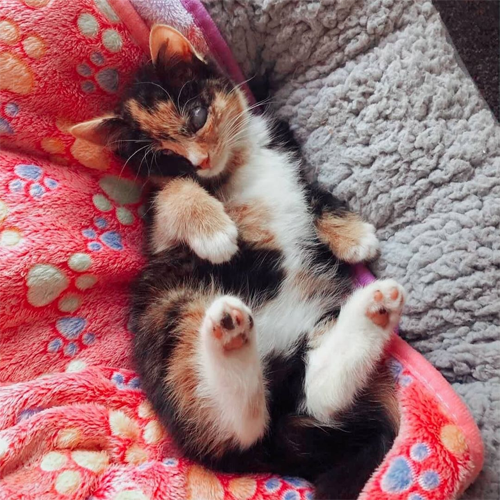 "It can be hard at times to care for such a special kitten: lots of veterinary visits and emergency visits; medication; sleepless nights; redesigning your home so that it is safe for a blind kitten," says Jessica. "But in the end, they are worth absolutely everything and they are clever, adaptable, and full of life."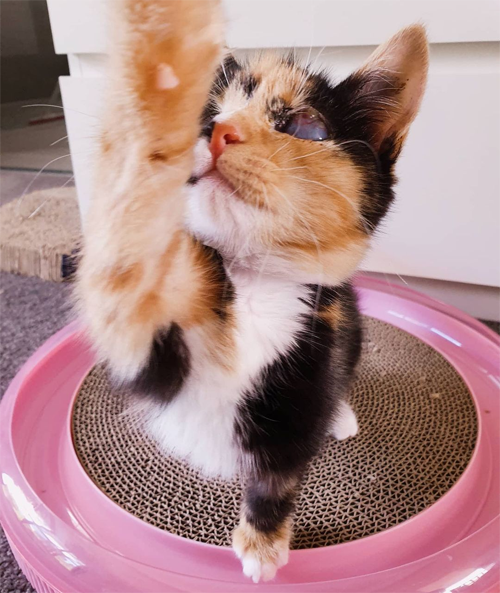 Eventually, this remarkable little girl will be ready for adoption, and when she finally goes to her forever home, there's no doubt Callie will be sorely missed by Jessica and her foster mom Kimberly.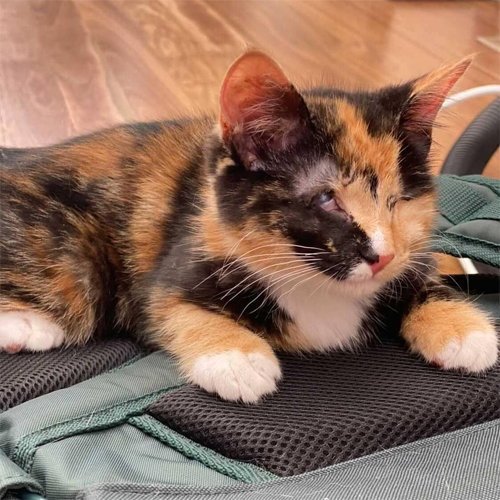 However, there's no way this incredible kitten will ever be forgotten, and hopefully Callie's family will be inspired by her indomitable spirit, just as it has inspired Jessica. "Little Callie is the sweetest and bravest kitten who has overcome every obstacle she has faced," says Jessica. "She is a great reminder of resilience and she demonstrates a passion for life."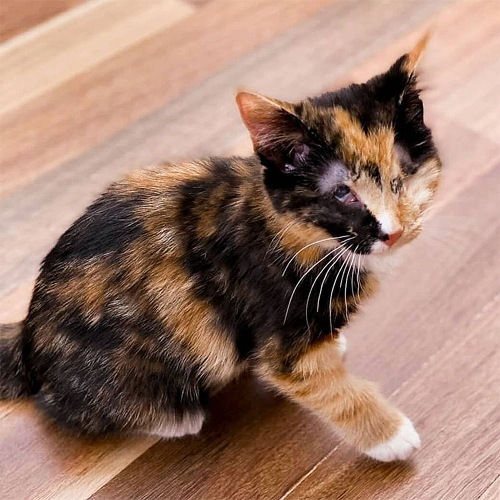 To learn more about this gorgeous kitten, you can follow Callie on Instagram.