When one of Taylor Plett's coworkers asked her if she would be willing to foster Penny, an 11-month-old kitten with a wobbly walk, she was more than happy to help. "Her house had become too chaotic with other cats, dogs, and a new baby, so she could no longer give Penny the proper care she needed," explains Taylor.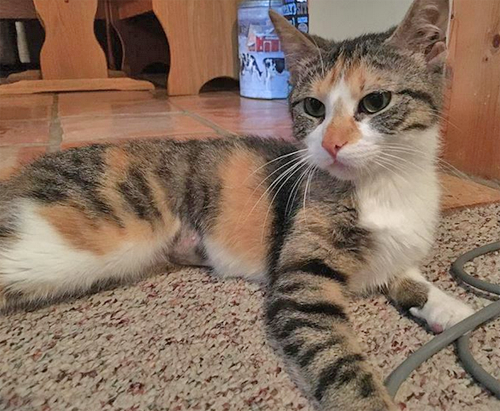 On March 30, 2018, Taylor — a college student who also works as a kennel tech at a veterinary clinic– drove to the animal hospital to meet Penny and to take her back to her home in Kansas. "The first time I saw her, she was in a kennel, just kicking back and taking a nap," remembers Taylor. "I carefully picked her up, gave her those first pets, then put her in her carrier and took her home!"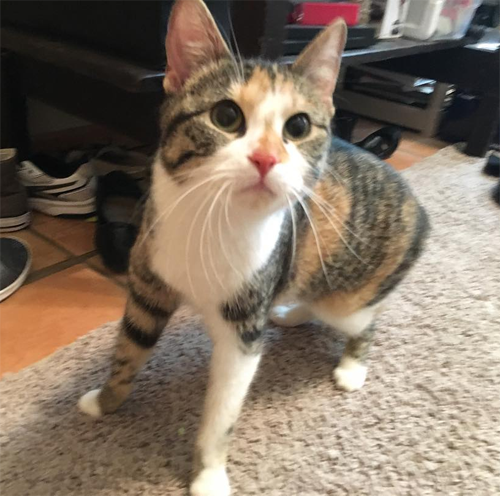 When Taylor got to her house, she let Penny out of the carrier, allowing her to witness the young cat's unsteady walk in person. Taylor's coworker didn't know the exact cause of Penny's poor balance and coordination, but she thought it might have been due to some sort of trauma she experienced during her first few weeks of life. "I was told that she might have been dropped as a baby," says Taylor.
View this post on Instagram

Despite being wobbly, Penny quickly adjusted to her new home, and she and Taylor formed a strong bond. Still, she was only planning to foster the beautiful calico cat, so Taylor turned to social media to try to find someone who was interested in adopting Penny. "I posted about her a few times on Facebook, looking for a great home, and I even found someone who was interested," says Taylor.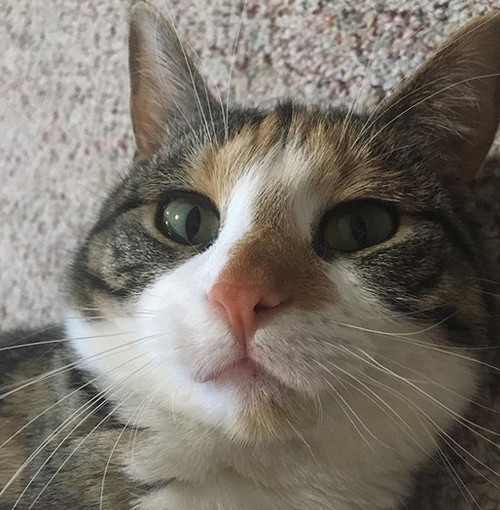 However, when that potential adopter didn't work out, Taylor — who was very concerned about finding the perfect family for Penny — was actually relieved. "I had fallen in love with Penny pretty quickly," admits Taylor. Over the course of a year, their connection grew stronger and stronger, and while looking at other wobbly cats on social media, Taylor discovered Penny actually had moderate cerebellar hypoplasia (CH), a non-progressive neurological condition that affects balance and coordination.
View this post on Instagram
"Their mannerisms were exactly like Penny's," says Taylor. "After a lot more research, I began to really understand her and what she needed to thrive." Taylor learned cats with cerebellar hypoplasia are born with underdeveloped cerebellums, the part of the brain that coordinates voluntary movements, and the condition occurs in utero, often when unborn kittens are exposed to some sort of toxin or illness.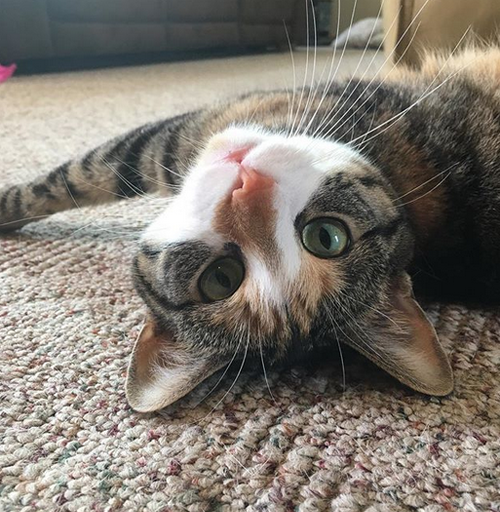 Because cerebellar hypoplasia is non-progressive, cats with the condition won't get better or worse, but as they grow and become stronger, they often get better at managing their symptoms. Taylor also discovered that while people frequently feel sorry for CH cats, there was no reason for her to pity Penny. "I would say the biggest misconception about CH is that the animal can't live a perfectly happy, healthy life," says Taylor.
View this post on Instagram

However, cats with the condition often have difficulty finding homes, so Taylor, who was already smitten with Penny, decided to adopt the stunning calico after a year of insisting she wasn't going to keep her. Approximately five months later, Penny is thriving in her forever home, and while she likes to play with toys — especially the laser pointer — there's nothing she enjoys more than snuggling with her mom.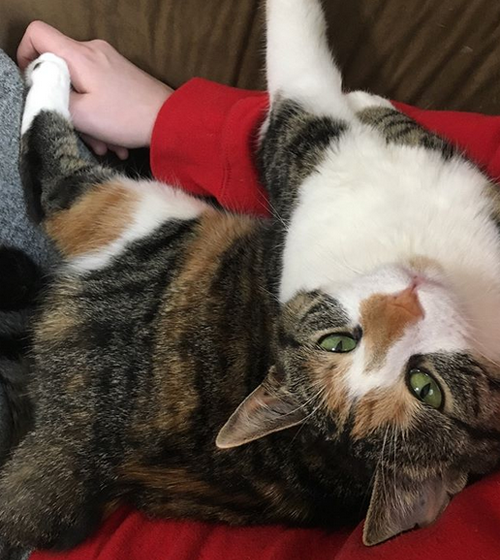 "Penny loves to cuddle!" says Taylor. "She'll find me while I'm on the couch or chair, prop herself up on her hind legs, and beg for attention until I grab her and set her down on my lap. No matter what time of day it is, I can pick Penny up, set her down, and she'll close her eyes and snuggle into me. It's become one of my favorite things in the world."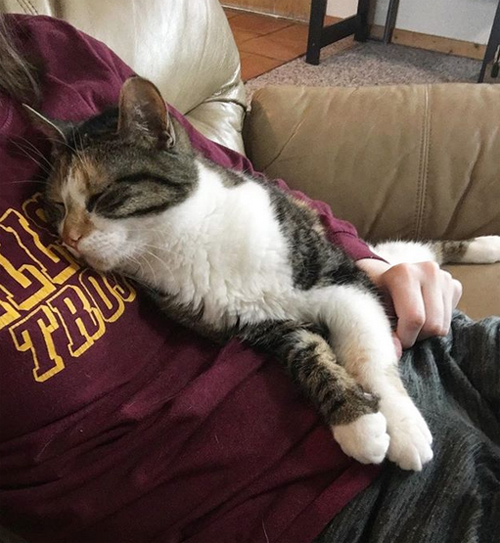 In fact, while Penny occasionally has difficulty using the litter box and she sometimes feels threatened by her family's puppy because it's hard for her to get away from him quickly without falling, her lack of balance and coordination doesn't have a huge impact on her quality of life. "She loves to play, cuddle, eat, and nap the day away, just like any other cat," says Taylor. "If you can look past the way Penny walks, you would just see a regular, sassy cat!"
View this post on Instagram
While it's incredibly obvious to Taylor that Penny is doing great, she often encounters people who feel sorry for the friendly and affectionate feline. Fortunately, she views this as an opportunity to educate people about cerebellar hypoplasia, enabling Taylor — who works at a vet's office — to raise awareness about the neurological condition.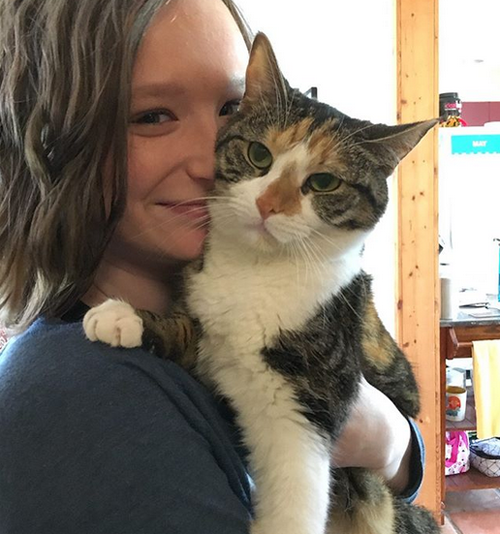 However, while she doesn't mind sharing her knowledge with people when they express sympathy for Penny, it does bother Taylor when they pity or make fun of her beloved cat. "People joke about her looking 'drunk' or 'slow, ' " says Taylor. "It's simply not true. She is so smart and sweet, and I wish people could see the real her before making judgements."
View this post on Instagram
By sharing Penny's story, Taylor hopes more people will treat special needs cats with the love, dignity, and respect they deserve. After all, when Taylor met Penny for the first time, her goal was to help an animal in need, but she had no idea how much she would actually learn from this stunning calico girl about communication, patience, compassion, and love. "Penny means the world to me," says Taylor. "I don't think I've ever experienced a bond like this before. She has completely stolen my heart, and I'm so excited for what is to come for the two of us."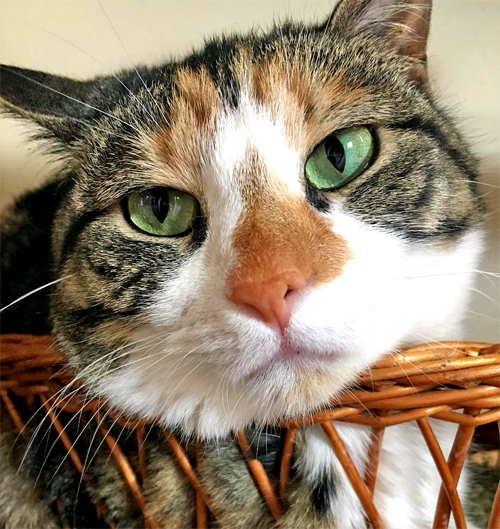 To learn more about this gorgeous cat, you can follow Penny on Instagram.