When Roland Huddleston's coworker brought in a pair of kittens who had been rejected by their biological mother, he immediately noticed the female cat appeared to have some form of paralysis, while her brother did not. "One of my coworkers had a farm cat that had recently given birth to a litter of six kittens," explains Roland.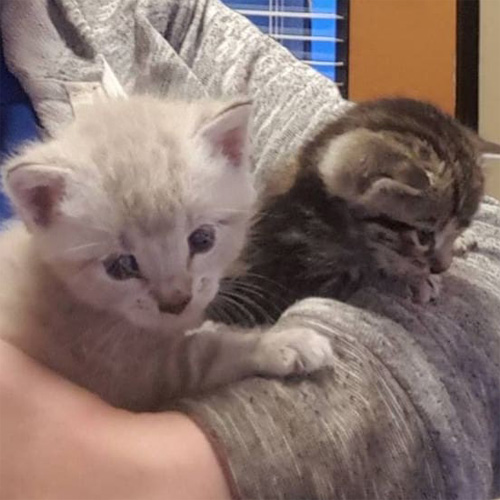 Sadly, the mother cat abandoned two of her offspring when they were approximately three weeks old, so Roland's coworker brought them into work to make sure they got the near-constant care and attention they needed to survive.
View this post on Instagram
After spending a day with the young felines, Roland was smitten with the special needs kitten, so he discussed the possibility of adopting her with his partner, Kristen. "We decided to ask if [she] would be able to live with us," remembers Roland, and in September 2015, the unique Siamese cat joined their family when she was just four weeks old.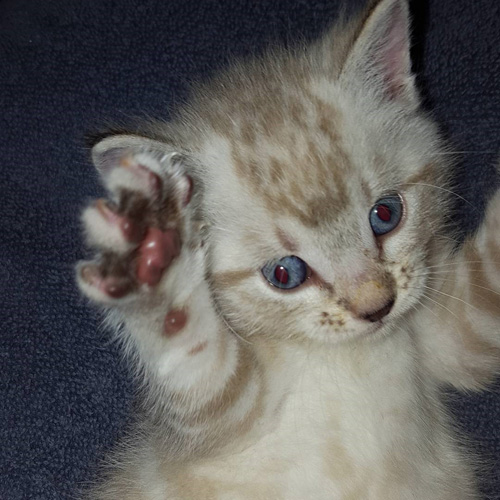 When they adopted the kitten — whom they named Elle after Eleven, a character from the TV show Stranger Things — Roland and Kristen didn't have any experience caring for a cat with special needs. They also didn't know the cause of Elle's hind leg paralysis and incontinence, so they took her to a vet near their home in Red Deer Alberta, Canada, to learn more about her condition.
View this post on Instagram
"They ran several tests on Elle and discovered that her spine was curved and several of the vertebrae had 'gaps' between them," says Roland. "Along with this, she had a dislocated hip and a blood stain on her fur near her hind legs."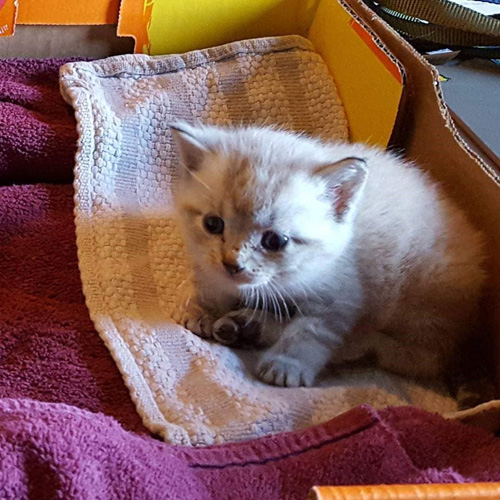 Unfortunately, the veterinarian was unable to determine if Elle was born with hind leg paralysis, or if it was caused by some sort of trauma she had suffered shortly after birth. Regardless of the exact cause of Elle's paralysis, Roland and Kristen learned she was also incontinent, so the vet taught them how to express her bladder and bowels. "A simple enough process once you learn how to do it," says Roland.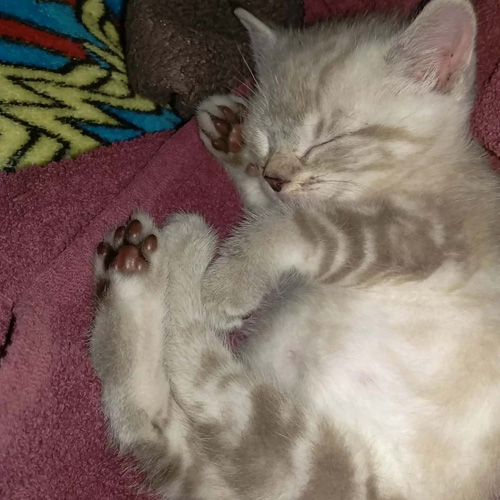 With Roland and Kristen's help, Elle adjusted to her forever home, and she didn't waste any time showing her new parents that she was just as happy and active as any other kitten. While Elle refused to allow her paralysis to slow her down, her tenacity caused her to suffer a serious injury when she was four months old. "She had tried jumping from my arms on the way for her laser therapy treatment and broke one of her legs at the knee," explains Roland.
View this post on Instagram
Thankfully, Elle made a full recovery, but it wasn't long before she developed a seroma, a collection of fluid that builds up under the surface of the skin, after leaping from a high place yet again. "She had to have a tube inserted for two weeks to drain it," says Roland. Consequently, he and Kristen, who had already gone to great lengths to make their home safe for Elle, did everything they could think of to protect the fearless special needs kitten from any potential risks.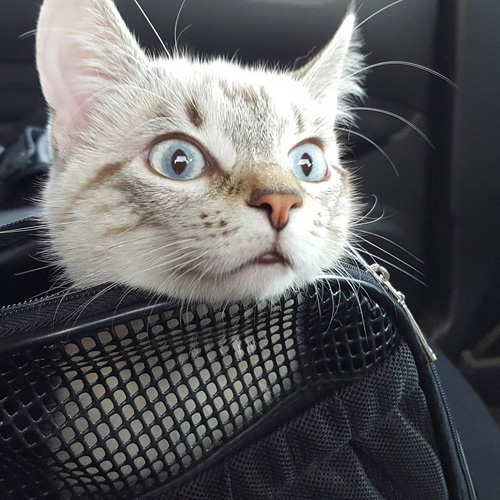 Fortunately, their efforts paid off, and more than five years after finding her forever home, Elle is doing better than ever! Not only is this special girl in excellent health, Elle is incredibly active, and she adores playing with toys, spending supervised time outside, and bird watching. "Elle loves to climb and she's very good at it," says Roland. "She also gets the zoomies just like any other cat."
View this post on Instagram
This outgoing girl enjoys playing and cuddling with the other cats who share her home, including Apollo, her adoptive brother who also has incontinence and hind leg paralysis. While Elle and Apollo definitely require more care than average felines, Roland believes looking after them isn't as challenging or time-consuming as people often assume. "Honestly, it's not that difficult," says Roland. "If you care about your pet, you would want to spend time with them and that's all that's really required is making time in your day to help them with the tasks they're not capable of."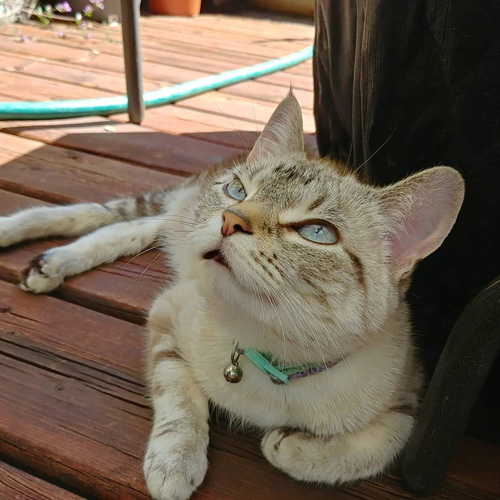 However, because Elle and Apollo need to have their bladders and bowels expressed multiple times a day, taking a vacation can be a little complicated. "Extended time away from home can be very difficult without an experienced cat sitter, familiar with the challenges some special needs animals pose," explains Roland, but he's confident they're worth the extra effort and consideration they need to thrive. "Cats with special needs like Elle's and Apollos' are incredibly inspiring!"
View this post on Instagram
Sadly, when Roland and Kristen adopted Elle in 2015, they regularly encountered people who thought they were forcing her to suffer. Nearly six years later, not only has this remarkable girl proven those people wrong, social media has allowed Elle to help improve — and possibly save — the lives of other paralyzed and incontinent cats.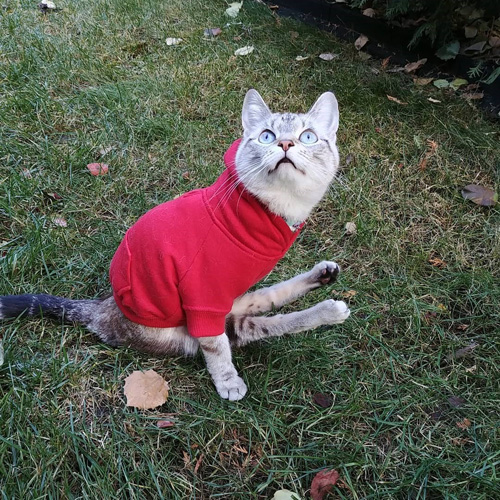 "We've been fortunate enough with Elle's popularity to offer assistance and guidance to people all over the world that have discovered cats in similar situations who have been given advice, sometimes by vets, to euthanize the cat because it would be suffering," explains Roland.
View this post on Instagram
There's no doubt Elle has also encouraged people to consider adopting pets with special needs, potentially saving even more animals from unnecessary euthanasia, but there's no she has inspired more than her dad. "Elle is an inspiration from the moment I get up in the morning to the end of the day when I tuck her in for bed," says Roland.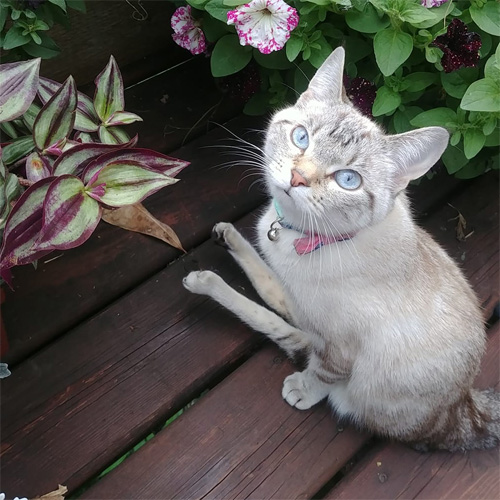 To learn more about this beautiful cat, you can follow Elle on Instagram and Facebook.